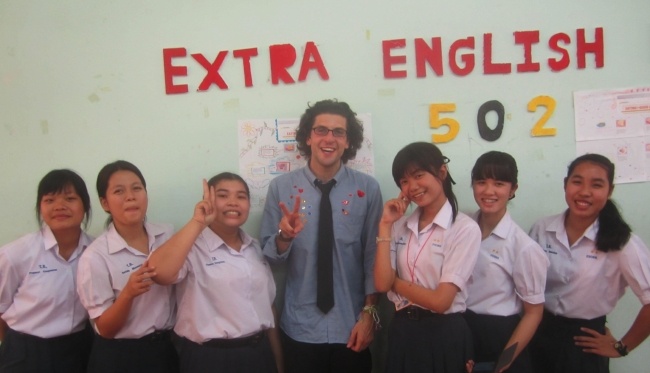 3 Ways TEFL Certification Can Improve Your Study Abroad Program
Written by: Doug Waxman
Last Updated: December 18, 2020
By Doug Waxman:
Studying abroad in Sydney, Australia was by far one of the greatest experiences of my entire life. I studied at the University of Sydney School of Economics and Business. Yes, I actually studied, I had to take "real" classes abroad for my major to graduate – well, 3 days a week.
During my time in Sydney, I made lifelong friends from all around the world, reconnected with relatives that my family hadn't seen in generations, traveled all over Australia and New Zealand, found my independence really living on my own in a new city for the first time, and got a jump-start to my career in international education.
My study abroad experience led to 2 internships where I worked for a study abroad newsletter in Australia and then worked in Marketing for a Costa Rican Educational Tour company. This all led to my career as an Admissions Advisor and Business Development Director for one of the largest TEFL/TESOL training schools in the world, where we certify & provide job placement assistance to more than 4,000, people a year - many of whom are recent college graduates and study abroad participants. I now get to talk about travel all day and develop partnerships with international organizations looking to add or promote TEFL Certification as part of their programs.
Looking back on my study abroad experience combined with my years working in international education, I've learned a lot about the good and bad aspects of my program compared with other study abroad programs. I wish I wouldn't have blown ALL of my money studying abroad, had more class options and had better resources from my program to work and actually make money while I was studying abroad.
This inspired me to compile a list of the top 3 ways offering a TEFL Certification option can improve your study abroad program:


1. Studying Abroad Isn't Cheap – TEFL can offer students a way to make money and work part-time while studying abroad
Taking a TEFL certification course before studying abroad will allow students to find part-time work during their time overseas – in most countries students can legally work up to 20 hours a week on a student visa. International TEFL Academy provides lifetime job guidance as a free service to its students and alumni and assists their TEFL graduates with opportunities to work part-time in language schools, find private tutoring options at their university, or even teach English online. With 1.7 billion people learning English, there is demand for native-English speaking teachers in nearly every country. This makes teaching English as a foreign language a great way to gain international work experience while studying and making money at the same time!


2. TEFL Certification is not a "blow off" class – Students can take a course they'll actually use and can apply in the future
Wine tasting, History of Cheese – I've heard of some pretty interesting electives taken while studying abroad. Why not offer a course that students can actually use while studying abroad or in the future? Communication skills, group management, public speaking, organization & time management - these are all skill sets that one gains as an English teacher & that will serve young people in any field they pursue post graduation. All accredited TEFL courses require a practicum, so students can gain real-live teaching practice abroad during their study abroad experience and even find work while taking their TEFL class online if they are taking it overseas.


3. Study Abroad students want to travel MORE – TEFL Certification is a great next step to find professional work abroad after graduation
"OMG….my study abroad was AMAZING!!!! I'm going to talk about it and annoy all of my friends for months/years when I'm back home." So says everyone who studies abroad.
This eventually leads study abroad alumni to the question, "How can I study abroad again…and get paid for it? There's no way my parents are shelling out another $10,000+ now that I've graduated. I want to live abroad again but I need to be working this time."
And…their friends that didn't study abroad are now convinced after months of hearing about traveling Europe that they need to do this too. But, graduation is approaching. How can I live abroad after college?
At this point, these study abroad alumni and their friends, can do 1 of 2 things – Google "TEFL Certification and getting paid to teach abroad" and find International TEFL Academy OR they'll look to their Study Abroad program advisor for guidance on where they can have this next overseas adventure.
Do You Want to Learn More about TEFL Certification for Study Abroad Programs?
You can make TEFL certification a part of your study abroad program in just 1 easy step. International TEFL Academy has opportunities for Study Abroad programs to assist their students with TEFL certification and teach abroad opportunities.

For more information, contact us here….
Who is International TEFL Academy?
International TEFL Academy is one of the world's largest TEFL certification schools to become professionally trained as an English teacher. ITA trains more than 5,000 English teachers annually and offers internationally accredited TEFL-TESOL certification courses online and in 25 locations around the world. All students and graduates receive lifetime job search guidance and graduates are currently employed as teachers in more than 80 nations in Asia, Europe, Latin America and the Middle East.
Check out these related resources:
Since 2008, ITA Advisor, Doug Waxman has helped more than 1,000 people gain their TEFL certification and see the world through teaching English abroad. A native of St. Louis (and an avid Cardinals fan), Doug has worked, traveled, and studied extensively in Australia and Israel, and he recently returned from an extended trip in China, where he met with language schools and caught up with International TEFL Academy alumni teaching throughout the region.
Want to Learn More About Teaching English Abroad?
Request a free brochure or call 773-634-9900 to speak with an expert advisor about all aspects of TEFL certification and teaching English abroad or online, including the hiring process, salaries, visas, TEFL class options, job placement assistance and more.