TEFL TESOL Certification in
Boston, Massachusetts

Tuition: Tuition $2,550: Deposit $600, Balance $1,950
Length of training: Full-time: 4 weeks, Monday - Friday. More information on TEFL Course Dates
Job Search Guidance: International TEFL Academy provides lifetime Job Search Guidance to all students and graduates.
Testimonials: Interested in what our TEFL Class graduates have to say about our course?
Read their class testimonials.
Registration: Read our Registration Procedure and Terms and Conditions prior to enrolling into a TEFL course.
Note: This is a partner course of International TEFL Academy. All students receive the full benefits of ITA students and alumni, including lifetime Job Search Guidance.
Boston

Massachusetts

TEFL Course
Earn an internationally accredited TEFL Certification for teaching English abroad in the heart of Boston, Massachusetts, one of America's most beautiful, dynamic and historic cities. In the city of Paul Revere, Sam Adams (not just the beer maker), and the Kennedys, just steps away from the birthplace of the American Revolution and such historic landmarks as the Old North Church, Fenway Park and Harvard University, this four-week course will provide you with a recognized TEFL certification that will qualify you for thousands of English teaching jobs in up to 100 countries around the world.
In addition to gaining the skills and qualifications you need to succeed as an English teacher abroad, this course will provide you with comprehensive lifetime Job Search Guidance to ensure you receive the guidance, resources and support you need to find teaching opportunities all over the world.
Boston TEFL TESOL Training Center:

TEFL classes are held Monday - Friday and encompass a full day of classroom work, practice teaching, role-playing and group discussion. The course follows an immersion method in which trainees develop their teaching skills and knowledge of grammar by combining morning input sessions and evening practical teaching.

During input sessions, students are typically instructed to break into small groups and work together to create teaching materials and practice various teaching methods.

Afternoon teaching practice sessions enable trainee teachers to put the skills and methodologies they learn during input sessions into practice while working in a live EFL learning environment. Trainees will teach actual EFL learners who are English language students studying at our facilities.

All teaching practices are fully observed and monitored by our experienced trainers. Feedback is provided and suggestions are made regarding the areas of teaching that may be improved.

The emphasis is on continual assessment, and participants are expected to address the issues raised from previous feedback in their future lessons.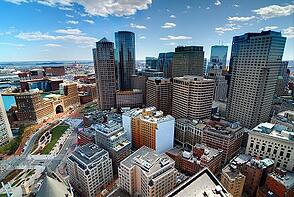 TEFL class location:
Boston is the hub of education and our class is in a great part of town. Known as America's "Walking City", Boston is said to be the city where the best English in the country is spoken. True or not, the city's charm is undeniable. From the Charles River and the North End to Quincy Market and the waterfront, its neighborhoods, culture, and sense of history will delight you.

Classroom facilities are conveniently located in the heart of historic downtown Boston, and the Academy is accessible by the MBTA, Boston's public transportation system, famously known as the 'T'.

On the Green and Red Lines, we are two blocks from the Park Street stop.

On the Orange Line, we are located immediately outside the Lafayette Place/Temple Place exit (Forest Hills platform) or one block from all other exits at the Downtown Crossing stop.

On the Blue Line, we are a 5-minute walk from the State Street stop.
Full-time TEFL Course (4 Weeks) - Course Description
The full-time TEFL course is a very intense four-week program. We recommend that students who enroll in this program not engage in any other work or personal commitments outside of the course. In addition to a full schedule of classes, should expect to spend time outside of class on coursework and reading that must be completed to fulfill course requirements.
The course is designed to achieve a balance between practical and theoretical learning. Students will have the opportunity to gain practice teaching throughout the program and will be able to further observe our ESL classes during the day.
The TEFL Certificate course in Boston MA, provides you with an in-depth analysis into teaching both ESL (English as a Second Language) and EFL (English as a Foreign Language).

In addition to learning how to prepare lessons for all English proficiencies, the TEFL Program content includes the following topics:
conducting a needs analysis
establishing learning objectives
planning individual lessons
language-learning theories
presentation, practice, and use of language
learner/teacher roles
learner styles/group dynamics
classroom management/mixed levels
error correction
culture and living overseas
textbooks/resources/testing/media & equipment
getting a job/résumé building
teaching business English/and E.S.P. (English for Specific Purposes)
adapting/using appropriate lesson materials
language-learning strategies, including role-play, group, pair, and individual work
assessment of learners' language-learning achievements
alternative methods of assessment
Student Teaching (Practicum)
During the course, all students will gain hands-on teaching experience by engaging in student teaching with local ESL students who are taking English lessons at the same location of your Boston TEFL class. You will both observe ESL classes taught by professional instructors and then practice with local and foreign students. Live practice teaching with real students (not just role-playing with other teachers-in-training) is required for any professional level TEFL certification and will provide you with the experience and confidence to teach English.


Our TEFL class is held at an ESL classroom with hundreds of different students coming through the doors daily. There is no substitute for hands-on training with non-native English speakers complemented by observation and feedback from professional instructors.
Housing & Accommodations:
A wide range of housing options are available ranging from dorms and hostels to homestays with local families. Our course director can assist you in arranging the right option for you.


Most Boston TEFL class students choose to live in our exclusive student residence, in homestays, in student residences, or in furnished apartments. These are the same residences that our foreign students reside in while attending our English so it's a great way to meet people from around the world.

After you register you can speak with the housing director and select the housing option that is best for you!
Housing Prices


FAMILY HOMESTAY 4 WEEKS MINIMUM

Single Room $1040 per month
RESIDENCE HOUSE, NO MEALS

Single Room $1850 per month
Double Room (Shared) $1050 per month

FURNISHED APARTMENT NO MEALS

Studio $2200+ per month
One Bedroom $2800+ per month
Two Bedroom $3500+ per month
SUMMER UNIVERSITY RESIDENCE 4 WEEKS MINIMUM

Double Room (Shared) $1700
HOUSING PLACEMENT FEE Non-Refundable $100

Family Homestays
The majority of our foreign students choose to live with a local family, as it provides a great opportunity for them to experience American culture and home life, and to practice English outside of the classroom. TEFL certification students may also elect to stay with a local family. Host families come in all shapes and sizes: couples with children, single parents, and retired couples.


All host families have been pre-screened to ensure that the family is friendly and accommodating, and that the home is located in a safe neighborhood.
Most families live in the Boston suburbs and all homes are located close to public transportation.
You can choose to have a single; you can also decide whether to eat breakfast and dinner with your host(s) or prepare your own meals.
Student Residence House
The Student Residence House is located in a quiet and safe residential area 5 minutes' walk from the fashionable Inman Square and ten minutes' walk from Central Square or Kendall squares in historic Cambridge - a very popular area with local and international students that offers easy access to a wide array of clubs, shops, bars, coffee houses and all the facilities a student needs and wants. Legendary Harvard Square is also located within close proximity and it is just two subway stops to the school. The total journey time to TEFL class is typically 20-25 minutes from these facilities.

The Student Residence House has a member of staff living on the premises and provides a great option for students who both want independence and the opportunity to mix with students enrolled in our English clases from other countries, all while enjoying the vibrant atmosphere and charm of Cambridge.

Facilities include:
Sunday check-in
DSL-speed computer
Wireless Internet
Community kitchen and dining
Recreation/TV room
Weekly/bi-weekly houskeeping
Choice of either private or shared rooms
Shared bathrooms
Shared and single rooms are available. The house has two large fully equipped kitchen/breakfast rooms and a large student lounge. Bed linens and towels are provided. Student bedrooms are single-sex rooms but they are not separated by floors and students are expected to maintain an adult respect for the privacy of individuals in exchange for the advantages of living within a mixed gender residence. Bathrooms are shared.

Meals are NOT provided within the house. Both kitchens are fully furnished for the students own cooking needs.

Rooms need to be reserved well in advance. Due to limited space we regret that we are unable to normally offer any extra days for these accommodations, which can be booked from the Sunday prior to the course starting date through the Saturday following the final day of class.
Other Student Residence Halls & Dormitories
If your preference is to live in a student dormitory, the director can also help you to find one.
Student residences can be more appealing for independent students who wish to live in a lively atmosphere. Each of the Residence Clubs that house our students is within walking distance of the TEFL school; some are in the beautiful and picturesque Back Bay area. Rooms are always shared with one to three other students and include bed linens, towels, use of a bathroom, and breakfast and dinner. Accommodations in student residence hallls are available during the summer only.




Shared Apartments (Double Room)
Modern two-bedroom furnished apartment. TV, cable TV, Free Internet and WIFI. Air conditioned, fully equipped kitchen. Double room including linens and towels. Share bedroom. Access to laundry room in building. No meals. Apartment is shared with an American student and an international student. Located in Boston - Allston.
Distance to the school is 15-20 minutes on the subway, and the subway stop is less than a quarter of a mile from the apartments. Minimum age is 18 and only males may stay in these apartments.

Available during the summer months only. (June-August)

Furnished Apartments
If you want full independence and privacy, a short-term furnished apartment is the option for you. These furnished apartments are located in or around Boston and include all furniture and amenities. They also include cable TV and local phone services, all utilities, linens and kitchenware.
Fun:
Boston is one of the most historic and dynamic cities in America. From Revolutionary history, sports (they love their Boston Red Sox, Celtics, Bruins & Patriots!), and live music, to theater, outdoor recreation to fantastic seafood, Boston's attractions rival those of any great city in the world. The city truly offers an opportunity to spend a month enjoying one of the most unique and diverse cities in America while taking your TEFL course.
To learn more about teaching abroad and TEFL Certification go to our form to request a brochure.