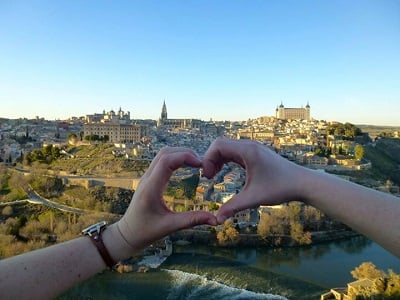 Why It's Important to Pick a Teach Abroad Destination Based on Your Overall Goals
By: Brooke Matta
Going abroad for an extended period of time is a thrilling, nerve-wracking, inspiring, and transformative adventure, no matter where you choose to go. How can it not be? After all, you'll be throwing yourself out of your comfort zone on a regular basis, meeting and mingling with new people often, trying new foods, seeing different parts of the world, perhaps speaking new languages, and a whole lot more. At the very least, you will learn more about yourself, how you fit into the world at this point in your life, and what you hope to do in the future.
Now it comes time to choose where you'll spend the next stage of your life - teaching, working, studying, or some combination of all three. The possibilities nowadays seem endless, to the extent that you may feel daunted by the idea of actually choosing. Should you volunteer in Peru, teach in Turkey, work at a hostel in Morocco, or live in a homestay in Italy?
Your first step in narrowing down the choices should be to make a list of what you want to get out of the experience. Is it really important for you to practice a language, and return home with the ability to converse fluently? Questions to ask yourself include:
Are you the kind of person that needs to live in a certain physical environment to feel comfortable and truly happy?
Is your main goal to challenge yourself and assimilate into a culture wildly different from your own?
Asking yourself these kinds of questions, and thinking critically about the type of trip that would satisfy you, are crucial for ensuring that you make the most of your time spent abroad.
To illustrate how this approach might help you, I'll share a few anecdotes from my own life. I studied abroad in Costa Rica a few years ago, and had to choose between the capital of San José and the nearby town of Heredia. Although they are situated less than 20 kilometers apart, they can provide vastly different study abroad experiences.
San José is larger, more populated, and has more social attractions in the areas of nightlife, festivals, sports events, etc. Heredia is smaller, more natural and peaceful, and has more opportunities to really immerse yourself in the Spanish language. Although Heredia appealed to me in more ways, I ended up choosing San José. The university in San José offered more classes that I needed. I was (secretly) nervous about going abroad for the first time, so I opted for a large program to meet more people. In hindsight, I would do everything over again exactly the same way, because I truly had the best three months of my life and still keep in touch with the amazing friends that I made there.
If I had been honest with myself at the time, making friends and feeling comfortable were higher priorities than living in a beautiful town and practicing Spanish, so I think my choice ultimately worked out for the best.
Fast forward three years, and I'm trying to decide where to teach English in Spain. I've already been accepted to the Spanish Ministry of Education program that places you (somewhat randomly) throughout the country, or I can use my teaching certification from the International TEFL Academy's online course to move to Madrid and find a job on my own. At the last minute I chose Madrid, because I had heard that teaching jobs were plentiful there, and I wanted more control in where I would spend six months of my life. Once I arrived, I was able to find work as easily as I had imagined. However, adjusting to my new city wasn't as easy for me in other regards.
There are many aspects of life in Madrid that I love and currently miss, but it didn't turn out to be the best fit for me. It was my experience in Madrid that truly showed me the importance of picking a destination that matches your personality and priorities. I know for certain now that I don't adjust as well in big cities; I crave being around natural landscapes that will fill me up and inspire me; I am happier around a few best friends than many acquaintances; and it's important for me to regularly practice languages with native speakers. I learned so much about myself during my time in Madrid (and got to do some amazing traveling throughout Spain and Europe in the process), and I'm certain my next destination will reflect that new found growth and wisdom.
One of the amazing benefits of living abroad is that, at the same time you are exploring this big beautiful world, you are simultaneously undergoing a personal transformation. Each time you live somewhere different or challenge yourself in new ways, you will become better at understanding what it is you do and don't like, want, or need. As you prepare to go abroad for the first or seventh time, keep in mind that there is no absolutely right or wrong destination for you. You should be honest with yourself about what you hope to get out of the adventure and connect your goals with similar locations, but you shouldn't worry that a destination alone will make or break your time abroad.
No matter where you choose to go, the most important piece of advice I can give you is to approach your new home with an open mind and a positive, curious attitude. Get to know people who have different perspectives than you, taste foods that you've never encountered before, say "yes" more often than you say "no," sign up for classes with locals to experience their hobbies and pastimes; overall, take advantage of all that your destination has to offer. These are the memories that will stick with you the longest, and the moments that will impact you the most.


Brooke is a 23 year old native of Virginia who loves spending time at home as much as she loves to travel. Her favorite pastimes include hiking, cooking, exploring, practicing yoga, and reading. She hopes to work and teach abroad many more times, and ultimately build a career in International Education and Development.
Founded in 2010, International TEFL Academy is a world leader in TEFL certification for teaching English abroad & teaching English online. ITA offers accredited TEFL certification classes online & in 25 locations worldwide and has received multiple awards & widespread recognition as one of the best TEFL schools in the world. ITA provides all students and graduates with lifetime job search guidance. ITA has certified more than 25,000 English teachers and our graduates are currently teaching in 80 countries worldwide.
Want to Learn More About Teaching English Abroad?
Request a free brochure or call 773-634-9900 to speak with an expert advisor about all aspects of TEFL certification and teaching English abroad or online, including the hiring process, salaries, visas, TEFL class options, job placement assistance and more.