must read
What Are Salaries for English Teachers in the Middle East in 2022?
Learn how much money you can make and what salary you can earn teaching English in the Middle East.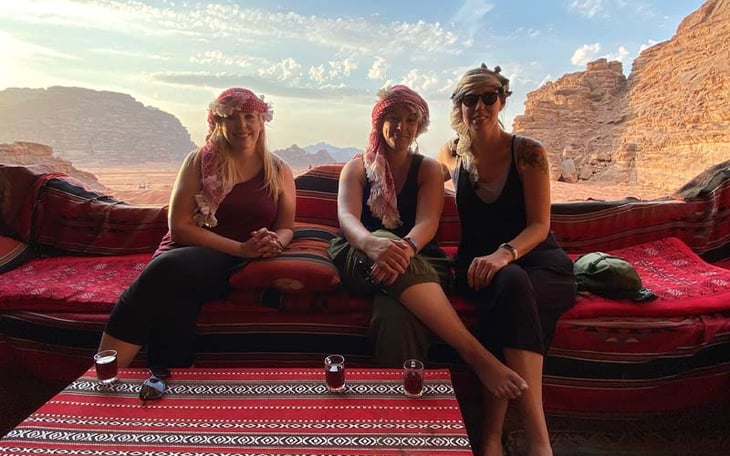 Stretching from the western shores of North Africa across the Sahara to the Levant, the Arabian Peninsula and into the heart of Central Asia, the Middle East is a vast and diverse region not only from the standpoint of its cultures and geography but in terms of the opportunities it offers certified English teachers as well.
In the wealthy Arab nations of the Persian Gulf region, English teachers can command some of the highest salaries and finest benefit packages in the world. They also must compete in a competitive job market. Often schools in this region of the Middle East will require English teaches to have a Master's Degree (sometimes in education) and previous teaching experience, on top of their TEFL certification. That's not to say it's impossible for first-time teachers to get a job in this region (especially in Saudi Arabia). However, you will need to be persistent, patient and flexible in your job search.
How much do English teachers earn in the Middle East?
Those who qualify for such positions will enjoy some of the highest salaries in the field as pay can range from $2,500 - $6,000 a month, plus free housing and flights to and from the teacher's home country.
Meanwhile, countries like Egypt and Morocco offer a good number of opportunities to first-time teachers as well as old hands, not to mention fantastic combinations of history, culture and natural wonders. Positions in the region vary widely in nature and are available in public schools, vocational schools, language institutes and private international schools.
Jobs are somewhat easier to come by for those with just a four-year degree (or even less) and a TEFL/TESOL Certification in Egypt, Morocco, Jordan, and Turkey, where the pay is often considerably lower, but the cost of living is low and the opportunities for immersion in one the world's great regions for culture and history are innumerable. It is also worth noting that the cost of living tends to be much lower in such countries than in the U.S. or Europe, so you can live comfortably on a lower salary.
Other things to consider when looking to teach in the Middle East:
The vast majority of positions in the Gulf Countries (Saudi Arabia, UAE, Kuwait, Qatar, Bahrain, and Oman) are obtained through interviews in advance.


Teachers should expect to adhere to local cultural norms, which can vary dramatically from what you may be used to in the West. Within the region, restrictions on personal freedoms such as style of dress and the right to consume alcohol can vary widely from country to country, or even from region to region within a particular country. Major cities like Dubai, Cairo and Beirut are cosmopolitan and offer nightlife and so forth.
The presence of large expatriate communities, where teachers can socialize with other westerners, makes the transition for newcomers to the region much easier.


Many countries have high qualification standards for their teachers, including a Master's Degree in Teaching or a related field and/or having a state teaching certificate.


Salaries in some Middle Eastern countries are of the highest in the field and can range from $2,500 - $6,000 a month, including benefits such as housing and round-trip airfare.
Note: With the onset of COVID-19, many schools and even many countries have closed. Luckily, the countries listed here have been among the most effective in containing the pandemic are open (or are opening) for TEFL jobs. To learn more about individual countries, call an advisor at 773-634-9900 or fill out a form to request your free TEFL Starter Kit.
A Michigan native, Michael has more than 10 years of experience working in education, both teaching English abroad in Spain and teaching in the Chicago public school system. Michael holds a Master's Degree in Education from DePaul University and is one of ITA's most senior advisors, who has also published numerous articles about various aspects of TEFL. When asked about his experience in Spain, Michael invariably states that after marrying his wife, teaching abroad is the best decision he has ever made.
Want to Learn More About Teaching English Abroad & Online?
Request a free brochure or call 773-634-9900 to speak with an expert advisor about all aspects of TEFL certification and teaching English abroad or online, including the hiring process, salaries, visas, TEFL class options, job placement assistance and more.