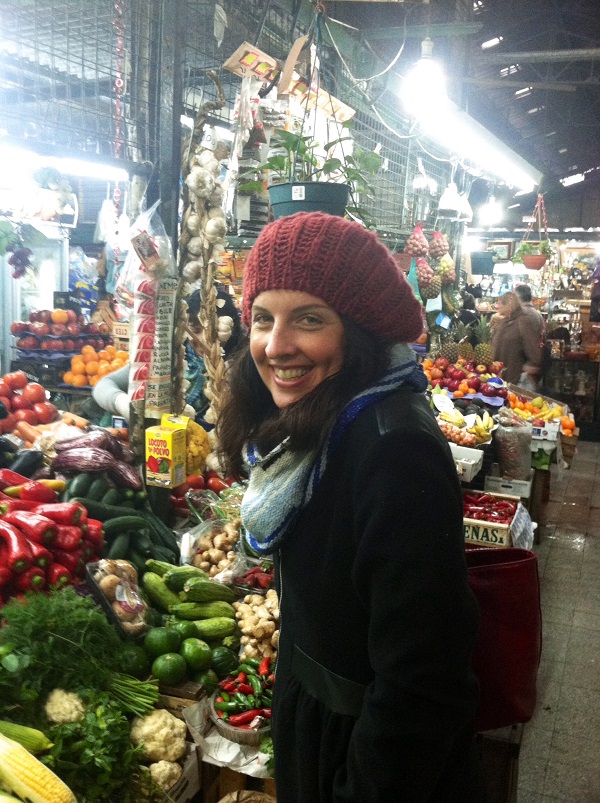 Top Tips for Vegetarians Who Want to Teach English Abroad

One of the great aspects of living and traveling abroad is the opportunity to explore new cuisines and foods, but living and traveling overseas as a vegetarian can be challenging and even intimidating, for experienced and first-time travelers alike. If you are a vegetarian considering teaching English abroad, the bottom line is that in some countries it is easier to manage than in the United States or Canada, and in others, it is seemingly impossible.
But don't stress, this vegetarian can tell you from first hand experience: it is totally doable. Each country will offer at least some vegetarian options and in the globalized world of today, you can easily stumble upon international food in most cities. At International TEFL Academy, our staff have traveled to about 100 countries combined, so here are some tips and options from myself and members of the International TEFL Academy staff for vegetarians and omnivores alike!
Helen on Eating Vegetarian in Spain (where she taught English):
Europeans love meat, but you can always find some cheese and bread options (vegans beware!). Fruit and olives are also widely available.
In Spain, tofu and meat substitutes are hard to find. Eggs (not refrigerated...hmm still don't know how that works) and nuts are going to be cheaper and easier to find for protein.


Veggies and fruit are fresh and much more affordable than in the United States, so making your own food is going to be a great option. Ridiculously affordable produce can be found at Supermercados Dia.
Soups! From the cool refreshment of gazpacho to the rustic flavors of Castillian sopa de ajo (garlic soup), vegetable soups are a highlight of Spanish cuisine. Note than there are many variations of such dishes and sometimes soups are made with a chicken broth or flavored with ham, so if you're eating out, you may want to inquire (and this holds true throughout Europe).
If you are a vegetarian teaching English in Spain, fall in love tortilla española. If you are more familiar with Mexican cuisine, you may not be aware that in Spain, the word "tortilla" typically refers to a thick omelette (like an Italian frittata) and this classic version features potatoes.


Note for all Americans (and not just vegetarians)! Ketchup may be hard to find, oh the humanity! Aioli (the local, often high quality version of mayonnaise) is a more popular condiment for dipping fries - but it contains eggs.
Not all tapas have meat in them. Check out the vast options for vegetarian tapas: Vegetarian Tapas.
If you NEED to find some American "necessities" in Spain, you can always hit up your local El Corte Ingles, and can find almost everything you could find at a churched up Target (besides plastic Easter eggs...pack those)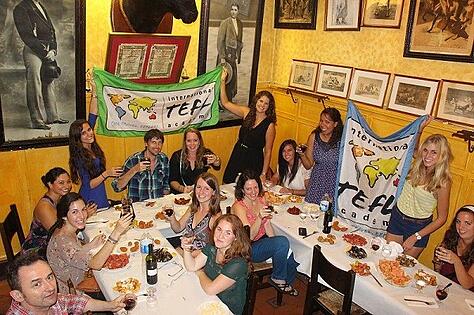 Lauren - Argentina
Lauren, who taught English in Buenos Aires: "I found it pretty difficult to eat vegetarian while teaching English in Argentina, actually. I went down as a vegetarian that hadn't eaten meat for 7 years and I broke in three weeks. I mean Argentina is known for their meat, so I had to try some. Also, animals are treated a lot more humanely than here in the United States. That made me feel a little better about eating meat."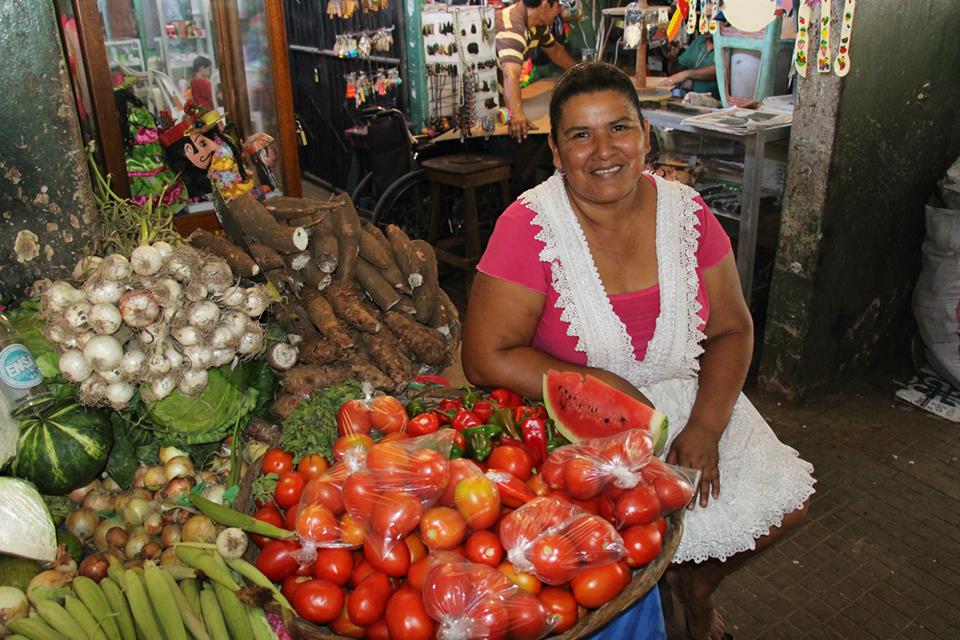 Michael - Latin America
Michael, who recently spent 10 days in Nicaragua: "I've done a lot of traveling in Latin America. If you are a pescatarian and love fish/seafood, it would be really easy to live there. You would also be eating fish that restaurants fly in daily here to the States. But being a vegetarian is definitely doable as well. My buddy in Nicaragua introduced me to some amazing vegetarian street food. You can pick out grilled veggies and rice at a street vendor and they roll it all up on a plantain leaf or tortilla. This costs only about fifty cents!"
Matt - Germany
Matt, who took his TEFL course and studied in Germany: "While Germany definitely has that typical sausage fare, there are also some great vegetarian options. Germany has a bakery culture. There is a bakery on each corner and you can smell the bread baking while walking by. Pop in and have some of the worlds best cheese, bread, and breakfast. There are really great international options as well. Tons of Turkish, Japanese, Indian, and European restaurants can be easily found as well. Also, last time I checked, beer is vegetarian!"
Ian - Czech Republic
Ian, International TEFL Academy Vice President: "I found that it wasn't that hard to be a vegetarian in Prague, Czech Republic. I mean, the traditional food there is meat heavy, but you aren't only eating local traditional food all day. There are plenty of options at most restaurants, especially in Prague. Most major cities it's not an issue. Most of the traditional food there is what most foodies would call "brown food," meaning that it's meat based without a lot of color. It's obviously delicious, but can be very heavy. It goes very well with beer. I actually had one of the best vegetarian meals of my life in Prague, as there are a few high end veggie places within the city. It was at this restaurant: Maitrea. I highly suggest that you Czech it out (facepalm). If you stick to eating only traditional fair, the lightest thing on the menu will likely be a pint pilsner."
Paige & Havvah - China

Paige, who taught in China: "It could be difficult to get food in China that is 100% vegetarian. Saying you are vegetarian in China means that you don't eat A LOT of meat, so you might find a little meat in a vegetarian dish. My vegetarian friends in China learned phrases to use at restaurants. That was key for them. In major cities, you can find American food as well. Fun fact: Pizza Hut is gourmet in China. You need a reservation and use nice cutlery. Culture shock! Also, for a more classic dish, try ma la tofu. It means mom's tofu and it is amazing!"
Havvah, who taught English in China: "It is pretty easy to be a vegetarian in China. My friends who were vegetarians there would often say that they were Buddhists so as not to come off as rude to people that were taking them to dinner. Culturally to not eat meat can be rude, so this helped them avoid coming off that way."
Jeff, Cassie & Jessie - South Korea & East Asia
Jeff, who taught in South Korea: "It is really easy to eat vegetarian if you are teaching English in South Korea. Kim Chi, the national dish, is totally vegetarian and consists of various versions of pickled cabbage and other vegetables. Rice is a staple and many meals feature an assortment of seasoned and pickled vegetables, known as banchan. Just be sure to ask what is in the dishes. You will be set if you like soups, rice, and vegetables."
Cassie, who taught in South Korea: "I found it doable in Korea. Taking a cooking class is a fun thing to do to learn more about the culture and a great way to learn how to use the amazing produce that is unique to South Korea. It is not the easiest thing to do, but years later I am back here in the United States and still a vegetarian."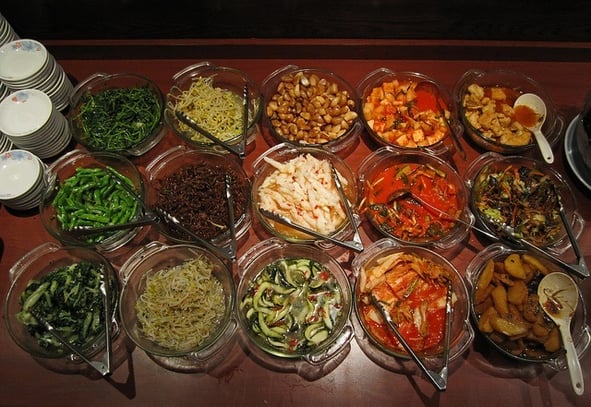 Jessie, who taught in South Korea & Vietnam: "Anywhere in Asia you can find a lot of fruit and veggies, and of course rice and noodles It is also actually the cheapest way to eat there (though fruit can be expensive in a country like Japan). The food is generally fresh and delicious. I became a vegetarian by default. When I came back to the States, I actually got really sick. The food here in the USA is so much more processed and unhealthy."
Middle East
Doug, veteran International TEFL academy Admissions Advisor: "It is really easy to be a vegetarian in Israel. Vegan would be hard, because there is dairy in everything. But if you like falafel, pita, fresh salads, you will love food in Israel. There is not a ton of variety, but most of the options are vegetarian. Also, the food is kosher, if that's what you are into; even kosher McDonald's!"
John, who grew up in Egypt and lived in the region for 15 years: "In Egypt and throughout the Middle East, everybody eats meat, but it's not hard to be a vegetarian. The basic staples of the diet are bread, beans, rice, salads, grains like bulgur, and dips like tahina and hummus. Fuul, which is cooked fava beans typically seasoned with spices like cumin, lemon and garlic, is practically the national dish of Egypt. My personal favorite is an hearty Egyptian dish known as kushari, which is comprised of macaroni, lentils, chickpeas, rice and tomato sauce topped with browned onions and possibly hot sauce.

Many meals include an assortment of small side dishes known as meze, that features all kinds of yummy vegetarian dishes ranging from stuffed grape leaves and beet salad to labnah (strained yoghurt) and baba ghanough, which is basically hummus or tahini mixed with mashed eggplant and spices. Green salads like tabouli are also quite common, and of course in the North African countries like Morocco, couscous is a daily staple. Fresh fruit and vegetables are available in markets throughout the region and in larger cities, all types of international cuisine is available from fastfood chains like KFC and Pizza Hut to upscale French, Italian and Japanese eateries."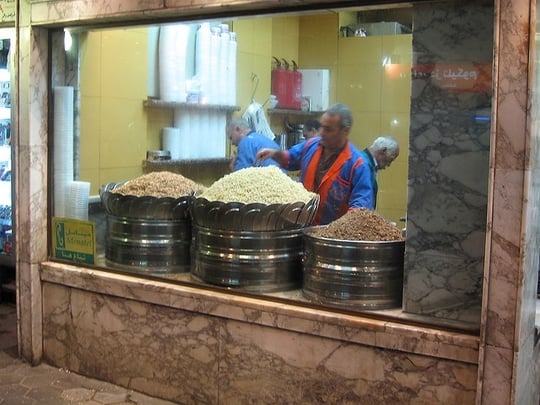 Christie: Nepal
Christie, who taught English in Nepal as a volunteer: "For Nepal, the food is really based on a vegetarian diet even though you can find chicken, goat, and water buffalo in restaurants. They don't eat beef there because it is sacred! I ate meat while I was there but I didn't like it. Check out these websites below. The first one offers some great tips for vegetarians from our friends at Go Overseas and the second helps you locate vegetarian restaurants all over the world.
Basic staples include rice, lentils, and curried vegetables. Saag, or spinach, is really popular They actually eat Dhal Baat twice a day and a lot of times without meat. The main staple is Dhal Baat, which is delicious. Here's a link to a recipe!"

Final Take-away:
Being open and flexible is going to make it easier to get by as a vegetarian abroad. It may be a test of your will, so if you want to try the famous Spanish ham or seafood paella, go for it, take a bite. In many cases, the food is going to be a lot fresher and healthier than in the USA. If you are sticking to your vegetarian roots, that is excellent as well! You may have to learn some special phrases to communicate what you can and cannot eat, you may have to have a bag of chips as dinner every once in a while, and you find yourself with a baguette is your bag on the reg, but that is not going to affect the enjoyment of your time abroad teaching English. Vegetarians unite!
Looking to get started? Speak with an advisor today to put together your personal plan for teaching English abroad!
Request a free brochure or call 773-634-9900 to speak with an expert advisor about all aspects of teaching English around the world, including TEFL certification, the hiring process, salaries, visas and more.
Related Articles: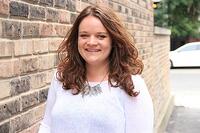 About the Author: A western girl at heart, International TEFL Academy Admissions Advisor Helen grew up in Texas and New Mexico, and gained her love of travel on her first trip abroad to India. From there she knew she wanted to travel and see as many cultures as she could. Helen had the amazing opportunity of living and teaching in Madrid for a year. She traveled all over Europe, but her favorite places ended up being right in Spain. She continually works to improve her Spanish and is excitedly looking forward to a trip to Latin America in the near future.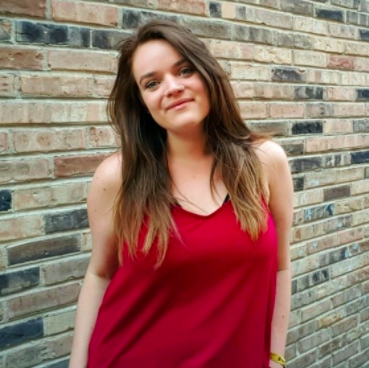 A western girl at heart, International TEFL Academy Admissions Advisor Helen grew up in Texas and New Mexico and gained her love of travel on her first trip abroad to India. After college, Helen had the amazing opportunity of living and teaching in Madrid for a year. Upon returning to the U.S. she joined International TEFL Academy where she has spent more than 5 years assisting hundreds of people from all backgrounds to achieve their goals of getting TEFL certified & teaching English abroad.
Want to Learn More About Teaching English Abroad?
Request a free brochure or call 773-634-9900 to speak with an expert advisor about all aspects of TEFL certification and teaching English abroad or online, including the hiring process, salaries, visas, TEFL class options, job placement assistance and more.