9 Reasons to Love the World Cup while Teaching English Abroad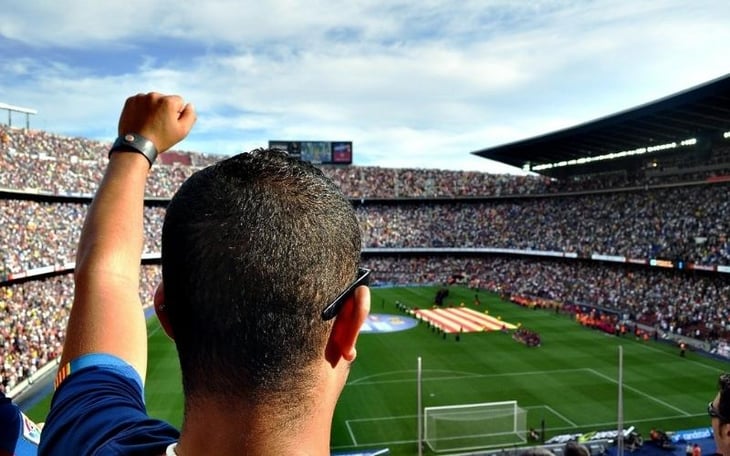 English teachers abroad experience life in a foreign country as authentic as it comes. Living as a local while teaching English abroad in a nation like Argentina, Mexico or South Korea provides the opportunity of a lifetime to immerse yourself in local celebrations, unique cultural events and national holidays in ways a tourist just can't.
This includes sport, and rightfully so. The grandest international spectacle of them all, the FIFA World Cup, brings out the pride and identity of a nation like none other. Sure, we air it on television here in the United States and pockets of fans gather to enjoy matches, but this doesn't hold a candle to the "Total Fandom" you'll experience actually living in a soccer nation across the globe, like Spain, Germany or Brazil, where the sport is followed with a passion and fervor, Duke basketball and Green Bay Packer fans can only dream of rivaling.
Well over 1 billion people will view the World Cup Final. That's more than 10 times the audience of a typical Super Bowl. From Cairo to Copenhagen, Madrid to Moscow, nearly every television in every bar or café will be tuned in to every match regardless of which teams field the pitch, throughout the month-long competition. What's not to love about that?
It's time for we Americans who consider ourselves global citizens to get with it, embrace the world's greatest sporting competition and discover our inner football spirits!
Here are 9 reasons why....
ITA alumna Adria Baebler catches World Cup fever in Uruguay, a 2-time cup winner.
Read her story here.
1. Want to Know What Everyone's Talking About?
Trying to learn a foreign language or want to make friends while living overseas? Feeling shy or nervous to initiate conversation? Well this is what everyone's talking about! Wander down to the nearest bar or café, slide up to a local, bring up the World Cup, and you're bound to get an animated opinion. It's not rocket science, so you'll probably find that the sport is well within your range of vocabulary, and a great opportunity to practice speaking!
2. Happy Holidays!
In most countries where the sport of football is truly embraced, a match on the World Cup stage will be celebrated in the fashion of a national holiday, while clocking in/out at the daily grind seems more an option, than mandatory – worker production reaches a near screeching halt (outside of pubs/cafés, of course) as the anticipation of a game calls for spending the day at gatherings with friends and family. Think of it like Super Bowl Sunday every day for a month.
Quick teaching tip: Pretend you've never heard of the World Cup and ask your students to explain in detail their plans/customs for such an event – Who are you watching the game with? Where would you suggest I watch the match? Do you have any predictions (um, our team is going to win, of course!)? It's a great conversation starter that they'll actually want to participate in and can be used as a base for at least couple of lessons. I probably just saved you 30 minutes of lesson planning, but this one was on the house, gratis.
3. The Elation
Think you learned how to party in college? Just wait until you are celebrating a World Cup victory in the beerhalls of Munich, the bars of Buenos Aires or the streets of Santiago; it's single handedly worth the pilgrimage! From Brazil to Chile to Italy to Spain, the streets will be filled with camaraderie and celebration, the likes of which there is simply no parallel for. Wherever you're living abroad, you'll find yourself cheering for your host nation's team in emotional and desperate fashion, even if only for selfish reasons – who would want such a grand party to end? You simply don't want to miss out on this!

ITA alumni experiencing the World Cup around the globe in 2014.
4. The Defeat
Yes, for every victor, a loser must also emerge. A landslide defeat for any country can be devastating, and in some countries - like Holland and England - many view the repeated disappointment and dashed expectations as cursed destiny akin to Shakespearean or Greek tragedy. The only time in my life I've literally seen grown men cry, is watching their football squad get destroyed in brutal fashion – their tears a testament to sports culture and their national pride.
5. One Liners for a Lifetime
Still learning the nuances of the game? No worries, the commentators and fans alike provide plenty of excitement and catch phrases sure to entertain even the most novice fan. Their bold, definitive proclamations eloquently offered in a fine gentleman's accent, enhance the theatre to monumental proportions of jubilation or shame. For anyone who tuned in to watch the 2010 World Cup Finals rematch of Spain versus the Netherlands and witnessed Robin Van Persie's final goal, which sealed the ill fate for the defending champions after a badly botched touch by its goalkeeper – such torment was captured in a single line filled with raw shock and disbelief – "And Spain's embarrassment is complete!"
Quick Tip: Listening to local television coverage provides a great opportunity to improve your comprehension and expand your passive vocabulary while living in a foreign country. Keep a language journal, jot down any colloquialisms or slang you encounter and make them a part of your active dialogue - You'll be sure to impress locals and friends at home with your skills!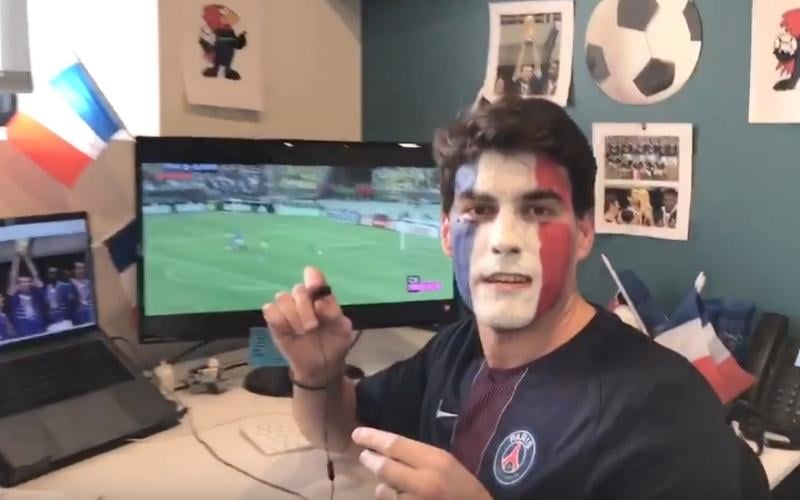 Busted! ITA team member Stéphane Le Mentec gets caught watching the World Cup on the job. If you didn't notice he's a tad excited to cheer on his home country of France - winner of the 2018 tournament.


6. Rocking the Anthems
No need to win gold to have the flag raised and anthem played. Both footballer and fan join in chorus to boisterously belt out their national song and pride before every match. It's a sheer delight to observe!
7. Every Match Matters
That's right, with the point system in the round robin group stages, the opportunity to advance often hinges upon the performance of a match your team isn't even playing in – you'll find yourself watching nations you didn't realize you had a stake in, rooting for a win, loss or draw, as the implications for your squad may be fatal. In this format, the action of each match delivers drama, tension and fantastic play sure to draw you in, no matter the teams involved; it's kind of like the March Madness NCAA tournament, if you could amp that up 100 fold.
8. Sport Imitates Life, Life Imitates Sport
If you're living abroad during the World Cup, football mania will certainly inspire pickup games in the park with friends/acquaintances. Put your pride aside and jump at the chance to get involved – it's a great way to meet new people and a story to tell the friends and fam back home. Also, a love of football is something you can take with you anywhere you may go in world and unlike some other sports, it doesn't require fancy equipment or a superhuman athletic physique (the world's top player, Lionel Messi of Argentina, is barely 5'7" tall). If you haven't had the time to practice much (or ever), your only advantage may be in knowing the rules/strategy. Now's your chance to watch, learn and develop the hobby that you can enjoy for life!
ITA graduate, Carlos Torres (left, front row), wears the colors of the U.S. & Brazil while taking in a World Cup match with his Brazilian friends & colleagues (and other assorted locals).
9. Time to Get off the Island & Become a Global Citizen
So they say there's a little truth in every stereotype, and if you hail from the U.S. and have ventured abroad previously, you may have heard that Americans are one or more of the following:
Americans Talk Loud

Americans are Arrogant

Americans live on an island, and are generally uninformed about what's going on in the world, outside our borders, including sports.
Well here's a chance for you (if you are an American) to prove those stereotypes wrong, embrace the pastime of the world, and make new friends while you're at it.
Matt Birgy is a member of the ITA Advising team, Matt has taught abroad in South Korea, studied in Germany, worked with adult ESL students in Chicago and visited over 20 countries worldwide. Between his teaching days in Korea and working as a senior advisor at ITA, Matt has more than 10 years of professional work experience in the field of TEFL and Teaching English Abroad.
Want to Learn More About Teaching English Abroad & Online?
Request a free brochure or call 773-634-9900 to speak with an expert advisor about all aspects of TEFL certification and teaching English abroad or online, including the hiring process, salaries, visas, TEFL class options, job placement assistance and more.