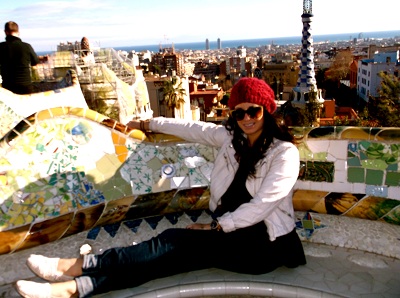 Barcelona, Spain English Teaching Q and A with Lexi Sabatino
TELL US ABOUT YOURSELF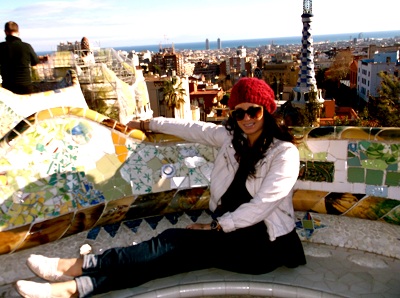 What is your citizenship?
United States
What city and state are you from?
Philadelphia, Pennsylvania
How old are you?
23
What is your education level and background?
Bachelor's Degree
Have you traveled abroad in the past?
Some international travel with friends, family, business, etc.
If you have traveled abroad in the past, where have you been?
Italy, Switzerland, France, England
What sparked your interest in going to teach English in Spain?
I have such an intense hunger to travel and experience people and culture outside of my own. The more I travel, the more I want to travel! I find that teaching in these cities is my way of giving back to a place that is giving me so much. It is a mutual give and take when you are teaching abroad. I never saw myself as a "teacher," but the more I do it, the better I want to become.
TEFL CLASS INFORMATION
Why did you decide to get TEFL certified and choose International TEFL Academy?
After college I needed a job that would allow me to find myself and experience foreign culture at the same time. I absolutely could not sit behind a desk from 9 to 5! I did some research and stumbled upon International TEFL Academy.
My pre-registration adviser, Doug Waxman, was one of the main reasons I chose this Academy. After spending 45 minutes on the phone with him, I could tell he was just as enthusiastic about travel as I am. He was genuine and endearing and gave me as much information as I asked for and more! I think this Academy has established an incredible staff; one that I would consider working for or with in the future.
Which TEFL certification course did you take?
How did you like the course?
The online TEFL course was interesting and enjoyable. The instructor was helpful and patient. I particularly enjoyed the positive way this course looks at teaching. The course was focused on how to be more than a teacher to our potential students.
How has your TEFL training helped you in your current teaching position?
The TEFL training has helped me in many various ways. I have learned to be much more patient and tolerant of student mistakes. Instead of constantly correcting my students, I have learned how to spin their mistakes into a positive learning technique. Even when my students are wrong, I find one positive thing about their work.
The TEFL training has also helped me to use as many techniques and methods as possible. I understand the importance of diversity and versatility in the classroom!
TEACHING ENGLISH ABROAD IN BARCELONA, SPAIN
Which city and country did you decide to teach English in and why?
I am teaching English in Barcelona, Spain. I knew I wanted a latin country and Barcelona seemed like such a young and magical city. I wanted to live in a place that suited my age and mentality.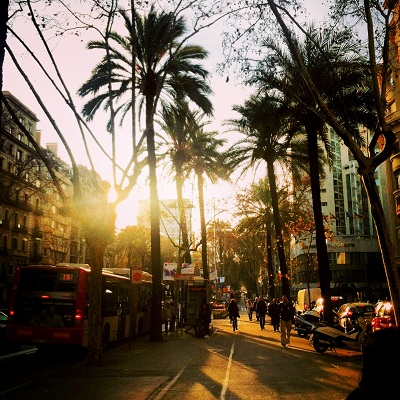 How long have you been teaching English in Spain and how long do you plan to stay?
One month. I plan to stay about a year. I am absolutely in love with the city and don't want to leave any time soon.
How did you secure your English teaching job in Spain?
I did a lot of networking when I first arrived. I spoke with many people in the BTTA and sent my CV to as many jobs as I could find. I advertised on Loquo and LingoBongo to help get my name out there.
What school, company, or program are you working for? Please include the website if they have one.
I am working for myself :) I picked up 6 classes from another private teacher. She was leaving the country and needed to replace herself. I now work with 6 amazing families as their private teacher. I am still accumulating more job opportunities!
How did you get your work visa? If you didn't get a work visa, please elaborate on working under the table without a work visa.
I do not have a work visa! It was very scary to make the the leap of faith, but I did and I don't regret it. There are many places that are happy to accept "illegal" teachers.
Because I am a private teacher, there is really no concern for me. The families I work for are just so happy to have a kind, native, English teacher to help their kids...they could care less if I have legal papers. They are fascinated by my courage to move to Spain alone and thus appreciate my help.
As for the academies, I know many Americans working in Spain who have no papers. The longer I am here, the more stories I hear about "illegal" Americans living and working in Spain for years upon years! It's insane, but also incredibly reassuring!
At the moment I am not working for an academy, but I have been offered positions by academies who were willing to hire me under the table.
You have to be a confident and determined person in order to make it happen in a place like Spain. You can't expect to sit at home and hear back from every employer... it's just not going to happen. The Spaniards live life very slowly and may not return your emails for weeks. Keep putting yourself out there, keep being aggressive and confident and you are sure to find a position. I am enjoying working for myself in a private environment, it is a first for me and something I will be able to tell future employers.
Tell us about your English teaching job in Spain!
I have only been teaching English in Spain for one month so I am still accumulating jobs and sending resumes. Keep that in mind.
Hours: I am working 6.5 hours a week but will not stop there. I am actively sending emails, posting advertisements, building a private client base, and keeping my options open.
Salary: I charge 20 euros an hour per private class. 30 euro for 1.5 hours. (This is a tentative price, but I try not go lower than 20 because the teachers who accept lower paying jobs are lowering the market for teachers all over the city. Essentially, accepting low paying jobs lowers teacher's worth and screws up the system for all of us.)
Right now I am making 550 euro a month. It's not as much as I want, but it's a good start and good pay. I simply need to accumulate more hours at that rate and I will be in more secure place of income. At the moment I am not really saving, but I have every intention to save once I have established a higher income.
Students: My students are ages 4-20. Most of my families want me to focus on conversation and speaking. They want their kids to have a native person to reinforce the English they are learning school.
Vacation: Working for myself gives me the flexibility to change and alter my classes as I see fit. I can create my own lesson plans and methods. I can also focus on designing each class to meet the needs of my individual students. If I am going on vacation, I simply have to tell my families in advance and there is no problem. Because I am teaching privately, I also have the opportunity to work through the summer while other teachers will be finishing their semester. These families want me to stay with them as long as I can. They are also very genuine about paying me each class.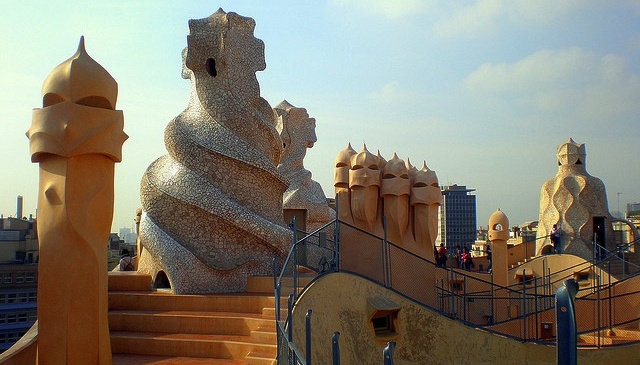 How did you find somewhere to live and what is it like? Do you have roommates?
I used different websites likes Loquo and the BTTA Facebook page. I was lucky to have other teacher contacts in Barcelona who put me in touch with people searching for flatmates. Ultimately I found my flat through a friend who saw an add for 3 English teachers looking for a 4th flatmate.
I live in one of the best areas of the city (Gracia) and enjoy living with 3 other fun English teachers. We're all in our twenties and can relate to the "teacher lifestyle." I was lucky to have found a relatively cheap flat with a great flat mates.
COUNTRY INFORMATION - FUN!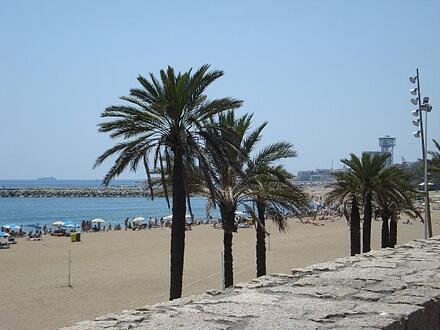 Please explain the cultural aspects, public transportation, nightlife, social activities, food, expat community, dating scene, travel opportunities, etc. about your country:
Culture: Well, the locals speak Catalan, but everyone speaks Spanish. Many people also speak at least some English, as there is a growing demand here.
Public Transportation: The public transportation is very easy and safe. I am still learning how to use the bus, but the metro is user friendly and very safe.
Nightlife: The nightlife is Barca is amazing! Obviously it is one of the most trendy and young cities in the world. What I love so much about this city is how diverse the people are. I have met people from all over the world who are living and working here because they simply cannot get enough of the Barca lifestyle. (Italian, Irish, English, Australian, Romanian, Hungarian, French, etc etc)
Expat Community: There is a huge community of Americans here. However, I try to keep myself immersed in the city culture rather than run to my native people.
Dating Scene: The dating scene? Um...its very laid back. This is Europe, people just want to drink wine and enjoy themselves. I know plenty of teachers who have fallen in love here and now live with their partners but I would say the dating scene is pretty casual here. There is a ton of opportunity to meet and go out with people from all over the world.
Food: The food is fantastic. There are markets and shops on every street. People take their time to enjoy their day whether they are working or not. They stop for coffee with a friend, or take a walk in the sun. In Spain, you have to learn to move much slower. The businesses take a siesta every day and many things are closed on Sunday. On the flip side, there is less pressure to become a "workaholic." Life is simply more savory here. You can understand why I never want to leave.
Barcelona, specifically has a cool vibe because its a city right next to the beach. You have that whole seaside mentality as well as the bustling city energy. It's a perfect combo for someone who requires excitement and relaxation.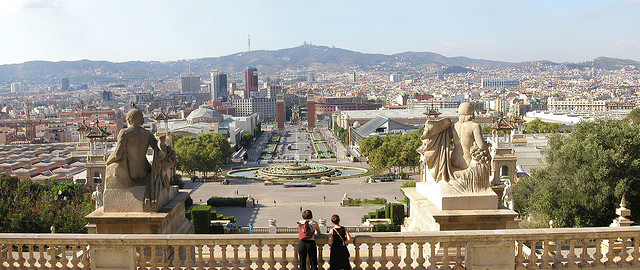 COUNTRY INFORMATION - MONEY
What are your monthly expenses?
Rent: 300 euros plus utility bill (various month to month but about 50 euros)
Food: I buy food in very small increments in order to avoid waste. I can go to the market twice a week and spend 20 euro for breakfast/lunch/dinner. Food is pretty cheap here. So is beer and wine.
Social: There is always something to do. There's always a bar, cafe, or club open for service. There are tons of parks, museums, and places to explore. And the people are truly what make the city so wonderful. Everyone is curious and excited about Barcelona, no matter how long they've lived here.
Phone: I bought a pre-paid smart phone that has internet capability. It is very important to have a Spanish phone in order to keep in contact with your employers and local friends.
How would you describe your standard of living?
Comfortable. I have what I need, and from time to time I allow myself to indulge in my wants.
In your opinion, how much does someone need to earn in order to live comfortably?
About 800 euro. If you have saved money and are making 800 euro you can live comfortably. I am living off less right now, but have saved money to support myself until I am making what I want.
ADVICE FOR PROSPECTIVE ENGLISH TEACHERS IN BARCELONA, SPAIN
What advice would you give someone planning or considering teaching abroad? Would you recommend teaching English in Spain?

Don't let fear change your mind! I was such a mess before I left for Spain. I was worried about everything, I wanted it to be perfect and I was terrified of all the possibilities. Just make the jump and trust yourself. If you have gotten yourself to this point you are clearly a motivated and passionate person. An average person wouldn't have even signed up for the TEFL academy so you are already ahead of most.

I totally recommend teaching English in Barcelona for young teachers everywhere! It is such a diverse and magical city, full of character and personality.

I have had the privilege of meeting people from all over the world, and when I ask them their favorite city... their answer is almost always Barcelona. A city full of palm trees, Gaudi influence, and the sea! It never gets very cold here and the summer is far longer than the winter. I haven't experienced the summer yet, BUT I have heard that you cannot beat a summer in Barca. Beach parties, pool parties, BBQ's, sunshine, busy parks, and endless music festivals!

Do you want to read more?

Check out Lexi's blog: https://womanwanderer.tumblr.com/
Founded in 2010, International TEFL Academy is a world leader in TEFL certification for teaching English abroad & teaching English online. ITA offers accredited TEFL certification classes online & in 25 locations worldwide and has received multiple awards & widespread recognition as one of the best TEFL schools in the world. ITA provides all students and graduates with lifetime job search guidance. ITA has certified more than 25,000 English teachers and our graduates are currently teaching in 80 countries worldwide.
Want to Learn More About Teaching English Abroad?
Request a free brochure or call 773-634-9900 to speak with an expert advisor about all aspects of TEFL certification and teaching English abroad or online, including the hiring process, salaries, visas, TEFL class options, job placement assistance and more.