Barcelona, Spain English Teaching Q and A with Ali Guerra
TELL US ABOUT YOURSELF

What is your citizenship?

United States

What city and state are you from?

Orlando, Florida

How old are you?

23

What is your education level and background?

Bachelor's Degree
Have you traveled abroad in the past?

Never left the country
What sparked your interest in going to teach English abroad?

I remember sitting on my queen-sized mattress in my Florida apartment two years ago, and feeling so restless. It was two years ago, and I remember my desire to escape, my thirst for freedom. I remember feeling like I was stuck in that monotonous cycle of working at multiple different jobs which I hated, to pay for bills that I didn't understand for things that I didn't need. And finding myself in other people's words, reaching out to different bloggers, world trekkers, photographers - anybody who traveled the world. I remember writing, "I would pack my bags and leave tonight if I could" to a specific blogger I met online, so inquisitive about her way of life.

Remembering that feeling sits so still in the pit of my stomach, and I can count the number of times I've felt that way in the past. I did a lot of research, trying to come up with a realistic way to enliven my wandering soul. A few weeks later, I came across international TEFL Academy and decided that teaching abroad was the most convenient way to make all of these desires a reality.

What were some of your concerns before teaching abroad?

Mostly financial issues, VISA issues, and adapting to a new country all alone

What did your friends and family think about you moving and teaching abroad?

My family, particularly my mother, was very supportive and excited for my journey. Most of my friends were confused and...shocked, in a way.



TEFL CLASS INFORMATION
Why did you decide to get TEFL certified and choose International TEFL Academy?

I decided that getting certified was the easiest and most convenient way to live a life abroad and support myself while traveling. International TEFL Academy in particular made it very simple and affordable.

Which TEFL certification course did you take?

Online TEFL Course

How did you like the course?

The course itself was challenging and time-consuming, and I only took the online course. It was the best option for me because at the time, I was working and saving up for my big move. It was easy to manage as I always had free time at nights after getting off of work and would dedicate a couple hours a night to the tasks and assignments.

How has your TEFL training helped you in your current teaching position?

I can very easily construct a lesson plan even though I am only mostly doing private tutoring. The TEFL training gave me a lot of insight on communicating with my students in a way that they will understand and learn from me. It helped me organize and put together assignments for them and how to follow a specific teaching outline.

Which city and country did you decide to teach English in and why?

I chose to teach English in Spain in the city of Barcelona. A friend of mine studied abroad in Barcelona a few years ago, and she talked about it endlessly. I wanted to teach in Europe because it had always been a dream destination of mine and because of how easily you are able to travel from one country to another.

How long have you been in this country and how long do you plan to stay?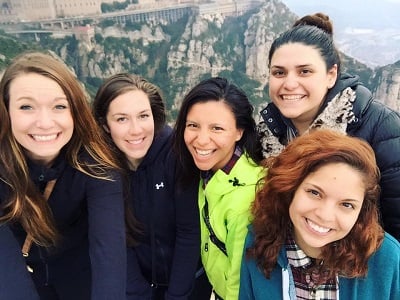 Two months, and I have no plans.

What school, company, or program are you working for?

Mostly private tutoring and also working for an interactive babysitting company called Cangur4u.

During which months does your school typically hire?

I am not in a school.

Did you secure this position in advance of arriving?

No

How did you interview for this position?

- In-person interview

What kind of visa did you enter on?

Tourist Visa

Please explain the visa process that you went through.

I didn't go through a visa process, but I'm working towards getting my DNI and citizenship through my dad.

What are the qualifications that your school requires for teachers? Please check all that apply

- TEFL Certification
- Native English speaker

What is the best way to apply?

- In-person
Please include any application resources (website, email, etc.) or other information here:

LoQuo is a good website to post an advertisement.

Tell us about your English teaching job!

I work three days a week for a family where I pick up their two kids from school and bring them back to their house where I play interactive games with them, help them with their English homework, and learn and do crafts for two to four hours a night. I have a student who I meet with about two times a week for an hour and a half and gradually help him with his grammar and conversation skills. It is very flexible currently, and I am still adjusting and making a schedule for myself. Now I am working on finding more work.

How did you find somewhere to live and what is it like? Do you have roommates?

I met three other girls before coming and we decided on living together, but the process was difficult when we got here and it took us a bit of time to find something that was in a good area, affordable, and accommodating for four people. We almost split up. But one day we were out walking around the city in search of apartments of people that we had been in contact with and were supposed to meet, when we lost all luck. We were sitting on the curb in front of our now flat when two men asked if we were looking for a place to live. We said yes and they showed us the flat we were sitting right in front of - and we instantly fell in love. It was what came to mind when I thought of Barcelona. We were ecstatic and they gave us a more than generous price and basically said we could move in as soon as we want to. Two months later, we still can't believe we live here, in the heart of Barcelona.

COUNTRY INFORMATION - FUN!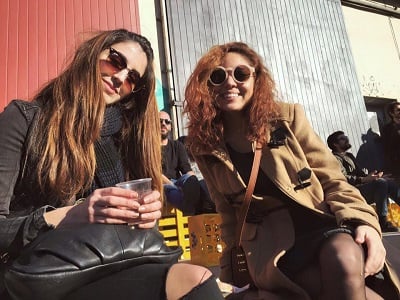 Please explain the cultural aspects, public transportation, nightlife, social activities, food, expat community, dating scene, travel opportunities, etc...

Maybe it's a bit cliche, but my favorite part about this country is the restaurant, café, and bar variety and the slow-paced, tranquil lifestyle. Every time I walk outside, there are people out wandering the streets or having a glass of wine. It feels as though, in general, their lives don't revolve around their job.
The food is delicious - you can find any type of food here from all different countries, but I always enjoy tapas and my daily Tortilla de Patata for breakfast. I also love that there is always something going on outside. Sometimes it's a parade or a random fiesta. They are always celebrating something - life, maybe.
There is a large community of expat and travelers. I've experienced the night life only a few times because I am not used to staying out as late as the Spaniards do. There's definitely a wide range of places that open and close late, but the bar scene is what I like the most. Traveling is so easy and affordable - I've already been to London and Rome and I've found it's really easy to travel with Ryanair.

COUNTRY INFORMATION - MONEY
What are your monthly expenses?

I share a flat with three other girls and we each pay 300 euros ($320 USD) a month. Food and grocery shopping in general is very affordable, and I can get by with 15-20 euros ($16-$22 USD) a week. I enjoy going out to eat, even though it is harder to save money. You can get a month long bus/metro pass for 50 euros (but if you don't take the metro a lot, you can get a 10-trip pass for about 9 euros.) Social activities normally include going out to eat or drink - and drinks are normally cheap in most Spanish bars. I probably spend about 600 euros ($640 USD) a month - depending on how often I eat out or travel.

How would you describe your standard of living?

Fairly comfortable

In your opinion, how much does someone need to earn in order to live comfortably?

1,000 euros a month (approximately $1070 USD)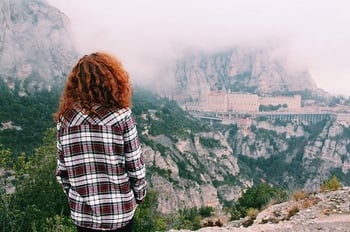 ADVICE FOR PROSPECTIVE ENGLISH TEACHERS
What advice would you give someone planning or considering teaching abroad? Would you recommend teaching in your country?

Save as much as you can before you go so that you're able to spend the first couple of months traveling and exploring! Other than that, I say just go for it. If there's a country you like or have heard good things about, give it a shot. The language barrier might be a little difficult if you don't know the language there, but there is always a way to get by. I recommend Spain and Barcelona in general if you like the arts, good food and wine, culture, literature, the beach, and city life. It's easy to find work because native English speakers are in high demand.

You can follow Ali's adventures on her blog: murmursbyali.blogspot.com
Founded in 2010, International TEFL Academy is a world leader in TEFL certification for teaching English abroad & teaching English online. ITA offers accredited TEFL certification classes online & in 25 locations worldwide and has received multiple awards & widespread recognition as one of the best TEFL schools in the world. ITA provides all students and graduates with lifetime job search guidance. ITA has certified more than 25,000 English teachers and our graduates are currently teaching in 80 countries worldwide.
Want to Learn More About Teaching English Abroad?
Request a free brochure or call 773-634-9900 to speak with an expert advisor about all aspects of TEFL certification and teaching English abroad or online, including the hiring process, salaries, visas, TEFL class options, job placement assistance and more.