Teaching English in Jinhae, South Korea: Q&A with Ryan Thompson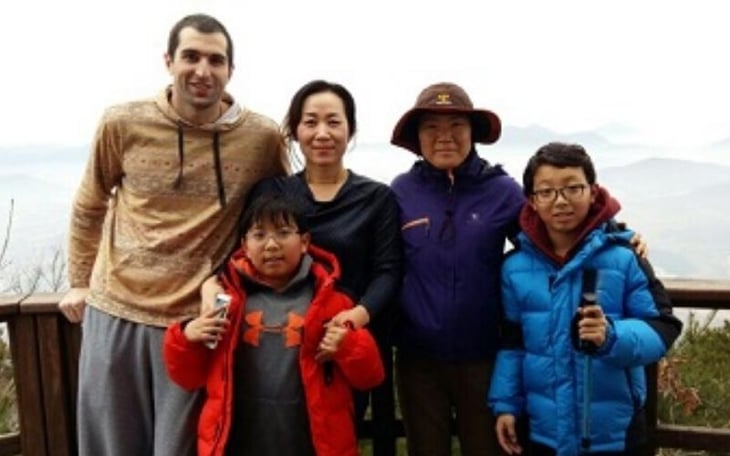 TELL US ABOUT YOURSELF
What is your citizenship?

United States

What city and state are you from?

Cranston, Rhode Island

How old are you?

28

What is your education level and background?

Bachelor's Degree
What sparked your interest in going to teach English abroad?

"Don't live the same year 75 times and call it a life." - Robin Sharma

Worked in procurement and sales after college. Wanted to shake up my life and become comfortable being uncomfortable. Moving to a new country where I do not speak the native language seemed like the perfect opportunity to do this.

What were some of your concerns before teaching abroad?

Will I be a good teacher; ability to save money; completing simple tasks I take for granted back home

What did your friends and family think about you moving and teaching abroad?

Mixed reviews but most everyone had an interesting reaction. Some were very excited for me. Some were confused and did not understand. Some were saying I was going to hate it.

TEFL CLASS INFORMATION
Why did you decide to get TEFL certified and choose International TEFL Academy?

Spoke with Jessie and she was very patient with me. I sent her email after email of ridiculous micro and obscure questions. She not only answered all she could but they were extremely thought out answers. Also did a lot of online research that kept leading me to International TEFL Academy being one of the best if not the best place to get Certified.
Which TEFL certification course did you take?

Online TEFL course

How did you like the course?

My instructor was great. Very knowledgeable. Practicum was my favorite part of the course and it was the part I dreaded doing. Funny how that worked out. Met some amazing people that have been extremely interested in my move. We have been in touch and plan to stay in touch throughout this year.

How has your TEFL training helped you in your current teaching position?

Definitely gave me my foundation and framework to place everything into. My degree is in Economics, and I have never taught before. Obviously, I am nowhere near where I want to be with my teaching ability but TEFL training is critical part of the great teacher I will become.

Which city and country did you decide to teach English in and why?

I chose to teach English in Jinhae, Korea (did not pick city; public school system lets you pick province, but not actual school. I loved the co-teacher aspect because I am a new teacher)

How long have you been in this country and how long do you plan to stay?

A little over a month. 1-2 years.

What school, company, or program are you working for?

GOE Public School System - South Korea

During which months does your school typically hire?

March/September - But I came in December so anything is possible, just not regular.

Did you secure this position in advance of arriving?

Yes

How did you interview for this position?

Skype/Phone interview

What kind of Visa did you enter on?

Work Visa

Please explain the visa process that you went through.

My recruiter helped me with the visa process. I was a little nervous because the deadlines for my December 1st start date cut it close. In the end, everything worked out perfectly thanks to Alistair at Korean Horizons(my recruiter).

What are the qualifications that your school requires for teachers? Please check all that apply

Bachelor's Degree

What is the best way to apply?

- Apply online
- Email
- Recruiter
Please include any application resources (website, email, etc.) or other information here:

Recruiter email: alistair@koreanhorizons.com

Tell us about your English teaching job!

-40 Hours a week in school- 24 hours teaching
-Goal is to save 20k this year - Will it be possible? I will track this on my blog.
-Public School - Middle School - Ages 12-15
-18 Vacation days and 12-15 national holidays a year
-contact me at journeyskorea@gmail.com if you have any other questions you want answered

How did you find somewhere to live and what is it like? Do you have roommates?

Single apartment. That is another reason I picked South Korea to teach. They set you up with housing. All I had to do was show up prepared to teach English in Jinhae. I teach at 2 schools. Both are a two minute walk away. I am extremely lucky.

On a scale of 1 - 10 please rate your experience with this school.
9
COUNTRY INFORMATION - FUN!
Please explain the cultural aspects, public transportation, nightlife, social activities, food, expat community, dating scene, travel opportunities, etc...

Cultural Aspects: Life here to me can be explained by looking at the dinner table. So many side dishes and main dishes that everyone at the table picks from. Free refills of rice and sides. Definitely can see the community vibe spill over into everyday life.

Public transportation: Good. I take the bus to Busan (second largest city) in about an hour and it is about $5.

Expat community: Very small in Jinhae, however in Changwon (30 min ride) there are a lot of expats.

Travel opportunities: Thailand for winter break. Hopefully Japan for Chinese New Year.
COUNTRY INFORMATION - MONEY
What are your monthly expenses?

Will be tracking this in my blog. Only one month in so I need more data to really give a good picture. Hopefully I can amend my post in the future.

How would you describe your standard of living?

Living like a king without spending like one.

In your opinion, how much does someone need to earn in order to live comfortably?

Really depends on your own definition of comfortable. I think I can not only live comfortably, but set myself up for the future on what I make.


ADVICE FOR PROSPECTIVE ENGLISH TEACHERS
What advice would you give someone planning or considering teaching abroad? Would you recommend teaching in your country?

If it is something you are considering, then you probably should do it. Try to think of a list of the worst possible scenarios. Compare it to the best possible scenarios. I am assuming the best possible scenarios 1) sound better and 2) are more likely to happen. If you do not like teaching, then at least you have a life experience you can talk to people about for the rest of your years.
A graduate of International TEFL Academy & a Teach Abroad Film Festival Finalist, Ryan Thompson is from Cranston, Rhode Island and teaches English in South Korea.
Want to Learn More About Teaching English Abroad & Online?
Request a free brochure or call 773-634-9900 to speak with an expert advisor about all aspects of TEFL certification and teaching English abroad or online, including the hiring process, salaries, visas, TEFL class options, job placement assistance and more.