Teaching English in Dongtan, South Korea: Q&A with Nicole Alexander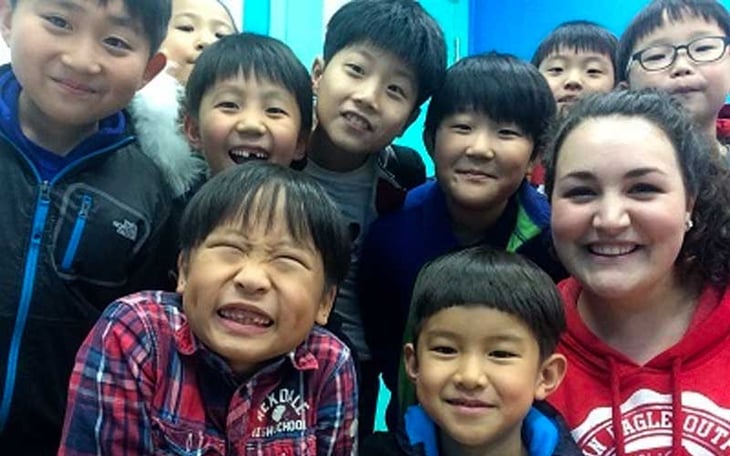 What is your citizenship?
United States
What city and state are you from?
West Virginia
How old are you?
23
What is your education level and background?
Bachelor's Degree
Have you traveled abroad in the past?
Yes - Quebec City, Canada; Belfast, Northern Ireland; Paris, France; Barcelona, Spain.
What sparked your interest in going to teach English abroad?
After being to several different countries and graduating from college, I didn't want to stop. I researched various options, and it seemed that everything was too expensive with all of my student loans that would have to be paid off. To have a job while traveling was the best choice for my situation.
What were some of your concerns before teaching abroad?
The legal process was the biggest concern for me.
What did your friends and family think about you moving and teaching abroad?
My immediate family is extremely supportive, but I think apprehensive as well. It is a country on the other side of the world.
Why did you decide to get TEFL certified and choose International TEFL Academy?
While researching, I came across several sites that highly recommended you to get a teaching certificate. When I requested information from a few different companies, a representative from International TEFL Academy called me the next morning. She was extremely helpful, and she put my mind at ease because she had personal experience. All of my questions were answered clearly and completely.
Which TEFL certification course did you take?
Online TEFL Cours
How did you like the course?
The course was nice because I was still in college at the time, and it allowed me flexibility as far as when I could do the coursework. My instructor provided feedback that I needed to help me realize further steps I could take in lesson planning and creativity. The tasks were all very interesting because it made me think about teaching in an actual teacher's perspective.
How has your TEFL training helped you in your current teaching position?
The insightful material from the training has helped me as a teacher today. I think it opened my eyes to some of the things you wouldn't think about if you were to get a teaching position without any training. For example, my students' personalities and ways of learning are all so different, so distinguishing each student's learning abilities has helped THEM succeed.
Which city and country did you decide to teach English in and why?
I decided to teach English in Dongtan, South Korea. I chose it because it is such a safe country because it's in Asia (a continent I had never been to), the demand for teachers here is high, and the benefits are great for someone trying to save money!
How long have you been in this country and how long do you plan to stay?
I have been here for a little over three months, and I'm not sure if I will renew my contract yet or not. I would love to go somewhere new!
What school, company or program are you working for?
I'm working for HUFS.
During which months does your school typically hire?
My school is just starting and is expanding quickly, so they are hiring for the next few months!
Did you secure this position in advance of arriving?
Yes, I did. I went through a recruiter.
How did you interview for this position?
Skype/phone interview
What kind of Visa did you enter on?
Tourist Visa
Please explain the visa process that you went through.
I came to Korea on a tourist visa. The school was opening quickly when I was hired, so waiting to get my working visa would take too long. After I got here and got my visa issuance number, I did a visa run to Japan and got my E-2 working visa.
What are the qualifications that your school requires for teachers? Please check all that apply
Bachelor's Degree
What is the best way to apply?
- Apply online
- Email
- Recruiter
Please include any application resources (website, email, etc.) or other information here:
I applied through my recruiter at appletreeedu.com.
Tell us about your English teaching job!
I work 38-40 hours a week. My pay is 2.1 million won each month. My apartment and internet are paid for. Right now after my start up costs, I'm saving around $1200 each month (I go out, shop, travel, and have fun, too)! I teach at HUFS, a hagwon. We have children from around seven years old up to 15 years old. I teach many different types of classes and many different ages. As far as vacation time, I get national holidays off, and that's all. I can take time off anytime to travel if I can secure a substitute!
How did you find somewhere to live and what is it like? Do you have roommates?
The school I teach at provides me with an apartment. I work with my fiance, so we live together in a couple's studio apartment that is pretty large and very nice (from what our friends have told us). It is very nice, just a little cold in the winter.
On a scale of 1 - 10, please rate your experience with this school.
8
Please explain the cultural aspects, public transportation, nightlife, social activities, food, expat community, dating scene, travel opportunities, etc...
The culture in Korea is very different than any other place I've been too. Although there are a lot of universal things that you can find here (like McDonalds), the way they live is unique. People here respect their elders and bow a lot; parents take education very seriously. In this city, parents dress their children in the fanciest clothes, and chopsticks are the way of life!
The public transportation is unlike any I've ever seen. It's very reliable, and you can go anywhere for cheap by bus. They are even timed, and you can download the app to know exactly when you should make it to the bus stop.
As far as nightlife, it's not just weekends; it's all the time. Tuesday night, for some reason, the local bars are always packed with people. Seoul nightlife is crazy with tourists, expats, and locals meshing over drinks and the dance floor! Social activities start and end with a cup of coffee in a hip cafe on any street you want. Meetups are a lot of fun, and it's cool to meet locals over a beer too. There are many opportunities to meet people and hang out at a movie theater, one of the various parks, or head to Seoul for shopping.
Food is one of my favorite things about living here. At first, it's a little intimidating, but you get the hang of it. Korean barbecue is what I live for. Sometimes my fiance and I will go to our favorite restaurant two or three times a week and eat until we're stuffed for about $15 total each time. There are a lot of bakeries and street vendors if you want to grab a quick bite. We also have a Burger King, McDonald's, Pizza Hut, and KFC within half a mile of our house, to get a little taste of Western food.
The expat community here is something that is amazing. There are so many people from all over the world here in the same situations as us. If you ever need something, it's easy to find someone to ask on the various expat Facebook groups or meetup sites. It's always a good time to hang out and reminisce about home! I'm not really all too familiar with the dating scene since I came here with my fiance, but we've met all kinds of people, including a lot of Koreans dating expats! I've heard it's a lot of fun! Travel in Korea is an experience itself, but I've gotten to travel half of Japan too in the three months I've been here. I'm planning a trip to Taiwan next! Because there are so many close countries, many people (Korean and foreigners) vacation all the time!
What are your monthly expenses?
Rent/utilities: Because my fiance and I live together, we split utilities. It comes out to about $80 each per month. That's all.
Food: $450 per month. We splurge in Seoul on the weekends!
Social Activities: $100 per month. Our cost of food is a lot of these social activities.
Transportation: $70 per month. We ride the bus to work each day and travel on weekends.
Phone/Communication: $45 per month.
Misc: $100 in misc. shopping.
How would you describe your standard of living?
My standard of living is normal, I think. The reason I spend so much extra is because I'm here to experience anything. If I didn't have the extra money to spend, I would be perfectly okay with that because I've been in that situation before.
In your opinion, how much does someone need to earn to live comfortably?
To live comfortably, you could be earning probably half of what I earn. Because my rent is paid for, it's easy to save money here.
What advice would you give someone planning or considering teaching abroad? Would you recommend teaching in your country?
There is a lot of advice I can think of. Mostly, be open-minded and determined. Everything you have to do to get here takes a lot of time, effort, and tenacity. There were, are, and will be countless ups and downs, but it's so worth it! Don't be afraid to step out of your comfort zone. It can be hard to adjust, but thinking about why you're doing this and how much you will benefit from it makes it easier. I completely recommend teaching in Korea & teaching English in Dongtan. Even though so much is different, you will come to find that there is a lot that is the same. It's safe, clean, exciting, the benefits are great, and you'll better yourself here.


After having traveled throughout college, Nicole wanted to continue traveling after graduation but everything seemed too expensive with her student loans needing to be paid off. When she discovered she could get TEFL certified and get paid to teach English abroad while traveling, she was sold! She spent a year teaching English at a hagwon in Dongtan, South Korea
Want to Learn More About Teaching English Abroad & Online?
Request a free brochure or call 773-634-9900 to speak with an expert advisor about all aspects of TEFL certification and teaching English abroad or online, including the hiring process, salaries, visas, TEFL class options, job placement assistance and more.