must read
What is a Hagwon for Teaching English in South Korea?
You're looking into teaching English in Korea and wondering what a Hagwon is? You've come to the right place! We'll walk you through everything you need to know about Hagwons in South Korea.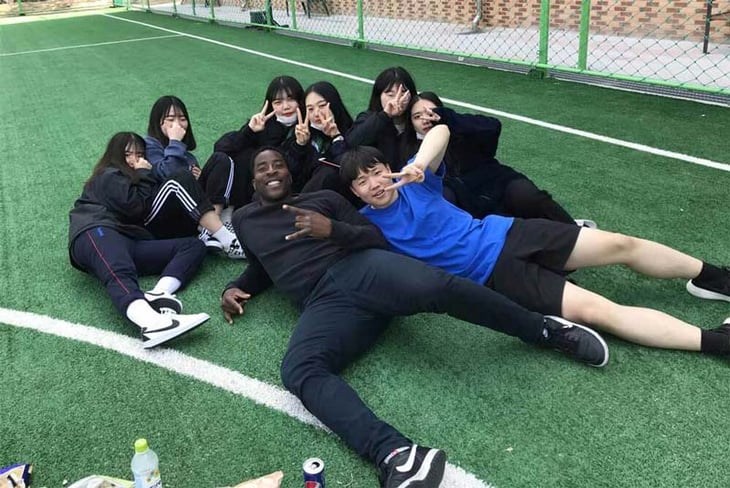 South Korea is one of the largest and most popular job markets for those looking to teach English abroad. With thousands of opportunities spread throughout the country, you might be wondering who exactly your employer will be. While government-run public schools recruit several thousand foreign English teachers annually through famous programs like EPIK, GEPIK, and SMOE, the bulk of TEFL jobs in Korea are for teaching English in "hagwons."
Hagwon Meaning
What is a Hagwon?
"Hagwon" is the Korean language word for a for-profit private educational institute or school. Therefore, hagwons are essentially private language centers or academies operated like businesses apart from the South Korean public school system.
Many would argue that education is a big business in South Korea, with many children in school for more than 6 hours a day. Besides boasting one of the world's finest public school systems, Koreans spend billions of dollars annually on private education, where hagwons play a significant role. With such an emphasis on learning English, many families enroll their children in English lessons when they reach pre-school or kindergarten. Many grade school and high school students attend extra English lessons at hagwons after their regular school day.
Hagwon Requirements
Hagwons require that prospective employees possess a BA/BS degree from an accredited college or university, citizenship from a native English-speaking country, and TEFL certification is strongly preferred. Hagwons will also require an FBI criminal background check that must come back clear.
Hagwon Teaching Jobs
Hagwons private schools are typically up and running most of the year, which means year-round hiring for TEFL-certified English teachers. For teachers looking to head out in the summer months or outside of typical school semesters, the flexibility of a hagwon can be the perfect solution to going abroad without delay. Typically, the hiring process can take about 2-3 months, so make sure to consider that when planning your timeline.
When it comes time to interview with a hagwon, you'll find that schools prefer to do interviews while teachers are in their home country. Schools conduct interviews typically via Skype/Zoom, or by phone. Be prepared to show an example lesson plan and provide a teaching demonstration to the school directors. We recommend that ITA students conduct multiple interviews, so you will have multiple offers from which to pick. With the number of hagwons in Korea, including the number of hagwons in Seoul, you won't feel pressured to take the first job that comes your way. See what's out there!
Read More: Guaranteed Job Placement Program for Teaching English in Korea
Not all hagwons are the same, as they are typically privately owned or franchised, so it's essential to research each school before signing a contract. Some well-known chain hagwons include Berlitz, Wall Street English, and English Village. When looking at job offers from hagwons, you'll find differences in working hours, paid vacation, and pay rate. These are all things you'll ask about in your job interview, so you'll know what employers expect of you and what you can expect from your employer before signing a contract.
Teaching in Hagwons vs Public Schools in Korea
When deciding whether you want to teach English in a public school or a hagwon, you'll find that many positions are similar in that they involve teaching English to school children. Teachers in private and public schools can expect excellent benefits, including free furnished housing, reimbursed airfare, paid vacation, and salaries that enable the teacher to save $800 - $1,000 a month after expenses (sometimes even more).
Private language schools tend to offer more variety in terms of work schedules, class size, curriculum and pay, which tends to be a bit higher than in public schools, where the set-up tends to be more standardized. Those teaching in public schools will typically enjoy more paid vacation and slightly fewer working hours each week. Also, public school positions are more likely to be found outside major cities, and those teaching English in Korean public schools will likely have few if any foreign colleagues.
Let's dive into further details and compare a few key items side-by-side:
Recruiting & Hiring
Those looking to teach in either public schools or private schools will interview and apply for jobs in advance in their own country before their departure for Korea. All teachers will also receive their work visas before their departure.
Public School Programs like EPIK
The procedures and calendar for recruiting English teachers for Korean public schools are far more rigid and competitive than for hagwons. With some exceptions, schools accept applications, and interviewing begins in April for August/September start dates; and October 1 for February/March starting dates. Many of those who teach English in Korea in public schools will get hired through official government programs primarily based on region. Some of the more popular programs include EPIK (all of Korea, except for metropolitan Seoul), GEPIK (suburban Seoul area), and SMOE (within the Seoul city limits).
Public schools fill the limited number of positions on a first-come-first-served basis for qualified applicants. Applicants must have all of the required documents prepared to submit as soon as applications are accepted. These documents, which can take up to three months to obtain, typically include:
Hard copy of university diploma

Sealed university transcripts

Updated Resume

Valid passport valid at least 18 months past planned start date in Korea

National criminal background (obtained from the FBI in U.S. and can take 8-12 weeks to process)

Letters of Reference

Applicable program application forms

Letter of proof of professional teaching experience (for professional teachers) and/or TEFL Certification
Private Schools in Korea (Hagwons)
Because hagwons are not necessarily beholden to public schools' official academic calendar and because there are far more positions at hagwons to fill, schools recruit year-round, and the job market is less competitive. Hagwons tend to hire around a dozen English teachers in each center, compared to one or two at public schools, which means it can be easier to meet other English speakers.
Still, those interested in applying for private school positions in Korea will need to provide most of the same documents listed above. Also, the process of interviewing, signing a contract, and making all of the necessary travel and visa arrangements will take 2-4 months on average.
* International TEFL Academy enjoys partnerships with several government-recommended recruiters for public school programs in South Korea. These recruiters assist our student and graduates with the application process for English teaching positions in both public schools and private schools in Korea.
Monthly Salaries & Paid Vacation
Monthly salary & pay rate tend to be a bit higher at hagwons, with room for growth if you stay with the same employer for multiple years. It's also important to note that schools in both the private and public sectors can dictate when teachers may take their vacation.
Korean Public Schools

First-year teachers: 1.8 – 2.0 million KRW (approximately $1,600 - $1,800 USD) per month.

Experienced teachers: 2.0 – 2.7 million KRW ($1,800 - $2,400 USD) per month

Vacation: 18 days and 13-15 national holidays
Korean Private Schools

Experienced: 2.1-3.0 million KRW ( $1,900 - $2,750 USD) per month

First-year teachers: 2.0-2.1 million KRW ($1,800 - $1,900 USD) per month.

Vacation: 7-10 days and 13-15 national holidays
Typical Working Hours
Public Schools: 8:30 a.m. – 4:30 p.m. (22-24 hours a week in class)
Private Schools: Varies, but typical shifts can last from 09:00-5:00 for Kindergarten-Elementary positions, or perhaps 1:00 p.m. – 9:00 for those teaching older students; some private school positions may also entail teaching later in the evenings and/or on weekends.
Class Size
Class sizes tend to be smaller in hagwons, with many schools focusing on individualized attention for each student.
Public Schools: 20-30 students per class
Private Schools: Typically under 15 students per class
The number of foreign teachers working at a single school:
Public Schools: Usually 1-2 foreign teachers per school (can be more at bigger schools)
Private Schools: 10-50 English teachers per school (sometimes more)
Airfare, Accommodations & Bonuses
Teachers at both public and private schools can expect to receive free housing, free/reimbursed airfare, and a severance bonus of one extra month's pay after completing their 12-month contract. Hagwons will usually provide photos of teacher housing, and allow you to speak with a current teacher, which is a great way to get a feel for the school.
Finally, a common fear for many is to be employed by a hagwon that cares more about the dollar than its students and employees. Being for-profit , hagwons also have to take into consideration profitability of the school. Where public schools in Korea are government-run and very 'by the book', a Hagwon teacher will find schools using specific teaching methods, with varying hours and responsibilities. Keep in mind, when doing your research on hagwons, that these types of schools make up 90% of the overall job market, so just like employers will vary in any field, you'll find the same when it comes to hagwons.
At International TEFL Academy, we recommend interviewing with as many schools as possible. With our expansive Job Search Guidance manual, you'll have access to job boards, school directories, and you'll be put in touch with top recruiters that set up interviews for our graduates in top markets like South Korea.
Read More: Teaching English in South Korea
A native of Valparaiso, Indiana, Cassie had traveled abroad only once prior to leaving her job as a television producer and heading to South Korea to teach English in 2009. Now a passionate traveler, Cassie's recent international exploits include camping on the beaches of Vietnam, hiking through the Andes to Machu Picchu and smoking water pipes and drinking tea with the locals in the cafes of Cairo. With more than 10 years of professional experience in the field of teaching English, Cassie is one of our most senior advisors. She has also produced many of the videos on the ITA website.
Want to Learn More About Teaching English Abroad & Online?
Request a free brochure or call 773-634-9900 to speak with an expert advisor about all aspects of TEFL certification and teaching English abroad or online, including the hiring process, salaries, visas, TEFL class options, job placement assistance and more.