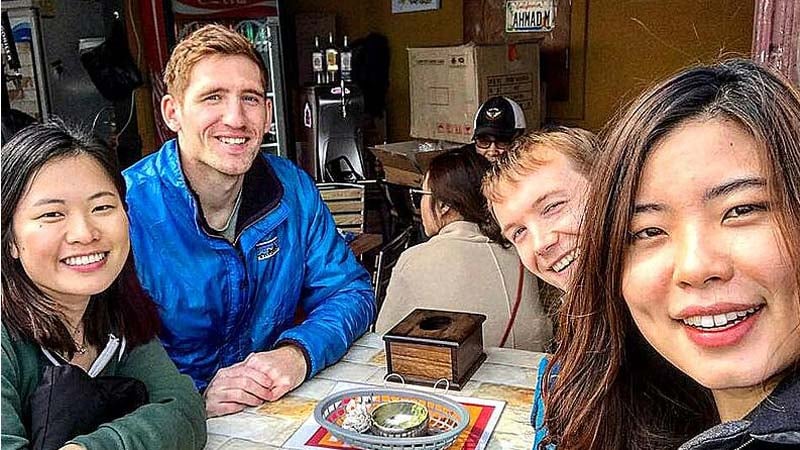 What is a Hagwon for Teaching English in South Korea?
South Korea is one of the largest and most popular job markets for those looking to teach English abroad. With thousands of opportunities spread throughout the country, you might be wondering who exactly your employer will be. While public schools employ a small amount of English teachers each year, the bulk of jobs will be found at Hagwons. "Hagwon" is the Korean language word for a for-profit private educational institute (school). So, essentially, hagwons are private language centers or academies that operate like businesses and apart from the South Korean public school system.
Many would argue that education is a big business in South Korea, with many children in school for more than 6 hours a day. In addition to attending some of the world finest public schools, Koreans spend billions of dollars annually on private education where hagwons play a major role. With such an emphasis on learning English, the international business language, many families enroll their children in English lessons when they reach the age of pre-school or kindergarten. Many grade school and high school students attend extra English lessons at hagwons after their normal school day.
Teaching Jobs in Hagwons
Hagwons are typically up and running the majority of the year, which means year-round hiring for TEFL-certified English teachers. For teachers looking to head out in the summer months or outside of typical school semesters, the flexibility of a Hagwon can be the perfect solution to going abroad without delay. Typically, the hiring process can take about 2-3 months, so make sure to take that into consideration when planning your timeline.
Hagwons require that prospective employees have at least a BA/BS degree from an accredited college or university, citizenship from a native English speaking country, and TEFL certification is strongly preferred. Hagwons will also ask for an FBI criminal background check that must come back clear.
When it comes time to interview with a Hagwon, you'll find that schools prefer to do interviews while teachers are in their home country. Interviews are conducted via Skype, phone, or email. Be prepared to show an example lesson plan and provide a teaching demonstration to the school directors. We recommend that ITA students conduct multiple interviews, so there are multiple offers to pick from. With the amount of Hagwons in Korea, you won't feel pressured to take the first job that comes your way. See what's out there!
Not all Hagwons are created equal, as they are typically privately owned or franchised, so it's important to do your research on each school before signing a contract. Some well known chain Hagwons are Berlitz, Wall Street English, and English Village. When looking at job offers in Hagwons, you'll find differences in working hours, paid vacation, and pay rate. These are all things you'll ask about in your job interview, so you'll know what is to be expected of you and what you can expect from your employer before signing a contract.
Comparing Hagwons to Public Schools
There are certainly pros to working for a Hagwon as opposed to a public school. With a Hagwon, you're typically shown pictures of the provided housing, school, and you're also given the opportunity to speak with a current teacher, which is a great way to get a feel for a school. Monthly salary also tends to be a bit higher. With your working environment, Hagwons tend to hire around a dozen English teachers per center, as opposed to one or two at public schools, which means it can be easier to meet other English speakers. Class sizes also tend to be smaller in Hagwons, with many schools focusing on individualized attention for each student. Pay rate tends to be a bit higher as well, with room for growth if you stay with the same employer for multiple years.
There are also downsides to working at Hagwons. A common fear for many is to be employed by a Hagwon that cares more about the dollar than it's students and employees. Being for-profit and a big business, Hagwons also have to take into consideration profitability of the school. Where public schools in Korea are government run and very by the book, teachers working at Hagwons will find schools using specific teaching methods, with varying hours and responsibilities. Keep in mind, when doing your research on Hagwons, that these types of schools make up 90% of the overall job market, so just like employers will vary in any field, you'll find the same when it comes to Hagwons. If you're torn between working at a Korean public school or a Hagwon,take a look at this comparative article and read What is the EPIK Public School Program for Teaching English in South Korea?
At International TEFL Academy, we recommend interviewing with as many schools as possible. With our expansive Job Search Guidance manual, you'll have access to job boards, school directories, and you'll be put in touch with top recruiters that set up interviews for our graduates in the top markets like South Korea. Given all the right tools succeed, you'll be packing your bags and heading to East Asia in no time!
A native of Valparaiso, Indiana, Cassie had traveled abroad only once prior to leaving her job as a television producer and heading to South Korea to teach English in 2009. Now a passionate traveler, Cassie's recent international exploits include camping on the beaches of Vietnam, hiking through the Andes to Machu Picchu and smoking water pipes and drinking tea with the locals in the cafes of Cairo. With more than 10 years of professional experience in the field of teaching English, Cassie is one of our most senior advisors. She has also produced many of the videos on the ITA website.
Want to Learn More About Teaching English Abroad?
Request a free brochure or call 773-634-9900 to speak with an expert advisor about all aspects of TEFL certification and teaching English abroad or online, including the hiring process, salaries, visas, TEFL class options, job placement assistance and more.