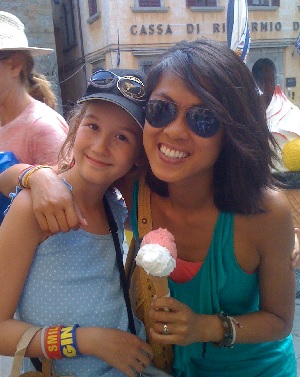 Teaching English in Italy - Plunging in Headfirst
By: Annie Chen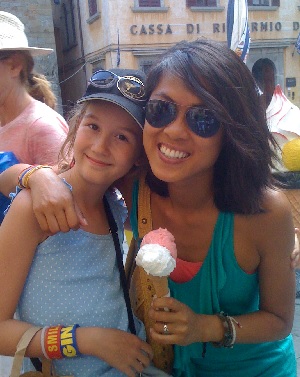 "There is never a good time," they always
say. It's a cliché but true statement, for so many situations in someone's life- for example, breaking up with a significant other, moving homes or quitting a job. In my case, I was confronted with completely changing my career path and uprooting my life halfway around the world.
I had long considered working with children, and had grown up traveling with family but there came a point in my mundane marketing job in Los Angeles where I realized that I wasn't going anywhere, figuratively and literally. Many of my friends who had begun teaching abroad immediately after graduation mentioned the International TEFL Academy to me and choosing Italy as being centrally located in Western Europe (convenient for visiting other countries, I told myself), I enrolled in the Florence TEFL class and booked a one-way ticket to Europe in the spring of 2011.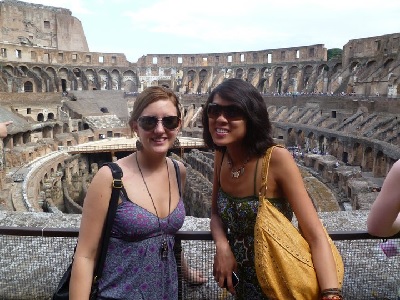 The month-long course was much more challenging than I thought. Who would ever have been able to imagine that, as a native speaker, dissecting a sentence we use every day could be incredibly difficult? However, with my fellow classmates and our trusty instructors (who I still email and keep in touch with nowadays), I got through the confidence issues, grammar problems and pedagogical practices.
It wasn't all work though- Florence is an incredibly beautiful city, with bridges, museums, parks and cafes all well within walking distance of each other. Our sunny apartment was situated very much in the center, and in a town flooded with tourists and students studying abroad, there was a never a dull moment. Whether it was a post-observation celebratory stroll along the Ponte Vecchio with classmates, some casual drinks for the weekly student nights at a local pub or running into the cast of "Jersey Shore" while they were filming the show right around the corner from our school, there was never a dull moment in town.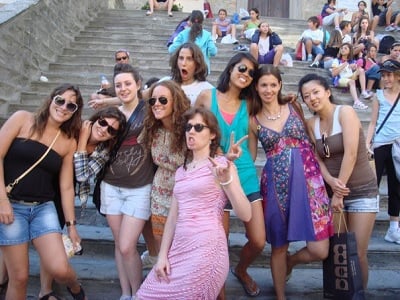 Numerous advisors at International TEFL Academy had passed on the helpful tip that for a teacher to stay in Italy, the most jobs could be found in Rome so my roommate and I moved there following the completion of our course. The first challenge was finding accommodations – the Italian version of Craigslist was riddled with scams and fake postings to get some quick cash via pre-payments for the "available flat". With our basic grasp of Italian and the city layout of Rome, it also took numerous hours to find the apartment, sometimes having to navigate the public transportation system (which meant understanding their ticketing methods and maps),and communicate well enough with the landlord. After nearly a week of living out of a hostel (which wasn't cheap) and running around the city, we finally secured a lovely three-bedroom apartment looking directly into the Piazza Santa Maria.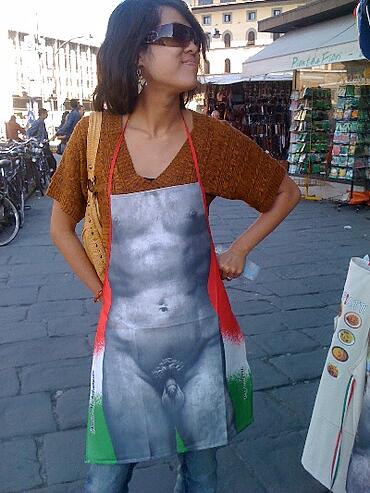 The next month was a blur of museums, gelato, Vatican City and Trastavere visits, and new friends. Rome is just as jam-packed with things to do as one would imagine – Lady Gaga performed as the grand finale of the EuroPride Week in a spectacular outdoor free concert one evening, the Coliseum tour was well worth the wait and the price, and the market of street artists selling their goods at the Piazza del Popolo is still one of the most impressive I've seen. The job hunting process was another story – in contrast with the reliance on the internet in the US, most Italian companies and schools preferred to receive a printed out copy of the CV and to meet the person face-to-face when they are handing it in. Along with the lack of websites, emails or updated phone numbers and addresses available, this inconvenience led to a time-consuming application process but it all paid off - I was placed at three summer camps all around Italy through two separate companies.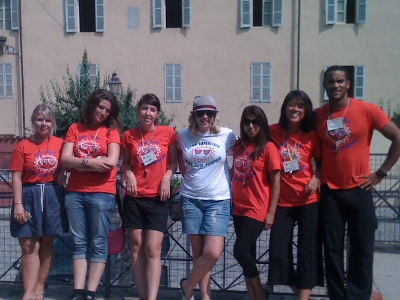 My first stop was a stone's throw away from the border of France, in the town of San Remo. Through Lingue Senze Frontiere, I had a week of training with 60+ other teachers from all over the world. We were provided communal living quarters in a nice hotel right on the beach, delicious meals on the open-air patios with all the other teachers and plenty of time off after training to go into the warm waters, explore the nearby towns accessible by bus or have musical jam sessions around the hotel. I loved all the new friends I made countries as far as South Africa, and was sad to leave them when we were given our camp placements. I was paired with 6 others in Dogliani, a small town in the north near the mountains, and along with a Scottish girl, would be living with a host family in Ceresole, a village close to the camp.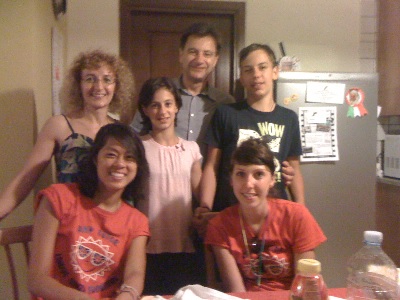 Our host family had three children; Irene the excitable 9-year-old, Francesco the cool 15-year-oldwho was one of the oldest at camp, and the helpful 20-year-old Eleonora that did most of the translating for everybody. The parents were absolutely incredible and accommodating of whatever we would need, and every morning and afternoon they would drive back and forth to pick us up. The family also took us to the local castles, parks and cooked for us (including grilled rabbit one night, which shocked my roommate!) and handpicked mushrooms from the father's adventures that morning! Living with the Molineris was definitely one of favorite experiences in Italy.
The camp itself was also a blast – I was given the youngest group which was the adorable 5-6 year olds and since the camp was medieval-themed, we had fun with wizards and shields, songs revolving around knights and princesses, and a huge end-of-camp production with painted dragons and horse costumes. It was hard to leave, but at the conclusion of the 2-week camp I had countless memories and photos to carry with me.
Next, I was moved to the picturesque region of Tuscany where I had my second and third camps through Berlitz Language School. I was given the highest levels at both, so the students were 12-15 years old and I found that I enjoyed that a lot more since I could challenge them to really use the English they knew and assign projects that really required thinking outside the box. The set-up of the camps was also really enjoyable, with a number of fashion shows (whether it was Create-a-Monster-or-a-Hero, or a cross-dressing exhibit) themed dances, a bicycle ride with the kids through the hills and sunflower fields of the region and day trips to nearby castles and towns. All the teachers ate together at a separate table from the kids in a cafeteria-style room and rotated having days off.
With a sleepover camp, though, there were some additional complications that made it all the more interesting. One night, while patrolling, I spotted some of the older girls trying to sneak downstairs, creep past the teachers' floor, to the entrance and to the boys building next door. Naturally, my fellow night "guard" and I followed and caught them in the act, which led to quite a buzz the next morning!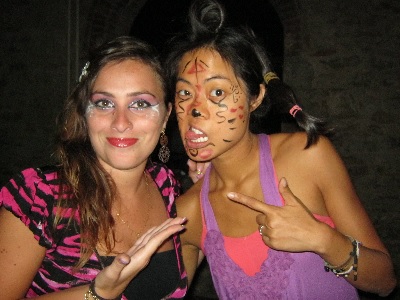 The venue was well-chosen, for it had a number of sports facilities including a swimming pool (where we once spied on a wedding being held there from our rooms overlooking the area), an archery range, a park by the football field, ping pong tables, badminton courts and an open-air patio where we could practice for our end-of-camp theater production of "Fame", among other things. The talent and zeal from the kids, both athletic and theatrical, was impressive and by the grand finale of the show, I had bonded with quite a few of the teenage girls.
All in all, for every challenge that greeted me in Italy, whether it was dealing with my allergy to the most ubiquitous ingredient in Italian food, cheese, to dealing with the concept of a 'siesta' in the middle of the workday, I learned an enormous amount about teaching, myself and Italian culture in this first leg of my journey. I moved to Turkey next for work, but to this day, I still keep in touch with many of my coworkers and friends that I had made in Italy, as well as my host family and many of the older students, and will treasure those memories and experiences for days to come.
Annie Chen is 28 years old, and was born and raised in Los Angeles where she attended UCLA and studied Psychology and Sociology. One day, her overwhelming urge to travel and meet people from all over the world took over and without a second glance, off she went to see the world.


To read more on Annie's adventures, check out her ITA contributions:
Founded in 2010, International TEFL Academy is a world leader in TEFL certification for teaching English abroad & teaching English online. ITA offers accredited TEFL certification classes online & in 25 locations worldwide and has received multiple awards & widespread recognition as one of the best TEFL schools in the world. ITA provides all students and graduates with lifetime job search guidance. ITA has certified more than 25,000 English teachers and our graduates are currently teaching in 80 countries worldwide.
Want to Learn More About Teaching English Abroad?
Request a free brochure or call 773-634-9900 to speak with an expert advisor about all aspects of TEFL certification and teaching English abroad or online, including the hiring process, salaries, visas, TEFL class options, job placement assistance and more.