must read
Does International TEFL Academy Provide Job Placement Assistance?
You're interested in taking a TEFL course and wondering if International TEFL Academy (ITA) can help you find a TEFL job? You've come to the right place! Let's talk about how we can help you find the best job teaching English abroad and online.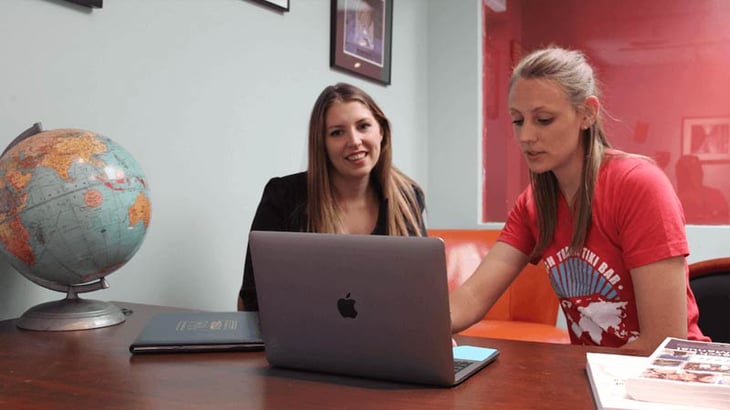 TEFL Job placement assistance (we use the phrase "Job Search Guidance") is a critical factor that you need to consider when you decide on which TEFL certification course you can take. For instance, you can spend $120 to € 2,500 ($3,200) or more on a TEFL course but if you can't find a job abroad due to lack of guidance, what's the point?
Luckily, we're here to answer all of your questions. Let's dive right in!
Does TEFL Get You a Job?
TEFL Certification alone isn't always enough to get you a job. To have the best possible chance for getting hired, you should also have a bachelor's degree from an accredited university, be a native or fluent English speaker, and meet all of the TEFL job requirements for the country where you've chosen to teach.
Read more: Requirements for teaching English abroad
Will International TEFL Academy Help Me Find a TEFL Job?
At International TEFL Academy, we understand the challenges of gaining employment abroad so we put the highest priority on providing our students with the resources, guidance and expertise they need to find the best English teaching jobs and opportunities abroad for themselves.
We receive approximately 2,500 inquiries a year from people holding a TEFL certification from another training organization asking us to help them find a job. Unfortunately, those graduates registered for their TEFL courses without understanding the importance of it and because the training organization itself did not provide the necessary job placement services and resources to their students.
While the field of English language instruction represents one of the strongest job markets in the entire economy, navigating hiring procedures, interview processes, hiring seasons, visas and everything else that goes into gaining employment in a foreign country can be challenging and confusing.
You should not even consider a TEFL certification program that does not incorporate in-depth pre-enrollment advice and post-graduate job search guidance.
Finding English Teaching Jobs Abroad is a Two-Part Process
Part 1: Pre- Enrollment Advice
From their first contact with ITA, to the day they go abroad, our students receive personal guidance from trained and experienced staff members.
Before registering for a course, all students are provided with comprehensive pre-enrollment advice from expert advisors to determine how they can realistically achieve their goals of working as professional English teachers abroad. From certification options to the realities of the international job market, our commitment is for each student to embark on their adventure fully informed and prepared in a manner that enables them to succeed.
You will need to understand the following before enrolling in a TEFL course:
a) The enormous English teacher demand. (Approximately 250,000 jobs around the world due to over 1.7 billion people learning English.)
b) The hiring cycles: Each country has a cycle of current foreign teachers finishing contracts and leaving and then the intake of brand new English teachers. Follow the job cycle and there are too many English teaching jobs for the supply of teachers.
c) Job Interviews: Each job is an interview. Some jobs are in public schools with many of those positions through a government program. The vast majority of English teaching jobs are at private language schools. Some countries require you to interview face to face a week or so before the job season starts, other countries have an advance interview process several months in advance, many over skype.
At the end of the day, a teaching position is a job that you need to be qualified for, know how to interview and be prepared to get. ITA will prepare you as our student or graduate and you will need to do the work to get the job.
c) Requirements in that country and job: Citizenship, Degree Status, Age, English Fluency are some of the factors for each country.
ITA requires all people who enroll in a TEFL course to have an understanding of these items before enrolling or we will not permit you to take our TEFL course. We will provide all of the literature and personal advising time with you before registration. If you understand and follow the job requirements and the job
Read: 8 Reasons You Need to Speak with an Advisor to Teach English Abroad & Do it Right!
Part 2: Post-Graduation Assistance
All International TEFL Academy students and graduates receive lifetime Job Search Guidance and TEFL job placement assistance, which includes - but is not limited to - the following:
Personal guidance from an experienced Job Search Advisor prior to registration - Our expert Job Search Advisors are available to speak with you and correspond by email to address all of your questions and to assist you with every aspect of your TEFL job search from writing your resume/CV and cover letter, to coaching you on the interview process in different markets, to helping you assess which destinations might be the best fit for you.

It is extremely important to know exactly where you can or cannot work, and know hiring seasons, requirements, hiring processes, etc before you enroll in a course. This creates the correct expectations for you, the student, to be prepared to look for a job after your certification is complete.

ESL Job Search Manual: All of our graduates receive a detailed 450-page manual with relevant information for major TEFL job markets around the world, including hiring seasons, academic standards, and the interview process as well as templates for resumes and cover letters. This manual also incorporates extensive listings of online resources, including more than 100 international ESL job boards, contact information for thousands of schools and recruiters and more.

ESL Worldwide School Directory: We will send you a directory of approximately 20,000 schools and language institutes worldwide that you can contact directly regarding employment opportunities.

Referrals to preferred recruiters, placement agencies and language schools: International TEFL Academy enjoys strong relationships with schools, recruiters and placement agencies throughout the world.

Job interview assistance for International TEFL / TESOL course participants: For students that take our four-week TEFL / TESOL course at an international location, the site director can arrange interviews or provide local contacts for your job search both during and after the training.
These services are lifetime, so students and graduates have the confidence that they will always be able to call on our resources and expertise.
International TEFL Academy certifies approximately 5,000 English teachers each year. Graduates of our courses now teach English in dozens of countries around the globe, including those countries with the highest standards in the world for hiring teachers, including Korea, Germany, Japan, Italy, Taiwan, Russia, Argentina, Brazil and China, as well as smaller markets from Iraq and Palestine to Nicaragua. Past students have included Peace Corps volunteers, members of the U.S. military, and university professors, in addition to hundreds of others from all walks of life.
Please Note: International TEFL Academy is not a placement agency. We do not assign you a job in a particular country and we will not sell, promise or give you a job. We do not guarantee jobs as you must qualify and interview for positions yourself. However, if you follow our guidance and use the extensive resources that we provide you, there is no reason why you should not be able to find opportunities that meet your goals and qualifications. We are committed to our graduates' success and you will never be alone with our assistance and guidance.
Go Further: For your reference, this link to our Country Chart provides basic information about working and getting hired in approximately 60 countries around the world, including information on ESL hiring seasons, foreign English teacher salaries, extra benefits and the interview process.
Founded in 2010, International TEFL Academy is a world leader in TEFL certification for teaching English abroad & teaching English online. ITA offers accredited TEFL certification courses online & in 20+ locations worldwide and has received multiple awards & widespread recognition as one of the best TEFL schools in the world. ITA provides all students and graduates with lifetime job search guidance. ITA has certified more than 40,000 English teachers and our graduates are currently teaching in 80 countries worldwide.
Want to Learn More About Teaching English Abroad & Online?
Request a free brochure or call 773-634-9900 to speak with an expert advisor about all aspects of TEFL certification and teaching English abroad or online, including the hiring process, salaries, visas, TEFL class options, job placement assistance and more.