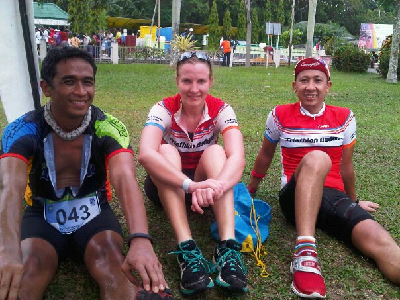 Fighting the Beast - Teaching English in Indonesia
By Jessica Fox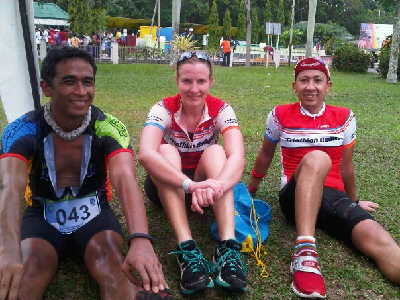 Just a few months after completing the online TEFL course with the International TEFL Academy, I find myself one month fresh into my ten-month English teaching contract in Indonesia. Instead of sharing a traditional travel anecdote about the colorful culture, freshly-fried food, or lovely society of Indonesia, I would like to reveal another side of where I live. I want to share about the violent side of Jakarta, the rough and tumble, the rumble and bumble. I have noticed that my tolerance for the beast has decreased, and I am much quicker to the draw. What is this beast, you ask? Oh, the beast has many faces, many shapes, sizes, smells and forms. At times, the beast is culture; other times, traffic, heat, traffic, pure gravity and terror become the enemy. Allow me to explain myself.
Culture: One year's experience in Indonesia has been invaluable to the success (so far) of this second year; nevertheless, there is still so much more to learn. It has been very refreshing living in the capital city where other Westerners walk, talk and work; I have enjoyed the relative anonymity here compared to the quiet island experience of last year.
Traffic: I have only allowed one traffic jam (and ensuing perfect storm conditions causing me to miss a weekend flight to Bali to attend a conference) to devastate me so far. Sitting in a car for at least an hour a day has become normal, and even more enjoyable with radio hit tunes muting some of the constant beeping, honking, buzzing of the street. My colleague and I are fortunate to have a driver for our commute to and from school, but this daily trip fulfills my capacity of "going out" on a daily basis. Truly, the traffic issues of Jakarta almost entirely level everyone's social status to a stop or a bumper-to-bumper crawl. Unless escorted by police cars, the luxurious hotel airport shuttle busses and the millions on Blue Bird taxis enter into the gridlock of Jakarta macet (traffic jam—pronounced MA-CHET). This is a beast that is uncontrollable, untamable, unworthy of my stress or worry. It just is and will be…until…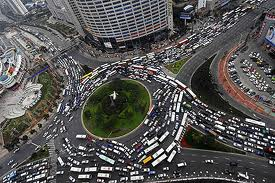 There are two ways I have been coping with the traffic of Jakarta. First, leave for the airport (normally a one hour drive if the roads are clear and its 3am on a Sunday morning) at least 6 hours before my flight. I did that after the traumatic missed-flight weekend, and it worked! A staff member of our school asked how long it would take to fly to my destination. I answered that the flight was usually 2.5 hours if there wasn't macet. Traffic jams in the sky. The driver restated his question to me, but before finishing, he realized I was joking. He he or wkwkwkwkwk; these are the ways to indicate laughter in Bahasa Indonesia. Traffic jams in the sky. That will be the day.
The second way to cope with the traffic is to beat it. I have been training for an Olympic-distance triathlon in November, so our Triathlon Buddies club meets up at various training sites an hour outside of the city to get some hardcore training done with proper swimming facilities, steep hills and running tracks.
It's a commitment to wake up so early every Saturday morning. Likewise, it's a commitment to turn in relatively early Friday night; but hey, who wants to even venture into the Friday night macet just to suffocate in the exhaust on the back of a motorbike taxi (I only had to try this once) or sit in a taxi?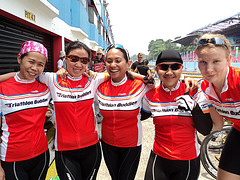 The commitment is certainly worth the slice of sanity that comes by getting out of the city (again, a very relative term). For example, yesterday we did a practice workout of all three sports at their respective distances for the upcoming race. At one point, I found myself in silence besides the breathing of my new personal trainer friend Oky (who may be almost 1/3 my size) and my gasping alongside. For a moment, a sweet 2 minutes, maybe, it was quiet. The road was empty. There was no buzzing, no honking, no dinging of spoons on bowls to announce the arrival of the meatball soup vendor on wheels, nothing but breathing. That alone is worth any 5am departure.
Gravity: As mentioned above, I'm training for a triathlon. Fighting the natural gravity of this 6'1" body is quite a lovely challenge to keep my mind distracted from the harrows of traffic or the splendidly positive stress of such an exciting job with projects coming out of our ears. Our race includes swimming 1.8k, biking 55k, and running another 12k. Gravity hurts. We cross-train with cardio combat (violence, remember, is the theme of the post), weight training for core and arms (and intimidation) and some yoga (the warrior pose, #1 and #2). Beyond fighting my own gravity, I am enjoying the challenging fun of "social training" with the Triathlon Buddies group. We have matching jerseys, join runs/endurance bike rides together, share rides and post-workout meals, are active on our FB group and sometimes we have sparks of competition.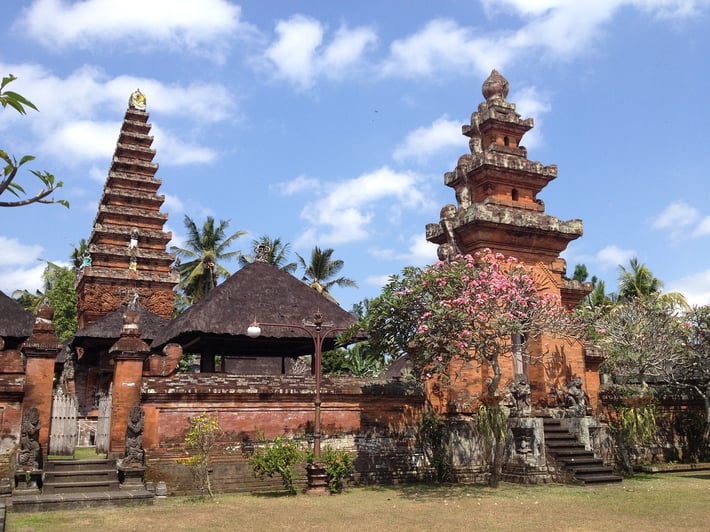 Terror: All of this is to say that we are always fighting something somewhere somehow. While the police fight terror in Jakarta and across the 17,000+ archipelago, I choose to fight gravity an hour out of the city with strong n' smooth strokes, whizzing n' clicking pedals, and free n' easy, light n' breezy strides (the last bit may be a lie…more accurate, perhaps, is heart-hurting n' heavy plodding).
So friends, fight on. Might does not (always) make right. Actually, that is another topic for another post about the fantastic job I have of teaching police officers English to increase their skills in soft diplomacy before hard diplomacy. Words before weapons. Soft. Gentle. Patient. Persistent. Focused. Diplomatic. Foreign to familiar. Transition. Progress. One. Day. One. Fight. Flight. At a time.
Jessica Fox hails from rural western Michigan with a BA in Speech Pathology and Audiology from Calvin College and an MA in Linguistics from Indiana University. She is in her second year of teaching English in both the literal and cement jungles of Indonesia.
To follow stories of floods, landslides and one-legged motorbike taxi drivers, go to Jessica's blog at http://obegitu.wordpress.com/.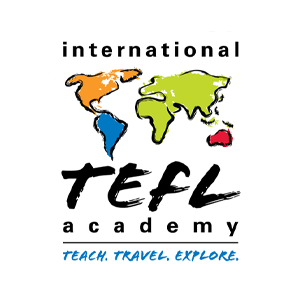 Founded in 2010, International TEFL Academy is a world leader in TEFL certification for teaching English abroad & teaching English online. ITA offers accredited TEFL certification classes online & in 25 locations worldwide and has received multiple awards & widespread recognition as one of the best TEFL schools in the world. ITA provides all students and graduates with lifetime job search guidance. ITA has certified more than 25,000 English teachers and our graduates are currently teaching in 80 countries worldwide.
Want to Learn More About Teaching English Abroad?
Request a free brochure or call 773-634-9900 to speak with an expert advisor about all aspects of TEFL certification and teaching English abroad or online, including the hiring process, salaries, visas, TEFL class options, job placement assistance and more.