must read
Discover The Tropical Treasures Of Indonesia While Teaching English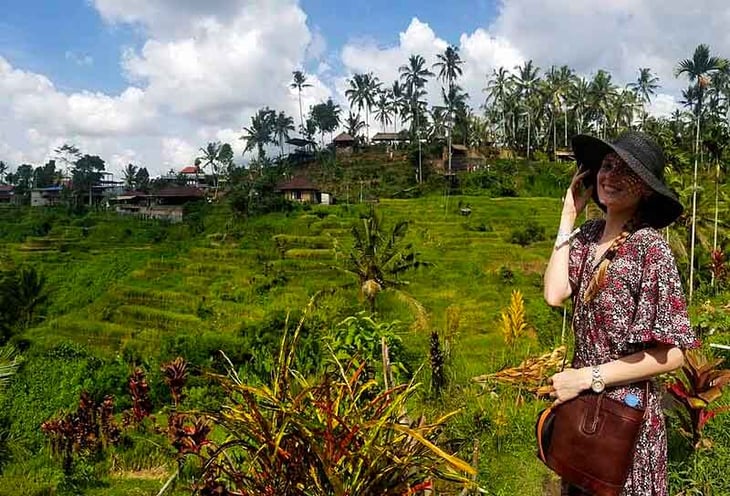 Looking to explore an exotic paradise with lush jungles, tropical seas, beautiful beaches, and diverse cultures spread over more than 17,500 islands?
Located at the crossroads of Southeast Asia, the islands of Indonesia, known for their beauty and spices, have attracted explorers and merchants from across the globe for centuries. Currently, the fourth most populated country in the world with 240 million people, Indonesia is a vast mélange of cultures, traditions, and cuisines.
While it's the world's largest Muslim nation, the influences of Hinduism and Buddhism, as well as Chinese and even European cultures are unmistakable. In recent years, Indonesia's emergence as a major economic force on both the regional and international levels, combined with a major upsurge in tourism, has generated a huge demand for English language instruction. This means that teaching English in Indonesia provides thousands of opportunities to live and work in this fascinating country, particularly for those with a four-year degree and a TEFL certification.
Here are just some of the highlights of living and traveling in Indonesia that await...
Jakarta
Indonesia's capital is affectionately known to locals and around the region as the "Big Durian," a play on the New York's "Big Apple" nickname that references a thorny, foul-smelling fruit that is much-beloved fruit throughout Southeast Asia. Like a durian, Jakarta can be a bit rough and off-putting at first, but once you dig in, the reward is an exotic, tasty treat like nothing you have ever experienced.
Built on the site of an ancient Hindu kingdom, Jakarta was the seat of Dutch colonial during the 17th century and is now the 13th largest city in the world. It also a cosmopolitan and colorful city offering an endless array of lively street markets, food stalls, coffee shops, museums, galleries and nightclubs. Highlights include the Old Town around Fatahillah Square, where the first house of Dutch government has been converted into the Jakarta History Museum. At night, the area is home to a bustling and colorful street market.
Want to know what it's like to live and teach English in Jakarta, Indonesia from an International TEFL Academy graduate?
Diving in Bunaken
As a tropical nation with more than 17,000 islands, Indonesia offers some of the finest snorkeling and scuba diving opportunities in the world. Bunaken in particular is known for its crystal clear waters and abundant marine life. Located off the northern shores of Sulawesi Island, the Bunaken Marine Park is home to a staggering array of beautiful reefs and here you can see more than 70% of all fish species that live in the eastern Pacific!
Borobudur Temple
This fantastic complex is widely recognized as the world's largest Buddhist temple and provides fascinating insight into Indonesia's pre-Islamic past. Located about 25 miles from the city of Yogyakarta (itself a historical city known for the art of batik), Borobudur encompasses 55,000 square meters of carved lava rock, more than 504 statues and figures, and 1460 relief panels dating primarily from the 9th century. The temple provides a fantastic example of Indian influence in the region and represents the Buddhist vision of the stages of the cosmos and consciousness in stone from daily life on earth to passion and desire before spiraling up to nirvana represented at the temple's apex. Equally impressive is the temple's setting, ringed by lush hillsides and dramatic volcanic mountains.
Bali
Though it may be most popular destination in Indonesia for tourists (including many surfers!), Bali is still an idyllic island of beauty and history that enables you to find what most people come here for…peace! I remember when I was looking for information about Bali, and a friend told me that as soon you arrive, you enter in another universe of tropical beaches, mystical temples and lush hillside rain forests. Well, that is was exactly what I discovered upon my arrival. Coming from the hustle and bustle of Bangkok, the serenity of Bali was apparent as soon as I arrived.
Still a bastion of Hinduism in a primarily Islamic nation, Bali offers a cultural experience unlike any other that you will find in Indonesia. The coast is lined with some of the most beautiful beaches on earth, while the interior is distinguished by lush rainforests, charming villages, historic Hindu temples, palaces and boutiques. Meanwhile popular tourist towns like Kuta offer colorful people watching, pulsating nightlife and a wide variety of culinary options. Lovely!
But continue exploring and Bali offers one surprise after another! Enjoy the aroma of the flowers of frangipani trees all around; the magnificent green color of the rice terraces; ancient rituals performed in enchanting temples; the hypnotic pounding of waves against the beaches; full-moon parties in Kuta; and the artistic treasures of Ubud. Hike volcanic mountains; swim with dolphins; and feel the warm embrace of the Balinese people. If you feel like indulging yourself, Bali is also a place to delight yourself with luxury: some of the most romantic hotels and spas in the world are located here, so treat yourself to a massage, aromatherapy and a world class meal. Enjoy it all because Bali is just for that!
Founded in 2010, International TEFL Academy is a world leader in TEFL certification for teaching English abroad & teaching English online. ITA offers accredited TEFL certification courses online & in 20+ locations worldwide and has received multiple awards & widespread recognition as one of the best TEFL schools in the world. ITA provides all students and graduates with lifetime job search guidance. ITA has certified more than 40,000 English teachers and our graduates are currently teaching in 80 countries worldwide.
Want to Learn More About Teaching English Abroad & Online?
Request a free brochure or call 773-634-9900 to speak with an expert advisor about all aspects of TEFL certification and teaching English abroad or online, including the hiring process, salaries, visas, TEFL class options, job placement assistance and more.