Discover the Essence of Spain while Teaching English in Madrid
Has the history, romance and beauty of Spain been calling you?
Do you dream of living in one of Europe's most historic and exciting cities, famous for its culture, museums, nightlife and fantastic cuisine?
Do you want to learn Spanish and get international work experience on your resume?
The Spanish capital of Madrid represents one of the largest job markets in Europe for teaching English abroad. With a population of 6.5 million in the metropolitan area, Madrid is home to hundreds of language schools and institutes that hire thousands of new English teachers a year, including many first-time teachers who have just earned a TEFL certification. This makes it the largest job market by far for teaching English in Spain.
Read Top Tips for Getting a Job Teaching English in Spain to learn more about getting a job teaching English in Spain.
Those who choose to teach English in Madrid will discover one of the most fun, cosmopolitan, bohemian and passionate cities in the world. In fact the list of reasons to live and teach English in Madrid is endless, but to get started, here are just 7.
7. The largest English teaching market in Spain (and one of the largest of Europe)
Jobs, jobs, jobs! Madrid is the capital city and the economic center of Spain. As they say, follow the money. There are nearly 300 language schools in Madrid alone, multiply that with an average of 10-30 English teachers per school, throw in the people who ask for private lessons and if that is not enough, the children's English teaching market has been booming the past few years adding and additional 30% more classes than 2010.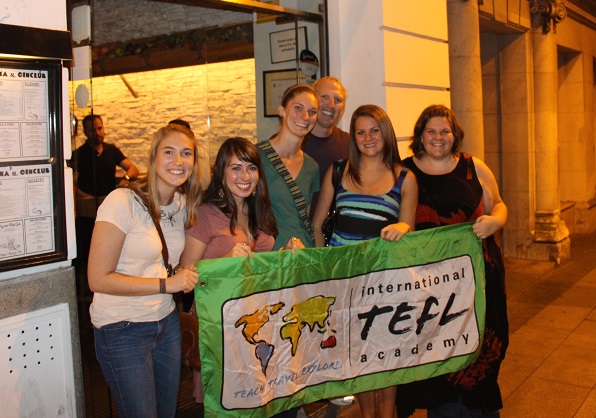 6. Central Location in the Heart of Spain
Located smack dab in the middle of the country, Madrid makes an ideal base for traveling and exploring everything that Spain has to offer from the sun-kissed beaches of the Costa del Sol to the Basque Country, Barcelona and the upper shores of Asturias and Galicia.
In addition, Madrid's status as a major transportation hub ensures that major European destinations like Paris and Rome are easily accessible by plane and train; in fact, it is quite common to find round-trip flights to other European capitals for the equivalent of $150 or less. In a sense, living in Madrid can make it seem like you are in the middle of the world because you will be just a few hours away from so many fantastic destinations! "Y Ole"!!!
5. Madrid is a Foodie's Paradise
From neighborhood tapas bars and centuries-old dining halls to cutting edge restaurants at the forefront of Spain's ascendency into the upper echelon of foodie destinations, Madrid offers a myriad of fantastic culinary experiences. If you are ready to plunge headfirst into world of tapas, paellas, Rioja wine, Spanish tortillas, Jamón ibérico, patatas bravas and sangria, Madrid is for you!!! National and international cuisine in Madrid is just "a pedir de boca" - whatever you want to eat you will find it here, and the food markets are fantastic, brimming with great produce, fresh and cured meats, and world class artisan cheeses, just in case you want to create your own tapas!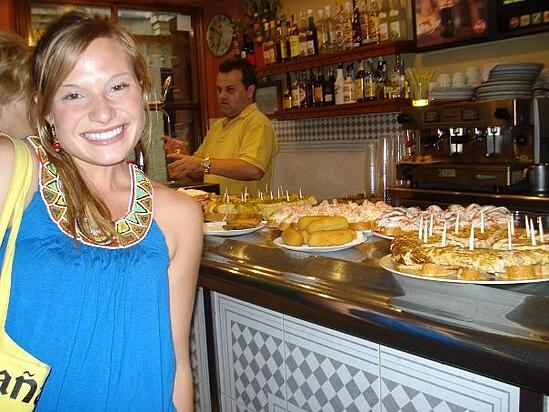 4. The City of "Papa" and the Prado
From great Spanish masters like Goya, Velazques, Picasso, Dali and Miro to "Papa" Ernest Hemingway himself, Madrid has captured the minds and hearts of some of the world's greatest artistic and literary figures. At the heart of Madrid's artistic heritage stands Museo del Prado, one of the world's greatest repositories of European art, and throughout the rest of the city, one encounters an endless array of concerts, festivals, photography exhibitions, and literary gatherings!

3. Flamenco & Great Nightlife
The city of Madrid comes alive after dark when residents from all walks of life flock to a vast assortment of dance halls, nightclubs, theaters and of, course, local tapas bars. If you are one who loves to dance until dawn, then Madrid is your kind of town. In particular, Madrileños love the flamenco, and in clubs and performance halls around the city, you will see how the stomping of heels into the red carpets embodies the Madrileños well known zest for life.
2. Aprenda Español!
If you want to learn Spanish it will come along while teaching English in Spain! Spanish is one the top of three most commonly spoken language in the world, (along with English and Mandarin). So there is no better way to put in practice what you learn in high School and learn more and more just with real interaction with this passionate culture. You will be amazed how easy you will pick up and start using the language and even the local Madrileño slang. Remember that learning a second language con provide a major boost to our resume in the globalized economy of the 21st century!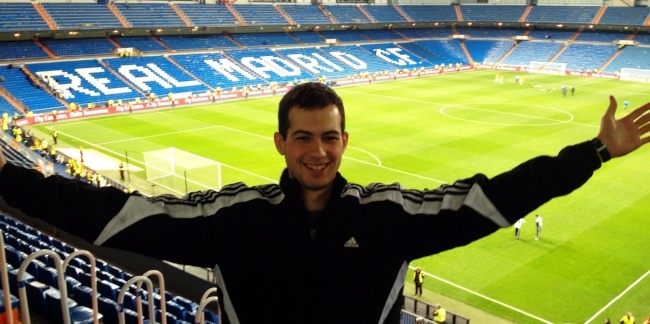 1. Fútbol & Sports
From the glories of Real Madrid C.F. on the soccer pitch to the traditional pageantry of bullf fighting at the Plaza de Toros de Las Ventas, Madrileños are ultra-passionate about their sports and the city's sporting heritage is among the richest in the world. While popular sports range from tennis to bullfighting, soccer, known locally as fútbol, is the indisputed king. In recent years, Spanish fútbol has enjoyed a golden era as the national squad has taken home both the World Cup and the European Cup during recent years.

In Madrid, the most popular team is Real Madrid, which has long been one of the top club teams in the world and is currently the team of Cristiano Ronaldo, one of the game's greatest stars. Those looking to support an underdog will find themselves rooting for Atlético Madrid, the city's other major team. Even for non-sporting fans, fútbol is such a part of the local culture that it is difficult not to get caught up in the passions of the local fans, who consider every match not to be just another sporting competition, but an occasion to celebrate life itself!
"If you are in Madrid you are from Madrid"
There is an oft-heard phrase that is true in Madrid - "If you are in Madrid
you are from Madrid" - and you will feel it when you are there. From your students and colleagues to the people you meet in cafes, bars and even the buses, Madrileños will welcome you and will make you feel just like at home! The friends you make and the relationships you build with students, colleagues and others will stay with you for the rest of your life.


Want to Learn More about Teaching English in Spain?
Request a free brochure or call 773-634-9900 to speak with an expert advisor about all aspects of teaching English in Spain and around the world, including TEFL certification, the hiring process, salaries, visas and more.
Articles Related:
Founded in 2010, International TEFL Academy is a world leader in TEFL certification for teaching English abroad & teaching English online. ITA offers accredited TEFL certification classes online & in 25 locations worldwide and has received multiple awards & widespread recognition as one of the best TEFL schools in the world. ITA provides all students and graduates with lifetime job search guidance. ITA has certified more than 25,000 English teachers and our graduates are currently teaching in 80 countries worldwide.
Want to Learn More About Teaching English Abroad?
Request a free brochure or call 773-634-9900 to speak with an expert advisor about all aspects of TEFL certification and teaching English abroad or online, including the hiring process, salaries, visas, TEFL class options, job placement assistance and more.