Celebrate Easter Around the World While Teaching English Abroad

Even while many bemoan that secularism and commercialism have corrupted many traditional holidays, Easter remains a deep religious tradition that is the most important holiday of the year for hundreds of millions around the globe. From Rome to Rio, people celebrate Easter with their own unique traditions and rituals, many tracing their roots back centuries, so if you are teaching English around the world here are some great places to celebrate this special time of year!
1. Feliz Pascua - Argentina!
Easter is typically the largest religious celebration of the year in Latin America, where the majority of the population is Catholic. For millions, and especially in Argentina, this year will be a special occasion as it marks the first Easter for the new Pope Francis I, who is Argentinian and the first pontiff to come from Latin America.
The rituals commence with the beginning of Lent 40 days before the "Sunday of resurrection." Traditions include fasting, abstinence of meat, and special prayers. But one of the most amazing traditions is held in Buenos Aires, where a lavishly produced, life-like Passion Play and march to the 12 stations of the cross is recreated on Friday and Saturday before Easter. Afterwards, participants celebrate a candlelight mass and admire fireworks. Easter itself will be celebrated with the giving of chocolate eggs to friends, colleagues, and family. In addition, Argentinians will throw a big "Asado" (barbeque) to celebrate that Lent is over.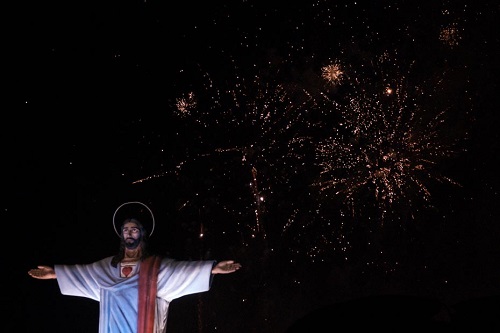 2. Veselé Velikonoce - Czech Republic!
In the Czech Republic, the Easter Season incorporates many of the traditional rituals and trappings, but the big celebration will be held on "Whipping Monday" the day after Easter. During this day boys will symbolically "whip" girls on the leg, while they recite an Easter Carol, which represents health and youth for all of those who are "whipped." The girls will give painted eggs or candies in exchange and will tie a ribbon around the "pomlazka," the name of the "Easter whip".
3. Frohe Ostern - Germany!
Did you know that Germans cover the cross during Good Friday in churches? They also maintain the tradition of decorating "Easter trees" with colored and decorated eggs. Actually, the tradition of boiling and painting eggs began in Germany where the eggs symbolize new life, while the colors represent sunlight and growth. The iconic "Easter Bunny," which represents fertility, was also created in Germany where edible candy bunnies were first produced in the 19th century.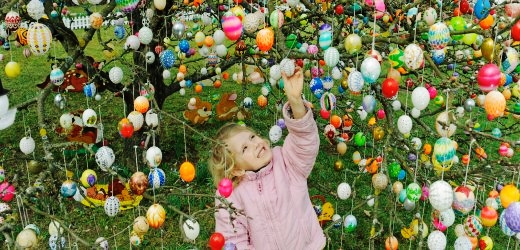 4. Buona Pasqua - Italy!
The Easter Season celebrations in Italy are diverse and rich, and vary from city to city. The season kicks off in Venice and across the country with Carnival, which incorporates a wide range of colorful pageants, dancing and music.
Celebrations culminate in the Vatican, where tens of thousands will be led on a candlelit procession on Good Friday, followed by Easter Mass on Sunday in St. Peter's Square to be led in 2013 by the new Pope, Francis I.

5. Joyeuses Paques - France!
The Easter bunny doesn't visit France. Instead the primary Easter symbols are actually fish and bells. The French Easter fish is called Poisson s'Avril or "April Fish" who according to tradition came to visit the children on April first. Meanwhile, it is customary for children to play a traditional April Fools trick of sticking paper fish onto the backs of adults…the more the merrier!
6. Boa Pascoa - Brazil!
Home to the largest population of Catholics in the world, Brazil celebrates Easter in a very particular fashion. The Easter Season in Brazil famously kicks off with Carnival. While it is synonymous with samba dancing, parades and sensuality, Carnival is a word derived from "carnelevare" that literally means "removal of meat," reference to the beginning of Lent The abstinence from eating meat is part of the Brazilian catholic tradition for Easter. For this reason, Brazilians will indulge the "last day of dance, alcohol, fun and sex" before Lent, when people aren't allowed to have parties, eat meat or sweets.
A great religious pomp and grandeur is observed during the "Holy Week," and blessed palms branches will be woven as crosses and statues to be used in special processions. Chocolates and the Easter bunny are also present in the Brazilian Easter celebration.
Do you want to celebrate the international holidays and local customs this time next year?
You can be teaching English abroad around the world with an International TEFL Academy TEFL certification.
Contact us for a free brochure and TEFL class options.
Related articles about holidays around the world you can celebrate while teaching English abroad:
Photo credit - Buenos Aires: Beatrice Murch
Founded in 2010, International TEFL Academy is a world leader in TEFL certification for teaching English abroad & teaching English online. ITA offers accredited TEFL certification classes online & in 25 locations worldwide and has received multiple awards & widespread recognition as one of the best TEFL schools in the world. ITA provides all students and graduates with lifetime job search guidance. ITA has certified more than 25,000 English teachers and our graduates are currently teaching in 80 countries worldwide.
Want to Learn More About Teaching English Abroad?
Request a free brochure or call 773-634-9900 to speak with an expert advisor about all aspects of TEFL certification and teaching English abroad or online, including the hiring process, salaries, visas, TEFL class options, job placement assistance and more.