Almost Brave Enough: A Review of Working at a Summer Camp in Austria & Italy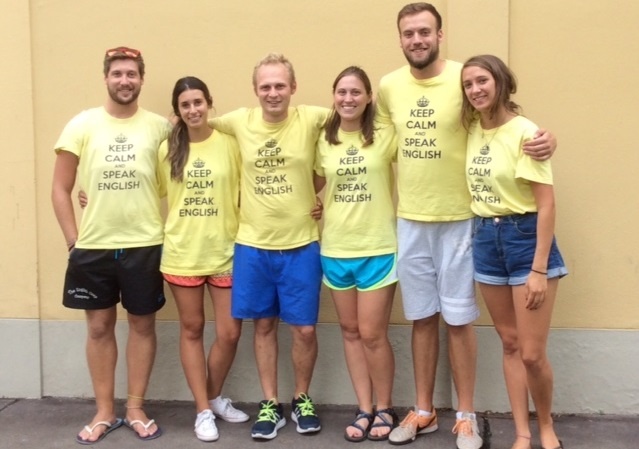 That looming fear of accepting a 12-month teaching position will paralyze you out of your wits. I kept closing my eyes trying to picture myself in exotic countries: China, Thailand, Columbia, etc. That part wasn't hard. But then I would close my eyes and picture myself in that country for 12 months, away from my family, my friends, my conveniences, and I would shake my head in despair admitting that I wasn't brave enough.
My heart longed for adventure, but shuttered at the idea of separation. I needed a trial. Something I could do to test the waters. It would be worth it, even if it didn't pay a lot, to just see if I could do it. That was when I received an email from the International TEFL Academy with listings for Summer Positions.
Scanning the letter anxiously looking for something I could do, I found The English Camp Company, with a headline of something along the lines of "Want to spend your summer teaching English in Italy and Austria?" My heart leapt for joy. "Yes! Yes! I do want to spend my summer teaching English in Italy and Austria!" Frantically looking for the job requirements I discovered that I was more than qualified for this job. I saw my favorite phrase that all new ESL teachers must love to see: No previous teaching experience required.
What is the English Camp Company?
The English Camp Company was started and is still operated by an American/Australian couple in Italy, giving it a homey personalized feeling once you arrive, as you meet your bosses in person. The camp is a day camp designed for children around 6 – 14 years old with class sizes varying, but always manageable. The camp structure follows a "learning time" followed by "game time." Kids sing songs in the morning, go to class, have lunch, and then play group games before going home.
Each camp is in a different location and lasts for two weeks where you will be living with a host family. The locations of each camp is kept somewhat of a secret, therefore flexibility is a must when working for this company. The company has its reasons for operating in this fashion, one being the element of surprise, the other being logistics. Sometimes employees quit and assignments change. Sometimes more kids (or less kids) sign up than expected and things have to be rearranged at a sudden notice. Therefore, your camp is only assigned to you when they're 100% sure that you're going there.
The biggest problem with this is if you're flying from the U.S. on your own dime you will need to plan a return flight. If you're hired, be sure to discuss this with Nate and Ashleigh (owners) for advice on what city to book your return flight out of.
What I did was decide that I wanted to travel around a bit after I finished my job. I booked my return flight home from Barcelona and gave myself two weeks from when my job ended to get there. I ended up booking a flight from an airport in Austria, as I knew about two weeks in advanced that I would be finishing in Austria, and not Italy.
IMPORTANT: The majority of the EU grants tourists a 90-day visa, which includes your days in multiple countries (it doesn't restart with each country). Therefore, plan accordingly if you're arriving early or staying late. Don't make the mistake I made of planning to stay in Europe for 4 months without a proper visa and having to buy a new ticket home.
[Editor's note: though technically illegal, many Americans and others do stay and work beyond the three months allotted by a standard tourist visa. To learn more about the issue of overstaying visas to teach English in Europe & elsewhere, please read What is Teaching English Abroad "Under the Table" Without a Work Visa?"
Positions:
The ECC may offer you positions from 2 weeks to 12 weeks, with possibly (but unlikely) a break in between. Congratulations if you're planning to stay the 12 weeks, but be sure to fill up on the espresso, you're going to need it. They are not joking when they say that this is a high-energy level position.
Getting hired by the English Camp Company
A 3-month or less position was perfect for me. I just had to get the job, and I did, I had never wanted anything so badly in my life. Since then this company has become more popular and each year receives more and more applications, making it more difficult to get hired. If you feel that the English Camp Company is a good fit for you, here are a few tips for getting hired.

1) Make a video of yourself
a) If possible, working with kids
b) Doing anything that shows you have high energy
c) Being silly to the point of looking ridiculous
2) List experiences outside of teaching that show that you know how to work with kids.
a) Camps
b) Afterschool programs
My experience in working with the ECC
It would not be an exaggeration to say that this was one of the most beautiful experiences I've ever had in my life. Not many people can say that they've lived in an Italian household, made homemade pasta, drank homemade wine, and explored medieval architecture in their neighborhood. I can't think of a more authentic way to learn about a culture. However, if you're doing this job to go sightseeing, I suggest arriving before your job starts or give yourself time after it ends, because depending on your location, you may not have time to go sightseeing.
It's true that you are off on the weekends, but expect your family to have something already in mind for you. It may be something extravagant like renting a bus and taking you on a private evening tour of Rome (not an exaggeration, I was outrageously blessed with this surprise), or something simple and beautiful like dinner at the grandparent's house. You will become part of that family, and for you to fully appreciate this family it's best to embrace it. They will be excited to have you in their home, and for you to turn down this invitation would be beyond rude.
Or on the other hand, you may have a family who doesn't mind if you skip out on the weekend and take a train to Florence. Everyone is different. There's no blueprint on how your family will be because they're authentic people. There's no program that they have to follow, other than to open their home up to you and feed you (I'm starting to dream about the tartufo pizza now). In Austria my host family gave me all of the privacy I wanted, and didn't care that I took a bus to Salzburg on the weekend to explore.
As far as the work goes, I would be lying if I said that it was a piece of cake. It's exhausting. The Italian and Austrian children are on their summer vacation and the last thing they want to do is sit down and study. You have to be creative and play games in order for them to learn, but you will love them. You will love all of them, even the crazy ones, and there will be crazy ones. They will drive you completely nuts and some days you will think, "I don't know if I can work another camp" but you will, because you want to teach abroad and this is your test to see if you can do it, and you will pass.
You will learn teaching techniques during your training days when you arrive in Assisi, Italy. While working you may want to pull your hair out, but when it's over you will look back and miss all of your students dearly. When you go home every afternoon you will want to sleep, but don't. Take an espresso and power through, otherwise you'll miss out on the best part of The English Camp Company, and that's your family and new friends.
When I look back on this experience I think of how much I learned and achieved. I'm proud of myself for being almost brave enough to live abroad. Three months was just enough for me to believe that I could do four months, or even five months, and who knows, I might try six months, which could lead to seven, and before you know it, I'll be signing my year-long contract.
An ITA graduate, Caroline Chadwell is a 26-year-old from a rural town in Tennessee. She currently teaches online and is seeking out next adventure abroad.
Want to Learn More About Teaching English Abroad & Online?
Request a free brochure or call 773-634-9900 to speak with an expert advisor about all aspects of TEFL certification and teaching English abroad or online, including the hiring process, salaries, visas, TEFL class options, job placement assistance and more.