40+ teachers
Teaching English in Rome, Italy - Alumni Q&A with Dawn Blasko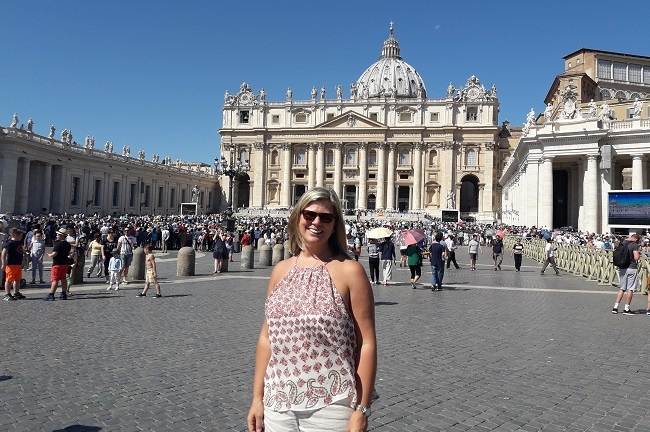 What is your citizenship?

United States

What city and state are you from?

Fredericksburg, VA

How old are you?

37

What is your education level and background?

Master's degree or Higher
Have you traveled abroad in the past?
Some international travel with friends, family, business, etc.

If you have traveled abroad in the past, where have you been?
South Korea, Thailand, Mexico, Germany, Kuwait, Iraq, Saudi Arabia, Belgium, Luxemburg, France, Lichtenstein, Switzerland, Austria, Italy, Greece, Spain, Gibraltar, England, Holland, Czech Republic, Poland, Costa Rica
What sparked your interest in going to teach English abroad?

I was already living in Italy and was trying desperately to find a job in massage therapy or nutrition. It was difficult because I did not speak Italian well. During this time, I kept seeing signs that said "Learn to teach English" or "Get your TEFL certification." I figured this was a sign, so I applied for the certification. I am so glad I did because the past year has been nothing short of amazing!

What were some of your concerns before teaching abroad?

I didn't have any. I was already living here, so I wasn't concerned about finding a job or anything.

What did your friends and family think about you moving and teaching abroad?

When I first left the country, everyone was excited and sad. My mom knew once I left that most likely I would only return for visits, so this was the hardest part for her. They are all coming to visit me soon, so that is exciting for all of us!
TEFL CLASS INFORMATION
Why did you decide to get TEFL certified and choose International TEFL Academy?

I was attending a University in Rome for a second masters when I saw the flyers about teaching English as a foreign language through ITA. When I started to see similar flyers all over Rome, it was a sign that I should teach.
Which TEFL certification course did you take?

Online TEFL Course

How did you like the course?

My online course was great. My instructor always provided great feedback and was timely in his responses. Practicum was great as I had a good mentor who helped me understand the ropes of the school I was working at.

How has your TEFL training helped you in your current teaching position?

Overall, it helped with the foundation of teaching; however, the school I teach at uses the Cambridge curriculum, so they have their own books that have the lesson plans already planned out. It is nice to know how to make lesson plans on my own, but even better that the books we use have the lessons laid out.

Which city and country did you decide to teach English in and why?

I decided to teach English in Italy in the city of Rome. I was already living here, so it made it an easy decision.
How long have you been in this country and how long do you plan to stay?

I have been here 17 months and I won't be leaving. I met my husband here, so this is where we will build a future together.

What school, company, or program are you working for?

British School of English

During which months does your school typically hire?

September and late December/early January

Did you secure this position in advance of arriving?

No

How did you interview for this position?

In-Person Interview

What kind of Visa did you enter on?

Student Visa

Please explain the visa process that you went through.

Because I was attending a University here, I went through the student visa process.

What are the qualifications that your school requires for teachers? Please check all that apply

- TEFL Certification
- Native English speaker
- CELTA/DELTA teaching certifications are preferred

What is the best way to apply?
Initially, an email will suffice. Then, the director will either want an in person or skype interview.
Please include any application resources (website, email, etc.) or other information here:

The Director of the school - Robert Islam - director@brtschool.co.uk

Tell us about your English teaching job!

Hours per week: So hours here vary depending on the time of year. From mid September through December, I teach about 15 hours a week and plan about 5 hours a week. From January through April, I teach 30-35 hours a week and plan about 10 hours a week. From May to July, our hours slow and I will only work 10-15 hours a week. In August the school is closed for holiday.
Salary: I am a contract employee, which is difficult to achieve in Italy as an American. I am paid between $16-19 (€14-16) an hour. It varies every month because of the way Italy does their taxes. I am paid once a month.
Ability to save: I save because I do not go out often or travel much. I go on short trips in Italy and have only left the country once since moving here. Most people who come here will want to travel more, but I won't be returning to the US to live, so I can take my time. I also eat at home most of the time. It is very cheap to go to the fruit sellers here...you can get a week's worth of fruit and vegetables for less that $20 (€15)! I save over $400 (€350) a month.
Type of school: I work for a school that offers courses in the school as well as provides mother tongue courses to middle schools and Cambridge exam preparation at those schools as well.

Type of student: I have taught all different kinds of classes and people. I teach children, teens, and adults. I have taught business courses to individuals. I prepare students for exams as well. The age range I have worked with is 6 years up to 60 years old. We have off all Italian national or bank holidays.
Vacation time: We have two weeks at Christmas and New Year's, close to a week around Easter and the entire month of August. It is easy to ask off from work as well. You just have to find someone to cover you.

How did you find somewhere to live and what is it like? Do you have roommates?

The University I went to recommended a few sites for us to use that were reputable. When I initially moved here, I had two roommates. We lived in a 3 bedroom apartment with one bathroom, kitchen, and dining room. It is typical here for most people to have roommates, and many places rent specifically to teachers and students. Now I live with my husband.
COUNTRY INFORMATION - FUN!
Please explain the cultural aspects, public transportation, nightlife, social activities, food, expat community, dating scene, travel opportunities, etc...

Cultural Aspects: Many Italians do not speak English, contrary to what people think. You need to learn the basics of the language before coming or take classes upon arrival. It is normal to have a glass of wine with lunch and return to work. Italians do not drink excessively, but they smoke a lot (1 in 4 smoke). If a person is sensitive to it, I would not recommend coming to Rome. They do not mind if you are a little late. They understand the traffic and public transportation system (this includes for work, not just social life).

Public transportation is good sometimes and not others. The buses are always early or late, but never on time. The metro is on time 99% of the time as are the trains. The trams are a bit slow and usually run behind schedule...but at the end of the day, you get from point A to point B and no one is mad.

Nightlife is great. Again, Italians do not drink excessively, so Americans should heed their host country and not go overboard. They have great places to dance, hang out for a drink, karaoke...it's not much different than any other big city (again this is Rome though).

Expat community: They have great expat groups to help keep the social life interesting and to get people acquainted to their new culture. You can make new friends and potentially someone to date. For women, they should be careful because Italian men are aloof in their relationships, and you may think you are the only one and find out different. If you want a relationship, you must be clear from the beginning. Be careful as well, because there is the thought that American women are easy, so the Italians want to go out with Americans just to have a good time.

Food here is the best in the world. If you can't eat dairy and the grains in the US, most likely you can eat it here. The food is grown with care and they use as few chemicals as possible...but no glyphosate (Round Up). You won't find many Mexican restaurants here, but they have a ton of Asian restaurants. The even offer raw vegan, vegan, and vegetarian options, and they make AMAZING gluten free foods. So if someone has been missing pizza because of gluten intolerance, fear not, Italy is the place to come.

Travel opportunities: There are tons of travel opportunities...you can get anywhere by bus, train or plane. With two airports right here in Rome, it makes the rest of the world very accessible.
COUNTRY INFORMATION - MONEY
What are your monthly expenses?

Rent and Utilities: $420 (€350)
Food: $145 (€120)`
Social Activities: $60 (€50)
Transportation: $40 (€35 metro card that is good for buses, trams, some trains and metro)
Phone: $9.50 (€8 2 gigs of data, 1000 minutes of calling throughout Europe; I use What's App and Snap Chat so calls to the US are free, and I use Skype for those without those apps and it's less than $0.03 a minute)
Travel: I haven't traveled much. Over 17 months of being here, I would say I've spent less than $1500 (€1800) on travel with hotels, airfare, or train and food

How would you describe your standard of living?

It's good. Definitely better than most. We live in a nice studio and have a large courtyard where I grow many plants, herbs and vegetables. Our rent includes electricity, water, gas, and internet. Some places include this and others do not.

In your opinion, how much does someone need to earn in order to live comfortably?

If they have roommates, $950 (€800) a month.
ADVICE FOR PROSPECTIVE ENGLISH TEACHERS
What advice would you give someone planning or considering teaching abroad? Would you recommend teaching in your country?

I think teaching here is a great experience. I really enjoy it, and it is very rewarding. I would say be prepared for culture shock. Everything is slow in Italy. They don't stress like Americans do, and they have this "I'll get to it when I get to it" attitude.




Founded in 2010, International TEFL Academy is a world leader in TEFL certification for teaching English abroad & teaching English online. ITA offers accredited TEFL certification courses online & in 20+ locations worldwide and has received multiple awards & widespread recognition as one of the best TEFL schools in the world. ITA provides all students and graduates with lifetime job search guidance. ITA has certified more than 40,000 English teachers and our graduates are currently teaching in 80 countries worldwide.
Want to Learn More About Teaching English Abroad & Online?
Request a free brochure or call 773-634-9900 to speak with an expert advisor about all aspects of TEFL certification and teaching English abroad or online, including the hiring process, salaries, visas, TEFL class options, job placement assistance and more.