Milan, Italy English Teaching Q and A with Jenna Berens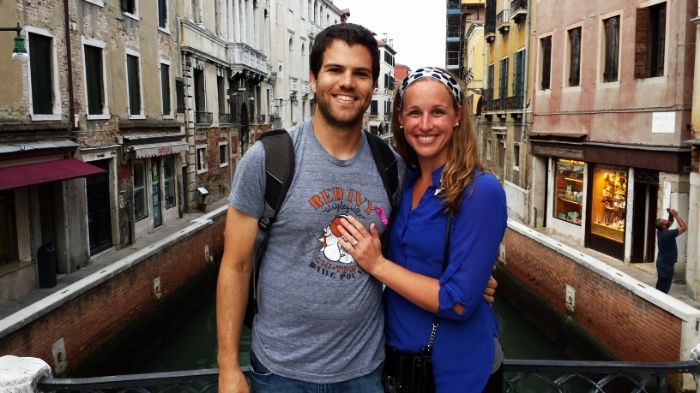 TELL US ABOUT YOURSELF
What is your citizenship?

United States

What city and state are you from?

Chicago, IL

How old are you?

29

What is your education level and background?

Master's Degree or Higher
Have you traveled abroad in the past?
Some international travel with friends, family, business, etc.

If you have traveled abroad in the past, where have you been?

Caribbean, Mexico, Italy, U.K., France
What sparked your interest in going to teach English abroad?

Well, when I was younger, I was super shy and had no desire to interact with people or travel. In college that began to change, and when I moved to Chicago alone at 25 years old, I finally broke out of my shell. I slowly developed an interest in people and travel and began thinking about living abroad. However, I was terrified to live somewhere where I didn't speak the language, so I didn't look too far into it.

What were some of your concerns before teaching abroad?

Not knowing Italian; money; safety.

What did your friends and family think about you moving and teaching abroad?

My family was super supportive and even said they'd be MAD if I didn't go! Some of my friends thought I was a bit crazy since I had recently spent eight years becoming a Nurse Practitioner and now I was quitting to move to Italy!
TEFL CLASS INFORMATION
Why did you decide to get TEFL certified and choose International TEFL Academy?

My boyfriend and I knew a TEFL certification was a must to teach English in Europe. We chose the International TEFL Academy because there was an office near my boyfriend's apartment, so he stopped in one day. The online class was most convenient for us since we both had full-time jobs in Chicago and we wanted to continue making and saving money before our adventure.
Which TEFL certification course did you take?

Online TEFL Class

How did you like the course?

I enjoyed the online certification course. It was a nice pace and the tasks were not too demanding. I'm glad there were mandatory practicum hours because I learn best with hands-on experience.

How has your TEFL training helped you in your current teaching position?

Absolutely! It really helped refresh English basics and grammar and gives you lesson planning and teaching skills.

Which city and country did you decide to teach English in and why?

I chose to teach English in Italy in the city of Milan because Milan provides for a lot of wonderful travel opportunities since it's so central in Europe!


How long have you been teaching English in Italy and how long do you plan to stay?

I've been in Italy for nine months.

How did you secure your English teaching job?

I had two part-time private tutoring gigs which I found online.

What school, company, or program are you working for?

I worked for The English Playgroup and Hello Kids.

How did you get your work visa?

I did not get a work visa since Italy is notoriously lax about those kinds of things, and it turned out to not be a problem for work or travel. Of course, I got turned away from a bunch of companies, but there were still some willing to pay me under the table, which was great.

Tell us about your English teaching job!

I privately tutored children (and a few adults) part time for about 12-15 hours per week. I made between 20-30 euros per hour depending on the group size and location. Living with my boyfriend and combining expenses, we were able to save some money for travel. This might be more difficult living alone. We didn't have official vacation time, but we had vacation when the schools were on break. If we wanted other days off, it wasn't usually a problem if we gave advanced notice.

How did you find somewhere to live and what is it like?

When my boyfriend and I first arrived in Milan, we had an apartment for a month through Airbnb. It was a great way to live while trying to find work and a permanent place to stay. After our month was up, we found an apartment on craigslist for 750 euro (approximately $850 USD) a month. Craigslist is not commonly used in Italy but our apartment's owner lived in the U.S., so we got lucky.
COUNTRY INFORMATION - FUN!
Please explain the cultural aspects, public transportation, nightlife, social activities, food, expat community, dating scene, travel opportunities, etc...
The public transportation was great and convenient, but crowded. The food, of course, was amazing (it's ITALY!)! Milan offered fantastic travel opportunities as it is very central in Europe and it has 3 major airports plus a huge train station.
COUNTRY INFORMATION - MONEY
What are your monthly expenses?

Rent: 750 euros (approximately $850 USD)
Food: About 75 euros (approximately $85 USD) a week for 2
Social Activities: Not much. We traveled instead.
Transportation: Our monthly transit pass was 35 euros (approximately $40 USD)
Travel: A LOT! We dipped into our saving for this

How would you describe your standard of living?

I lived in a very nice, private, one bedroom apartment with my boyfriend just outside of the city center of Milan. Rent was 750 euros a month (approximately $850 USD), and we lived very comfortably on our combined incomes.

In your opinion, how much does someone need to earn in order to live comfortably?

If you are living alone, I'd say 800 - 1000 euros (approximately $910 - $1140 USD) a month would be fairly comfortable.
ADVICE FOR PROSPECTIVE ENGLISH TEACHERS
What advice would you give someone planning or considering teaching abroad? Would you recommend teaching English in Italy?

Just do it!
Don't over think it. You CAN make it work. I would absolutely recommend teaching English in Italy.



To learn more about Jenna's experiences teaching English in Italy, check out her recent article:
Founded in 2010, International TEFL Academy is a world leader in TEFL certification for teaching English abroad & teaching English online. ITA offers accredited TEFL certification courses online & in 20+ locations worldwide and has received multiple awards & widespread recognition as one of the best TEFL schools in the world. ITA provides all students and graduates with lifetime job search guidance. ITA has certified more than 40,000 English teachers and our graduates are currently teaching in 80 countries worldwide.
Want to Learn More About Teaching English Abroad & Online?
Request a free brochure or call 773-634-9900 to speak with an expert advisor about all aspects of TEFL certification and teaching English abroad or online, including the hiring process, salaries, visas, TEFL class options, job placement assistance and more.