Can I Teach English in Italy?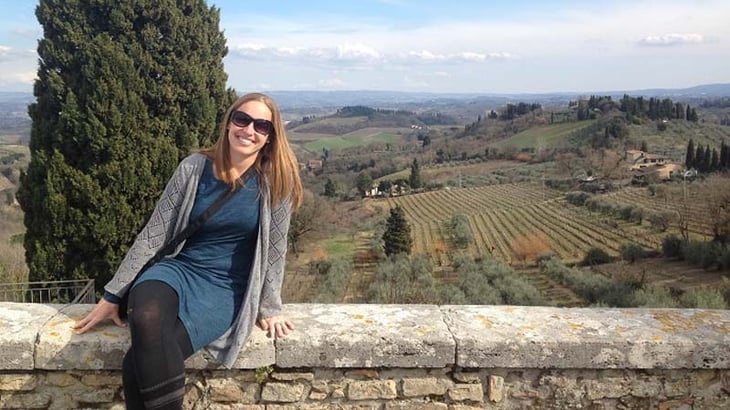 In September 2014, after finishing my Online TEFL Certification through the International TEFL Academy (ITA), I made the greatest decision of my life.
I moved to Italy with the hopes of teaching English as a foreign language after quitting my steady job in Chicago as a Nurse Practitioner.
I spent nine incredible months tutoring in Milan Monday through Friday while galivanting through Italy and Europe on the weekends and holidays.
I have since returned home to the United States, and I have been receiving a ton of messages from other ITA alumni who saw on the ITA Alumni Facebook page that I taught English in Italy. So, I will answer the most commonly asked questions here.
Question 1: Is it difficult to find a job teaching English in Italy?
Answer: No it is not. In Italy it is very uncommon to arrange a job before arriving in the country. Aware of this, I arrived in Milan with the ITA Job Search Guidance Manual in hand. I started sending out resumes to every possible school and company I found in this manual and online (you can use Indeed, Google, and local English online newspapers).
Within days, I started getting responses from companies, set up several interviews, and in about two weeks, I had two part-time jobs lined up to start immediately. Both of these positions were with private tutoring companies that sent English teachers into the homes of clients to teach primarily children English on an individual or small-group basis.
Clearly, I did not have a hard time finding a job, but I was in Milan. While I was in Italy, I heard that jobs are also readily available in Rome. Florence is a different story; it is just a smaller, more popular and competitive job market for American English teachers.

I heard tales of teachers going to Florence only to leave for Rome, because the job market in Florence is so competitive. I can't speak for other cities in Italy. I assume in the smaller cities, it would be harder to find work. Moral of the story, Milan and Rome are your best bets to find an English teaching job in Italy, in my opinion.
Question 2: Do I need a work visa?
Answer: This is another top concern for those considering moving to Italy to teach English.
Bear in mind, Americans are not supposed to stay in Europe/the Schengen Zone for more than 90 days within any 180 day period or work at all during their stay (without a work or student visa).
However, Italy is notoriously lax when it comes to enforcing their immigration (especially when it comes to Americans). When I entered the country, I wasn't asked about the length of my stay or my intentions with being in the country. After my nine month stay, I was terrified to go through immigration because the consequences of overstaying an American travel visa can officially include fines or jail time.
Again, Italy is notoriously lax about immigration (especially when it comes to Americans overstaying a tourist visa). When I traveled out of Italy, authorities did not ask me a single question about my stay in the country when I left. I purposely chose to fly out of Italy for this reason. If I had left the Schengen Zone through Germany or Switzerland, I probably would have been caught or fined. I also found that traveling (within the Schengen Zone) wasn't a problem.
If you have an expired tourist visa, as long as you stay within the borderless countries ( I went to about 14 of them), you probably won't be caught. If you are someone who likes to follow rules and you don't want to risk living in a country without permission to stay, then you can apply for a student visa. You can pay a deposit to an Italian language school and then apply for a student visa. With a student visa, you are allowed to work 20 hours a week. I wouldn't recommend even trying to get a work visa. It's nearly impossible in Italy. Take my word for it.


Question 3: Will I earn enough money to live comfortably?
Answer: I did. My tutoring positions paid anywhere from 20 - 30 euros ($25-$35) an hour depending on the size of the group and the location. I only worked 12-15 hours per week, so I was bringing in about 250 euros ($275 USD) a week. I could have worked more if I wanted to, but I was living with my boyfriend and our combined incomes were more than enough to cover living expenses in Milan plus some light travel.
Our private one bedroom apartment right outside of the city center was 750 euros (approximately $825 USD) a month. Other teaching positions I was offered, but didn't take, paid about 18-20 euros ($21-$23 USD) per hour full time so one could easily live off of that. In Milan, it seems to be fairly easy to find a single bedroom to rent for cheap if you look on bulletin boards on university campuses.
When you're looking to get started, Airbnb.com is a good place to look for temporary housing when you first arrive. We did that for a month before finding a leased apartment for about 8 months which we found on Craigslist (This is rare in Italy. Italians don't use Craigslist, but it just so happened that the owner of our apartment lived in the US). Some Airbnb listings will even let you stay for months or a year! To make extra income, you can post flyers advertising your services on university campuses, near schools, etc. In Milan, you can easily get 25-30 euros an hour for these private lessons. Long story short, YES, you can make a comfortable living teaching English in Italy.
Question 4: Do I need to know Italian?
Answer: No but it can certainly help. Personally, I am terrible at languages. While in Italy, I found a girl doing a "language exchange" where I'd help her with her English, and she'd teach me Italian. After two lessons, she told me my accent was just terrible and painful to hear. I gave up on trying and just stuck with the Italian basics (hello, goodbye, thank you, etc) to avoid embarrassing myself. I could get by going to the grocery store, restaurants, etc and just went to the city center if I needed anything specific like a cell phone plan or a medication from the pharmacy because nearly everybody in the touristy city center of Milan speaks English, as is the case with all of the major Italian cities.
It could get uncomfortable though when I'd go to a new, private, in-home English lesson and I'd have to communicate with the doorman why I was there. I'm not going to lie, not knowing Italian was somewhat isolating while living in Milan. While traveling, though, it was never an issue. English is the international language of travel, so we got by just fine in the touristy spots. Southern Italy, however, was a little more tricky because they don't speak as much English since it's not as much of a touristic destination (even though it absolutely should be!!!). In the end, it's nice to know Italian while living in Italy, and it'll help you make the most of your experience, but it's definitely not a must. A lot of English schools like it when their teachers don't know Italian, so they won't use that as a crutch when teaching, making the class truly an immersion experience.
Question 5: Should I leave my job & teach English in Italy?
Answer: Yes! I left a wonderful job as a Family Nurse Practitioner (requiring 8 years of higher education) in Chicago to move to Italy to teach. I am convinced I learned more about myself, life, culture, and history during my International experience than I ever did in my 8 years of college and graduate school.
It's a true learning experience that leads to exponential personal growth and you will improve your interpersonal, communication, and time management skills which will make you more marketable in the long run. I quickly reentered my career field in the U.S. and it seemed the doctors and managers interviewing me only respected me for embracing life and experiencing teaching in Italy.
My best advice for anyone even considering moving to Italy to teach English is to not think too much about it (you'll just dream up reasons not to) and just GO!

For more on Jenna's experience in Italy, check out her Q&A: Milan, Italy English Teaching Q and A with Jenna Berens
Jenna, a Family Nurse Practitioner from Chicago, spent nine months from September 2014 to June 2015 living and teaching/tutoring English in Milan, Italy after getting TEFL certified with International TEFL Academy.
Want to Learn More About Teaching English Abroad & Online?
Request a free brochure or call 773-634-9900 to speak with an expert advisor about all aspects of TEFL certification and teaching English abroad or online, including the hiring process, salaries, visas, TEFL class options, job placement assistance and more.