Teaching English in Bologna, Italy: Alumni Q&A with Alexa Hill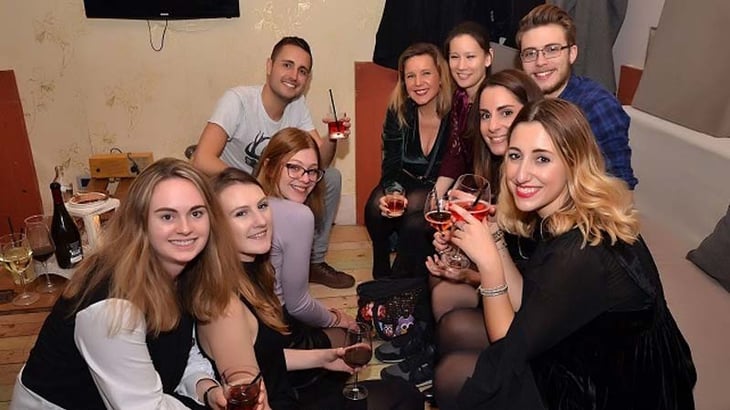 What is your citizenship?

United States

What city and state are you from?

Bend, Oregon

How old are you?

23

What is your education level and background?

Bachelor's degree
Have you traveled abroad in the past?

Some international travel with friends, family, business, etc.
If you have traveled abroad in the past, where have you been?
I have traveled to Mexico, Canada, The Bahamas, and Italy. After going to Italy for vacation, I knew I had to come back and teach there!
What sparked your interest in going to teach English abroad?

I had never considered teaching English abroad before. I was always really sure about how I wanted to live my life: finish college, go to graduate school, move to a big city, get a job, get married, have kids, etc. However, after not feeling ready to commit to graduate school, mentally and financially, I remembered a conversation I had with a friend about teaching English abroad. I was really drawn to the idea of moving somewhere where I didn't know the language and would have to start over. I love a challenge and teaching English abroad and living in another country really appealed to my sense of adventure.

What were some of your concerns before teaching abroad?

I had a lot of concerns about living and working in another country before I moved to Italy. I was concerned about not making friends and about not being able to communicate in a basic way with people. However, Bologna felt like home for me only a few weeks after I arrived. I was able to make friends through my Italian language school, language exchanges, and networking websites.

What did your friends and family think about you moving and teaching abroad?

I think my friends and family were initially apprehensive about the whole thing. Of course my mom was worried that I might fall in love and never come back to America. I'm definitely not saying that isn't possible! (sorry Mom). Overall, my family and friends were really supportive and of course, they enjoy receiving packages with real Italian pasta inside.

TEFL CLASS INFORMATION
Why did you decide to get TEFL certified and choose International TEFL Academy?

I decided to get TEFL certified because I knew it would improve my job prospects and I knew it was a well-respected certification around the globe. I chose International TEFL Academy because my advisor and all of the staff members seemed so eager to help me. My experience at the Chicago ITA certification course and my time teaching abroad have been the most incredible months of my life. I'm so grateful for all of the ITA staff who have made my dream of teaching abroad in Italy possible for me!
Which TEFL certification course did you take?

USA - Chicago
How did you like the course?

I absolutely loved the course! There is something really beautiful about studying your native language and learning how to effectively teach it to others. The instructors were very knowledgeable and had a lot of experience teaching English abroad, so they were excellent resources during the whole process. The tasks, while sometimes difficult, adequately prepared me for teaching English in the real world. The practicum was invaluable for me as I was able to discover my strengths and weaknesses as a teacher and get feedback from the instructors immediately the following day.


How has your TEFL training helped you in your current teaching position?

My TEFL training has helped me immensely in my current teaching position. I use little tips and tricks I learned during the course to teach my students certain grammar points. I think the most valuable lessons for me during my TEFL training were how to see English through the eyes of a foreigner. It can be difficult to step outside your own language and look at it from the perspective of someone who isn't fluent, but the TEFL training course really helped me do that. Learning how to organize a lesson plan is also an incredibly valuable skill that I use every day.

Which city and country did you decide to teach English in and why?

I decided to teach English in Italy in the city of Bologna. I had visited Italy the previous year and loved the people, language, and of course the food. I knew that Florence and Rome were popular places for expats to move to, but I wanted to escape from the touristy places and live somewhere where I would encounter fewer English-speakers. I read about Bologna on travel websites and personal blogs. After learning about the thriving student population, abundant tortellini, and job opportunities, I decided to buy a plane ticket there.
How long have you been in this country and how long do you plan to stay?

I have been in Bologna for four months now, and I don't have a long term plan. My study visa expires in August, but my plan is to try and convert it into a work visa (not an easy process for an American). My plan is to stay as long as I'm happy and, who knows, maybe that will be for the rest of my life!

During which months does your school typically hire?

Year round, but more so in September.

Did you secure this position in advance of arriving?

No

How did you interview for this position?

In-person interview

What kind of Visa did you enter on?

Student Visa

Please explain the visa process that you went through.

The visa process was difficult, but well worth it. I had to show $1,000 in the bank account for every month I wanted to be abroad, and I had to fill out countless documents regarding my accommodation situation, health insurance, Italian language school, and bank account. After finishing the paperwork, I had to drive eight hours to San Francisco to the Italian Consulate for a ten minute appointment where I turned in my documents and left my passport. Three days later I checked the mail, and inside my passport was an Italian visa. I think I grew some gray hair during the process, but getting a study visa is definitely possible and I totally recommend it if you don't feel comfortable being in the country without a visa.
Editor's note: To learn more about visas for teaching English in Italy, please read What Type of Visa Can I Use to Teach English in Italy

What are the qualifications that your school requires for teachers? Please check all that apply

- Bachelor's degree
- TEFL Certification
- Native English speaker

What is the best way to apply?

In-person

Tell us about your English teaching job!

Hours per week: I work around 20 hours per week and all of my lessons are already planned for me. As most teachers know, lesson planning is time consuming and often times in Italy you aren't compensated for it. So, for me, it's crucial to work for a school where I don't spend hours and hours every week putting lessons together.

Salary: I am paid 10€ ($11.75 USD) per hour and the paychecks get deposited into our accounts on time every month.

Ability to save: I break even more or less every month. Living in Italy is not always cheap and rent can be about 500€ ($590 USD) per month. Once you add in groceries and other random necessary living expenses (bureaucratic documents, doctor visits, etc.), there isn't usually a lot of money left over. However, I really love my school, my coworkers, and my life here in Bologna. Even if the pay for English teachers in Italy isn't always excellent, you can live a very fulfilling life here.

Type of school: Right now I work for a private school and my students are mostly university students and adults. I do teach some business English classes and travel to other local business to give lessons.

Vacation time: Vacation and sick pay are provided. I also get reimbursed for expenses related to party planning and having lessons off-site.

I highly recommend My English School and you can find them throughout Italy! Every year they send the teachers from all around Italy to a conference for free! We talk about the year, the CEO's plans for the future, and have dinner all together.

How did you find somewhere to live and what is it like? Do you have roommates?

I found a place to live on EasyStanza, an Italian website similar to Craigslist where you can post your profile and people with open rooms can find you and contact you. I am really happy with my living situation! I live just outside the center and it's a 20 minute walk to work. I have two roommates my age, both from different countries.
COUNTRY INFORMATION - FUN!

Please explain the cultural aspects, public transportation, nightlife, social activities, food, expat community, dating scene, travel opportunities, etc...

Cultural aspects: There are a lot of small cultural differences between Italy and America. For example not tipping in restaurants, drinking espresso in tiny cups, eating lunch at 2pm, etc. However, there aren't really any cultural things that are so different that I can't adapt to them. Except, well, maybe the coffee...

Public transportation: There is a great bus system in Bologna and the surrounding area. It's also very easy to travel around Italy by train. The tickets are affordable and the trains are usually on time.

Nightlife: There are plenty of bars and discos around the city center. Bologna has the oldest university in Europe so it's not uncommon to see bars packed with people every night of the week!

Social activities: There are plenty of movie theaters, festivals, and language exchange events every week. I never have enough time to do all of the things I want to do with my friends!

Food: Considering tortellini and lasagna are typical dishes from this region, you can't go wrong with the food here.

Expat community: The expat community in Bologna is amazing! I have met ITA alumni as well as many other English teachers from America and other English-speaking countries.

Dating scene: Italy is known for two things: food and romance. The dating scene is certainly nothing to complain about.

Travel opportunities: The train station is right outside the city center and only a ten minute walk from the exact middle point of the city center. There are endless opportunities to travel. Florence is about an hour away and Rome is about two hours away.
COUNTRY INFORMATION - MONEY
What are your monthly expenses?

Rent/utilities: I pay 500€ ($590 USD) in rent every month and this includes utilities.
Food: I pay about 150€ ($175 USD) for groceries and maybe €100 ($120 USD) for restaurants and drinks with friends.
Transportation: I walk everywhere so I don't pay for transportation but bus tickets are relatively inexpensive. Train tickets can be bought for about 5€ ($6 USD) each way to a city about 30 minutes away.
Social activities: There are a lot of social activities in Bologna, but most of them are free. There are always language exchange events and festivals every week!
Internet/phone: I pay 9.99€ ($12 USD) every month for my cell phone data plan, and I paid 20€ ($24 USD) for my SIM card when I first arrived.

How would you describe your standard of living?

I live a very comfortable lifestyle. I go out a lot with friends for dinner and drinks! While I do have to budget, I think I can live reasonably well with the money I make each month. My situation is a little bit different because I also study 20 hours per week, so I don't have any free time for private lessons. However, most people could make an extra 500€ ($590 USD) doing private lessons so living well is totally possible in Italy.

In your opinion, how much does someone need to earn in order to live comfortably?

To live comfortably I think a person should make about 1,000€ per month which is about $1,200. You can certainly live well with less, but if you like shopping and/or traveling then it might benefit you to have a higher salary.

ADVICE FOR PROSPECTIVE ENGLISH TEACHERS
What advice would you give someone planning or considering teaching abroad? Would you recommend teaching in your country?

I would tell anyone considering teaching abroad to do it. I have always been a really careful and organized person. I would have never imagined in a million years that I would leave everything behind and teach abroad, but it has been hands down the best four months of my life. I have met so many amazing people and I can honestly say that I love my job. I highly recommend teaching English in Italy if you are looking to enjoy yourself, learn a language, and experience a new culture. If you are looking to make a lot of money, Italy may not be for you! But for me, the experience has been the most important part. It is fairly easy to find a job in Italy and I highly recommend coming here to teach English if you have an interest in the culture.

I think another piece of advice I would give to people thinking about teaching abroad is that you will fit in sooner than you think. I had the expectation that I would spend a lot of time alone and that was true in the beginning, but after a few weeks I made some really great friends. Bologna felt like home to me after the first month. Don't be worried about being lonely in your new country! I made a ton of friends through expat Facebook groups and networking websites, for example InterNations. As far as teaching goes, I recommend translating your cover letter and resume into Italian before you come. Not every school is run by a native speaker, so it can helpful if you have English and Italian versions. When you arrive, you can hit the ground running and start dropping off your documents to every English school in the city! In bocca al lupo (good luck) as we say in Italy!

For more on Alexa's adventures, follow her blog!
Founded in 2010, International TEFL Academy is a world leader in TEFL certification for teaching English abroad & teaching English online. ITA offers accredited TEFL certification courses online & in 20+ locations worldwide and has received multiple awards & widespread recognition as one of the best TEFL schools in the world. ITA provides all students and graduates with lifetime job search guidance. ITA has certified more than 40,000 English teachers and our graduates are currently teaching in 80 countries worldwide.
Want to Learn More About Teaching English Abroad & Online?
Request a free brochure or call 773-634-9900 to speak with an expert advisor about all aspects of TEFL certification and teaching English abroad or online, including the hiring process, salaries, visas, TEFL class options, job placement assistance and more.