Teaching English in Ashdod, Israel: Alumni Q&A with Taylor Karnilaw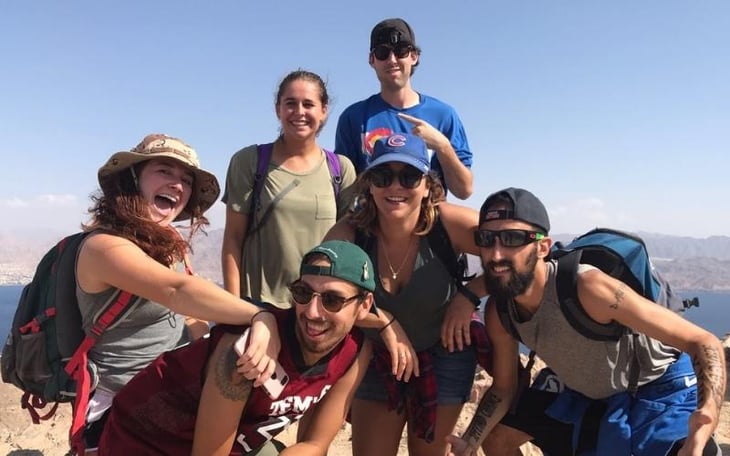 What is your citizenship?

United States

What city and state are you from?

Houston, Texas

How old are you?

22

What is your education level and background?

Bachelor's degree
Have you traveled abroad in the past?
Studied abroad
If you have studied abroad in the past, where did you study?

I studied abroad in Quito, Ecuador, for five months.

What sparked your interest in going to teach English abroad?

I have always been interested in both education and working with children. When I was a junior in college, I studied abroad in Quito, Ecuador, and while I was there I had the opportunity to work as an English teacher's assistant at two elementary schools. I found this experience to be incredibly fulfilling. I then returned to the United States and finished my senior year of college. As I neared graduation, I started seriously considered teaching abroad as I wanted to explore more of what I had done in Ecuador and wanted the opportunity to live in another country while doing something positive for the community while I was there.

What were some of your concerns before teaching abroad?

My main concerns before teaching abroad were that I would not have the experience to be successful in the classroom, and that I would have a hard time with the culture shock.

What did your friends and family think about you moving and teaching abroad?

I attended a university that required everyone to study abroad and so the majority of my friends had studied abroad themselves and were so excited for me. My family was also very excited. The only apprehension and concern that I experienced was related to the country that I decided to go to (Israel) which some people viewed as dangerous.
TEFL CLASS INFORMATION
Why did you decide to get TEFL certified and choose International TEFL Academy?

I decided to get TEFL certified to give myself an avenue to get abroad and contribute positively. I more specifically chose ITA because it is an established program, and the admissions counselor that I talked to was very informative and supportive.
Which TEFL certification course did you take?

Online TEFL Course

How did you like the course?

The course was very manageable. I felt that the assignments and requirements were reasonable and valuable. I found my instructor to be very approachable and communicative. The practicum (live practice teaching) was a valuable experience that I appreciated.

How has your TEFL training helped you in your current teaching position?

The training that I received in TEFL has helped me with my confidence in the classroom as well as with giving me activities and ideas to do with the kids.

Which city and country did you decide to teach English in and why?

I decided to teach English in Israel in the city of Ashdod. I have been here for a little over five months and will be here for five months more.
How long have you been in this country and how long do you plan to stay?

I am Jewish and have been wanting to come back to Israel and experience the culture a little more; this seemed like the perfect opportunity.

During which months does your school typically hire?

Summer

Did you secure this position in advance of arriving?

Yes

How did you interview for this position?

Skype/Phone Interview

What kind of Visa did you enter on?

Student Visa

Please explain the visa process that you went through.

The visa process was very straight forward and took a week between going to the consulate and receiving my passport with the visa.

What are the qualifications that your school requires for teachers? Please check all that apply

Bachelor's Degree

What is the best way to apply?

Apply online
Tell us about your English teaching job!

As mentioned above I am working at a secular school in Israel.
Hours: I work about twenty hours a week; Sunday, Monday, Tuesday and a half day on Friday. In Israel everyone has a day off during the week and a short day on Friday for Shabbat.
Salary: All of my housing needs are paid for and I am given a monthly stipend of 2400 shekels, around $700.
Ability to save: I feel like I live pretty frivolously and still am able to save a good deal.

School: The school that I am working at is a secular elementary school with grades 1-6. Discipline is very different in Israel than what I am used to in the United States so that was an adjustment.
Vacation time: There is a lot of vacation time with the high holidays and then Passover in the spring. One thing that is important to note is that in order to be in the program I am in, you have to be Jewish.

How did you find somewhere to live and what is it like? Do you have roommates?

The program provided me with housing. I live in an apartment with seven roommates which seems like it would be crazy but it's actually been incredible.
COUNTRY INFORMATION - FUN!

Please explain the cultural aspects, public transportation, nightlife, social activities, food, expat community, dating scene, travel opportunities, etc...

Cultural aspects: Israel is very culturally rich and there is so much life and activity always. One thing that I had to get used to, especially living in a smaller city is that everything shuts down for Shabbat (Friday night to Saturday night). So, you must buy your food before this time, or you are not eating and you are stuck wherever you are unless you have a car or pay for an expensive taxi because people do not drive on Shabbat.
Public transportation: The public transportation is awesome and very effective. Using the app Moovit, I am able to navigate all over the country with ease.
Nightlife: As far as nightlife goes, I live in a conservative city, so there is nightlife but nothing crazy. I am a short bus ride to Tel Aviv and there you can find anything you could want.
Social activities: Israel is a very community based country, so there are lots of opportunities to be in the community socializing. It is very common to be invited to neighbors' homes and your students' for Shabbats.
Food: The food here is delicious. It should be noted that the majority is kosher, so for those of you who love bacon, be warned.
Expat community: There is also a very large expat scene, especially in cities like Tel Aviv and Jerusalem.
Dating scene: Israelis are very forward; if you are interested in dating, there are many opportunities.
Travel opportunities: There is a lot to see in Israel, and it is very easy to get around. Also Israel is in a prime location to travel to both Asia and Europe. I have never lived in a place that felt more like home and that was more alive. I truly recommend it.
COUNTRY INFORMATION - MONEY
What are your monthly expenses?

My monthly expenses are food which is very affordable. I spend about 600 shekels ($160 USD) a month on food, social activities, transportation, and then my phone bill. I am able to walk to most of the places that I need to go, so I do not need to spend much on transportation. When I do use the buses it is very affordable. My phone bill is about $11 a month.

How would you describe your standard of living?

My standard of living is very comfortable, I am lacking for nothing.

In your opinion, how much does someone need to earn in order to live comfortably?

If you were having to find your own housing, it would be tight on the amount of money that I am making. However, with the housing provided, 2400 shekels a month is more than enough.


ADVICE FOR PROSPECTIVE ENGLISH TEACHERS
What advice would you give someone planning or considering teaching abroad? Would you recommend teaching in your country?

I would advise anyone planning or considering teaching abroad to go for it. It is an incredible experience, and you learn so much about yourself and other people and cultures. Israel is an incredible country with so much richness. I would wholeheartedly recommend teaching here.
Taylor Karnilaw is 22 from Houston, Texas, with a BA in liberal arts from Soka University of America in 2017. She is an avid lover of books, animals, food, and travel.
Want to Learn More About Teaching English Abroad & Online?
Request a free brochure or call 773-634-9900 to speak with an expert advisor about all aspects of TEFL certification and teaching English abroad or online, including the hiring process, salaries, visas, TEFL class options, job placement assistance and more.