Pros & Cons of Teaching & Living in Hanoi, Vietnam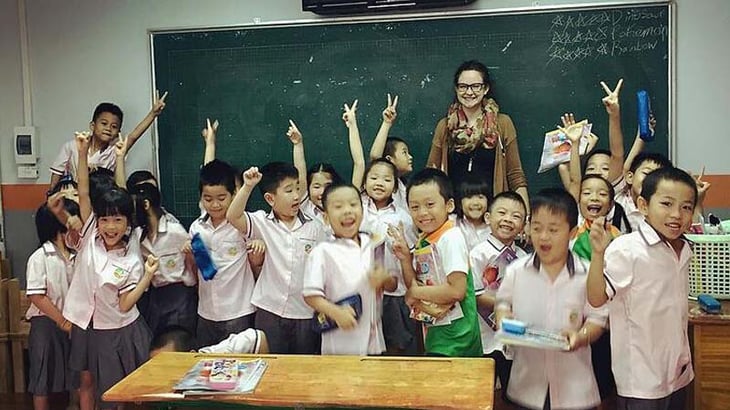 There are positives and negatives about living anyplace in the world. Below are several Pros and Cons about living and teaching English in Hanoi, Vietnam. If you ask me the pros of life in this historic city outweigh the cons by far. The food alone! Need I say more?
PROS
The Food: Vietnam has some amazing food available around every corner. From steaming rice buffets to piping hot bowls of noodles to a quick streetside snack. The price of an average meal ranges widely, but you can usually grab something delicious and filling for around 30,000 dong, about $1.50.
Cafe Culture: Cafes are everywhere, and if there isn't one, chances are good you can pull up a plastic stool streetside and grab a cup of green tea. Vietnamese coffee is strong and delicious and many cafes are busy all day long and into the night. Not a coffee drinker? Most cafes also off a wide variety of fresh juices and smoothies.
Cost of Living: Cost of living in Vietnam is extremely affordable. You can always spend more money if you like, but you can get a room in a shared house for around $200 a month. Not to mention beers are anywhere from $.10 to $1. You can also fill up your tank on your motorbike for around 50,000 dong ($2.50), depending on what kind of bike you have and how far you drive daily a full tank can get you around the city for a week.
Flexible Schedules & Short-term Opportunities to Boost Income: Because the cost of living is so affordable you can work quite flexible hours. You can work as little or as much as you like. Language centers are always seeking cover teachers if you're looking for a short-term boost in income, and many people also choose to add private classes to their schedule (I am a huge fan of private classes).
Great home base for traveling around Vietnam & Asia: There is a long list of countries that are easily accessible from Vietnam. This makes Vietnam a great base for traveling around Southeast Asia. Hanoi specifically has lots of great destinations just a short drive away if you have limited time off. From remote mountain villages to bustling farming towns and scenic beaches, you can explore it all by motorbike or bus.
Strong Expat Community: There are lots of other teachers and expats living and working in Hanoi. You will never be short of things to do or people to talk to. This means your favorite comfort foods from home are also easily accessible for a price.
CONS
Pollution: It's true, the pollution in Hanoi isn't great. There were several days in 2016 when the pollution in Hanoi was among the worst in the world. You can check the daily air index on the US Embassy website for current conditions. Pollution seems to get worse during the winter months as smog and grey settle into the area.
Chilly Winters: Being from the Midwest, I was ready to put freezing winters behind me when I moved to Hanoi, but it wasn't quite the case. While Hanoi winters have nothing on the brutal Chicago winters, they are quite cold in their own way. The air is damp, and you are exposed more to the elements driving a motorbike around the city. It's a wet bone chilling cold, but it doesn't usually drop below 40 F degrees.
Traffic: Going along with pollution, traffic is the main culprit. More cars and motorbikes are on the roads everyday in Hanoi clogging the narrow streets and wide boulevards. Let me tell you, there is not much worse than being stuck in gridlock traffic in the middle of July on a 110 degree day with a feel of 130 degrees and stuck behind the palpable black exhaust of a city bus.
Getting Over-Charged as a Foreigner: It's just something that is going to happen all throughout Vietnam (and many other places as well). Learning the exact prices of items and learning the numbers in Vietnamese will really increase your bargaining skills.
Related Resource:
Abby has never been one to sit still - if she isn't traveling you can find her working several odd jobs to feed her traveling funds. Abby really wanted to move somewhere she didn't know much about, so decided she was going to land in Ho Chi Minh City and work her way north and stay where ever was the best fit. She hit it off with Hanoi right away and decided it was a good city to start her teaching English abroad adventure.
Want to Learn More About Teaching English Abroad & Online?
Request a free brochure or call 773-634-9900 to speak with an expert advisor about all aspects of TEFL certification and teaching English abroad or online, including the hiring process, salaries, visas, TEFL class options, job placement assistance and more.