must read
Visa Know How: Vietnam Work Permit & Business Visa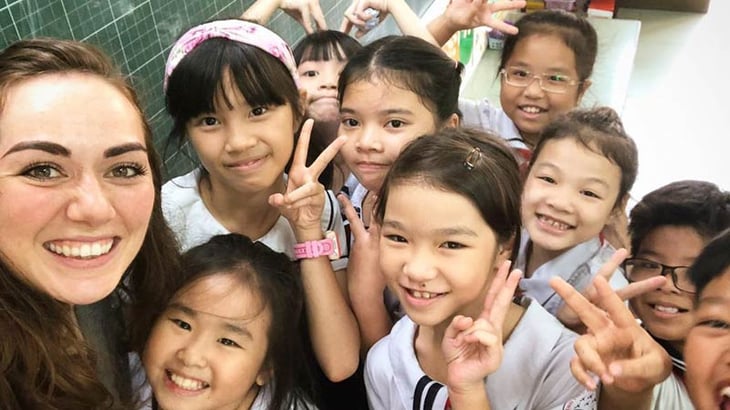 Visas, Visas, Visas — The topic no one enjoys talking about yet the topic everyone needs to know a lot about. Our ITA Alumni Ambassadors have been in your shoes when it comes to visas. It's a foreign topic to most, no matter how experienced of a traveler you are. Our Alumni Ambassadors have been through the visa process firsthand and were tasked with walking us through the steps they took for their visa. Get your notebook ready and enjoy!
Currently I have a work permit and business visa in Vietnam.
Visa Types
→ Tourist Visa - DL
→ Business Visa - DN
→ Work Permit - LD
Necessary Documents (one of each)

→ Original Diploma
→ Original TEFL Certificate
→ Federal FBI Background check
→ Local Health check
→ Permit Stay (local residence check, filled out by your landlord and approved
by the local police)
→ Local Police check (filled out & confirmed by Ministry of Police in Vietnam)
→ Several passport photos
Before You Go
Option 1 (My personal experience)
Get your documents (original Diploma, and original TEFL) notarized (by a local notary), and then apostilled by the Secretary of State in your current location. (I have recently confirmed that the Vietnamese government DOES require your originals).
Federal background check (also known as Identity History Summary). In order to get it you must include a copy of your fingerprints on card. Click here for details.
→ Please note: If you decide to do your background without going through a channeler it can take up to about three months for it to be returned to you (totally fine if you have the time, and my personal preference).
→ Payment: Currently the fee is $18, not including your fingerprints, and postage (refer to site above to ensure that fees have not changed).
→ Follow link above for address to send application to.
→ Application form can be found here.
When you receive your background check send it off again to get authenticated by the Department of State at the following address:
U.S. Department of State Office of Authentication
44132 Mercure Circle
PO Box 1206
Sterling, VA 20166


*Note: Cannot use Fedex Ground for return.
*For updated prices & questions, call 202-485-8000.
Once You Arrive
Get your documents legalized to work in Vietnam at the U.S. Embassy (or Embassy of your citizenship). This step can also be done before leaving by mailing your documents to the Vietnamese Embassy in your country of origin. This process is more time consuming and less cost effective however.
Make sure the name on all of your documents matches the name on your passport exactly - if not you will have to get an affidavit proving you are the same person. This can be done at your Embassy (for example - my diploma says Abigail C. Moore, instead of Abigail Christine Moore like my passport).
Company Supported Additional Visa Documents
The following are documents that your company should guide you through.
Local Police Check: Completed by your company, but you will join them at the Ministry of Police.
Permit Stay/Residence Check: Completed by your landlord and your company. This form is free but some landlords won't be eager to help you. You can either give them a bribe, or your company might request you move. Your company can speak to your landlord if you are having difficulties completing this form.

Health Check: Your company will set this up for you. Currently, you need to bring two passport photos with you. Usually you will pay $25 up front and your company will reimburse you.
Payment & Fees
My current company pays up to $150 towards getting documents legalized and affidavits for visas for full time teachers only.
During the interview process ask if the company will support you.
Local police check and health check - paid for by company.
Acquiring documents, notarizing them, and apostilling them in the States will not be reimbursed by your company. (*I am not sure if they will if you are employed by them before you depart - more research here)
Additional Information
You need to enter the country on a business visa in order for it to be converted to a work permit. The only way to do this is to be employed by a company and they will write you a visa letter.
If you are looking for your job on the ground you can enter on a tourist visa, once you find a job and accept, do a visa run and re-enter on a new business visa (all are visas on arrival, very simple).
Full time teachers: Your business visa (3 month visa) costs will be reimbursed by your company ($25).
If you are a part time teacher, the visa cost will not be reimbursed.
Visa duration is one year (from the signing of your contract)
Visa renewal is very easy, just update your Permit Stay (if you have moved). If you haven't moved you don't need to fill this out.
Acquiring your Work Permit can take anywhere from 2-6 months depending on how diligent you are in completing all the necessary documents.
No restrictions that I know of. Work permits should all be multiple entry.
Option 2
I have recently been informed that as long as you bring all of your original documents with you to Vietnam, you can do everything necessary for a work permit in Vietnam. This information was provided by my current company (ILA Vietnam).
Note: Government policies in Vietnam change quite frequently. Make sure to check before you go.
Price Breakdown
→ Notarizing two documents: $10-$20 per document
→ Apostilling (Diploma & TEFL Certificate): $20 per document
→ Federal Background Check: $18
• Fingerprints (black ink): $9 per copy (recommend getting two copies)
• Postal Fees: Depends on location
• Federal Background Check apostilled by Dept. of State: $8 per doc
* All other documentation fees mentioned above should be covered by your
company. Please confirm with them.
** All of these fees are subject to change.
Working in Vietnam With a Tourist Visa
You can get a one month, three month, or one year visa on arrival in Vietnam.
Many people decide not to go the work permit route and work more under the table. Also smaller companies might not require you to have a work permit.
This is up to you - decide what kind of work environment you want.
There are many options for visa runs.
Abby has never been one to sit still - if she isn't traveling you can find her working several odd jobs to feed her traveling funds. Abby really wanted to move somewhere she didn't know much about, so decided she was going to land in Ho Chi Minh City and work her way north and stay where ever was the best fit. She hit it off with Hanoi right away and decided it was a good city to start her teaching English abroad adventure.
Want to Learn More About Teaching English Abroad & Online?
Request a free brochure or call 773-634-9900 to speak with an expert advisor about all aspects of TEFL certification and teaching English abroad or online, including the hiring process, salaries, visas, TEFL class options, job placement assistance and more.