must read
Do you need a TEFL certification to teach English abroad?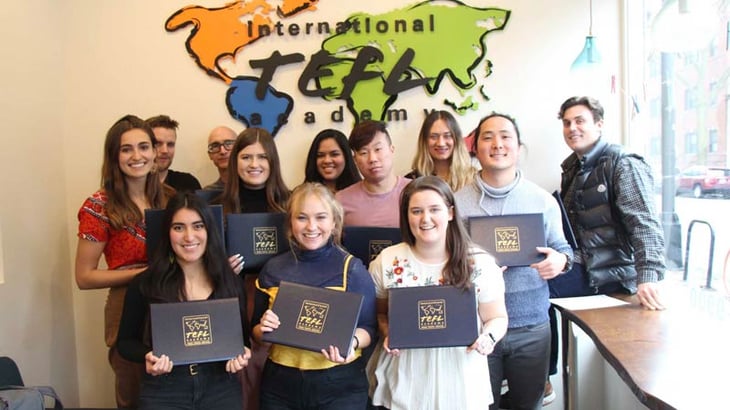 Is TEFL certification necessary?
In a simple answer: Yes, you need to be a trained educator if you are going to provide your students with a quality educational experience, and yes, many schools and governments will require it for employment to teach English abroad or online.
Many people ask this question with the following in mind:
I speak English, I went to college, I must be able to be a good English teacher. What could be so difficult about teaching my own language?
But Here's What You Need to Know
Some schools in some countries may hire you without a TEFL Certification. Those who approach teaching English abroad with this mindset usually have an experience that includes some, if not all, of the following elements:
Difficulty finding employment due to lack of qualifications.
Total unpreparedness for a job that entails teaching 4-6 classes a day and up to 100 students a week who are counting on you and paying for you to teach them effectively.
Employment at a sub-par school with low academic, professional and ethical standards.
Earning lower wages compared to certified teachers.
Questions You Should be Asking:
If I stepped into a classroom tomorrow in Tokyo, Madrid or Santiago, would I have the slightest clue how to provide English language instruction, or even how to communicate with my students?
Would I pay $10, $20 or even $40 an hour to take foreign language classes from somebody who hasn't received any training?
If I owned a language school, would I hire teachers off the street who haven't been trained to actually teach English as a foreign language?
If I begin a new English teaching job tomorrow in Tokyo, Florence or Rio de Janeiro, will I have the skills to teach English to beginning, intermediate and advanced students for 4-6 classes a day?
Will I know how to design lesson plans, exams and classroom exercises that will actually enable my students to achieve their goal of learning the English language?
Will I be able to manage and communicate with a class of 10 – 30 students who do not speak English?
Will I be able to explain the ins and outs of English grammar and syntax?
Think about these questions and you will realize that while almost any fluent English speaker can teach English, teaching English is a specialized skill and a challenging endeavor that requires training and instruction.
This is what we believe at International TEFL Academy (as listed in our Vision Statement)
All students have a fundamental right to receive instruction from a trained professional teacher.
All teachers have a responsibility to their students to provide them with the best possible educational experience, which requires professional-level training.
If you believe this as well, then the answer is obvious, you need to become a trained foreign language teacher. You need a TEFL Certification.
Why is an accredited TEFL certification important?
Good training provides you with the skills you need to become an effective teacher.
As a trained teacher with a strong command of your subject matter and your responsibilities, chances are far higher that you will enjoy a rewarding and satisfying teaching experience abroad.
The vast majority of reputable schools and language institutes, both public and private, throughout the world will not even consider you as a teaching candidate if you do not hold an internationally accredited TEFL certification. In other words, if you want to even be considered for most decent English teaching jobs, you must hold an accredited TEFL certification. In a recent article in the Chicago Tribune about teaching English Abroad, Dave Perling, founder of one of the largest job boards and forums for teaching English abroad on the entire Internet, said, "A few years ago, all you needed was a college degree — if anything. Now that more people are applying, many recruiters also require at least some ESL (English as a second language) training."
In some countries, a TEFL Certification is required for a foreigner to legally work as an English teacher.

While interviewing for positions, you will be asked to display a strong grasp of basic teaching skills like lesson planning, curriculum development, and teaching methodology, that can only be gained through taking a quality accredited TEFL certification course.

Want to teach English online? One of the fastest growing sectors of the TEFL field is teaching English online. As with other English teaching jobs around the world, this increasingly competitive sector will reward those with training and qualifications with better jobs and higher pay.

To learn more: Teach English Online: Your Guide on How to Make Money & Travel the World

In this age of tightening job markets, you must give yourself every advantage and without your accredited TEFL certification, you will certainly put yourself at a distinct disadvantage.

When you earn your accredited TEFL certification through the International TEFL Academy, you will receive the Job Search Guidance you need to navigate international job markets, understand hiring practices in different countries, and to avail yourself of the best possible job opportunities wherever it is that you want to teach English abroad.

Perhaps most importantly, without the proper training that you will receive by taking an accredited TEFL certification course, you will not be able to provide a quality educational experience to your students
Go Further: What can I do with a TEFL Certificate?
John Bentley is Co-Founder & Senior Writer for International TEFL Academy (ITA), the world leader in TEFL certification for teaching English abroad. A graduate of Harvard University and the Medill School of Journalism at Northwestern, John is a recognized expert in the field of TEFL. His articles have appeared across the field's top websites, including GoAbroad.com, StudyAbroad.com, InterExchange, GoOverseas.com, Adventure Teaching, & many others. He has also spoken as an expert on Teaching English Abroad & TEFL certification at major conferences like MeetPlanGo and Lessons from Abroad (LFA) in Portland & San Diego.
Want to Learn More About Teaching English Abroad & Online?
Request a free brochure or call 773-634-9900 to speak with an expert advisor about all aspects of TEFL certification and teaching English abroad or online, including the hiring process, salaries, visas, TEFL class options, job placement assistance and more.