must read
Is a 120 Hour TEFL Course Enough to Get a Good TEFL Job?
Do I need a 120-hour TEFL course to teach English abroad or online? Are all 120-hour TEFL courses the same? How much should a 120-hour TEFL course online cost? Let's answer these questions together.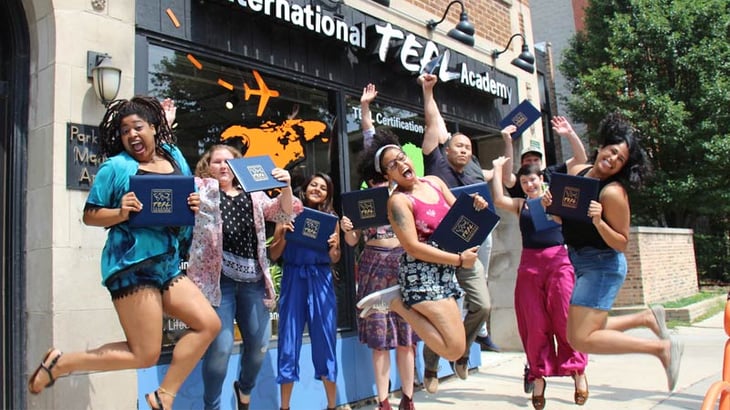 Suppose you're looking to teach English abroad or online. In that case, there's a good chance that you're researching your options for TEFL certification courses that will provide you with the skills and qualifications you need to get hired as a professional English teacher in countries like Spain, Costa Rica, and Japan. (TEFL stands for "Teaching English as a Foreign Language.")
You will likely encounter many references to 120-hour TEFL courses and many TEFL schools advertising and marketing their TEFL training programs as "120 hours." So, you might be asking yourself:
What is a 120-hour TEFL course?
What is so special about 120 hours in particular?
Is a 120-hour TEFL course good enough to get a job teaching English abroad?
How quickly does it take to complete a 120-hour TEFL class?
Are all 120-hour TEFL classes the same?
How much should a legitimate 120-hour TEFL course cost?
Well, let's get some answers…
What is a 120-Hour TEFL Course?
A 120-hour TEFL course is a training class taken primarily by English speakers who seek to teach English abroad or online. It references "120 hours" because it should incorporate a combination of academic coursework (100 hours+) and live practice teaching (at least six hours) that adds up to 120 hours.
Traditionally, 120-hour TEFL courses follow an intensive four-week format in a traditional in-person classroom setting or a longer part-time format. Since the early 2000s, online TEFL courses have become very popular options, making TEFL certification more accessible. Online TEFL courses are typically offered part-time (ideal for those working or going to school), though intensive online TEFL class options also exist.
Though exact formats will vary, the content of a 120-hour TEFL course will typically cover instruction and practice in the primary skill areas required for a graduate to teach English as a second language (ESL), including:
Basic principles of teaching
Grammar
Classroom Management
Error Correction
Lesson Planning & curriculum development
Use of Visual & Audio Aids
Teaching group classes: beginner, pre-intermediate, intermediate, advanced
Conversational English
Teaching grammar, reading, writing, listening, speaking, pronunciation
Language & cultural awareness
Is a 120-hour TEFL Course Enough to Get a TEFL Job?
A 120-hour TEFL certification course is widely regarded as the basic international standard for gaining employment as a paid English teacher abroad or teaching English online, even without prior experience or training in English language education.
However, for a 120-hour TEFL course to receive a professional level accreditation and be recognized within the field (including most employers, it should meet at least the following essential criteria:
Include at least 6-20 hours of practicum (live practice teaching),
Instruction provided by a qualified instructor, typically holding a university degree related to TESOL (Teaching English to speakers of other languages), such as linguistics, in addition to extensive teaching and training experience,
Possess accreditation from a recognized body within the field to assure that the quality of the course meets international standards and includes a comprehensive curriculum.
Any TEFL/TESOL course labeled as "120 hours" that does not meet all of these standards is insufficient if you seek to receive the highest quality training and qualification that top employers worldwide will accept.
Consider 120 hours the baseline for a TEFL certification widely recognized by employers that also provides you with the training you need to become an effective teacher. All things being equal, a course accredited for a higher number of hours will incorporate more coursework and instruction. Some employers consider a 150-hour or a 170-hour TEFL course superior to 120 hours and may prefer to hire a job applicant who takes a class with more hours. Also, TEFL certification programs that include more hours are more likely to earn a higher level of accreditation.
Job Search Guidance & Pre-Enrollment Support – While these do not fall within accreditation and academic quality parameters, you should consider these critical factors when researching TEFL course providers to decide what TEFL class you take.
While getting TEFL certified with a high-quality accredited TEFL class is critical if you seek to teach English abroad (especially if you do not already possess credentials for teaching ESL), it's only half the battle for getting a great job overseas.
With over one billion people learning English worldwide, demand for TEFL-certified English teachers is high, but navigating job markets can be challenging, especially since the hiring process and hiring requirements – in addition to matters like visas and other paperwork - vary in each country.
Getting certified through an organization that provides extensive support and job search guidance will go a long way towards ensuring that you successfully achieve your goal of getting a great job and enjoying a rewarding experience teaching English overseas.
Are All 120-Hour TEFL Courses the Same?
It's important to note that just because an organization or TEFL school designates or advertises its courses as a "120-hour TEFL course" does not automatically make those courses legitimate to accrediting bodies or employers.
Some basic red flags to keep an eye out for when evaluating your options for 120-hour TEFL courses include:
No practicum (live practice teaching). Many employers will flat out not accept or recognize TEFL certifications that do not include a practicum. It's also critical to give you live classroom experience before teaching professionally.
No accreditation from an independent body is recognized within the field. Lack of accreditation is often the sign of a low-quality TEFL course, and most employers will not accept TEFL certifications that are not accredited by a recognized accrediting body.
TEFL courses that are not taught by experienced university-level instructors. If you're training to become a professional teacher, you should actually get taught by one, right? Believe it or not, many online TEFL courses are not taught by qualified instructors, and some are self-taught.
For more tips on choosing a quality TEFL program, please read 7 Key Tips for Choosing the Best TEFL School.
How Much Does a Legitimate 120-Hour TEFL Course Cost?
Be wary of any 120-hour TEFL course costing much less than $1,000. Quality instructors, accreditation, real job guidance, and developing a professional-level curriculum are critical elements for a quality TEFL course costs money. TEFL courses are like anything else in that cheap classes are usually cheap for a reason, and you're going to get what you pay for.
If you want to receive professional-level training and quality assistance in areas like pre-enrollment guidance and job placement assistance, it's worth an extra investment.
For more, read 3 Reasons Why It's Impossible for a Legitimate TEFL Course to Cost Less than $1,000.
How Long Does It Take to Get a 120-Hour TEFL Certificate?
The standard format for a 120-hour TEFL course is four weeks full-time (roughly eight hours a day in addition to homework and practice teaching), or a part-time course that incorporates the same curriculum over a more extended period.
Accredited 120-Hour TEFL courses online are usually offered in a part-time format. However, there are intensive options available that are typically 4-5 weeks like standard in-person classes.
If you read in an online forum that somebody claims to have completed their 120-hour TEFL course in a matter of hours, a weekend, a few days, or even two weeks, that is a definite red flag that the course is not legitimate. After all, how can you finish 120 hours of training in such a short period of a day or even a week, right?
Is It Better to Take a TEFL Course with More Than 120 Hours?
Typically a longer course with more hours will include more content and instruction, which is usually a good thing, but the number of hours for a TEFL course is not the only factor determining its quality. If a TEFL class incorporates more than 120 hours but falls short in terms of its accreditation, including live practice teaching or the level of instruction. Again, you should also consider services like job search guidance when weighing your options.
Read about International TEFL Academy's award-winning 170-Hour Online TEFL Course options here.
Key Takeaways:
120 hours is considered the baseline for a professional level TEFL certification for teaching English abroad or online.
Not all 120-hour TEFL courses meet international standards, so it's essential to seek out those that are accredited and include live practice teaching.
Courses with more hours than 120 are often superior, but the number of hours for a class is not the sole determining factor for its quality.
Beware of cheap TEFL courses costing under $1000 - especially the 120-Hour TEFL courses online.

Look for TEFL courses that include the job search guidance and other support your need to get a great job teaching English abroad or online.
John Bentley is Co-Founder & Senior Writer for International TEFL Academy (ITA), the world leader in TEFL certification for teaching English abroad. A graduate of Harvard University and the Medill School of Journalism at Northwestern, John is a recognized expert in the field of TEFL. His articles have appeared across the field's top websites, including GoAbroad.com, StudyAbroad.com, InterExchange, GoOverseas.com, Adventure Teaching, & many others. He has also spoken as an expert on Teaching English Abroad & TEFL certification at major conferences like MeetPlanGo and Lessons from Abroad (LFA) in Portland & San Diego.
Want to Learn More About Teaching English Abroad & Online?
Request a free brochure or call 773-634-9900 to speak with an expert advisor about all aspects of TEFL certification and teaching English abroad or online, including the hiring process, salaries, visas, TEFL class options, job placement assistance and more.