tefl certification
What Are the Differences Between Joining the Peace Corps & Teaching English Abroad?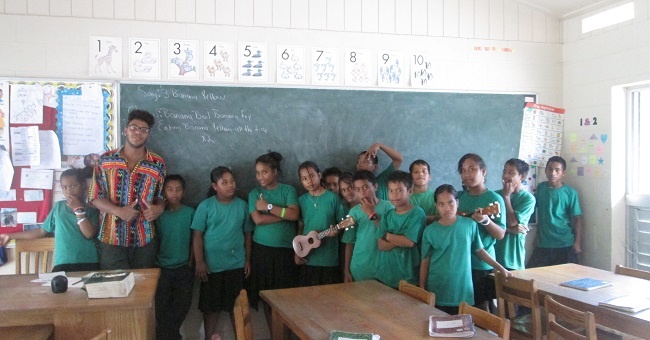 If you're a U.S. citizen over the age of 18 looking for a meaningful way to make an impact overseas, teaching English abroad and joining the Peace Corps are probably at the top of your list. There are many benefits to both opportunities, so as you're comparing options it's important to first understand the differences and similarities:
Teaching English Abroad
Timeline: You could be teaching abroad 3-6 months from starting your TEFL certification course

Location: You can choose where you want to teach English abroad and which specific job you want to take (in most cases) -- there are more than 50 countries with thriving ESL markets

Commitment: Typical contract lengths range from country to country, anywhere from 3 to 12 month commitments. If you want to renew a contract, the school will likely want you to and there are also many countries where you can work as a private tutor and/or teach English online, which gives you even more flexibility regarding how long you stay in a certain locale

Benefits: Paid teaching job, you're working in another country. Some countries will provide housing, airfare, and insurance in addition to a salary

Community: In most cases, you'll have a large community of expats and other English teachers around you

Requirements: There are more than a dozen markets that do not require a 4-year degree to teach English as long as you have a TEFL certification

Training: Online TEFL course is 11 weeks or an In-Person intensive course is 4 weeks

Experience: Comfortable living conditions, sometimes paid for by employers

Finances: Many locations allow opportunities to save a lot of money, while others are break even and you live a comfortable lifestyle working and traveling abroad

Alumni:

More than 15,000 ITA alumni and a large community to connect with before heading abroad
Peace Corps
Timeline: Lengthy nomination and application process (9-12 months)

Location: Placement based program in developing countries--you do not get to choose where you are placed, though you can indicate preferences

Commitment: Two year time commitment in most cases

Benefits: Volunteer based, but housing, transportation, living stipend, and health care provided, as well as a completion bonus at the end of service

Community: You will likely be the only one or one of few expats in your community, with a larger PCV community in the country you're placed
Requirements: Most opportunities require a 4-year degree

Training: Training is 3 months

Experience: Rougher, grittier conditions in 3rd world countries. Sometimes very rural.

Finances: It's called a volunteer program for a reason. The stipend provides enough to live in that developing country, but you won't come back with any savings.

Alumni: More than 220,000 Americans have served as Peace Corps Volunteers
With both opportunities, you're improving the lives of others and having a truly immersive experience living abroad! Furthermore, here are some benefits as to why you should get TEFL certified before joining the Peace Corps:
3 Reasons to Get TEFL Certified If You Want to Join the Peace Corps
1. It will boost your chances for acceptance to a very competitive program:
Even if you're just beginning your research, you probably know that the Peace Corps is competitive, and the application process is no joke. Teaching English abroad is a great way to get your feet wet living abroad before going into an intensive placement program like the Peace Corps. A big bonus is that the TEFL certification will make you more competitive in your application to the Peace Corps.
Getting into the Peace Corps can been a very competitive process akin to applying for a place at a prestigious university or college. A TEFL certification will make you more competitive because it shows you having training in teaching English, something useful and very relevant in many of the Peace Corps placement locations.
2. Teaching English is a part of many Peace Corps assignments
A very high percentage of Peace Corps assignments incorporate education (it's their largest program area), particularly English language instruction. So not only will getting a TEFL certification greatly enhance your opportunities to be accepted into this prestigious volunteer program, but it will help you be a bit more comfortable and prepared for the experience.
It will also provide you with the skills you need to run an English class in a foreign country where you will encounter cultural and linguistic differences. Understanding the basic principles of lesson planning, classroom management, teaching grammar, and other basic teaching skills will make your life as English teacher abroad (whether in the Peace Corps or not) far more rewarding and successful.
In fact, one Peace Corps volunteer in Madagascar, Allston McCall, stated, "TEFL certification adequately prepares Volunteers with no prior teaching experience to teach in rural areas."
International TEFL Academy certifies more than 5,000 new English teachers a year--more than the number of new Peace Corps Volunteers each year. So, if you're like our alumna Chelsea Johnson and aren't ready to commit to the Peace Corps quite yet, a TEFL certification and teaching abroad are a great way to see if living and teaching abroad in a foreign country is right for you!
3. You'll Have Back-up Options if the Peace Corps Doesn't Work Out
Say for whatever reason the Peace Corps doesn't work out for you? Maybe circumstances in your life change, or God forbid you aren't accepted?! If you have an accredited TEFL certification you'll still be qualified for thousands of professional teaching opportunities in dozens of nations around the globe. Your TEFL certification won't expire, and if you take your TEFL class with International TEFL Academy, you'll have lifetime access to comprehensive Job Search Guidance.
Attn: Peace Corp Returnees:
Already spent time serving in the Peace Corps and now looking to make your English teaching experience more official for jobs in other countries? International TEFL Academy offers a scholarship for Peace Corps returnees who want to complete their TEFL certification - contact your Admissions Advisor to learn more.
Related Resources:
A true industry pro, Ashley brings more than 10 years of experience in international education to the ITA team. She studied abroad six times, and has traveled to more than 40 countries. All of her diverse experiences brought her to International TEFL Academy, where she is proud to help others work toward the wonderful adventure of teaching English abroad!
Want to Learn More About Teaching English Abroad & Online?
Request a free brochure or call 773-634-9900 to speak with an expert advisor about all aspects of TEFL certification and teaching English abroad or online, including the hiring process, salaries, visas, TEFL class options, job placement assistance and more.