teach english online
We're All in This Together - Coronavirus Quarantine in Thailand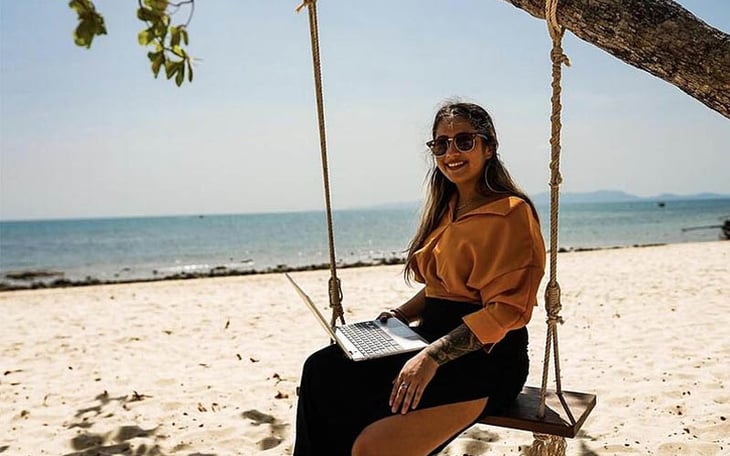 Three weeks ago I was debating whether to spend my first Songkran festival in my home of Ao Nang or head up to meet some friends in Chiang Mai. I was beyond excited to celebrate the Thai New Year for the first time only to have all my plans come crashing down in waves.
I knew how COVID-19 had affected China as I was teaching English online and would constantly hear updates from them. It started trickling slowly into Thailand but stopped at around 30 cases when it first hit. Then it hit Italy and the USA, and all of a sudden we were called into a meeting at school and told to prepare some lockdown plans for the next two weeks just in case schools were to close. Later that day, I received a call from the director of my school telling me that the government had officially closed all schools until April 1st.
Tourism had already slowed down drastically, restaurants were closing, and beaches were near empty. Streets that were normally crowded with motorbikes and tourists became a ghost town. Flights went up in price and US citizens were told to head back home or prepare to stay abroad for a while. Many of my friends quickly booked tickets and were out within a couple of weeks.
For me, leaving was never an option. Within nine months, I have come to make Thailand my home. I have settled into my two bedroom home. I have bought everything I need to be comfortable here. I rescued a dog here who I couldn't just leave behind. It would also be incredibly hard to teach online to my school with such a huge time difference. My life is in Thailand and it was always the plan to stay long term. I no longer consider the US my home so I never even considered leaving.
With my school closed, my two week holiday I was supposed to have was cancelled so that we could resume school when the all clear given, which was supposed to be in two weeks. But as the days passed, that quickly began to look less and less likely. Restaurants began to shut down completely or only offer take away, gyms were closed, all tourist trips were cancelled, and the two week school shut down was prolonged to the end of April, if we're lucky.
We quickly began creating an online curriculum that we could offer our students. Luckily, I had experience with teaching English online so I was able to offer insight into what platforms we could use to make this run as smoothly as possible. We began teaching online on April 1st (the day we were supposed to come back to school) using Zoom and Google Classroom. So far, apart from a few connection issues, it has been running smoothly.
Unfortunately, we had to reduce monthly school fees since many of our students parents rely heavily on tourism as their income - they could not continue paying the regular fees with no steady income coming in. Because of this, my salary was reduced by 50%. If I only relied on this stream of income, it would have been quite the strain as this wouldn't even be enough to cover my rent alone. Luckily, I have been teaching online with VIPKID for a year now and have built a steady schedule of regular students. I have definitely lost a few hours since everyone is logging in right now to teach online, but it still is enough to keep me going as living expenses in Thailand are so cheap.
In the beginning I didn't have the energy to do anything apart from binge Netflix while eating ice cream straight from the carton. It's been difficult being cooped up in my house, living with this fear of the unknown, and being away from my family during this time. The Thai government also just imposed curfew hours, not that I was even leaving my house, but it only makes me feel even more trapped than I was before.
Three weeks into this and I finally was able to become more productive. I'm back to working on content for my business as a teach abroad coach. I have been trying my hand at cooking new meals and recipes, and even hosted my own wine night for a party of two! With the beaches empty of tourists, I was finally able to come leave my house and take my dog to spend some time on an empty beach, finally able to float in the ocean and feel the rhythm of the waves carrying my stress away.
I don't quite know when we will be able to return back to the classroom. Right now they have told us things will remain this way until the end of April, and hopefully all goes accordingly so that we can return back to our normal lives. If not, I'll keep hunkering down and teaching online for both my school and VIPKID until we can get any normalcy back into our lives. Thailand as I know it will still be waiting for me at the end of all of this. I remain hopeful that I will soon be able to go back to teaching in the morning and evenings and enjoying a drink on the beach while working on my business in the afternoons. If you have any questions about teaching in Thailand or with VIPKID feel free to follow and message me on Instagram at @heykristinamichelle.
We're all in this together, stay safe!
---
For more comprehensive information regarding your TEFL options during COVID-19, please read Coronavirus FAQs: TEFL & Teaching English Abroad or Online - What Are My Options?
Watching a video more your style? It's OK, we've got you covered! Check out our video addressing the issue below:
Kristina Lopez received her in-person TEFL certification in Krabi, Thailand and fell in love with the area so much she decided to permanently stay there. She teaches at an international language center part-time in Krabi Town and spends the rest of her time helping others organize and plan their move to teach abroad and get hired in the country of their dreams. Find her on Instagram at @heykristinamichelle.
Want to Learn More About Teaching English Abroad & Online?
Request a free brochure or call 773-634-9900 to speak with an expert advisor about all aspects of TEFL certification and teaching English abroad or online, including the hiring process, salaries, visas, TEFL class options, job placement assistance and more.