Teaching English in Thailand: Celebrating Songkran - The Thai New Year!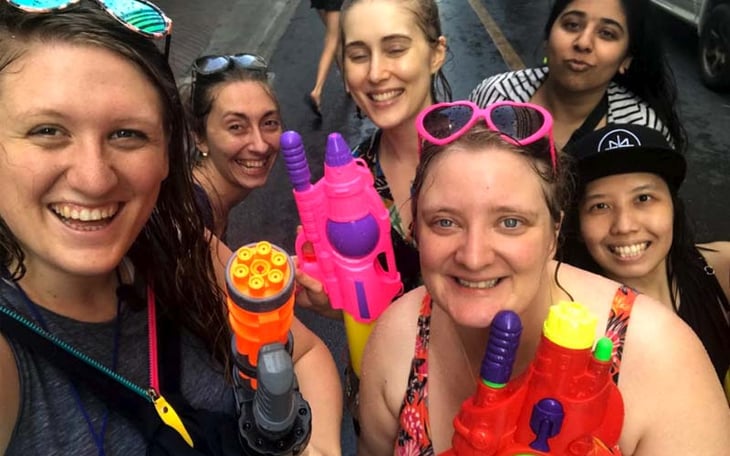 One of the great benefits of teaching English abroad is enjoying the opportunity to experience the celebrations and festivals of different cultures. For those teaching English in Thailand, this is certainly the case when mid-April arrives and the nation seemingly erupts into a giant water fight to commemorate Songkran - the Thai New Year, which is certainly one of the most colorful and unique festivals in the world. The most striking element of this ancient festival is the ubiquitous splashing and throwing of water - by hand, water-gun, hoses, and even elephants - upon others, which is regarded as a New Year's blessing.
The Thai New Year is celebrated annually from April 13 -15, and while the dates are now set, the holiday was traditionally set by the Thai lunar calendar. They call it Songkran, and this is the biggest celebration in the country. Songkran is the longest public holiday in Thailand, and it provides an opportunity for people to travel back home and visit their families and friends.
The word Songkran comes from Sanskrit and literally means "astrological passage", or "to move or to change." It coincides with the traditional New Year of many other Southeast Asian countries like: Cambodia, Laos, Burma, and even some ethnic minorities in Yunnan, southern China. Some Thai people believe that the origin of this celebration is derived from an ancient Hindu Festival; some believe that it actually originated in Burma; while others trace its origins to their own Thai forefathers.
While known for the crazy water fights in the streets, Songkran is traditionally a spiritual holiday, and it is customary for people during this time give alms to monks and visit the Buddhist temples, known as a "wat" to pray and meditate. In addition, Thais build sand pyramids, and decorate cities with flowers and colorful flags.
Songkran is celebrated all around the country, but there are some regional variations. In the northern city of Chiang Mai, for example, Songkran is celebrated for up to a week. Wherever you decide to celebrate, Songkran falls in the hottest season in Thailand and also symbolizes the end of the dry season. Water wars become the highlight of the festival.
Water symbolizes cleansing, purification and rebirth. Houses and temples are cleaned, people wash Buddha's statues with scented water, monks and elders are "bathed" by pouring water respectfully over their hands as a gesture of humility and to ask for their blessings. These are rituals for the first day of Songkran, which is officially the National Elderly Day. The following day is National Family Day, when families gather to visit and exchange greetings.
The grand finale of Songkran is celebrated with water festivals, which start on the third day, when people celebrate the New Year splashing and dousing each other with water! Water balloons, guns, hoses buckets, and any other artifact that can hold water can (and will) be utilized during the fun water battle. Even elephants are invited to the party! Kids, youth, adults and foreigners participate in parades and dances, and food and drinks are also part of the entertainment. The weather during the celebration usually reaches around 100 degrees Fahrenheit so the cool water is welcome to virtually everybody!
Thailand is known for its tropical beaches, fantastic temples, exquisite food, full moon parties, and the warmth and hospitality of the Thai people. If you decide to teach English in Thailand, the festival of Songkran is certain to be a highlight of your experience in this fantastic country.
Founded in 2010, International TEFL Academy is a world leader in TEFL certification for teaching English abroad & teaching English online. ITA offers accredited TEFL certification courses online & in 20+ locations worldwide and has received multiple awards & widespread recognition as one of the best TEFL schools in the world. ITA provides all students and graduates with lifetime job search guidance. ITA has certified more than 40,000 English teachers and our graduates are currently teaching in 80 countries worldwide.
Want to Learn More About Teaching English Abroad & Online?
Request a free brochure or call 773-634-9900 to speak with an expert advisor about all aspects of TEFL certification and teaching English abroad or online, including the hiring process, salaries, visas, TEFL class options, job placement assistance and more.