40+ teachers
Vietnam - A Softer Place to Ride Out The Coronavirus Storm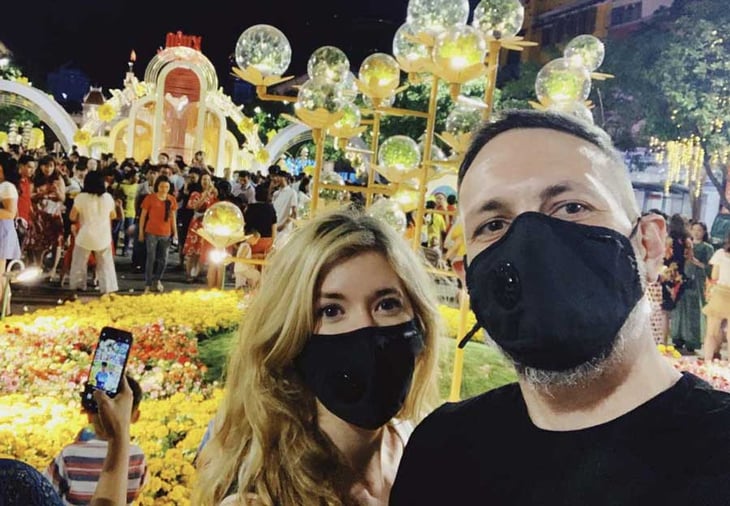 We are an ITA alumni couple living in Ho Chi Minh City, Vietnam since December of 2019. Our story isn't so uncommon: we left our 9-5 jobs in the States to pursue a life of travel and culture, and to make as many memories as we could along the way… then COVID-19 hit.
We never really considered leaving Vietnam. When we gave everything up, we gave up income levels that sustained us in the United States, our homes, everything. Our current incomes go much further in Southeast Asia. Financially, this was a softer place to ride out the storm. We also brought our dog, Hank, with us to Vietnam. If it was a long trip for us, it was longer for him. He was champion through 24+ hours of sleeping on our laps. We had to ask ourselves, was it really worth it to put him through that again, so soon? The answer was no. That combined with how dangerous it is to travel, the fact that we would have to quarantine for 14 days post-international journey, and risking the safety of our families by just our presence, it wasn't worth it.
Also, we feel quite safe here. Vietnam has been quick and aggressive in its response to the virus. They have been contract tracing from the beginning. There are temperature checks and hand sanitizing stations everywhere (including elevators). They have several levels of quarantine from hospital quarantines, quarantine camps (for those coming into the country that are suspected positives), as well as, police-supervised home quarantines. It's common practice to wear masks here given the poor air quality, but now it's actually mandated. Everyone you see in public is wearing a mask! We were in our building's elevator a couple weeks ago and, although we wear our masks everywhere we go, we hadn't put them on, yet. A voice came over the elevator speaker to politely remind us to put our masks on.
Most importantly, we don't want to leave because we love it here. The country itself is beautiful and we have yet to travel to so many of the cities and regions we want to experience. The people are kind, the cuisine is among the best on the planet, and we aren't ready to give up our dreams just yet! We're realistic in how long the road to economic recovery may be and we'd really like to be here in Vietnam when the global lockdowns are finally lifted.
Besides traveling throughout Vietnam and Southeast Asia, we want to give back to the city and country that we live in. We want to volunteer at kitchens to feed Vietnam's less privileged population, and work with organizations who rescue dogs and other animals. Since we were just establishing ourselves here when the pandemic hit, we haven't had a chance to do any of those things.
So how are we sustaining ourselves during this wild time? Jamie primarily teaches English online. Although, she did work at a brick and mortar school initially, which obviously has been shut down. Tony taught at various language clubs all over the city. He taught conversational English, IELTS prep courses, MC training for events, as well as, tutoring. All of those jobs have disappeared due to the virus. He was prepared to accept a job teaching English to the staff at a hotel here, but that has also been postponed. No one really has any concrete idea as to when we will be able to teach in public again. Its a big, scary waiting game at this point. Thankfully, although the market is flooded, Jamie continues to be solidly booked teaching online.
The quarantine experience has been a rollercoaster; some days you make a checklist of healthy, productive things to do (meditate, learn Vietnamese, write, etc.) and accomplish (some of) them and other days, honestly, you're filled with despair and heavy doubt. We celebrated Jamie's birthday in quarantine with takeout, card games, and movies. We FaceTime our families, check in with friends, remain connected as best we can. Tony waited nearly 20 years to make this lifestyle happen. Its hard to square the timing of it and what it means, not only in the present (no traveling, etc), but for the future as well. Thing is, regardless of our geographic location, this situation is unprecedented and scary and overwhelming. So, we're trying to go easy on ourselves. We do our best to keep perspective. This is happening to everybody around the globe. We are, quite literally, all in this together.
We know many expats are in the same boat. These days, we take comfort in one another. That we're stuck inside together and with our dog, Hank. And let's face it, quarantine is going quite well for him with us home 24/7. Even though our big life plans were paused before they could begin, we're grateful that we took the ITA's TEFL course and this huge life leap together. After the chaos of the last few months, and facing the unknowns on the horizon, it was all still worth it.
You can follow our adventures on Instagram at @sightsbetweensnacks. I hope everyone stays home, stays safe, and remains healthy!
---
For more comprehensive information regarding your TEFL options during COVID-19, please read Coronavirus FAQs: TEFL & Teaching English Abroad or Online - What Are My Options?
Watching a video more your style? It's OK, we've got you covered! Check out our video addressing the issue below:
Jamie and Tony are an ITA alumni couple from New York and Boston, respectively. Jamie was a producer in episodic television while Tony had a nearly two-decade career in corporate insurance. They had individual travel dreams but made them a reality shortly after their first anniversary together. Jamie and Tony currently reside in Ho Chi Minh City (Saigon), Vietnam with their dog, Hank Mardukas. Jamie teaches English online during the pandemic, while Tony waits for his classes to start back up again. They both love the Vietnamese culture and hope to continue exploring Southeast Asia before moving on to South America.
Want to Learn More About Teaching English Abroad & Online?
Request a free brochure or call 773-634-9900 to speak with an expert advisor about all aspects of TEFL certification and teaching English abroad or online, including the hiring process, salaries, visas, TEFL class options, job placement assistance and more.