no degree
Teaching English in Ho Chi Minh City, Vietnam: Alumni Q&A with Alan Polasky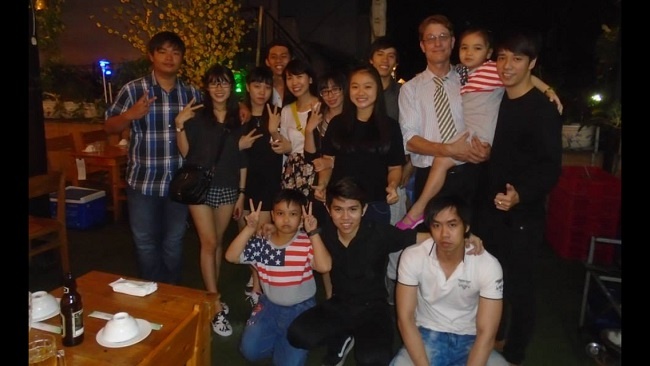 Where are you teaching English abroad?
Ho Chi Minh City, Vietnam.
What is your citizenship?
United States
What city and state are you from?
Madison, WI
How old are you?
46
What is your education level and background?
Some College
Have you traveled abroad in the past?
Some international travel with friends, family, business, etc.

If you have traveled abroad in the past, where have you been?
Austria, Serbia, Romania, Bulgaria, Hungary, Poland, Czech Republic, Ireland, U.K., Spain, Portugal, Morocco, Netherlands, Mexico, Belize, Barbados, Puerto Rico, Cambodia, Việt Nam.
What sparked your interest in going to teach English abroad?
On vacation in Vietnam/Cambodia with a friend from HCMC, I was able to spend a lot of time with locals. Xuân's friends and family. Everyone kept telling me that I could make some money teaching in Vietnam. It sounded great, like something I would have fun doing. Came back to the states, took the course, and headed back to S.E. Asia!
What were some of your concerns before teaching abroad?
I knew I wouldn't be able to get a work permit in Vietnam. I was pretty sure that wasn't going to stop me from getting a job, but still, I had a back-up plan. Go to Cambodia, where I could get a permit. The problem was that jobs in Cambodia pay a lot less. Also it's way hotter and poorer. Luckily the Khmer people are some of the greatest people I've encountered. I'm sure I would have had a blast.
What did your friends and family think about you moving and teaching abroad
Everyone was super supportive. I come from a family with a lot of teachers. Grandmother, aunts, uncles, cousins. Also a family that loves to travel. We put a lot of value in seeing the world. Meeting people from other cultures. Family reunions are incredible. The stories!
TEFL CLASS INFORMATION
Why did you decide to get TEFL certified and choose International TEFL Academy?
I needed to be TEFL Certified in order to get a job. Researched it a bit online and decided on ITA
Which TEFL certification course did you take?
How did you like the course?
I liked the course. It wasn't easy for me! Hadn't been in class in 25 years. I was a bit rusty on my grammar rules, terminology. My instructor was Sharon Miller. She was great. Well traveled. Helpful and encouraging. Practicum was definitely the most important part. Where I was teaching, the native speakers dealt strictly with vocabulary and pronunciation. The Việt teachers handled all the grammar. Thank god.
How has your TEFL training helped you in your current teaching position?
One big thing was organizing the class. By that I mean seating arrangements. How the desks are arranged, etc. At times I'd be in a hurry, running late, and I'd just start teaching. All to often chaos would ensue and I'd have to stop, rearrange chairs take a deep breath, and start again. Little monsters. Haha, I love every one of them.
Which city and country did you decide to teach English in and why?
I decided to teach English in Vietnam in the city of Ho Chi Minh City because I loved the people and the culture. I think Vietnam will be my home from now on.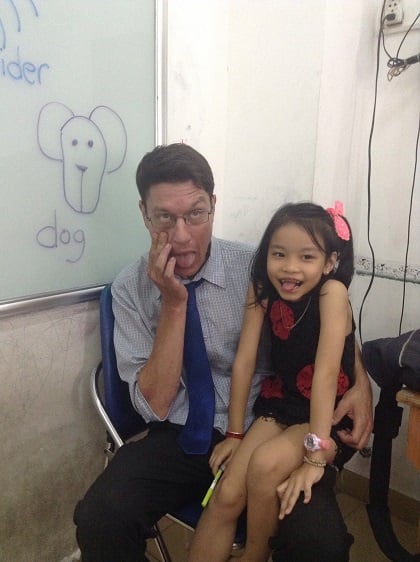 How long have you been in this country and how long do you plan to stay?
I spent about three years in HCMC. I've been back in Madison for almost a year now, but I'll be returning to Vietnam soon. I miss the place a lot. Miss all my friends. Miss the kids. A lot of my students were kids I tutored at home with a Vietnamese teacher friend of mine. After three years, these kids became like family.
What school, company, or program are you working for?
I worked a few different jobs. Bác Mỹ school was my main job, plus I did a lot of tutoring on the side.
During which months does your school typically hire?
All year. Closed for 3 weeks during Tet.
Did you secure this position in advance of arriving?
No
How did you interview for this position?
In-Person Interview
What kind of Visa did you enter on?
Tourist visa
Please explain the visa process that you went through.
Pay $30 online. Pay another $20 at the airport upon arrival.
What are the qualifications that your school requires for teachers? Please check all that apply
- TEFL Certification
- Native English speaker
What is the best way to apply?
In-person
Tell us about your English teaching job!
I worked about 25-30 hours per week making $20 per hour. Weekdays were easy. Usually only work about two hours per night, but weekends were brutal. Saturday was 8am-9pm with a three hour break at noon. Ouch! Paid in cash monthly. I loved payday. It just seamed so crazy. The exchange rate is 20,000 VND to the dollar so I was handed an envelope stuffed with around 48 million VN dong. Wads of cash wrapped in rubber bands. Too funny, like mafia payday or something. I earned WAY more than I could spend. The place is incredibly cheap. Also, tutoring is a great way to make some extra coin, but an even better way to make some friends. Definitely recommend tutoring.
How did you find somewhere to live and what is it like? Do you have roommates?
I lived in hotels and dorms. Hostels. Places like that for the first six months, then I moved out of district 1, touristy area, and out amongst the teeming millions in the city proper. I have roommates. Vietnamese friends I met at school.
COUNTRY INFORMATION - FUN!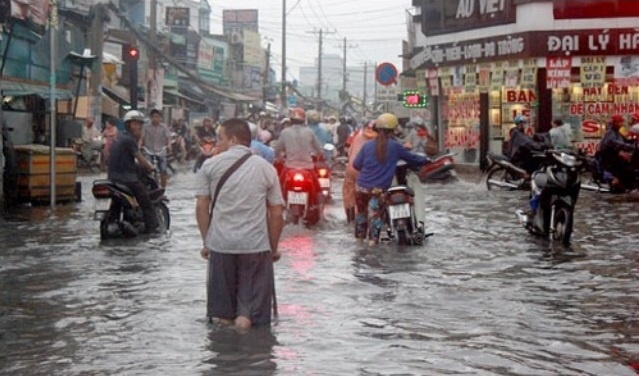 Please explain the cultural aspects, public transportation, nightlife, social activities, food, expat community, dating scene, travel opportunities, etc...
Culture: Vietnam has a wonderful culture. So very different from the U.S. It was like being on another planet at times.
Public transport in HCMC has its ups an downs. The buses go everywhere and they run super frequently, like if the bus looks crowded, just wait five minutes for the next one. The problem is most buses stop running early in the evening, say 7:30-8:00. You can always find a xe om late though. Xe om is a moto-bike taxi. Super cheap.
Food was ok. Way better in the north, Ha Noi, than in the south. The best was all the tropical fruits. Strange and delicious. I still don't have an English name for some of the fruit I loved!
Expats: There's a pretty big expat community of teachers, but it's almost all men. Hardly ever see a foreign teacher that's a girl.
Dating scene: Be careful dating. These are good people, but they're poor. You hear stories about guys getting robbed. A good place to meet someone is at school. They speak English, have a good job and you really get to know a person when you're teaching as a team.
Travel: As for travel, it's cheap, and there are a TON of cool places to see that are close. Angkhor Wat being my favorite.
COUNTRY INFORMATION - MONEY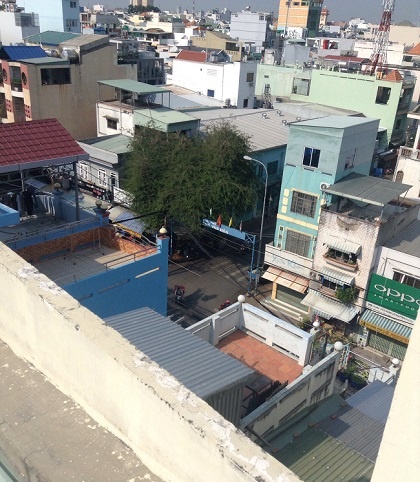 What are your monthly expenses?
- Rent: $300-400
- Food: $60- $200
- Social activities: $60-$200
- Transport: moto-bike, $25 on gas.
- Bus, a lot less
- Phone: local Nokia, $20
- Travel is cheap
How would you describe your standard of living?
No shower. No hot water. No A.C. No washing machine. No refrigerator. Lots of great food, great friends. Beautiful, intelligent girlfriend. Super friendly neighbors in a cool neighborhood. I guess I feel pretty rich.
In your opinion, how much does someone need to earn in order to live comfortably?
$1000 per month


ADVICE FOR PROSPECTIVE ENGLISH TEACHERS
What advice would you give someone planning or considering teaching abroad? Would you recommend teaching in your country?
I would definitely recommend teaching in Vietnam. When teaching an adult class, make sure you have a good lesson plan. With kids, learn some games. Also I got really good at drawing cartoon animals fast on the white board. E-elephant, G-giraffe, M-monkey, etc. Kids love it.
Founded in 2010, International TEFL Academy is a world leader in TEFL certification for teaching English abroad & teaching English online. ITA offers accredited TEFL certification courses online & in 20+ locations worldwide and has received multiple awards & widespread recognition as one of the best TEFL schools in the world. ITA provides all students and graduates with lifetime job search guidance. ITA has certified more than 40,000 English teachers and our graduates are currently teaching in 80 countries worldwide.
Want to Learn More About Teaching English Abroad & Online?
Request a free brochure or call 773-634-9900 to speak with an expert advisor about all aspects of TEFL certification and teaching English abroad or online, including the hiring process, salaries, visas, TEFL class options, job placement assistance and more.