Teaching English in Bangkok, Thailand: Alumni Q&A with David Gardiner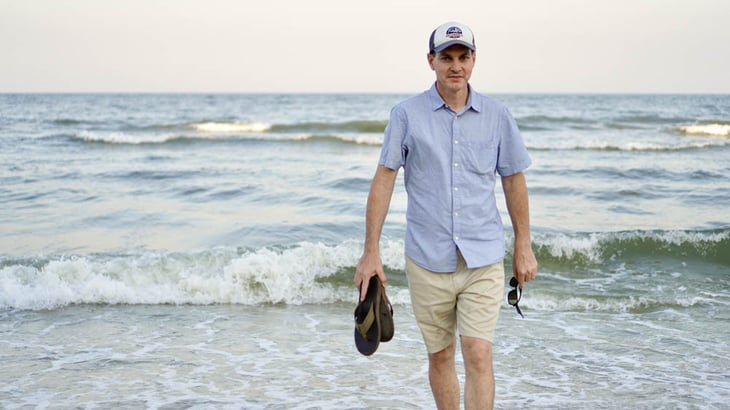 What is your citizenship?
United States

What city and state are you from?
Anaheim, California, USA

How old are you?
38

What is your education level and background?
Bachelor's Degree
Have you traveled abroad in the past, if so, where?
Yes - England, Czech Republic, Netherlands, Germany, France, Spain, Italy, Hungary, Poland, Mexico, and Thailand.
What sparked your interest in going to teach English abroad?
I wanted to do something big and change my career. I saw teaching English abroad as a way to live in a foreign country for the first time, pursue my interests of traveling and photography, meet new people, while giving back to a community and creating memories that will last a lifetime.
What were some of your concerns before teaching abroad?
Initially I was concerned of how long it may take to find employment and if I was going to be able to support myself while living abroad. However, I quickly overcame those fears, and teaching English has provided me with a way to interact with the locals and meet new friends. It has also shaped the person I have become over the past six months, and has made me appreciate many things that I may have taken for granted in my home country.
What did your friends and family think about you moving and teaching abroad?
My friends and family were very supportive of my decision to move and teach abroad. They all agreed that teaching is a notable profession and have always shared my passion for traveling since a very young age.
Why did you decide to get TEFL certified and choose International TEFL Academy?
After reviewing foreign job postings and researching requirements to become an English teacher abroad, I decided to pursue a TEFL certificate. Ultimately I chose the International TEFL Academy because they were internationally accredited and recognized by some of the big name companies in the industry such as GoAbroad.com. ITA also provided life- long job search guidance and a network of teachers that had many years experience. ITA also offered the ability to obtain my TEFL Certification online while I continued my full time job. The International TEFL Academy also has a huge social media presence on Instagram, Youtube, and Facebook, that allows teachers from around the world to share their experiences and provided helpful tips and insight into the English-teaching industry as a whole.
Which TEFL certification course did you take?
Online TEFL Course
How did you like the course?
I enjoyed the online course very much. I will be the first to admit that it was challenging but very structured. Each week I was challenged to develop intelligent and researched responses to peer participation questions that helped me review the material presented during the weekly assignments and readings. The online course also required me to develop lesson plans and activities for a variety of age groups and skill levels. The instructor that taught the online course was also available to answer any questions and/or concerns throughout the course. My practicum experience allowed for me to put to practice everything I learned in a real life classroom setting. I had the opportunity to teach and observe at a high school and local community college. I also liked the fact that I was able to communicate with the other students to hear about why they decided to teach English abroad and find out a little more about them. In fact, I still keep in touch with some of the other teachers I met online during the time I signed up for the course. Hearing about where they have traveled and taught has been uplifting and inspiring.
How has your TEFL training helped you in your current teaching position?
The TEFL training I received from the International TEFL Academy has been invaluable. After landing my first teaching job in Thailand, I found out very quickly that teachers need to adapt to their environment. Certain schools and/or staffing firms may have very specific lesson plan templates and methods for teaching a class. However, everything I learned through the online course from ITA has provided me with the tools necessary to overcome these challenges and present new ideas to the staff and other teachers that they have found to be useful in their curriculum.
Which city and country did you decide to teach English in and why?
I first arrived in Bangkok, Thailand, in September 2019. I plan to remain here for at least 2 to 3 years. Prior to arriving to Bangkok, I had visited here on vacation a few times. I fell in love with the city from the beginning. It has a mix a high-rise buildings, low-lining buildings, skytrains, underground metro, bustling city life and interesting culture. I also met my girlfriend here and have come to care about her very much. She continues to amaze me and we also continue to learn things from one another day by day.
What school, company, or program are you working for?
Currently I am employed with Siam Computer & Language School, which is a staffing firm based here in Bangkok. They have placed me at Sai Nam Peung School close to Phrom Phong BTS station in the Khlong Toei subdistrict of Bangkok.
During which months does your school typically hire?
September and May.
Did you secure this position in advance of arriving?
No, I found the position after arriving through the staffing firm called Siam Computer & Language School.
How did you interview for this position?
In-Person.
What kind of Visa did you enter on?
Tourist.
Please explain the visa process that you went through.
I initially was hired on with a Tourist VISA. Then I had to apply for a Work Permit and a Non-Immigrant B VISA. The entire process took a few months because I had to first extend my Tourist VISA, apply for a second Tourist VISA (border run to Laos), extend my second tourist VISA, apply for a Work Permit and Non-Immigrant B VISA, and finally extend my Non- Immigrant B VISA for a period of 1 year to match the end date of my Work Permit. Although the entire process took months, the staffing firm and school I work for were very accommodating and allowed me to continue to work throughout this period.
What are the qualifications that your school requires for teachers? Please check all that apply
Bachelor's degree and a TEFL certification.

What is the best way to apply?
Through a recruiter.
Tell us about your English teaching job!
I found the job listing on Ajarn.com.
Pay: My English teaching job pays 40,000 baht monthly, which is paid out at the end of the month. The pay period is typically from the 26th to the 25th of the following month.
Hours: Teachers are expected to be on campus from 7:30am to 4:00pm Monday through Friday. Each class is 50 minutes long, and teachers usually teach anywhere from 3 to 5 periods per day. Therefore, the average number of hours worked during a week are about 20 in-class, then the remaining hours are spent in the teacher's lounge preparing lesson plans, preparing mid-terms, preparing final exams, recording attendance, and grading assignments and exams.
Students: The students are ages 13 to 18 (Matthayom 1 to 6).
Vacation: Teachers are not awarded any vacation time. However, the teachers are allowed up to 5 paid days for VISA-related matters and we also receive a few sick days each semester. Unfortunately, my current staffing firm and school only pays teachers for 9 months out of the year. We are typically off during mid-March to mid-May and October. Due to the current on-going COVID-19 global pandemic, our last day for the previous semester was March 17th. However, we normally would have been paid and able to work through end of March. As of now, I hope to be able to return to work on May 14, 2020. While working I'm usually able to save about 10,000 to 15,000 bath ($306 to $460) per month after food, transportation, and rental expenses.
How did you find somewhere to live and what is it like? Do you have roommates?
When I initially arrived in Bangkok I stayed at a number of AirBNB rentals throughout the city. Then my girlfriend was able to help me find a condo rental close to her condo and a BTS station. She had to place the rental under her name because at the time I did not have my work permit yet. Shortly after the end of the last semester, I have now moved into her place and I will help her with the monthly mortgage and expenses beginning in the middle of May after my condo rental contract expires in mid- May 2020.
Please explain the cultural aspects, public transportation, nightlife, social activities, food, expat community, dating scene, travel opportunities, etc...
Thailand is known for its delicious street food, welcoming bow (the "wai"), beautiful beaches, various cultural celebrations, the mix of old and new cultural traditions, and the ever-present Thai smile. I was amazed to see how a city, that started from humble beginnings, has risen to become one of the top tourist destinations in the world complete with skyscrapers, digital advertising on the sides of buildings, sky trains, an underground metro system, modern hotels and restaurants, and so much traffic!
Much of Thai culture is based on hierarchy. Therefore, when teaching in Thailand it is important to avoid controversial topics that are politically-driven, never to talk negatively about the King, and to be careful when giving feedback to students in class if they make a mistake.
There is a large expat community that resides in Bangkok and it's easy to find others that have also been in the same shoes as you and know what to expect in terms of challenges when dealing with immigration documents. Luckily, I have also been able to connect with a few expats on Instagram over common interests and have been able to connect with people in person during my short time here.
I can mainly speak about the dating scene in Thailand for men looking for women! Before finding my girlfriend, Tinder is the main app used for dating and meeting new people in Bangkok. As a foreigner you can easily find and date attractive, intelligent, and interesting women from all different socio-economic backgrounds. For the most part, Thai women are very kind, respectful, and hold their traditional and cultural values close to their heart. The dating scene can be very exciting and something Western men may not be used to. If you're looking just to have fun, then there are definitely many opportunities to meet new people on a constant basis. Also, if you're looking for a more serious long-term relationship, then there is also great promise in that respect.
Bangkok is a big city with a small town feel. After living here for a while you will come to find your favorite hang out spots and locations to catch a good sunrise or sunset. The nightlife is amazing, but you should be careful not to indulge too much because your wallet will not thank you for it on a teacher's salary!
Normally there are many great travel opportunities to experience such as the beautiful islands, jungle, waterfalls, and weekend excursions within Thailand or to neighboring countries such as Vietnam, Cambodia, Singapore, and Indonesia. However, since the recent outbreak of COVID-19, domestic and international travel has been put on hold. I look forward to the day that I will be able to travel again to experience Thailand's many beautiful natural wonders as well as some of the exciting experiences the neighboring countries have to offer.
What are your monthly expenses?
Rent: 12,000 bath ($370)
Water: 120 bath ($4)
Electricity: 1,200 baht ($37)
Food (Groceries, Restaurants, Misc.): 14,000 baht ($430) Transportation (BTS Skytrain): 1,110 baht ($34)
Mobile Phone (40gb of 4G data with Rollover up to 80GB): 580 baht ($18)
Health Insurance (AETNA): 380 baht ($12)
TOTAL MONTLY EXPENSES: $905
TOTAL MONTHLY INCOME: $1,224
INCOME AFTER EXPENSES: $319
*Note: Some months I spend less on groceries, restaurants, etc.), which yields me about $400 to $450 in savings
How would you describe your standard of living?
I am not able to save that much money. However, my current income does provide me with enough money to feed myself, pay my rent, and occasionally indulge in some craft beer and traveling!
P.S. The craft beer here is very expensive due to high import fees. The average imported American craft beer will set you back about 400 baht ($12.25) at the bar or 200 baht ($6.13) per 12oz at the store.
In your opinion, how much does someone need to earn in order to live comfortably?
In my opinion, you should aim to earn at least 60,000 baht ($1,837) monthly to live comfortably, enjoy some things you may be used to back in your home country, and save more for international travel or unexpected emergencies. I hope that, with time and more experience, I am soon able to reach a monthly salary of 60,000 baht or more per month.
What advice would you give to someone looking to teach English abroad in Thailand?
Given the current situation with the global COVID-19 pandemic, it's really difficult to say. However, if you are considering teaching abroad, I would recommend that you save at least six months of your home country's salary prior to your move. You should make sure you are in a good place financially before making the leap so that you can return to your home country in the event that your plans do not work out.
On another note, I would recommend teaching in Thailand. The salary is not has high as what you might find in China, South Korea, or Japan, but the people here are very welcoming, you will fall in love with the Thai culture and food, and you just might come to learn that money doesn't always buy happiness!
After spending most of his professional life working in the USA, David Gardiner wanted to do something big and change his career. He saw teaching English abroad as a way to live in a foreign country for the first time, pursue his interests in traveling, photography, and meeting new people, all while giving back to the community and creating memories that will last a lifetime. He now resides in Bangkok, Thailand, teaching English to children.
Want to Learn More About Teaching English Abroad & Online?
Request a free brochure or call 773-634-9900 to speak with an expert advisor about all aspects of TEFL certification and teaching English abroad or online, including the hiring process, salaries, visas, TEFL class options, job placement assistance and more.