Teaching English in Taiwan: Alumni Q&A with Megan Norowski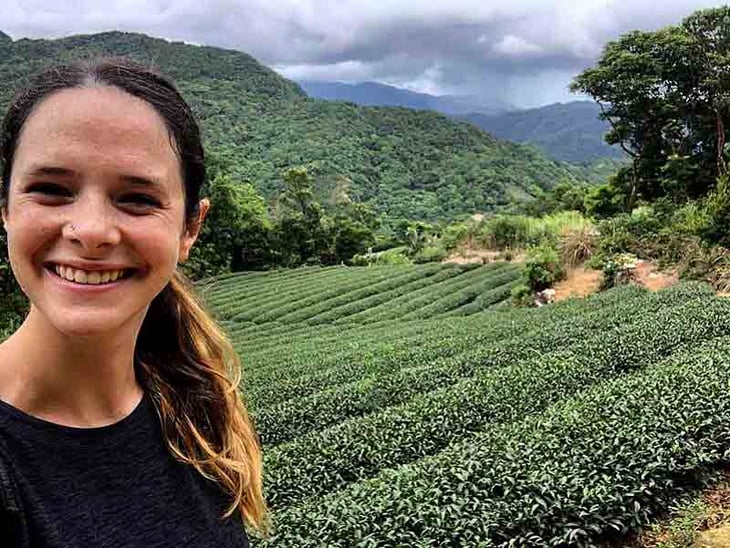 What is your citizenship?
United States
What city and state are you from?
Boston, Massachusetts USA
How old are you?
26
What is your education level and background?
Bachelor's Degree
Have you traveled abroad in the past, if so, where?
Before moving abroad to teach English, I had never left the USA!
What sparked your interest in going to teach English abroad?
Being able to learn and experience life in a new culture setting.
What were some of your concerns before teaching abroad?
Not ever leaving the country before, I was scared of what to expect. I did my research but still felt like it wasn't enough. I was more worried about how I'd be able to get food or how to order it when I don't speak the language. I basically just told myself to give it a chance and see how I like it, and if worse case scenario I could always go back home.
What did your friends and family think about you moving and teaching abroad?
The majority of my friends were supportive and excited for me, while my family was hesitant about me going. Mainly because I've never left the country and because I had a great job prior to leaving, my family thought I'd be making a huge mistake. Needless to say, it was the best decision I've ever made for myself.

Why did you decide to get TEFL certified and choose International TEFL Academy?
My friend from college got his TEFL certification at ITA the month after we graduated and soon moved abroad shortly after. He was the main reason I decided to do the same after he returned home to tell me about his experience.
Which TEFL course did you take?
I took the 11-Week Online TEFL Course.
How did you like the course?
I enjoyed the online course, but wish I was able to take the course in person. Because I was working full time, I wasn't able to do the in person class as planned. While being someone who's more of a visual and hands on learner, I feel I would have benefited more from learning in a classroom setting.
My instructor was very nice and accommodating. I always appreciated her feedback on assignments, and she was very attentive to answering any questions I had during the course.
Which city and country did you decide to teach English in and why?
I decided to teach English in Taiwan. I spent my first year in Changhua and then moved to Taipei for my second year. I intended on only staying for one year when I moved in 2018, but have so far stayed for two!
Never leaving my own country before, I mainly chose this teaching position because they helped me with everything such as setting up a taxi upon my arrival, helping me find an apartment, setting up a bank account etc. It made me feel much better about my experience knowing I would have help along the way.
What school, company, or program are you working for?
I first worked at a cram school and now work at a private school.
During which months does your school typically hire?
Cram schools hire all year round, but the second school I worked at was more of a regular school setting and only hire for the beginning of each school year.
Did you secure this position in advance of arriving?
Yes.
How did you interview for this position?
I had an online video interview.
What kind of Visa did you enter on?
I entered on a tourist visa.
Please explain the visa process that you went through.
It was very easy. Because US citizens have a 90 day visa in Taiwan, my school was able to apply for my work permit and ARC (Alien Resident Card) the second I landed in Taiwan.
What are the qualifications that your school requires for teachers?
TEFL certification, Bachelor's Degree, Substitute or Teaching License.
What is the best way to apply?
Online.
Tell us about your English teaching job!
Cram School: As some cram schools may be run and managed differently, I learned quickly that working at the cram school I was employed at wasn't for me. There were many reasons as to why I didn't enjoy it, but overall I don't regret working there as I learned a new style of teaching English and it's where I met a lot of my friends.
Private School: I was so happy to work back in a regular school setting. This school was run like the majority of the schools back in the US such as getting paid salary, paid holidays/vacation times, and having your own classroom and assistants. Working here was one of the best experiences I've ever had.
How did you find somewhere to live and what is it like? Do you have roommates?
My first school had helped me find an apartment, and my next school I had to find it on my own. After living in the country for a year, it surprisingly wasn't difficult to find an apartment on my own. You can find apartments on Facebooks groups or websites similar to Craigslist in the States, but here it's known as 591. I live in a studio by myself.
Please explain the cultural aspects, public transportation, nightlife, social activities, food, expat community, dating scene, travel opportunities, etc...
Depending where you are located in Taiwan, there is public transportation almost everywhere. The most convenient city for public transportation is Taipei and Kaoshiung as both city's have their own city train. Other parts of Taiwan have transportation, but only buses and sometimes they're not so reliable. I HIGHLY recommend getting a scooter no matter where you live in Taiwan. It was one of the best decisions I made after getting my ARC (you will need one in order to own a scooter). Having a scooter is not only more convenient, but you're able to explore and go to places in Taiwan no bus or train can get to.
What are your monthly expenses?
Rent: NT $13,500 (US $459)

Electricity: NT $800 (US $27)

Phone: NT $1,000 (US $35)

Food/Travel/Miscellaneous: NT $20,000 (US $681)
Most places in Taiwan only accept cash. Therefore, in order for me to save money, I always took out the total amount I needed for the month and stored it away in my safe. That way I was able to keep track of my spendings and save an extra US $600 a month.
How would you describe your standard of living?
My way of living is both relaxed and adventurous. Living in Taiwan, I've been able to still live my own way of life. From relaxing and trying new restaurants or meeting new friends, or taking scooter trips and going on adventures, I've been able to manage both my regular lifestyle while also taking advantage of living and embracing living in a new country.
In your opinion, how much does someone need to earn in order to live comfortably?
It really depends where you live in Taiwan and your lifestyle, but typically I'd say anywhere from NT $40,000- NT $60,000 (US $1,360 - US $2,040) a month is standard.
What advice would you give to someone looking to teach English abroad?
I would definitely advise people to move abroad! It's a great life experience and you're able to learn so much about yourself that you might've not known about before. I recommend to do your research prior to picking a place, and to find people who've lived and/or still live in that country and ask them any questions you may have. Be sure to ask more than a few people, as I learned it's better to get different perspectives.
Megan Norowski is a 26-year-old from a small town in Massachusetts with a BA in Art & Design and a minor in Teaching from Columbia College Chicago. She has been a teacher prior to teaching ESL, and chose to fulfill her passion for working with children by moving to the first country she's been to outside of her own; Taiwan.
Want to Learn More About Teaching English Abroad & Online?
Request a free brochure or call 773-634-9900 to speak with an expert advisor about all aspects of TEFL certification and teaching English abroad or online, including the hiring process, salaries, visas, TEFL class options, job placement assistance and more.