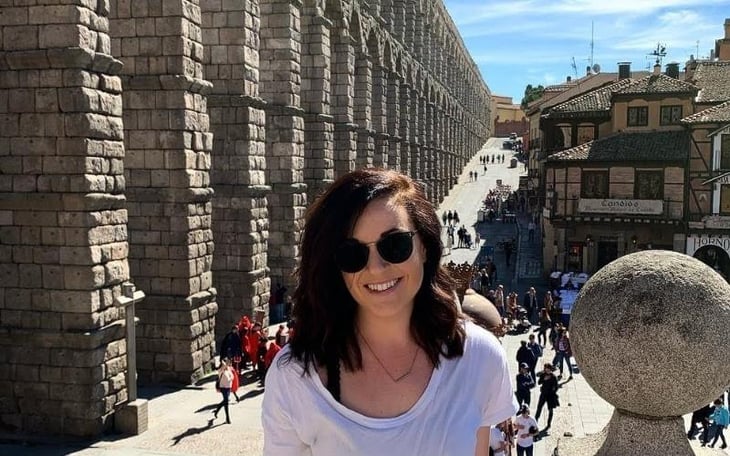 Teaching English in Madrid, Spain - Alumni Q&A with Julie Jessup
What is your citizenship?
United States
What city and state are you from?
Costa Mesa, California, USA
How old are you?
30
What is your education level and background?
Bachelor's Degree.
Have you traveled abroad in the past?
Some international travel with family and friends.
Where did you travel to?
Before moving abroad, I visited Mexico, Canada, Austria, Czech Republic, Turks and Caicos, Spain, Denmark and Argentina.
What sparked your interest in teaching English abroad?
I was working full-time at a tech company and I had the opportunity to travel often, but I started to realize that just going on a couple of week-long vacations every year wasn't enough for me. I wanted to really travel, so I first thought that I'd save money, quit my job, travel for a year, then return home and go back to work. But then it occurred to me that if I found a way to make money while abroad, I wouldn't have to return home and get another full-time job! I started researching jobs abroad, and that's how I come upon teaching English and I knew that getting TEFL certified through ITA was the first step.
What were some of your concerns before teaching abroad?
Mostly, I was worried about how I'd react to being so far away from my family and friends. I'd never lived more than an hour's drive away from home, so to move a 12-hour plane ride away was extremely nerve wracking! I was worried whether I would make friends and be able to build a real life abroad with a social circle, hobbies and the rest. Luckily, ITA has such an extensive network that I made friends really quickly, and since we're all abroad doing the same thing, we can share our concerns and feelings with people who are going through the same thing, and we bonded really fast!
What did your friends and family think about you moving and teaching abroad?
Everyone was really excited and supportive! Of course, my parents were a little apprehensive about me being so far away, but they knew that this was the experience of a lifetime and they urged me to do it and supported me in every way. Everyone is also really happy to have a place to crash in Spain now, too!
TEFL CLASS INFORMATION
Why did you decide to get TEFL certified and choose International TEFL Academy?
I had never taught in any capacity before moving abroad, so I knew that I needed as much training and preparation as I could get. I also knew that a TEFL certification makes you more appealing to employers, so I wanted to set myself up for success and make myself as qualified as I could. I researched a few companies and no one else really compared to ITA in terms of access - the advisors and alumni are easily available for questions and they answered every silly question I had through this process.
Which TEFL Certification course did you take?
I did the online TEFL course. I was still working full time and I wanted to save as much money as I could before moving, so this was by far the best option for me.
How did you like the course?
I actually enjoyed the course a lot - it was a lot of work, but I went from really having no clue what a lesson plan even was to making rich, substantial lesson plans on my own. The instructor was easily reachable for any questions during the course, and the tasks are all extremely relevant to the real-world of teaching - no busywork here! The practicum was invaluable, especially after taking the online course, because I got to see all these concepts and ideas put to use, and got to use my training for the first time in a real classroom.
How has your TEFL training helped you in your current teaching position?
I can't stress enough the power of a good activities and a good lesson plan. I had no skills in this area whatsoever before the course, and now I use this almost every day in my teaching life. Learning about TPR has been valuable as well, since I teach online and also teach really young kids in person, TPR is one of the most important skills and concepts to grasp when working with these types of students.
How long have you been in Spain and how long do you plan to stay?
I began teaching English in Madrid, Spain in 2019. I have been here for almost 6 months and I have no plans to leave.
Why did you decide to teach English in this location?
I had previously traveled in Spain and I fell in love with it, so my goal was to move here and find any work that suited me. Plus, I really wanted to travel in Europe and become fluent in Spanish, so it was a no-brainer.
What school, company, or program are you working for?
I work for an English academy called KidsFirst and teach English online with Gogokid.
During which months does your school typically hire?
I got hired in January, but this particular academy typically does all of their hiring in August/September.
Did you secure this position in advance of arriving?
No, I applied after arriving in Madrid.
How did you interview for this position?
I had a Skype/Phone interview.
What kind of Visa did you enter on?
I am on a student visa - this is the easiest way for Americans to live and work legally in Spain.
Please explain the visa process that you went through.
I enrolled in Spanish classes at one of ITA's partner schools in Madrid. They helped me with the visa process, and I had to apply from home in the US.
What are the qualifications that your school requires for teachers?
Native English Speaker
What is the best way to apply?
Via email.
Tell us about your English teaching jobs!
I work in an English academy three days a week, which works out to about 12 hours per week. I get paid 800 euros ($890 USD) per month there. I teach 3, 4, and 6 year olds in an immersive classroom. We don't really get paid time off, but since I only work 3 days a week and Spain has a lot of holidays, I have plenty of time to travel. I also teach English online and typically do about 10-12 hours a week there as well, and earn about $500 US per month, but I can set my own hours so the hours and income vary depending on my schedule.
COUNTRY INFORMATION
Please explain the cultural aspects, public transportation, nightlife, social activities, food, expat community, dating scene, travel opportunities, etc...
In my opinion, Madrid has the best of both worlds: a fast-paced, hustle and bustle type of city life mixed with laid back, relaxed Spanish culture. The city is extremely walkable and the metro can get you anywhere, there's no need for a car in Madrid at all.
Madrid is also famous for it's nightlife - there's something for everybody, and on a typical Spanish night out you won't find yourself coming home until 6:30 in the morning. There are a ton of expats from around the world here, so it's very easy to meet people through language exchanges, dance classes, yoga classes, sports teams, or whatever you're into (there's a club or activity group here for just about everything).
Madrid is also really central so it's incredibly cheap and easy to get around Europe & North Africa from the airport or railways. Buses around Spain/Portugal are also really cheap and accessible! The dating scene is also pretty good here - there are a lot of expats looking to date and a lot of people use Tinder/Bumble as well. Spanish men are also pretty easy to meet - they're extremely forward, which can be a little unusual or off-putting for some American women, but I find it refreshing :)
What are your monthly expenses?
Rent: $600, plus utilities (~$50 a month). This is expensive for Madrid, you can find rent for half that if you want.
Food/Groceries: $80
Going out/Social: $100
Transport card: $50 (it's free if you're under 26)
Phone: $15
How did you find somewhere to live?
I got temporary housing through ITA's partner school when I first arrived, and then got an apartment with another ITA alum living in Madrid through a website called Spotahome. Most of my friends here have used this site to find their accommodation.
How would you describe your standard of living?
It's pretty great! I love being able to travel to Paris or London for a quick weekend getaway if I have some money to spend, but honestly, staying home in Madrid, cooking all my meals and saving money is fun too. There's so much to do right outside my door that you don't really need to be traveling/going out all the time to make the most of this city.
In your opinion, how much does someone need to earn in order to live comfortably?
I'd say the minimum is 1,000 euro ($1,115 USD), but shoot for 1,200 - 1,300 ($1,340 - $1,450 USD) to be able to travel.
ADVICE FOR PROSPECTIVE ENGLISH TEACHERS
What advice would you give someone planning or considering teaching abroad? Would you recommend teaching in your country?
DO IT! You'll never regret taking the leap. In practical terms, save money before you come and try to have an alternative income stream. When I first got my teaching job, my paycheck was delayed by MONTHS because of some legal processes, but luckily I had savings and my online teaching job to get me through. There are no shortage of teaching jobs in Madrid, so you'll have no problem finding a gig if you come here!
A 30-year-old native of Costa Mesa, CA, Julie was working full-time for a tech company when she realized she had a bad case of the international travel bug. So she took ITA's 170-Hour Online TEFL Class and headed to Madrid, where she's been taking classes and teaching English through ITA's Spain Student Visa program.
Want to Learn More About Teaching English Abroad?
Request a free brochure or call 773-634-9900 to speak with an expert advisor about all aspects of TEFL certification and teaching English abroad or online, including the hiring process, salaries, visas, TEFL class options, job placement assistance and more.