Teaching English in Singapore: Alumni Q&A with Kelsey Ax
Written By: Kelsey Ax | Updated: June 29, 2023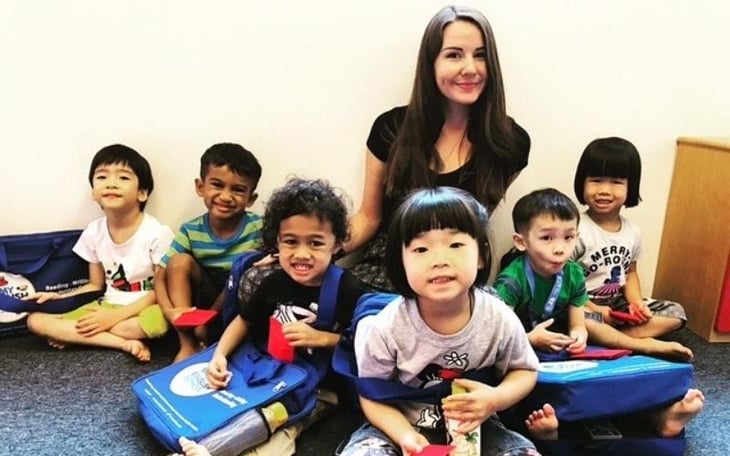 What is your citizenship?
United States
What city and state are you from?
Rockford, IL
How old are you?
25
What is your education level and background?
Bachelor's degree
Have you traveled abroad in the past?
Taught English abroad previously.
If you have traveled abroad in the past, where have you been?
Canada, UK, Ireland, France, Spain, Germany, Sweden, The Netherlands, Denmark, Poland, Romania, Czech Republic, Hungary, Slovakia, Austria, Italy, Greece, Singapore, Malaysia, Indonesia, Japan, South Korea, Hong Kong, Thailand, Vietnam, Brunei, India, Taiwan, Australia, New Zealand, Philippines, Cambodia, Maldives, Sri Lanka, Myanmar, Laos, Georgia, Azerbaijan, Armenia, Turkey.
If you have studied abroad in the past, where did you study?
Vienna, Austria
What sparked your interest in going to teach English abroad?
I have always loved to travel and knew that once I graduated from university that I would go out and see as much as I could. Teaching English abroad is the perfect opportunity to live and travel outside of the United States. I explored a lot of Europe during my year abroad in Vienna. Since becoming an English teacher, I have now been able to discover much of Asia, as well.
What were some of your concerns before teaching abroad?
One of my biggest concerns was the question, "Will I be a good teacher?" Traveling was the main motivator for me to teach abroad. However, it is also important that you educate your students to your utmost ability. It's not a vacation, it's a lifestyle and profession.
I was also concerned about the teaching environment I would be placed in. Without much experience could I get a job with a company in a country I would want to live with that would treat their employees fairly? You hear a lot of horror stories from people who are overworked and under appreciated. So it's very important to do your research before accepting a job offer.
What did your friends and family think about you moving and teaching abroad?
My family has always been supportive of me. The hardest departure I had was when I first left for Vienna to live there for ten months in college. Each goodbye gets easier and easier because it's become more and more normal. Also, my being abroad has gotten my parents to leave the United States more often to come visit me. We've spent two Christmases abroad together; one in Vienna and one in London. We also met up together last June for a trip to Australia and New Zealand. Additionally, whenever I do come home I find that I appreciate it more than if I were there all the time. Homesickness only really hits me when I see myself missing birthdays, weddings, and other major events in my family and friends' lives.
Why did you decide to get TEFL certified and choose International TEFL Academy?
I did some research into different courses I could take online to get certified. International TEFL Academy stood out to me because of its resources available. They've created an excellent community feeling where students and alumni can share their experiences, questions, and any concerns with one another.

Which TEFL certification course did you take?
Online TEFL Course .
How did you like the course?
It's been about three years since I took the course. I remember really enjoying it. I learned a lot about some of the struggles students face when learning English and different techniques to manage a classroom environment. It was really helpful to make lesson plans and research different games you could use in the classroom.
How has your TEFL training helped you in your current teaching position?
It gave me a sense of awareness in the classroom. I often had to teach young learners, and I took the additional Young Learners and Business English Module with ITA which I found helpful because it gave more information on the various types of classrooms you could teach and how you should treat each of them differently.

Which city and country did you decide to teach English in and why?
I decided to teach English in Singapore. My husband and I put our CV's on the tefl.com job posting website. We were applying to various jobs around Europe and Asia when a company reached out to us to teach in Singapore. After the interview and job offer, we did some research into the company and Singapore itself. It was a no brainer. Singapore is an incredible place.
How long have you been in this country and how long do you plan to stay?
I taught in Singapore for a little over two years. My contract ended in February, and now I have just been traveling around a bit before looking for a new teaching position.
During which months does your school typically hire?
Year round, whenever a teacher ends a contract, which can be anytime.
Did you secure this position in advance of arriving?
Yes.
How did you interview for this position?
Skype/phone interview.
What kind of Visa did you enter on?
Work visa.
Please explain the visa process that you went through.
The visa process was very simple for me. All I needed to do was scan my degree and send it to my boss. Once I arrived in Singapore, I had to visit the Ministry of Manpower office as well as get a health check-up. Both were very easy to do. However, Singapore is getting stricter and stricter with their visas since I arrived. I believe it is the same process but is now much harder for companies to get them for foreign workers.
What are the qualifications that your school requires for teachers?
Bachelor's degree.
What is the best way to apply?
Apply online.
Tell us about your English-teaching job!
Hours: I worked five days a week from Wednesday to Sunday, so Monday and Tuesday were my days off. I had a maximum of 30 hours of teaching. Some teachers had Tuesday and Wednesday off or Wednesday and Thursday off. I would work 2PM-9PM on Wednesday, Thursday, and Friday. On Saturday and Sunday, I would work 8:45AM-6PM. Friday nights were very difficult because when I got home from work Friday night, I would have to go straight to bed to wake up early for work the next morning. However ending at 6PM on Sunday made it easy to travel because I could leave on Sunday night and come back Wednesday morning.
Salary: I was paid 4,300 SGD (~$3,250 USD) which is slightly lower than other similar companies in Singapore, but it was still plenty to travel and save. I could save about 500 SGD (~$300 USD) a month if I didn't go out regularly to nice restaurants and bars
School: This school was an after-school and weekend tuition center. Parents in Singapore spend a lot of money to get their kids ahead of other kids. It's a very competitive country academically. Singaporeans also already speak English, so it wasn't ESL teaching. It was teaching reading and writing skills. It's a classroom with a maximum of nine students, and the school offers two programs: The Reading Program and the Primary Program. The Reading Program is for young learners where you teach them phonics. The Primary Program helps students with their writing and test taking skills.
Students: The students were as young as two and a half and as old as 12 of various skill levels. Some students had a strong command in English and grammar while others could speak English but with a strong Singaporean Singlish dialect.
Vacation: Your first year you are given 15 vacation days, and on your second year you get 20. However, every three months there is a term break where the school is closed for a week. You can work during this time, or you can just owe the company back any extra days you took at the end of your contract. I never worked during the term break and the extra days I owed just came out of my bonus. You also get time off for public holidays and Chinese New Year.
How did you find somewhere to live and what is it like? Do you have roommates?
I lived with my husband in a small one bedroom apartment, but it was in a condo with a pool on the roof. Many people in Singapore live in condos that have amenities such as pools and gyms. Rent is expensive, however, so unless you share a room with a boyfriend/girlfriend or a wife/husband, your best option is to have roommates. It is also cheaper to rent a room in a public housing building called an HDB, but they do not have the same amenities as a condo.
Please explain the cultural aspects, public transportation, nightlife, social activities, food, expat community, dating scene, travel opportunities, etc...
Culture: Singapore is a fascinating island nation in Southeast Asia. The population is made up of Chinese, Malaysian, and Indian Singaporeans; therefore they use English as the common language between the three ethnic groups. Most Singaporeans speak English and their mother tongue and because of this, the English that they speak is a dialect called Singlish. Singlish takes words and phrases from Mandarin, Malay, and Tamil.
Food: Not only is Singapore diverse demographically, but also culturally. Going out and eating at a nice restaurant in the central business district can be very expensive.
However, you can also find hawker centers throughout the city that serve delicious local foods for as cheap as 3 SGD (~$2.20 USD) for a noodle bowl. A hawker center is essentially an open air food court. They are dispersed all over the city and provide "street food" in a hygienic environment.
Nightlife: Drinking in Singapore can be very, very expensive. However, there are also tons of great bars to go to and happy hours deals to discover. Clarke Quay is a major nightlife hub but you can even find great craft beer stalls in the hawker center in Chinatown. Again illustrating the diversity of Singapore.
Expat community: Because of the strange schedule I had of having Mondays and Tuesdays off, most of my friends were fellow teachers. We would always get together on the weekends though and gather at each other's homes. There is a large expat community there as well including people in finance and shipping.
Dating scene: I can't comment on the dating scene as I'm in a relationship, but the single friends I had would usually meet people over dating apps or through work.
Travel opportunities: Were not lacking at all. We would travel longer distances during our week-long term breaks and more local Southeast Asian destinations during our weekends.
Public transport: Fantastic. They are constantly expanding the metro (called MRT), and there are buses that can take you anywhere. Also cabs are incredibly affordable if you're feeling lazy or out late.
What are your monthly expenses?
Rent is expensive in Singapore. My husband and I paid 1900 SGD (~$1,430 USD) between us each month on rent plus utilities.
Food from grocery stores are fairly priced if it's local food , but imports like cheese were pricier. It's also hard to convince yourself to grocery shop and cook when you can spend 4 SGD (~$3 USD) on some tasty seafood soup from the hawker center across the road.
Social activities are more expensive if you like to go out to bars and clubs, but just having a picnic or visiting a park is a great way to save money. There are tons of beautiful public spaces that are free to visit around Singapore.
Transportation is cheap as well. To get to and from work each day (and I lived on the opposite side of Singapore from where I worked) would cost me 3 SGD (~$2.20 USD). This can be cheaper if you live closer to work. Cabs are inexpensive and easy to use as well.
Phone: I used a prepaid SIM card while I was there. I would spend 20 SGD (~$15 USD) a month for 3.2 GB of data.
Traveling can be cheap since the Singaporean dollar is a stronger currency. Sometimes leaving Singapore on the weekend to go to a place like Cambodia or Vietnam for the weekend would be just as much as staying in Singapore and going out drinking.
How would you describe your standard of living?
Standard of living is fantastic. Your pay allows you to have comfortable housing with plenty disposable income. It's hard to complain when your weekends are filled with drinks by your rooftop pool, soaking up the sun.
In your opinion, how much does someone need to earn in order to live comfortably?
The standard income as a tuition school teacher is plenty to live comfortably. There are many people in Singapore earning far more money, but I had enough that money was never a concern for me.

What advice would you give someone planning or considering teaching abroad? Would you recommend teaching in your country?
I would recommend to do plenty of research before deciding to go somewhere. It's more than accepting a job offer. It's accepting a city as your home. I would definitely recommend teaching English in Singapore. Life is pretty easy there.

International TEFL Academy graduate, Kelsey Ax, is 25 from Rockford, IL, with a BA in International Studies and German from the University of Illinois. She began teaching in Barcelona in 2014 for several months before moving to Singapore. She has been teaching there for over two years. Kelsey has been lucky enough to have visited over 40 countries and counting and loves sharing her insight and experience with fellow travel-lovers.
Want to Learn More About Teaching English Abroad & Online?
Request a free brochure or call 773-634-9900 to speak with an expert advisor about all aspects of TEFL certification and teaching English abroad or online, including the hiring process, salaries, visas, TEFL class options, job placement assistance and more.