diversity abroad
Arequipa, Peru English Teaching Q&A with Sari Atchue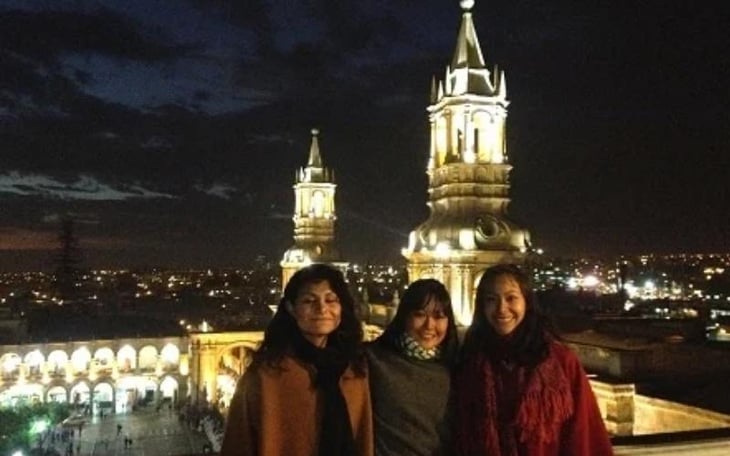 TELL US ABOUT YOURSELF
What is your citizenship?

United States

What city and state are you from?

Alexandria, VA

How old are you?

28

What is your education level and background?

Bachelor's Degree
Have you traveled abroad in the past?
Some international travel with friends, family, business, etc.

If you have traveled abroad in the past, where have you been?

Japan, Philippines, Canada, France, England, Panama, Mexico, Guatemala, Costa Rica, Armenia
If you have studied abroad in the past, where did you study?

Never studied abroad but was born and raised abroad

What sparked your interest in going to teach English abroad?

I worked in a corporate environment right after I graduated from college in 2009. After 5 years I became burned-out and disillusioned and knew I needed a change before it was "too late."
I had 2 main reasons for teaching English abroad: First, as I mentioned above, I needed a change and a challenge. Second, I knew I wanted to do something abroad and something altruistic. I was an ESL student myself in the Philippines and I wanted to use my experience to make students excited about learning English.

While I was still thinking about this, I started volunteering at a local organization as an ESL classroom assistant. This proved to be extremely valuable and prepared me a bit before I made the big move.

Making the final decision to quit my job and do this was both terrifying and exhilarating.

What were some of your concerns before teaching abroad?

Managing my finances sensibly, making new friends, finding a job after I got my certification.

What did your friends and family think about you moving and teaching abroad?

Everybody was supportive but parents being parents, they were worried about the overall reality of it, but they were with me every step of the way.
TEFL CLASS INFORMATION
Why did you decide to get TEFL certified and choose International TEFL Academy?

There was no question in my mind that I needed the TEFL certification. I had never taught before and knew nothing about teaching. I also thought it would be a sensible idea to have the certification even if some countries say it's not a requirement.
I chose International TEFL Academy based on reputation, cost, support system, and countries where classes were available.
Which TEFL certification course did you take?

Peru - Arequipa TEFL class

How did you like the course?

The course was amazing and I enjoyed every minute of it.

Our class was relatively small with 6 students, but it was a good number at the end. It was small enough to be manageable and have meaningful interaction with the instructor but big enough for classroom discussions and group work.

Our day was from 9 AM-3 PM with an hour lunch break. We had pedagogy from 9-11 AM, then grammar from 1-3 PM. We also had several mini-presentations to get everybody used to public speaking and incorporate methods learned throughout the course, classroom observation, independent teaching, and team teaching. Finally, we were required to write daily journals, observation reports, and self-evaluations for independent and team teaching. The final requirements were 2 final papers and a portfolio.

The practicums will make you pee in your pants but it is the BEST way to gain practical experience.

How has your TEFL training helped you in your current teaching position?

The course was invaluable and there was no way I could have effectively taught English in Peru without it. It provided me with a solid foundation of teaching methods and skills as well as enough grammar to last me a lifetime... and to understand and make grammar jokes.

Which city and country did you decide to teach English in and why?

Arequipa, Peru. I wanted to go to South America; it was not as overwhelming as the capital city, and the climate sounded perfect.

How long have you been teaching English in Peru and how long do you plan to stay?

I was in Arequipa for 5 months and Cusco for 1 month (earned certification, traveled in Cusco for a month, came back to AQP to work)
.
How did you secure your English teaching job?

The academic coordinator from the school where I earned the certificate e-mailed me while I was traveling in Cusco asking if I was interested.

What school, company, or program are you working for?

Extreme Learning Center

How did you get your work visa?

It is truly a miracle if you are working on a legitimate work visa. All of us worked on tourist visas - I was lucky enough to get 186 days but some teachers who got 90 days had to border hop to Chile. There were never any issues with tourist visas, we just had to state that we were "interns."

Tell us about your English teaching job!

-Work hours per week: Full-time teachers taught at least 3 two-hour classes. Many taught 3-hour children's classes every Saturday and/or private students, so without taking into account lesson planning and class prep, it ranged from 30-50 or more hours.

-Pay: We got paid S/12 an hour.

-Saving: I was able to save about 100-150 soles every month if I was careful. This varies greatly depending on your salary, rent, and your spending habits.

-Type of school and students: Language institute with students varying from adults, university students, adolescents, to children.

-Vacation time: I never took time off when I was there and most teachers didn't. We usually had 3-5 days off at the end of each month before the next session started, but some of those days would be taken up with grading, teacher's meeting, preparing for the next session, etc.

I give a detailed account of my first month of teaching on my blog if people are interested. The job was extremely challenging, sometimes rewarding, but always dynamic. There were students who genuinely wanted to learn and there were others who truly did not give a shit. It was difficult to balance being friendly and approachable with the authority figure of being a teacher. It took me a few months to truly get the hang of how to make the classes fun so the students don't die of boredom. It was trial and error but with each day I learned more and more.

That being said, my school was awesome. Very good rapport between teachers, generally good rapport with students, comfortable facilities with free tea and coffee with wifi and computers.


How did you find somewhere to live and what is it like?

I was very lucky in this regard. The girl who I took my certification class was fluent in Spanish so she helped me find an apartment using the (gasp) Classifieds section in the newspaper. She had already gotten a place for herself so she was familiar with the terminologies - this process would have been unfathomably more difficult without her help. She called the points of contact and asked for more information.

We didn't plan on living together but the first place we saw had opening for 2 rooms. Since it was in an amazing location (only 10-15 minutes to school by walking, beautiful, safe area) we decided to live there. In the end things turned sour because we had issues with the landlady but for S/450 the price was incredible, even though we didn't have a refrigerator or wifi (only ethernet). We didn't have a washer and dryer but that is more normal. It was a shared bath.

Other teachers lived with their significant other or with each other. Our rent was rare, most teachers paid from S/600-800.


COUNTRY INFORMATION - FUN!
Please explain the cultural aspects, public transportation, nightlife, social activities, food, expat community, dating scene, travel opportunities, etc...

-Cultural aspects: Compared to Lima and other metropolitan cities, Arequipa is more or less conservative (this just means that most people are religious, gay people don't flaunt themselves, and most men wear long pants). However, the people are generally helpful, nice, and Peru has an incredible history and Incan roots.

-Public transportation: You can walk, take local "buses" called combis, or take a taxi. The combis are everywhere and they're the cheapest but I never figured out the insane route system for each of the 200,000 billion buses in Arequipa in the time I was there. It can get PACKED during peak hours.

-Nightlife: There are tons of clubs and bars near the center. Obviously the clubs are more hoppin' on the weekends.

-Social activities: Hang out with friends, go to a bar, whitewater rafting, go-karting, paintball, gym, language exchange meetings, photography meetups, random concerts and events, day and weekend trips (Molino de Sabandia, Colca Canyon, Yura), etc.

-Food: AWESOME. Of course there are plenty of fancy, touristy restaurants but your best bet are "menu" places where you can get a starter (usually soup or salad), main course, and sometimes a drink for S/5-7. Tons of street food, I ate them often but never got sick. Lomo saltado, rocoto relleno, pastel de papas, adobo, saltenas, chifa, chicha morada, pollo broaster/a la brasa...the options are endless.

-Expat community: There is an active, helpful group on Facebook (https://www.facebook.com/groups/arequipaexpats/). I mostly just hung out with other teachers, though.

-Dating scene: Good, I think, although I didn't date anyone. In general I found Peruvians to be more expressive in terms of romance and love, which was nice to see.

-Travel opportunities: There are countless places to visit in Peru and thankfully Arequipa offers buses and flights to many of them, so you're good. My school partnered with an organization that helps underprivileged Quechua children in Chivay and we had the opportunity to travel there and teach English for a weekend.

-Overall, Arequipa was a good city for me. It is smaller than Lima but bigger than Cusco...in other words, best of both worlds. It still retains the colonial charm but has many amenities that big cities do.


COUNTRY INFORMATION - MONEY
What are your monthly expenses?

-Rent/utilities: S/450, which is on a very cheap end (crazy landlady, no fridge, no wifi - only ethernet, but very good location and big rooms)

-Food: S/150-200

-Social activities: S/20-40. This is dependent on each person.

-Transportation: minimal. Walking is prevalent and combis are so cheap that the costs are almost negligible. Taxis usually range from S/4-8 - it's cheap but can add up if you take it often.

-Phone/communication: S/5-10. I bought a cheap, prepaid phone for 60 soles. You can make significant number of calls and send a good number of texts with S/5-10.

-Travel: Did not travel while I was teaching. Bus is the cheapest way to travel, flights between cities are expensive.

How would you describe your standard of living?

Good, comfortable

In your opinion, how much does someone need to earn in order to live comfortably?

It all depends on your rent, but I would say 1200 soles.



ADVICE FOR PROSPECTIVE ENGLISH TEACHERS
What advice would you give someone planning or considering teaching abroad? Would you recommend teaching English in Peru?

You'll hate me for these generic blanket statements but they are true - embrace the change, be adaptable/flexible, and make the most out of it. In two words: enjoy it. By nature I'm a worrier who is realistic and objective, so I may have stressed out about lots of things but looking back, it was an incredible experience. It's almost impossible to give advice because every teaching position is different even in the same city.

Another cliche statement but make considerable effort to learn the culture and the language. Be observant.

I would absolutely, without hesitation recommend teaching in Arequipa. It's a beautiful city with lots to offer and plenty of employment opportunities.
Sari is from Virginia and took ITA's TEFL course in Arequipa, Peru. She was an ESL learner herself in the Philippines and wanted to experience what it would be like to be on the other side of the equation and teach English herself!
Want to Learn More About Teaching English Abroad & Online?
Request a free brochure or call 773-634-9900 to speak with an expert advisor about all aspects of TEFL certification and teaching English abroad or online, including the hiring process, salaries, visas, TEFL class options, job placement assistance and more.