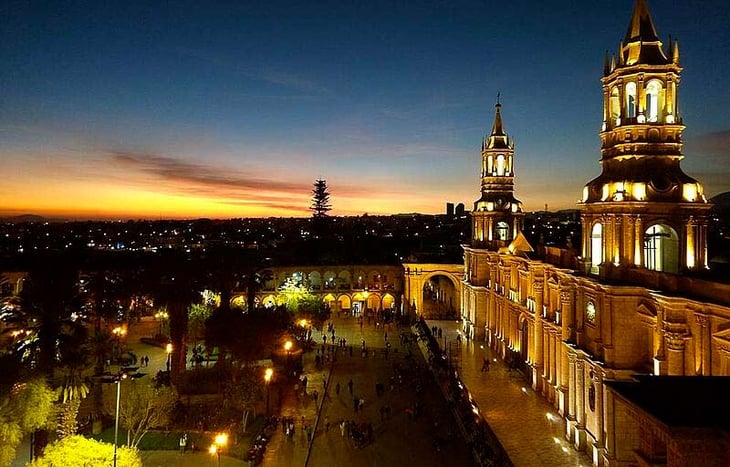 Teaching English Online from Arequipa, Peru: Q&A with Emily Hollister
What is your citizenship?
United States
What city and state are you from?
Charlotte, North Carolina, USA
How old are you?
38
What is your education level and background?
Bachelor's Degree
What sparked your interest in teaching English online?
Teaching English online was a way for me to be location independent and earn enough money to support myself and the lifestyle I wanted.
Why did you decide to get TEFL certified and choose International TEFL Academy?
I was familiar with TEFL from previous work I had done abroad and after speaking with a representative from ITA, I felt that any questions I had along the way could be answered and that their network of alumni would allow me to take this adventure and not be so alone.
Which TEFL certification course did you take?
I took the in-person TEFL course in Arequipa, Peru.
How did you like the course?
The course went above and beyond my expectations. It was probably the most challenging 4 weeks of my life. My instructors were not only passionate about EFL education but were also knowledgeable and experienced. I still lean on their expertise and regularly reach out to them for advice and guidance. In 4 weeks, I learned all of the things I had forgotten about the English language and honed my skills as a teacher so that I could go directly from student to instructor with confidence.
How has your TEFL training helped you in your current teaching position?
My TEFL training helped me understand different strategies that I am able to readily implement in my classroom given I teach a wide variety of levels and age groups.
What company do you teach English online with?
I currently teach English online with Whales English. I also currently teach local private students online in both a 1:1 format and in small groups of 2 and 3. I previously taught with Palfish and VIPKid.
What qualifications are required to teach English with Whales English?
Bachelor's Degree, TEFL Certification, Native English Speaker.
Please briefly explain the application/hiring process for Whales English:
With Whales English, I filled out a brief application and submitted my resume. I heard back with in 24 hours to schedule a mock class. My mock class was about 30 minutes and conducted over Zoom. During the mock class I presented about 10 minutes of material and then the interviewer had me rate my presentation in a few different areas and self evaluate on what I would do differently and what I thought I did really well. A few hours later I received an email that I had been hired. I submitted all my documents and took two 1 hour training classes and was teaching within 2 weeks.
Do you teach from home or abroad?
Abroad. I live in Arequipa, Peru.
If you teach online from a country that is known to have unreliable/slow internet, do you have a backup plan in place?
Internet in Peru is hit or miss. I have high speed wifi in my home, I have an ethernet connection that I can directly plug into. As a backup, I have a prepaid SIM card through a local cell phone provider where I can buy unlimited internet daily for $1.75 to use as a hotspot.

How long have you been teaching English online?
1 year.
How many hours on average a week do you teach online and what is your time commitment outside of teaching classes?
With Whales I am committed to teaching 18 hours per week per my contract. I spend about 30 minutes per week preparing and reviewing material.
How much money do you make teaching online with Whales English?
I am in a unique situation in that I have a contract as an on-call teacher with Whales. Per my contract I am available Tuesday-Sunday from 5 am-8 am CST as an on-call teacher. I then substitute for teachers who are on leave or fill in for teachers who cancel or call out sick last minute. I am guaranteed to make $15/hr for every hour I am on call regardless if I teach a class or not. For every class I teach I receive a bonus. The bonus is $5 for a 50 minute class and $2.50 for a 25 minute class. I tend to be quite busy with only about 3-5 slots a week not being filled. I on average earn about $1500/month. In addition, I receive a $5 bonus for any student who signs up after they do a trial class with me and then $100+ for teacher referrals.
Which age groups do you work with and what props/tools do you find most useful when teaching online?
I work with students aged 3-7. I have some very simple props such as a stuffed monkey and flash cards. Because of the on-call nature of my position I do not always have time to plan for a lesson or preview it, so props are not a huge part of my teaching.
How do you consider cultural differences when teaching online? Does this influence your teaching style?
I would say that age of the student has the greatest influence on my teaching style.
How does Whales English review your performance? Are there rewards for having great reviews?
Our company does review our classes and evaluates us based on KPIs. Your review is emailed to you with a final score. You are able to reach out to the evaluation team with questions or for further training and assistance if there are areas you would like to improve.
How has your ITA TEFL certification helped you with teaching online?
My TEFL certification has helped me understand second language acquisition and teaching modalities and how they assist in language acquisition. It has helped me understand how my students may be interpreting or receiving the information and how to adjust when and as needed.
What is your favorite thing about online teaching?
Teaching online does not feel like a job or work, first and foremost. I literally get to have fun for 3-hours a day. My next favorite thing about teaching online is the freedom it gives me to live and work from where I want. It also allows me to work half time and afford the lifestyle that best suits me.
Tell us about Arequipa, Peru!
In Arequipa there is a decent sized expat community of which most are English teachers at a local English school. We often have game nights, go on weekend adventures, etc. I have been dating a local Peruvian for about 6 months so I find myself spending more time with him and his friends when it comes to social activities.
On the weekends, it is not uncommon to hit a restaurant for dinner and then meet up at our favorite club for a live music show. In the Peruvian summer months we frequently spend weekends at the beach where we hit the beach during the day and then local discos for fun once the sunsets.
Arequipa is known to have the best food in Peru and I totally agree. In addition to local food there are restaurants and bars filled with your favorites from home and craft beer is making a big show here currently.
What are your monthly expenses (in $USD)?

Rent (including all utilities): $550 (this can be split - I have 3 bedrooms but currently live alone during the COVID-19 quarantine)
Groceries: $375 - when we are not under quarantine this is halved
Phone: $10
Travel Insurance: $37
VPN: $15
Gym membership: $20
Transportation: $20
Night out with dinner and drinks: $30
Bus to the beach: $15 round trip
Beer: $2.50
Mani/Pedi: $12
How would you describe your standard of living?
I have maintained a very similar standard of living to what I had in America. I definitely live on the nicer side of things.
In your opinion, how much does someone need to earn in Arequipa, Peru in order to live comfortably?
Depending on your standard of living you are going to want to earn anywhere between $700-1000 USD per month.

Would you recommend teaching English online to others? Why?
I would recommend teaching online because it can be the pivot many need to go from a job and life they dread to realizing the potential they have creating impact, getting paid, and designing a life around their values and vision.
In May 2019, Emily found herself burned out working 80 hours a week at her corporate job. Dreaming about days spent hopping around the globe, she bought a one-way ticket to Peru and enrolled in a TEFL program. During the 4 weeks of the TEFL class, Emily fell in love with Peru and has called Arequipa home ever since. Now, Emily spends her mornings teaching English online to kids across the globe in China and her afternoons teaching local private students. Emily has found the freedom that allows her to create the life of her dreams, wherever that may take her.
Want to Learn More About Teaching English Abroad?
Request a free brochure or call 773-634-9900 to speak with an expert advisor about all aspects of TEFL certification and teaching English abroad or online, including the hiring process, salaries, visas, TEFL class options, job placement assistance and more.