teach english online
Taipei, Taiwan English Teaching Q&A with Allen Bryson [Teaching English Online]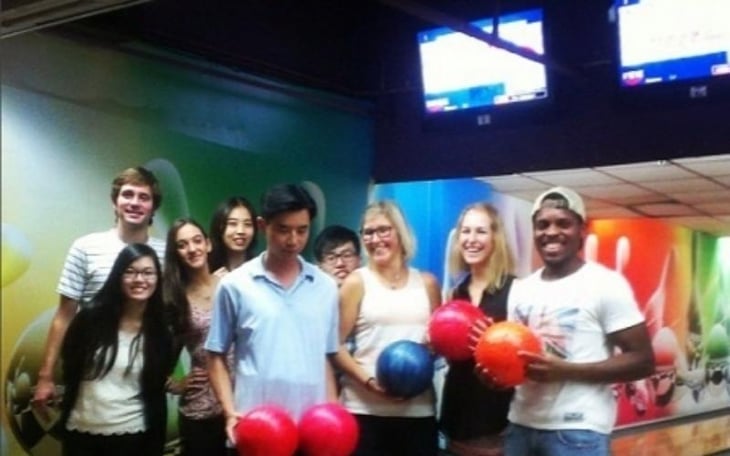 TELL US ABOUT YOURSELF
What is your citizenship?

United States

What city and state are you from?

Miami, Florida

How old are you?

24

What is your education level and background?

Bachelor's Degree
Have you traveled abroad in the past?
Studied abroad

If you have traveled abroad in the past, where have you been?
I traveled about during my last semester of college. I visited Hong Kong, Japan and Thailand.
If you have studied abroad in the past, where did you study?

I have studied abroad for six months in Hong Kong.

What sparked your interest in going to teach English abroad?

Honestly, I like to do two things: help people and travel. So what better way to do both than teach? During my six months living in Hong Kong, I got a really good chance to look at myself and how I view the world. I found out that there is so much that I haven't discovered yet. That's why I chose to teach abroad.

What were some of your concerns before teaching abroad?

Well, I wanted to be sure that I can do it and do it well. As a teacher, the students look up to you and trust what you say. I wanted to be sure I was saying the right thing.

What did your friends and family think about you moving and teaching abroad?

I do teach English abroad in China and Taiwan, I just do it virtually. The company I work for conducts lessons online, so my family didn't really have to worry so much about me moving.


TEFL CLASS INFORMATION
Why did you decide to get TEFL certified and choose International TEFL Academy?

To get TEFL-certified meant for me freedom to travel the world while being able to sustain myself financially. I chose International TEFL Academy because of the great reviews on goabroad.com. It's a website I use whenever I want to see what opportunities are available for those who want to go abroad. It's how I chose Hong Kong!

Which TEFL certification course did you take?

Online TEFL Course

How did you like the course?

I think the course was very elaborate. It discussed all aspects of teaching from identifying student learning types to different ways to engage your class. The course provided a lot of practical knowledge behind teaching also. Some of the most useful activities I found through the course include how to develop lesson plans and the practicum, which gave us real world experience with teaching.


How has your TEFL training helped you in your current teaching position?

My TEFL training helped me out a lot! The most useful thing I learned from the class was how to develop a lesson plan and keep it flexible. I have been teaching for less than a week now, but I already have gotten positive reviews about how the lesson is taught. The students like to be entertained and for the teacher to make the lesson fun. That's my main focus for my classes.

Which city and country did you decide to teach English in and why?

I chose to teach English in the country of Taiwan in the city of Taipei because I'm a big fan of Asian culture. I love how they live! Taiwan is one of the countries I have always been interested in and now I have a chance to teach there.
How long have you been in this country and how long do you plan to stay?

I actually still live in Miami; my classes are taught virtually, so it is convenient.

What school, company, or program are you working for?

The company I work for is iTutorGroup.

During which months does your school typically hire?

My company actually hires year-round.

Did you secure this position in advance of arriving?

Well since it is virtual learning, I didn't have to make any travel arrangements.

How did you interview for this position?

Skype/phone interview

What kind of Visa did you enter on?

Work visa

Please explain the visa process that you went through.

I teach online from the United States to Taiwan, so there wasn't a visa process for me.

What are the qualifications that your school requires for teachers? Please check all that apply

TEFL Certification

What is the best way to apply?

- Apply online
- Email
Please include any application resources (website, email, etc.) or other information here:

Apply here: http://recruit.tutorabc.com/program/applynow.asp

Tell us about your English teaching job!

HOURS: The job is completely flexible, and you choose all of your hours. I usually work 4-6 hours per day five days a week of my choice. The classes are booked on a 24 hour basis in the Taipei time zone. Example, if you want to work from 8 a.m. to 12 p.m., you would choose the hours of 0800 -1200 Taipei time.

PAY: The base pay for a class is $7.50 USD for a 45 minute session. There is also a chance for a cash bonus in each session you teach that could bring your total to over $30.00 USD based on how the students rate your teaching.

SAVINGS: Yes I am able to save roughly $400 a month once I pay all of the bills.

TYPE OF COMPANY: The type of company I work for is a virtual English tutor provider.

STUDENTS: Most of my students are business professionals. I have met so many engineers, designers and office workers with iTutorGroup.

VACATION TIME: It's great! Since I choose my schedule, I could easily take a week or two off during anytime of year. Even if I vacation in Italy, if I want to work, I just need internet.

How did you find somewhere to live and what is it like? Do you have roommates?

Well since I live in my hometown, I have family and friends that help me out in that department.

On a scale of 1 - 10 please rate your experience with this school. 8
COUNTRY INFORMATION - FUN!

Please explain the cultural aspects, public transportation, nightlife, social activities, food, expat community, dating scene, travel opportunities, etc...

Well most of what I can tell you about my personal experience with Taiwan is through my students since I am a virtual tutor and not a physical one. The Taiwanese people that I meet are quite great, very friendly. Most agree that Taiwan has great transportation because of it's small size.
COUNTRY INFORMATION - MONEY
What are your monthly expenses?

All prices are in USD.

Rent, electricity, internet and water:
$280

Food and restaurants:
$100

Transportation:
$50

Phone:
$25

How would you describe your standard of living?

My standard of living is quite nice. I have internet, a laptop, cable, and a washer and dryer in my home

In your opinion, how much does someone need to earn in order to live comfortably?

In Miami, I believe if a single person makes at least $2,000 monthly they can live quite comfortably.


ADVICE FOR PROSPECTIVE ENGLISH TEACHERS
What advice would you give someone planning or considering teaching abroad? Would you recommend teaching in your country?

My recommendation is to live life! Go for it! Make it happen! These experiences abroad feed your soul and your sense of reality. Become a global citizen my friend!
Allen Bryson is a 24-year-old living in Miami, Florida, USA. He graduated from the University of West Florida with a Bachelor's degree in Marketing and Sales Management. Allen received his TEFL certification from International TEFL Academy and hopes to continue seeing the world while teaching English online.
Want to Learn More About Teaching English Abroad & Online?
Request a free brochure or call 773-634-9900 to speak with an expert advisor about all aspects of TEFL certification and teaching English abroad or online, including the hiring process, salaries, visas, TEFL class options, job placement assistance and more.