Leon, Nicaragua English Teaching Q&A with Lanae King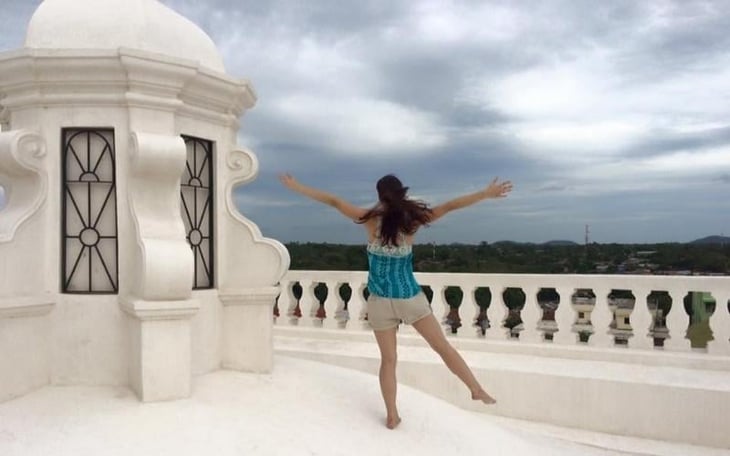 TELL US ABOUT YOURSELF
What is your citizenship?

United States

What city and state are you from?

Oceanside, CA

How old are you?

25

What is your education level and background?

Master's Degree or Higher
Have you traveled abroad in the past?
Some international travel with friends, family, business, etc.

If you have traveled abroad in the past, where have you been?

China, Kenya, Scotland, Amsterdam, Canada, Mexico, Guatemala, Nicaragua
What sparked your interest in going to teach English abroad?

I fell in love with Nicaragua and a Nica man. I was thinking about moving here and how I could support myself. I was a professor in the states, so I thought teaching English would be something I could easily do right away in a new country.

What were some of your concerns before teaching abroad?

Finding a job

What did your friends and family think about you moving and teaching abroad?

It ranged to supportive of the adventure to apprehensive about me living in a third world country.



TEFL CLASS INFORMATION
Why did you decide to get TEFL certified and choose International TEFL Academy?

It seemed that most places required or favored candidates with a TEFL. The International TEFL academy had a location in the city in Nicaragua I wanted to move to, so it seemed perfect. I preferred to do my training on the ground in the new country rather than in America because it seemed like it would be more useful.

Which TEFL certification course did you take?

Nicaragua - Leon

How did you like the course?

The course was very time-consuming. It was a lot of work having school all day, teaching or preparing to teach at nights, and then doing homework when you finally made it home. But I learned a lot about how to be successful at teaching English, so I'm glad I took the course.

How has your TEFL training helped you in your current teaching position?

My training gave me tools and techniques to use to help my students learn more effectively. It also helped me develop a stronger sense of lesson planning to more effectively program classes.

Which city and country did you decide to teach English in and why?

I chose to teach English in Nicaragua and have taught in Leon and Managua.

How long have you been in this country and how long do you plan to stay?

I've been here 5 months so far, and I plan to stay at least another year or two.

What school, company, or program are you working for?

Anglo American Academy

During which months does your school typically hire?

Year-round

Did you secure this position in advance of arriving?

No

How did you interview for this position?

Skype/Phone Interview

What kind of Visa did you enter on?
Tourist Visa

Please explain the visa process that you went through.

You pay $10 when entering the country, which is good for a 90 day tourist visa. You have to renew the visa every 90 days by visiting the office in Managua or leaving the country.



Tell us about your English teaching job!

Right now I work Saturdays for four hours every week. I make $7/hour. The school is a private elementary school that offers English classes to kids on the weekends. We have holidays off & a week off between sessions (every 2 months).

How did you find somewhere to live and what is it like? Do you have roommates?

I've relocated a few times since moving to Nicaragua. I first moved into a hostel/guest house type place until I could find a more permanent situation. Right now my boyfriend and I live in an apartment without roommates, but this is harder to find in Nicaragua. The more common options are renting a room in a house, or finding a house with roommates to split.



COUNTRY INFORMATION - FUN!
Please explain the cultural aspects, public transportation, nightlife, social activities, food, expat community, dating scene, travel opportunities, etc...

Cultural aspects: The culture is more conservative here. It is more relaxed in big cities with more tourists and foreigners, but you still will probably notice a few differences. Machismo is still very strong in Nicaragua, and feminist-leaning women might find is challenging adjusting to the constant cat-calling in the streets. Speaking Spanish is very helpful, although not necessary to teaching English. Culturally, the people tend to place a high value on family and sharing with others.

Public transportation: Everyone takes it here. Taxis are less than a dollar in Leon, old school buses run between cities for about the same, and if you're in a hurry you can take a microbus, which is more like a van fitting 15 people and only slightly more expensive.

Nightlife: Leon is a great city for nightlife, second only to Managua (but safer). You can go out to bars, go salsa dancing, catch a movie, play air hockey, smoke hookah, try a new restaurant, or sit and people watch in Parque Central. Outside of the city, activities are more limited.

Social Activities: All of the above, with friends! Plus house parties.

Food: Lots of rice and beans (gallo pinto). Usually paired with meat, vegetables, and tortillas. The selection of different types of food is more limited here compared to what I am used to back home, but there are a few restaurants that serve different styles of food when you need a break from the rice and beans!

Expat community: There is a strong expat community online, full of advice and help with finding housing, selling/buying, etc.

Dating scene: I met the man of my dreams my first trip to Nicaragua, volunteering at a nonprofit before I started teaching English. So I can't speak personally to the dating scene, but a few observations while living here: Extranjeros (non-Nicaraguans) tend to find people with Caucasian features attractive, and they are generally thought to be desirable dating partners because of their (stereotypical) higher standard of living. While this may not be fair or always accurate, it means that foreigners generally do well in the dating scene.

Travel opportunities: There are many beautiful places in Nicaragua to travel to. There are 17 volcanoes to visit, as well as beaches and lakes close by. Corn Islands is one of the cheapest Caribbean vacations you'll ever find ($160 round-trip flight from Managua and $10/night in a beach shack). The more mountainous country to the North such as Matagalpa and Esteli is beautiful. And you can easily take a bus to explore other countries in Central America if you have time to venture out.
COUNTRY INFORMATION - MONEY
What are your monthly expenses?

Rent/utilities: $150 USD
Food: $250 USD
Social Activities: $75 USD
Transportation: $20 USD
Phone: $15 USD
Travel: Depends on the month & the trip.

How would you describe your standard of living?

Budget-conscious

In your opinion, how much does someone need to earn in order to live comfortably?

About $700 USD/month


ADVICE FOR PROSPECTIVE ENGLISH TEACHERS
What advice would you give someone planning or considering teaching abroad? Would you recommend teaching English in Nicaragua?

Stepping outside of your comfort zone to teach and travel in another country is challenging at times, but one of the best things you'll ever do.


A native of Oceanside, CA, 25-year-old Lanae King had traveled to multiple countries on 4 continents, but she was deadset on teaching in Nicaragua when she enrolled in her ITA TEFL course.
Want to Learn More About Teaching English Abroad & Online?
Request a free brochure or call 773-634-9900 to speak with an expert advisor about all aspects of TEFL certification and teaching English abroad or online, including the hiring process, salaries, visas, TEFL class options, job placement assistance and more.