teach english online
Teaching English Online from the Netherlands: Q&A with Shannon Hutchins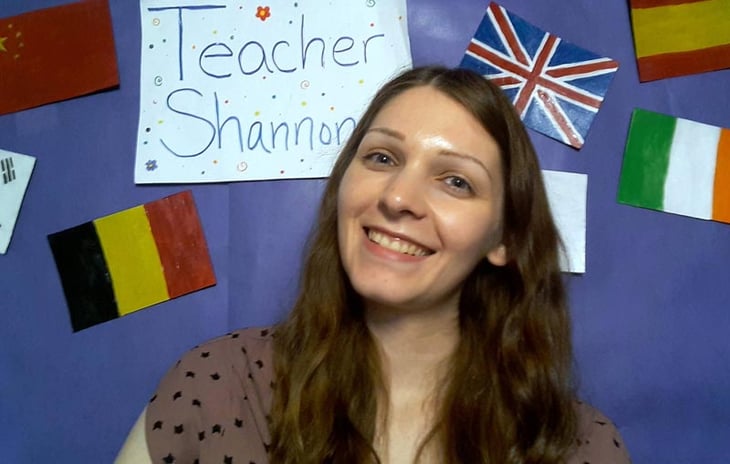 What is your citizenship?
USA
What city and state are you from?
Fredericksburg, Virginia, USA
How old are you?
26
What is your education level?
Master's Degree.
What sparked your interest in teaching English online?
Teaching English online offers greater flexibility and allows me to connect with students all over the world.
Why did you decide to get TEFL certified and choose International TEFL Academy?
Since I was a child, I always wanted to live in another country. During my last semester of my bachelor's degree, I had colleagues and friends that had previously taught English abroad. After doing some research, I found International TEFL Academy, which provided a wealth of information about pursuing a career teaching English abroad. After some emails and a few phone calls, I signed up for the Online TEFL Course and had plans to move to Spain.
Which TEFL certification course did you take?
I took the standard 11-week online TEFL course.
How did you like the course?
The online course allowed me to pursue my TEFL certification at my own pace, which was a huge deciding factor for my enrolment. I learned about lesson planning, classroom management, developing grading rubrics, and more through the online course. The support from the instructor and fellow classmates helped during those moments of self-doubt and second-guessing. The practicum was the perfect chance to use the newly learned skills in action. Without it, finding a job in another country would have been much more daunting.
How has your TEFL training helped you in your current teaching position?
The grammar guidebook is something that I still reference years later. My adult students are more likely to ask tough grammar questions, so being prepared is crucial to sounding professional. I also teach children, and the optional Young Learners course taught me valuable activities and classroom management skills to handle rambunctious children.
What company do you teach English online with?
In my three years of teaching abroad, I have taught with five different companies. I work primarily with Education First now. My position with EF is working with adults, they have a separate platform and application process for teaching children. In the past, I have also worked with DaDa, 51Talk, and MagicEars. Each company has its pros and cons, though I generally prefer teaching English online to adults.
What are the qualifications required to be hired through your school?
TEFL Certification

Native English Speaker

Teachers located outside the US/UK need a foreign bank account to receive their monthly payments.
Please briefly explain the application and hiring process for your school:
My application with EF included an up-to-date resume/CV, my university degrees, and my TEFL certification. I received an invite for a video interview with the company and was offered a teaching position after successfully completing it.
Do you teach English online from home or abroad?
I teach English online from abroad. Currently, I live in Rotterdam in the Netherlands. I have also taught online from Madrid, Spain, and Brussels, Belgium.
Is the internet reliable in the Netherlands?
I live in a big city in a developed European nation, so I do not require a backup plan for unreliable/slow internet.
How long have you been teaching online?
3 years.
How many hours on average a week do you teach online and what is your time commitment outside of teaching?
On a good week, I teach around 20 hours with EF. The class materials are provided unless the student has a custom topic request, which makes preparation time for lessons short. Each student requires a report of their performance after completion of the lesson. These usually take me an additional 7-15 minutes per class to write.
How much money do you make teaching online with your school?
Base pay for EF English teachers located outside of the US and UK centers is $10/hour. Teachers can qualify for supplemental fees ranging between $1-$3 depending on tenure, average monthly hours, student survey feedback, and teacher requested cancellations made. Bilingual teachers, of certain languages, have a higher base pay rate. These rates reflect those that teach adults with EF, not children.
Which age groups do you work with and what props/tools do you find most useful?
Over the years I have taught both adults and children. The age of my students has ranged from 3 years old to adults in their 60s. Teaching English online to children typically requires a lot of fun, colorful, and engaging props and rewards. For children, I recommend alphabet flashcards, a whiteboard, plush animals, etc. Teaching adults is a lot simpler and more straightforward. A plain, neutral background is preferred in place of a bright, diverse classroom setup.
How do you consider cultural differences when teaching online? Does this influence your teaching style?
With many online teaching companies, there is mention of cultural sensitivity in the onboarding materials. Certain topics are often blacklisted both for cultural sensitivity and age appropriateness. Politics, religion, sex, etc. are best avoided no matter the age or student nationality.
As a woman, there is more attention paid to the dress code. Companies often recommend shoulders and upper arms to be covered as some students come from more conservative cultures. In addition, some of my students prefer to have the lesson with their camera closed. The reasons can be personal, but also cultural. It took some time before I became comfortable teaching "to the void".
How does your school review your performance? Are there rewards for having great reviews?
My students rate my lessons with a 5-star system. It is not mandatory, but most students do rate, and occasionally leave personalized comments. These ratings are used when deciding if my contract will be renewed or supplemental fees given during the quarterly review.
How has your ITA TEFL certification helped you with teaching English online?
When I first started teaching English online, not every company required a TEFL certification. Because of the pandemic, an excess of remote English teachers, and a general evolving online market, most companies require a TEFL certificate to be considered for an independent contractor position now. Without my certification with ITA, I would have had a difficult time landing an online English teaching position.
What is your favorite thing about teaching online?
Being a remote English teacher provides me with the flexibility not afforded to many. Given my international moves over the past few years, it has made keeping my work contract and clients incredibly easy. Additionally, teaching English online has connected me with over 1,000 students online all over the world. Working in a physical language school would not have the same exposure and variety that I currently enjoy teaching online.
Would you recommend teaching English online?
Remote work is a great way to get started with teaching English, especially if you want to teach abroad. When I first moved to another country, it took me several months to find clients locally. I spent a lot of my savings to support myself, and teaching English online would have been an effective "back-up" with my transition to a new country and job market. Some companies work with students primarily in one or two times zones. My current company works with students around the world, which ensures that I always have classes booked that correlate with peak time zones in other regions.
Please share with us some details about living in Rotterdam, Netherlands:
Despite its small size, the Netherlands has a lot to offer for those looking to come here. Amidst the tall Dutch natives are plenty of internationals that moved for job opportunities, education, or even love. The high level of English spoken by Dutch nationals makes it an easy country to get around in, even if you don't speak the language. Big cities like Amsterdam, Rotterdam, and the Hague are full of internationals and locals living side by side. Speaking Dutch is definitely an advantage in the competitive job market though.
I moved to the Netherlands in between national lockdowns, so my version of the country is very different from those that lived here pre-pandemic. Many festivals, concerts, events, etc. have been canceled because of the pandemic. Europe even canceled its famed Eurovision convert in 2020, but return to Rotterdam in May 2021, without a live audience. Friends that lived here before the first lockdown in March 2020 say that the Netherlands has great entertainment for a young audience.
If you are with a Dutch group, they are notorious for splitting the bill at a café, restaurant, or bar. "Tikkie" is the most commonly used app to request and send money invoices. Internationals often use it as well, as it can be effective and simple to use. This makes splitting the cost of social activities easier in a group. Transportation & Travel
The Netherlands is a small and well-connected country, especially in the North and South Holland regions. Trains, buses, trams, and metros make traveling easy and convenient inside and between the cities. All public transportation in the Netherlands is through the OV-chipkaart. This reloadable card is used by all domestic transport systems. This makes day trips to other cities easy to manage as every city uses the same transport card. Rail passes are also uploaded to the OV-chipkaart.
If you really want to fit in, cycling is the best mode of transportation. There is no shortage of bikes in this country, as they outnumber residents! Finding the right bike option is easy once you decide on your needs, budget, and usage. Having your bike stolen is a right of passage in this country, so use your lock(s) and consider buying a cheaper bike. Monthly or daily bike rentals are also a common and great way to ease into the cycling culture when you first arrive. For those unsure about cycling, the Netherlands has a fantastic and well-maintained cycling infrastructure. Cycle lanes separate from automobile traffic are seen throughout the country.
Dutch food is unique. For the adventurous eaters, there is maatjesharing. This pickled herring snack is often served with raw onion and eaten by holding it by the tail above your mouth with your head held back. Not a fan of fish? Bitterballen is another meat option. These fried balls of meat are popular snacks at bars. If you prefer a plant-based diet, then the Netherlands is the place for you! Vegetarian options are standard in restaurants and at bars, while veggie burgers, bacon, sausages, schnitzel, bitterballen, etc. are affordable and well-stocked in Dutch supermarkets.
For those with a sweet tooth, the Dutch cuisine doesn't disappoint. Stroopwafels are available at supermarkets, and fresh ones are often seen at outdoor markets. These sweet, caramel filled waffles can be served plain or with extra sweet toppings. Poffertjes are another Dutch treat common at markets. Best described as small pancakes, they're usually served with butter and powdered sugar.
The Netherlands celebrates both Sinterklaas and Christmas in December. Stands with festive sweet treats pop up leading up to and after the holidays. Oliebollen are traditional beignets, or fried balls of dough served with powdered sugar during the holidays.

What are your monthly expenses?
Rent: The cost of living in the Netherlands is expensive. Flats in Amsterdam, Utrecht, the Hague, and Rotterdam are often costly and competitive to find. My room in a shared flat in Rotterdam costs about 500 euros with utilities ($600), though that cheap price is not standard. A studio or one-bedroom flat will start at around 1,000 euros ($1,200). Amsterdam is the most expensive city, while the others offer marginally cheaper accommodations.
Food: Pricing varies. Dutch supermarkets can be quite expensive, while cheaper, often German, supermarket chains offer cost-effective alternatives. Local markets offer fresh produce, meat, fish, cheese, and flowers at a mid-range price. I spend between 100-120 euros ($120-$145) a month on food expenses.
Social Activities: Unfortunately, much of my time in the Netherlands has been during a pandemic-induced lockdown. With the reopening of the hospitality sector, I like to budget at least 50 euros ($60) a month.
Transportation & Travel: Public transportation in the Netherlands also errs on the side of expensive. Trams, buses, metros, and trains add up in a month. For transportation within my city, Rotterdam, I typically only pay 20 euros ($24) per month for my rented bike. Cycling is a great way to save money and embrace the Dutch culture. Intercity transportation does add to my overall transportation costs. Luckily, I am a frequent traveler, and I pay 5 euros ($6) a month to get 40% off all rail tickets outside of peak commuting hours. My monthly intercity transportation costs are around 30 euros ($36). With such a connected rail line, it is easy to explore the country by train.
Healthcare: Healthcare is another expense in the Netherlands prospective residents should consider. Monthly costs for health insurance average between 80-120 euros ($97-$145). Fortunately, the Dutch government offers a monthly health insurance allowance (zorgtoeslag) for those that qualify. Monthly salary is the main indicator of eligibility. With the subsidy, I have about 100 euros ($120) of the cost covered. I pay the insurance companies upfront each month and am reimbursed later in the month.
Phone: To save money, I opt for a cheap monthly top-up sim card for my phone. For 10 euros ($12) I get several gigs of data and over 100 minutes of phone calls. Big cities in the Netherlands often have free wifi on public transportation and at train stations.
How would you describe your standard of living?
The Netherlands is a highly developed country, and the standard of living reflects that. Unlike my previous residencies in Spain and Belgium, I have a little less money to spend on the extra stuff. It is better to enter this small pricey country with healthy savings in case of emergencies. Despite the expensive nature of the country, it is a safe nation with many high-quality amenities. My standard of living is on par with the average in Western Europe.
In your opinion, how much does someone need to earn in order to live comfortably?
Minimum income depends greatly on the preferred living situation of a person. For one room in a shared apartment in Rotterdam, one would need to make a minimum of 900 euros ($1,094) a month. To live a more comfortable life with more financial stability, monthly earnings should be no less than 1,000 euros ($1,200). Those that want to live alone, or in more expensive cities, should budget at least 1,800 euros ($2,190).
An American born and raised, Shannon has lived a nomadic life after living abroad for three years. Shannon's international moves have included Spain, Belgium, and now the Netherlands. After moving each year, she hopes to call the small Dutch nation her next long-term home. Shannon's passion for communications and connecting with others, particularly internationals, makes teaching an ideal profession. When she is not teaching, she enjoys learning languages, reading, writing, and painting.
Want to Learn More About Teaching English Abroad & Online?
Request a free brochure or call 773-634-9900 to speak with an expert advisor about all aspects of TEFL certification and teaching English abroad or online, including the hiring process, salaries, visas, TEFL class options, job placement assistance and more.