diversity abroad
Teaching English in Oujda, Morocco: Alumni Q&A with Latisha Springer
What is your citizenship?
United States
What city and state are you from?
Atlanta, Georgia
Where are you teaching English abroad?
I teach English in Morocco.
How old are you?
39
What is your education level and background?
Master's degree or Higher
Have you traveled abroad in the past?
Some international travel with friends, family, business, etc.

If you have traveled abroad in the past, where have you been?
Chile, Argentina, Germany, Greece, Turkey, Amsterdam, Belgium, Spain, Egypt, and Tunisia.
What sparked your interest in going to teach English abroad?
I'd made the decision to fire my long-time corporate employer and spend time focused on truly LIVING & exploring the world. I was looking for a way to make an impact in the countries I intended to explore. It was important to me to give something to the places that I expected would give so much to me. I'm an American, but moved to Germany as an infant where I spent the first 7 years of my life before returning to the States. Consequently, the importance and associated challenges of learning English are very personal for me. Teaching English while traveling abroad was a natural fit.
What were some of your concerns before teaching abroad?
Initially, I was concerned with teaching using a structured curriculum and securing a teaching job abroad. I'd volunteered as an ESL Tutor in the past, but this was a very informal setting and my professional background consisted entirely of business roles - no formal teaching.
What did your friends and family think about you moving and teaching abroad?
Within a two week time period, I completed my MBA with honors, quit my "good job", turned down multiple six figure job offers, and bought one-way plane tickets for me & my teenage daughter. When I announced my decision to move abroad, nearly everyone I know thought that I was CRAZY & making a terribly irresponsible decision...but it didn't matter. I blocked out their projected fears and negativity and focused on my vision for my life.
Why did you decide to get TEFL certified and choose International TEFL Academy?
I decided to get TEFL certified after doing research about teaching abroad & learning that while my higher education degrees are viewed favorably in the international job market, most ESL jobs still required that candidates be certified & preferably have teaching experience. I had neither, so I chose International TEFL Academy for TEFL certification because, while they were more expensive than some other programs I found, it was evident from the website & my interactions with the Admissions team that there would be a great return on this investment. The other programs lacked structure, flexibility in learning platforms, and resources (before, during, and after certification). I was attracted to ITA's experience, established systems, and extreme professionalism.
Which TEFL certification course did you take?
Online TEFL Course
How did you like the course?
I thoroughly enjoyed the online course. I worked a full-time job, so the flexibility of the course allowed me to achieve my goal of getting TEFL certified while maintaining employment to financially prepare for my departure. The instructor was available when necessary, but gave you room to just do the work at your pace. The tasks were surprisingly challenging, but do-able. I really liked that ITA required a practicum. Not only did it allow me to practice what I'd been learning in theory, but it also gave me an edge in the job market against other new teachers who had absolutely no practical classroom experience.
How has your TEFL training helped you in your current teaching position?
My TEFL training helped me to be prepared for the type of material I'd have to teach. Speaking English as a native does not make TEACHING English easy. As speakers, we don't learn or retain the grammar, sentence structure, etc. at the depths that we're required to teach it. My coursework exposed me to this reality. The practicum is the part of the course that I found to be most helpful because it was extremely practical & experiential. It affirmed for me that I would enjoy this new role as much as I thought I would.

Which city and country did you decide to teach English in and why?
I decided to teach English in Morocco in the city of Oujda. Once I decided that I wanted to teach English in Morocco, I researched language schools & sought out the largest & most respected. I discovered the American Language Center (ALC) & learned that they had 12 locations throughout Morocco. I emailed the Directors in the cities that I was interested in residing & conducted phone interviews over a two day period while based in Marrakesh, Morocco. My last interview on the 2nd day, was with the Director of the Oujda location. We got along extremely well & ended up talking on the phone for nearly three hours. By the end of the call, he'd offered me a position & I'd accepted. My decision to teach in Oujda was based on my instant connection with the Director and the fact that I'd never heard of Oujda, Morocco. This would be an adventure!
How long have you been in this country and how long do you plan to stay?
I arrived in Marrakesh, Morocco, & planned to stay for one month exploring the culture & architectural details I'd dreamt about before going on to explore the rest of Africa. Two weeks into our Moroccan adventure, my daughter & I decided we liked it enough to stay for awhile. I ended up staying in Morocco for a total of 9 months & it was extremely difficult to leave when it was time.
What school, company, or program are you working for?
American Language Center - Oujda.
During which months does your school typically hire?
Year-round.
Did you secure this position in advance of arriving?
No.
How did you interview for this position?
Skype/Phone Interview.
What kind of Visa did you enter on?
Tourist visa.
Please explain the visa process that you went through.
I lived in Morocco for 9 months on a tourist visa. In Morocco, you can stay in the country for 90 days on a tourist visa. I planned border crossing trips around my 90 day visa expiration in order to renew my tourist visa. Currently, there is no limit as to how many times you can renew your tourist visa in Morocco. Every time I left the country and returned, border control always welcomed me. It was never an issue. Thanks to my visa runs, I got to explore Tunisia, Egypt, and Melilla, Spain (1 of 2 Spanish territory cities WITHIN the country of Morocco - what an experience!).
[Note: American Language Center does offer assistance with acquiring a work visa if you prefer a more permanent visa situation.]

What are the qualifications that your school requires for teachers? Please check all that apply
- TEFL Certification
- Native English speaker
What is the best way to apply?
Email. I recommend emailing the Directors directly or applying in-person if you can.
Tell us about your English teaching job!
I worked approximately 25 hours in class per week at a language school that ranged from children ages 7 to Adult Learners. I taught two classes for teenagers, adult learners (Beginning to Advanced), and Business English. Classes are usually in the late afternoon/evening - leaving the mornings free for personal time & planning.
Students are SUPER bright & incredibly eager to learn. This is very much reflective of Moroccan culture & can be experienced outside of the classroom as well.
I was paid monthly and earned enough to comfortably pay all of my living expenses, splurge a little, and save at least $100/month.
Teachers got approximately 2 weeks off between school sessions for vacation (approximately every 3 months). ALC encourages participation & development of clubs & activities for students outside of the classroom. This is an opportunity for teachers to earn additional money. Of course, there's also the option to offer private lessons for additional earnings.
It's very inexpensive to live in Morocco in comparison to the USA. Currently, you get approximately 10 Moroccan dirham (DH) to every $1 USD. You can get a good meal at a restaurant in Oujda for well under 50 DH ($5 USD). The larger Moroccan cities are more expensive, but still in comparison to the States - minimal in cost of living.
How did you find somewhere to live and what is it like? Do you have roommates?
ALC Oujda provided a semi-furnished apartment for me in the downtown city center. This building is where most of the other American teachers lived as well (there were 6 of us) and the Director who is also American. It was an old building, but had an AWESOME location. I could see the Algerian Mountains from my bedroom window & walk less than 5 minutes to everything I needed. It was also walking distance to the ONCF train station & CTM bus station for my trips exploring Morocco. None of the teachers had roommates (unless they chose to). You get your own apartment & a housing stipend from ALC. After the monthly stipend, I was responsible for $100 USD per month for rent. This is expensive by Oujdi standards, but I loved my apartment, so I didn't seek cheaper accommodations though they are available. My apartment was 2 bedrooms, 2 bath (1 American toilet room & 1 traditional squat hole toilet room) with a large living room and kitchen and little outdoor patio where my washing machine was stored. I paid approximately $20 USD for water, $30 USD for electricity, and $10 USD for wireless internet per month.
Please explain the cultural aspects, public transportation, nightlife, social activities, food, expat community, dating scene, travel opportunities, etc...

Cultural aspects: Morocco is complicated...a mess of contradictions. It's on the continent of Africa, but considered a part of the Middle East. It's highly religious and conservative, but has a large market of prostitution and drugs. It's been colonized many times and traces of these countries can be found throughout the culture. I found these complicated layers intriguing. I just never knew what was going to happen in Morocco and things were rarely as they appeared to be.
The people of Morocco are incredibly smart, curious, kind, and generous. I was always the dumbest person in the room. Everyone has multiple degrees and speaks at least 3 languages. I never met a stranger in Morocco. Of course, there are shifty people everywhere, but for the most part, people were sincere in their desire to help & get to know me. Strangers went above & beyond to make sure that I felt comfortable & welcomed in their country.
Travel opportunities: Morocco is well-suited for exploring North Africa and the rest of the continent because of its prime location & infrastructure.
Expat community: I didn't experience a city in Morocco that didn't have an expat community. While there are few Americans, there are plenty of French people & a some Canadians. In larger cities like Casablanca, Rabat, and Marrakesh, you'll find the largest expat populations. Personally, I wanted to live in a city that didn't have a lot of foreigners for a true local experience.
Nightlife: The larger cities have more of a nightlife scene if that's what you're into. Casablanca & Marrakesh have nightclubs & concerts and such happening all of the time.
Dating scene: I can't speak to dating in Morocco in great length because I didn't get into that, but can assure you that if you want to date, there will not be a shortage of willing participants.
What are your monthly expenses?
HOUSING: My rent (after teacher stipend) was $100 USD per month. I paid approximately $20 USD for water, $30 USD for electricity, and $10 USD for wireless internet per month.
TRANSPORTATION: You can walk to most places, but taxis are readily available & you can ride for less than $1 USD. There's also a city bus system that's less than $0.50, but I rarely used the bus because it's extremely crowded, poorly marked so it's difficult to figure out the schedule, and they always run late.
COMMUNICATION: I brought an unlocked iPhone with me abroad & buy SIM cards everywhere I go. You can get a Moroccan SIM card for under $4 USD (I recommend Orange) and approximately 2 weeks of phone service for approximately $5 USD.
TRAVEL: Morocco is a very well-connected country. You can, and should, travel throughout the country by plane, train, bus, and car. Oujda has an airport (it's the capital of the Oriental region, so it's the largest city on the eastern coast). CTM is the largest long haul bus provider & is very easy to use. Taking the bus through the country can be done for under $40 USD. The ONCF train is also a great option & minimal cost. Both CTM & ONCF have websites you can use to price tickets, but I wouldn't rely on the published schedules to plan a trip. This info is usually wrong.
FOOD: Moroccan food is DE-LI-CIOUS, healthy, and super cheap. Most stuff is made fresh each day. You can eat a big meal in Oujda for under $4 USD. I did most of my shopping downtown at smaller, locally owned spots, but there are European chain stores in Oujda as well where you can get just about everything you can find in an American chain (though they're often more expensive than the local shops).

SOCIAL ACTIVITIES: There isn't a whole lot of social activities happening in Oujda. It's a more family/traditional city. You end up having fun & socializing with individuals & families rather than large, organized events. Most of the activities in the city are organized by ALC and/or the U.S. Embassy American Corner.
How would you describe your standard of living?
I lived like a queen in Morocco & was treated like a celebrity. There were little issues occasionally that had me missing my American life, but those were few & far between.
In your opinion, how much does someone need to earn in order to live comfortably?
To live comfortably in Oujda, I recommend earning at least 5,000 DH ($500 USD) per month.

What advice would you give someone planning or considering teaching abroad? Would you recommend teaching in your country?
If you're planning to teach abroad, my best advice is JUST GO. Of course, it's great to have a little bit of savings before you depart, but you can't beat being on the ground in the city you want to live. You'll meet people that can help you connect with the right people, get to interview in-person, and feel out the city before committing to a teaching term.

I highly recommend teaching English in Morocco. The people are AMAZING, the country is rich with history & beauty, the food is outstanding, and the experience will be unforgettable!



At the age of 39, Latisha Springer completed her MBA with honors, quit her "good job", turned down multiple six-figure job offers, and bought a one-way plane ticket to teach English in Oujda, Morocco, for her and her teenage daughter.
Want to Learn More About Teaching English Abroad & Online?
Request a free brochure or call 773-634-9900 to speak with an expert advisor about all aspects of TEFL certification and teaching English abroad or online, including the hiring process, salaries, visas, TEFL class options, job placement assistance and more.
"The Middle East is a very fascinating and unfortunately an extremely misunderstood area by so many. In a lot of ways, it's an extremely easy place to adjust to, Western luxuries are quite accessible and almost everything is in English and Arabic."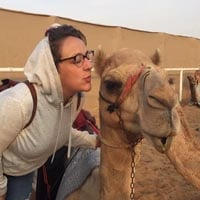 - Katie Ayers
Teaches English in the UAE