Teaching English in Ulsan, South Korea: Q&A with Elizabeth Nelson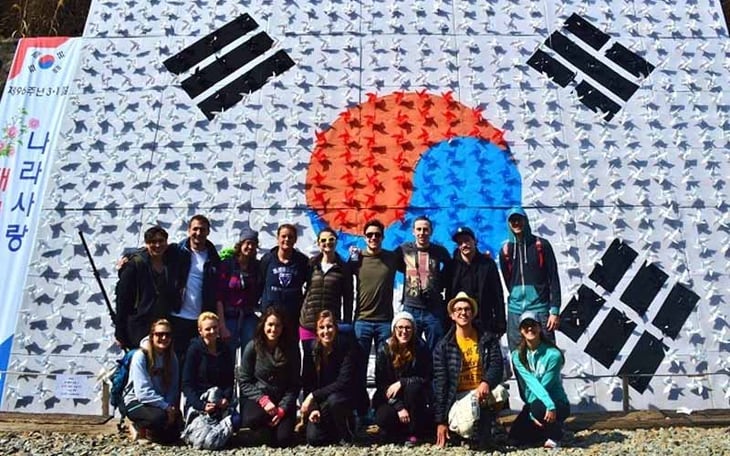 What is your citizenship?
United States
What city and state are you from?
Overland Park, KS
How old are you?
24
What is your education level and background?
Bachelor's degree
Have you traveled abroad in the past?
Studied abroad

If you have traveled abroad in the past, where have you been?
Denmark, Scotland, England, Mexico, Canada, Netherlands, Germany, Czech Republic, Japan, Thailand, Taiwan, and South Korea.
If you have studied abroad in the past, where did you study?
Copenhagen, Denmark
What sparked your interest in going to teach English abroad?
As my senior year of university was finishing, I was looking into opportunities that allowed me to work and travel and save some money for my return to graduate school. Going to a career position didn't appeal to me, but traveling without income seems obtuse to my penny-pincher tendencies.
A friend of mine had used ITA to go teach in South Korea, hooking me into the idea of saving GOOD money, with a clear completion date to return to university studies.
What were some of your concerns before teaching abroad?
At first, I was afraid that a year commitment to a contract in Korea was too long. Loneliness and lack of connection were big concerns, and if my work situation wasn't great, those feelings would only grow stronger.
However, my year contract flew by, and I eagerly resigned for another year with my hagwon. I have an incredible support system of Korean and expat friends and have gone on countless adventures with them.
What did your friends and family think about you moving and teaching abroad?
My parents were a bit apprehensive. Between the worries of North Korea and just the idea of a year long unknown-job made them sweat a bit. ITA's Job Guidance manual really helped ease these worries, as well as sharing my plans and discovering how many other people they knew had done the same and loved their experience.
My friends were full of questions, but liked the idea of an excuse to visit.

Why did you decide to get TEFL certified and choose International TEFL Academy?
I wanted to get my TEFL certification to show I am competitively educated for the teaching market. ITA made my training effortless and was helpful every step of the way.
How has your TEFL training helped you in your current teaching position?
In my hagwon (private language academy that employs TEFL certified English teachers), I teach students from kindergarten to upper-middle school. Knowing how to engage all these different age levels is critical to success in the classroom. My TEFL training gave me the knowledge, materials, and hands-on practice to create an enjoyable classroom experience for any student that walks in my room.

Which city and country did you decide to teach English in and why?
I chose to teach English in Ulsan, South Korea. Choosing South Korea meant committing to an opportunity to save money and immerse myself in a new culture. Choosing Ulsan meant having the amenities of a large city without the congestion of Seoul. It also meant that this Kansas native was able to live a 10 minute walk to the beach (a big plus, I assure you).
How long have you been in this country and how long do you plan to stay?
I just finished my first contract, and plan to depart after my second.
During which months does your school typically hire?
May and November semesters.
Did you secure this position in advance of arriving?
Yes.
How did you interview for this position?
Skype/phone interview.
What kind of visa did you enter on?
Work visa
Please explain the visa process that you went through.
I acquired my E2 visa using the visa process outlined to me through my recruiter, which I found through ITA's job search resources.
What are the qualifications that your school requires for teachers? Please check all that apply
- Bachelor's degree
- TEFL Certification
- Native English speaker
What is the best way to apply?
Recruiter.
Tell us about your English teaching job!
I am in the classroom 4 or 5 hours M-F, usually prepping for class an hour before the beginning of the day. I am typically at work 2:30-8:30 I am paid 2.4 million won monthly ($2250 USD). From this, I save about 1.1 million won ($1035 USD) each month, living VERY comfortably. I travel and eat out often. I am at hagwon teaching kindergarten through middle school. I am given 9 set holidays, as well as all national holidays.
How did you find somewhere to live and what is it like? Do you have roommates?
My school arranged my housing, and its very comfortable. I live in a studio alone; however, some of my more senior coworkers have spacious 1 bedrooms. I live near all of my foreign coworkers, so social outings are very easy.
Please explain the cultural aspects, public transportation, nightlife, social activities, food, expat community, dating scene, travel opportunities, etc...
Living in Korea has been fascinating. I feel like I am always learning. There are many opportunities to study the language, and locals are very helpful when teaching new words or phrase. Even still, it's not too hard to get around without any Korean knowledge.
Many cities in Korea have great buses, trains, and subways. I can get around with ease for weekends or long holidays.
Korea is surely a late night culture. Many restaurants and stores are open well past midnight, and clubs and bars can be found in every city.
Koreans love their coffee. I found it so comforting to know my favorite hobby back home is easy to do here. It's common to spend an afternoon with friends gabbing with a cup of joe. But be warned - decaf is hard to come by.
Korean food is killer. Banchan banchan banchan. Every meal has bottomless side dishes. It's impossible to leave a Korean restaurant hungry. Even if you don't feel up to Korean food, I have never found it hard to find my hometown favorites.
My city has a tight knit, supportive expat community. I was in touch with people through Facebook even before landing in the country. Ulsan Online has been my lifeblood.
I don't have the greatest insight into dating culture because I landed a pretty serious relationship here only a month after arrival! We met at a language exchange, and have been pretty inseparable ever since. He's Korean and our culture clashes are more fun than frustrating.
Traveling domestically is effortless for a weekend. Going international is pretty easy, too! With Japan and China a short hop away, booking flights doesn't ding your wallet and you're back in a flash. Korea has two international airports, one on each side of the tiny country so getting there to go elsewhere isn't too hard. I travel somewhere new almost every time I have 3+ days off!
What are your monthly expenses?
The current exchange rate is about $1 USD for 1,200 won
Each month, my boss deducts around 60,000 won ($55USD) for water, internet, electric and so. Instead of a phone plan, I pay for a mobile wifi device. It's only 10,000 a month for 10GB ($9.50 USD)! Produce groceries are more expensive than in the USA but most other foods are comparable.
Going out for a meal can cost anywhere from 6,000 to 15,000 ($5 - $15 USD). A cheap beer is about 4,000 ($3.75 USD) in a bar with cocktails or imported stuff ranging around 9,000 ($8 USD).
A taxi is cheap, averaging about 1,000 won (95 cents USD) for each minute you're in the vehicle. My bus system is also cheap, with a one way ticket costing 1,400 ($1.30 USD).
How would you describe your standard of living?
I live more comfortably than I ever have. I saved every penny I could to finish my undergraduate debt free. Now I have a steady income to enjoy this experience. I am able to save just under half my paycheck each month while going to the cafe almost daily, eating out twice or so a week, and traveling at least once a month (domestically or internationally).
In your opinion, how much does someone need to earn in order to live comfortably?
I could earn a lot less and still live comfortably. Excluding savings, you should earn at least 1.5 million ($1400 USD) to live comfortably paycheck-to-paycheck. However, if a school is offering you something this low, you should NOT take it anyway.

What advice would you give someone planning or considering teaching abroad? Would you recommend teaching English in Ulsan?
Always always ask to speak to a current teacher. They will have great insight for your exact situation. Korea is a wonderful and unique country. Coming here has been unforgettable in the best sense of the word.


As Elizabeth's senior year of university was coming to an end, she started looking into opportunities that allowed her to work, travel, and save money so she could apply for graduate school upon her return home. As luck would have it, a friend of Elizabeth's had taken ITA's TEFL Course and was teaching English in South Korea - she was hooked on the idea of making great money teaching English in South Korea with a clear completion date on when she'd return to the USA, so off to Ulsan, she went!
Want to Learn More About Teaching English Abroad & Online?
Request a free brochure or call 773-634-9900 to speak with an expert advisor about all aspects of TEFL certification and teaching English abroad or online, including the hiring process, salaries, visas, TEFL class options, job placement assistance and more.