Odate, Japan English Teaching Q and A with Carey Bibb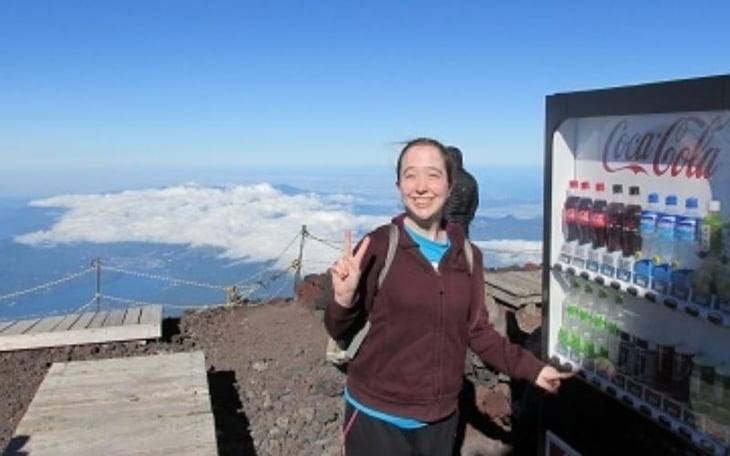 TELL US ABOUT YOURSELF
What is your citizenship?

United States

What city and state are you from?

Port Republic, MD

How old are you?

27
What is your education level and background?

Master's Degree or Higher
Have you traveled abroad in the past?
Studied Abroad

If you have traveled abroad in the past, where have you been?

Many European and Asian countries (26 in total).
If you have studied abroad in the past, where did you study?
Brighton, England


What sparked your interest in going to teach English abroad?

I have always loved traveling, and teaching English is a great way to earn money while traveling. During my last year of university, I started applying to every English teaching job I could find and ended up choosing the JET Program for teaching English in Japan.
What were some of your concerns before teaching abroad?

Being away from friends and family, not being able to speak the language, etc.

What did your friends and family think about you moving and teaching abroad?

They were excited for me, but also sad that I was leaving. However, because of Skype, we are able to keep in touch easily.


TEFL CLASS INFORMATION
Why did you decide to get TEFL certified and choose International TEFL Academy?

In a year or two I will be leaving Japan and am planning on moving somewhere else to continue teaching English. The JET Program did not require a TEFL certification, but many programs in other countries do, so I decided to take and complete the course this year. In 2015, I did a lot of research about many TEFL companies, but decided that International TEFL Academy was the company for me. I really like the fact that they help with job searches and resume writing once you complete the course, and I also liked the fact that it requires you to do a classroom portion.
Which TEFL certification course did you take?

Online TEFL Course

How did you like the course?

I think that the course was very interesting. My friends had taken TEFL courses before, but their courses were mostly multiple choice tests. I liked that International TEFL Academy's courses required me to do critical thinking and write essays and create lesson plans. This definitely took more time than simple multiple choice tests would have taken, but I think it was worth it in the long run. The practicum [live practice teaching] makes the course much more legitimate to future employers as well, so I am very happy to have had to complete it.

How has your TEFL training helped you in your current teaching position?

I am currently a teacher in Japan, and I was able to learn many interesting activities and ways of teaching that I now incorporate in my classroom. The most important thing that I learned was that I always have to think about the different types of learners that I am teaching, and that I should try and create activities that will appeal to many different types of learners, if I can.

Which city and country did you decide to teach English in and why?

I decided to teach English in Japan in the city of Odate. I applied for the JET Program and they placed me in this city. I chose Japan because I was a history teacher in the U.S. and wanted to learn more about Japanese history and culture.

How long have you been in this country and how long do you plan to stay?

Four years, and I am planning on staying for at least one more year.

What school, company, or program are you working for?

JET Program

During which months does your school typically hire?

The JET Program hires mainly in August, but there are some April arrivals as well.
Did you secure this position in advance of arriving?

Yes

How did you interview for this position?

In-person interview

What kind of visa did you enter on?

Work Visa

Please explain the visa process that you went through.

The JET Program arranged everything for my visa for me, so I did not have to worry about getting a visa on my own.

What are the qualifications that your school requires for teachers? Please check all that apply

Bachelor's Degree

What is the best way to apply?

Apply online
Tell us about your English teaching job!

HOURS: I work 40 hours a week (Monday through Friday, 8:30-4:30).
SALARY: I get about 2500 USD a month, and would be able to save more money, except I enjoy traveling and so I spend a lot of money on that. If I did not travel as often, I could probably save around 500-1000 USD a month.
SCHOOL: I work at two Japanese junior high schools, so I teach a total of around 500 Japanese students, age 12-15.
VACATION: I get 20 days of paid leave every year (which is when I am able to travel and spend all of my money), and I also get Japanese holidays off (around 10-15 days a year).

How did you find somewhere to live and what is it like? Do you have roommates?

The JET Program also arranged my housing, so I did not have to find a place to live, but I do pay around 500 dollars a month in rent. It's a medium-sized apartment with a kitchen, bathroom, living room and bedroom. It can fit two people, but I do not have a roommate.

On a scale of 1 - 10 please rate your experience with this school.
9
COUNTRY INFORMATION
Please explain the cultural aspects, public transportation, nightlife, social activities, food, expat community, dating scene, travel opportunities, etc...

CULTURE: I have been able to study Japanese dance and calligraphy which I do once a week. I have other friends who play the taiko, do kendo, and do other cultural activities as well. It depends on what you want to do.

TRANSPORTATION: I live in a part of Japan that is very far from Tokyo (and any other major city), so the public transportation is not the best. We have trains and buses, but I usually take my car when I need to go somewhere.

NIGHTLIFE: There is no nightlife where I live, other than karaoke and late-night ramen restaurants.

SOCIAL ACTIVITIES: The JET Program has many people who are very active with creating social activities, but many of these activities occur around two hours from where I live.

FOOD: Japanese food is amazing! Ramen, sushi, tonkatsu, etc.

EXPAT COMMUNITY: There are 7 people on the JET Program in my city (population: 70,000) so we can get together and watch movies, speak in English, and drink beer if we want to.

DATING: I know a couple of people who are dating Japanese people, and there are also many people who date within the JET Program.

TRAVEL: With the 20 days of vacation time that I have, I am able to travel all around Asia. Airfare is a bit expensive (and getting to Tokyo is also expensive), but many Asian countries are cheap to travel around once you get there.
COUNTRY INFORMATION - MONEY
What are your monthly expenses?

Rent: 500 dollars
Food: 300-500 dollars
Social Activities: 200 dollars
Transportation: 100 dollars (gas money)
Phone: 100 dollars
Travel: Anywhere from 200-1500 dollars depending on where I am going and for how long.

How would you describe your standard of living?

Very comfortable

In your opinion, how much does someone need to earn to live comfortably?

2500 USD a month


ADVICE FOR PROSPECTIVE ENGLISH TEACHERS
What advice would you give someone planning or considering teaching abroad? Would you recommend teaching English in your Japan?

If you want to teach abroad, do it! Even if you only teach abroad for a year, it will be a great experience. You will meet many people from all over the world (I now have friends from Canada, New Zealand, Australia, Singapore, etc.) and you'll always have a sofa to sleep on. The reason that I have stayed for 4 years is because I love my students and can't imagine leaving them next August (though because of the limit of 5 years, I will have to leave them then).

I would definitely recommend teaching English in Japan. The people are some of the nicest I have ever met, and I have never felt unsafe here. But, if you are planning on moving to Japan, I would definitely recommend studying a bit of Japanese before you come. The English in Japan is some of the lowest I have encountered in a first world country (though gestures go a long way while communicating).

To learn more about Carey's adventures in Japan, read her article Experiencing the "Inaka" Life while Teaching English in Japan
Carey Bibb is originally from a small city in Maryland, an hour and a half south of Baltimore, but has lived in another small city in Japan for the past four years. She studied history and psychology in university but is now a TEFL certified English teacher. Her two passions are traveling and teaching, and now she is lucky enough to have combined the two by teaching English in Odate, Japan.
Want to Learn More About Teaching English Abroad?
Request a free brochure or call 773-634-9900 to speak with an expert advisor about all aspects of TEFL certification and teaching English abroad or online, including the hiring process, salaries, visas, TEFL class options, job placement assistance and more.