Kecskemét, Hungary English Teaching Q and A with Megan Lethbridge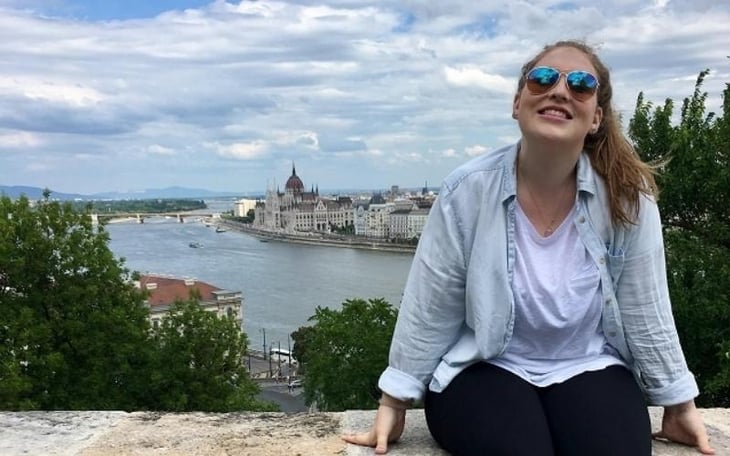 TELL US ABOUT YOURSELF
What is your citizenship?

United States

What city and state are you from?

Dallas, Texas

How old are you?

23

What is your education level and background?

Bachelor's degree
Have you traveled abroad in the past?
Studied abroad

If you have traveled abroad in the past, where have you been?
Canada, Mexico, United Kingdom, Austria, Germany, Czech Republic, Greece, Hungary, Slovakia
If you have studied abroad in the past, where did you study?

Greece and London

What sparked your interest in going to teach English abroad?

I wanted a job where I felt like I was making a difference while also having the opportunity to travel extensively abroad. Teaching English abroad seemed to be the perfect fit!

What were some of your concerns before teaching abroad?

I was most worried about the details after my arrival, such as finding housing abroad, securing a visa and work/residency permit, etc.

What did your friends and family think about you moving and teaching abroad?

My family and friends were concerned for me, but also could see that it could be an incredible experience.


TEFL CLASS INFORMATION
Why did you decide to get TEFL certified and choose International TEFL Academy?

I knew that I would need a TEFL certification for anywhere I would want to teach English abroad. I chose International TEFL Academy because of all the support offered with enrollment in the course, specifically through the student affairs department and their job search guidance. After speaking with my ITA advisor (Michael Kunik), I knew that ITA was the right choice for me!

Which TEFL certification course did you take?

Online TEFL Class

How did you like the course?

I really enjoyed my course. I felt like everything from the course was useful for teaching English abroad. My instructor, Gosia Mroz, was always available to assist me and consistently provided quick and helpful feedback on all of my coursework.

How has your TEFL training helped you in your current teaching position?

The course was really helpful in teaching me how to make lesson plans that can be applied to the classroom. I still refer back to old lesson plans from the course and activity templates whenever I get stuck planning.

Which city and country did you decide to teach English in and why?

I chose to teach English in Hungary in the city of Kecskemét. I knew that I wanted to come to Europe, and I also knew I was more interested in central or eastern Europe. When I found out about the Central European Teaching Program (CETP), I became very excited about the idea of teaching in Hungary.
How long have you been in this country and how long do you plan to stay?

I have been in Hungary since August and plan to stay at least one more year.

What school, company, or program are you working for?

I found my current position through the Central European Teaching Program

During which months does your school typically hire?

The Central European Teaching Program recruits all year!

Did you secure this position in advance of arriving?

Yes! Thanks to CETP, my position was secured in advanced of my arrival, which was also a big concern for me before leaving to teach abroad!

How did you interview for this position?

Skype/phone interview

What kind of Visa did you enter on?

Tourist visa

Please explain the visa process that you went through.

I entered into the Schengen area on a tourist visa. Once I arrived in my town and signed my contract with my school, we began the work/residency permit process. Thanks to coming through CETP, I had constant support from the school and the program in assisting me throughout the visa process.

What are the qualifications that your school requires for teachers? Please check all that apply

- Bachelor's Degree
- TEFL Certification
- Native English speaker
Please include any application resources (website, email, etc.) or other information here:

All the information about applying for the Central European Teaching Program can be found at www.cetp.info.

Tell us about your English teaching job!

HOURS: I teach 26 lessons per week (45 minutes each) which comes to a full time Job when you take into account lesson planning.

SALARY: While my pay is relatively low in comparison to US standards, I make enough to live very comfortably and travel on the weekends! I do not save much, but it can be possible if you budget well enough.

SCHOOL: My school is a private Christian school in the center of Kecskemét. While the school is 1st through 12th grade, I teach 7th through 12th.

STUDENTS: I primarily teach high school (9th through 12th grade) but also have some 7th and 8th grade classes.

VACATION: The school year is September 1st through June 15th, the time in between is the summer vacation. There is also a week off in the fall, a week off the spring (around Easter), and a two weeks off for winter break.

How did you find somewhere to live and what is it like? Do you have roommates?

My housing was guaranteed through the Central European Teaching Program and provided by my school. I am just a 5 minute walk from the city center/my school!

On a scale of 1 - 10 please rate your experience with this school.

10
COUNTRY INFORMATION - FUN!
Please explain the cultural aspects, public transportation, nightlife, social activities, food, expat community, dating scene, travel opportunities, etc...

Culture: Hungary is great! I love living here. There is so much to see not only in Budapest, but also all around Hungary. Also, since Hungary is in such a centralized location, it is easy to travel all around Europe on the weekends!

Public transportation in and around Hungary is very convenient and easy to use.

Nightlife in Budapest is great. There is so much to do and lots of very cool ruin pubs to check out!

Social life: If you are looking to connect with other English speakers or expats, there are plenty of groups in Budapest for social activities. Even in the smaller cities, there are typically opportunities to get involved socially in some way.

Food: The Hungarian food is great! Lots of soup, which is especially nice when the weather is cold.

The expat community in Budapest is very strong! If you are interested in getting involved, there are many chances to do so.

Dating scene: I'm engaged, but I have friends who have had lots of luck dating in Budapest, especially within the expat community!

Travel opportunities: Personally, I have been able to travel internationally every month along with monthly trips to Budapest and smaller towns throughout Hungary.
COUNTRY INFORMATION - MONEY
What are your monthly expenses?

Rent: It is already covered by the program fee I paid before my arrival in Hungary!

Food: Approximately $150 per month (I tend to spend more on groceries than most and I also eat out a frequently).

Nightlife: Maybe about $150 per month depending on what is going on with friends.

Transportation: I don't pay for any transportation in my town since I walk to and from school everyday. My school also provided me with a bike for anywhere else I would like to go in town further than walking distance.

Phone: My Hungarian phone was provided to me by the program, and I add about $10 to it about other month.

Travel: I spend most of my money on travel, probably about $200 a month since I travel internationally once a month.

How would you describe your standard of living?

Very comfortable!

In your opinion, how much does someone need to earn in order to live comfortably?

Salaries and cost of living are both relatively low in Hungary, I would say approximately $500 per month (average monthly salary for a teacher).

ADVICE FOR PROSPECTIVE ENGLISH TEACHERS
What advice would you give someone planning or considering teaching abroad? Would you recommend teaching in your country?

It can be overwhelming preparing for a move abroad, but it can be done and it is totally worth it. If teaching English abroad is something you really want to do, then you can absolutely do it! I would definitely recommend teaching English in Hungary. This is a beautiful country with welcoming people and conveniently located for anyone who wants to travel!
Megan Lethbridge Tsifopanopoulos recently finished teaching English abroad in Kecskemét, Hungary, after two years at the Reformed High School of Kecsksmét. She now lives in Thessaloniki, Greece, with her husband and is pursuing her MA in Applied Linguistics with TESOL. Megan also teaches English online with VIPKID.
Want to Learn More About Teaching English Abroad & Online?
Request a free brochure or call 773-634-9900 to speak with an expert advisor about all aspects of TEFL certification and teaching English abroad or online, including the hiring process, salaries, visas, TEFL class options, job placement assistance and more.