Munich, Germany English Teaching Q and A with Rebecca Myers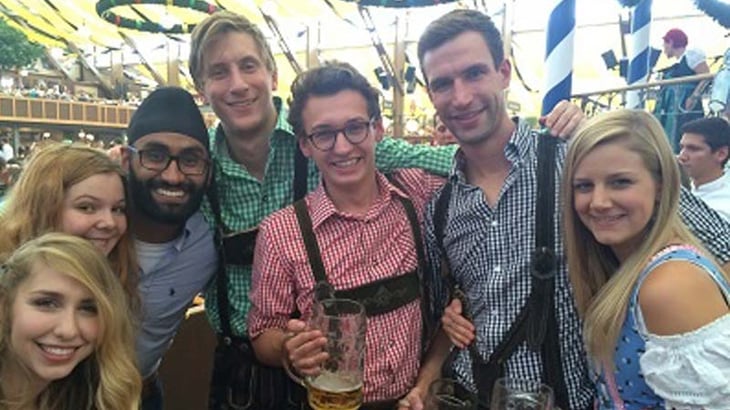 TELL US ABOUT YOURSELF

What is your citizenship?

United States

What city and state are you from?

Northville, Michigan

How old are you?

24

What is your education level and background?

Bachelor's Degree

Have you traveled abroad in the past?

Some international travel with friends, family, business, etc.

If you have traveled abroad in the past, where have you been?

Canada, Panama, Costa Rica, Bahamas


What sparked your interest in going to teach English abroad?

I never studied abroad in college and really regretted it, so I figured teaching abroad was the only logical conclusion. I also knew I wanted to travel A LOT, so I chose Europe because it's easy to travel from country to country once you're there.

I had never considered myself the teaching type, but I figured my leadership skills and my aptitude of the English language made me a good candidate for teaching English abroad. I don't plan on doing it forever, but I do think that this experience will provide benefits for me in any future career.


What were some of your concerns before teaching abroad?

I was nervous because I had never lived abroad before, and I had no idea what to expect. I was a bit worried about finding new friends and adapting to a place where I do not know the native language very well.

What did your friends and family think about you moving and teaching abroad?


My parents were definitely a bit concerned about me moving across the world without having a job lined up, but they were still very supportive. My friends were just really excited to have a cool place to visit abroad.
TEFL CLASS INFORMATION

Why did you decide to get TEFL certified and choose International TEFL Academy?

I first considered doing a Teach in Spain program with CIEE, but decided against it due to it costing several thousand dollars. Why should I pay to get paid?! It just didn't really make sense... So I did some research and discovered ITA, where I could get a several hundred dollar discount just because I was in an AmeriCorps program! It made much more sense to me, financially. Plus, I would be able to use the certification for the rest of my life, and be provided with some really helpful advisors every step of the way.

Which TEFL certification course did you take?

Online TEFL Course

How did you like the course?

I really enjoyed the online course that I took with Caitlyn Cornell. It was nice being able to learn the material and complete the homework and quizzes on my own time, because at that point, I had a full-time job and was quite busy.

I found it really helpful that we were provided with information about lesson-planning as well as templates to create our own lesson plans, because that was something I had no previous experience with.

For the practicum, I was able to get by with just observing a local ESL class in my California community. I felt it was really beneficial to watch how a variety of different teachers conducted their classes. However, I do wish I had gotten the chance to actually tutor as well, because it would have been nice to get some hands-on experience.


How has your TEFL training helped you in your current teaching position?

My TEFL training has helped me develop new ideas and fun ways of teaching different concepts. Although I don't really have access to too many of the materials I used in my online class, I do remember a lot of things that now help me to make my lessons exciting and effective. This was my first time teaching, so it really helped to have some background knowledge about the most effective ways to cater to the needs of different students. I also liked that the TEFL course discussed ways to adapt to and respect different cultures. Although Germany isn't extremely different from the U.S., culture-wise, it is definitely helpful to follow some of these guidelines in order to avoid culture faux pas and make my students feel comfortable.

Which city and country did you decide to teach English in and why?

I chose to teach English in Germany in the city of Munich. I decided to teach in Munich for a variety of reasons. For one, I had a few friends already living in the area. I had also talked to my advisors at ITA and learned that there is a very high demand for business English teachers in Germany; I knew I wanted to teach adults, so this seemed like the right location for me. I also liked the unique culture, the high expat population, and the fact that Munich is very close to the Alps, and I love snowboarding and hiking.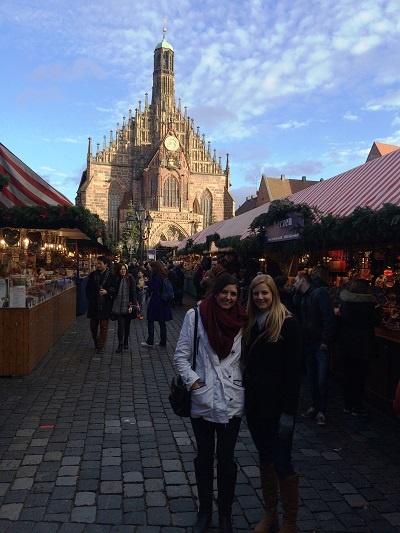 How long have you been in this country and how long do you plan to stay?


I have been here since early September of 2015, and I plan to stay indefinitely! I was recently accepted into a Master's program at the Technische Universität München, so I will start studying in April (and hopefully continue teaching a few of my courses in my free time), and stay here for at least another 2 years.


What school, company, or program are you working for?

I am a freelance Business English Trainer at four schools: Educom Gmbh, Sprachschule Aktiv, KERN Training, and Linguarama


During which months does your school typically hire?

All months

Did you secure this position in advance of arriving?


No, but I did have some interviews lined up.


How did you interview for this position?

- Skype/phone interview
- In-person interview

What kind of Visa did you enter on?

- Tourist visa

Please explain the visa process that you went through.

The visa process was WAY easier than I expected. Once I had interviewed at a few schools, I was basically hired immediately as a freelance teacher. I then had two of my schools write me a letter of intent as proof of employment. I went to the KVR (Kreisverwaltungsreferat), showed them my passport, birth certificate, registration as a resident of Germany, proof of employment (letters), and proof of opening up a German bank account. Within a few hours, my passport was stamped with a freelance visa. It all went very smoothly once I had all the necessary documents. The only slight downside of the whole thing is that my visa is VERY specific about me only being able to work as a freelance English teacher. For me this isn't really a huge issue, but if I decide to obtain a non-teaching job at any point, I will need to go back and get a different visa.

What are the qualifications that your school requires for teachers?

- Bachelor's Degree
- TEFL Certification
- Native English speaker

What is the best way to apply?

- Apply online
- Email
- In-person

Tell us about your English teaching job!

As a freelance teacher, you are pretty much your own employer, so you get to decide how little or how much you want to work, and at which schools. I'm pretty sure being a freelance teacher does require you to work at more than one school, however. I am working at four schools, but I will provide information about the school where I work the most frequently.

Hours: about 20 per week (between all four schools)

Pay: €20/45 per minute lesson !!!

Reimbursements: Sometimes I am reimbursed for travel expenses because my schools send me to faraway places like Holzkirchen and Taufkirchen. I only make about €4 per trip though, which isn't nearly enough in my opinion.

Save: Not much, unfortunately. I feel like I'm making a lot of money per lesson, but between expensive rent in Munich and expensive transportation tickets, it's really hard to save up as much as I'd like.

Type of School and Students: Business English for adults, levels A2-C2 (beginner to intermediate to advanced)

Class Size: Private lessons and small groups (2-5 students)

Vacation Time: Whenever I want! As long as I can find someone to substitute my lessons that cannot be rescheduled.

Other stuff: I know 20 hours/week doesn't sound like much, but it really does add up when you take into account all of the time you spend lesson planning. Yes, I would like to teach more, but it is sometimes difficult to fit so many lessons into an ever-changing freelance schedule. You have to be very flexible as a freelancer and be willing to make changes for your students. Also, if you're working at multiple schools, you will likely spend some time commuting from place to place, so be ready to deal with public transportation if you do not have a car. For example, each Monday, I teach down in Holzkirchen (about a 40-minute train ride south of Munich) at Hexal, the pharmaceutical company. Also, working for several different schools, you have to anticipate that each school may have its own way of doing things. Two of my schools are VERY organized and good about consistently offering me new courses and paying me on time. The other two are not as good about this, which can be a bit frustrating at times. Just be patient but persistent!


How did you find somewhere to live and what is it like? Do you have roommates?

It took me a very long time to find a place to live - about 2 months. The housing market in Munich is extremely competitive, and people often spend much longer searching for an apartment. Fortunately, I was able to stay with my boyfriend during those 2 months, so I was not homeless.

I used a website called WG-gesucht.de, which everyone in Germany uses, to find a flatshare. I was on it every day, messaging people who had vacant rooms. I met a lot of people, but there was so much competition that I was rarely chosen to come view the apartment, and almost never chosen to actually live there. After two months of searching, I was finally invited to live in a beautiful flat in (quite) central Munich. I have two wonderful roommates, one German and one Swiss, who I get along with very well. They even like to speak English with me!



On a scale of 1-10, please rate your experience with the school:

8

COUNTRY INFORMATION - FUN!
Please explain the cultural aspects, public transportation, nightlife, social activities, food, expat community, dating scene, travel opportunities, etc...


Munich is a very culturally-diverse city, much different than the rest of Bavaria. After 4 months of living here, my German skills are still pretty bad, but I can get by speaking English if necessary (although I'm trying not to depend on it!). Most people know at least some English, but are still excited to practice speaking when they meet a native English-speaker :)
There are plenty of opportunities to meet up with other expats and go for a beer, practice speaking German, etc. When I moved here, I immediately joined Facebook groups like New in Munich, Munich International Friends, etc. There are constantly events where expats, students, and young professionals can meet up around the city.
The food and beer here is amazing. I was lucky enough to arrive in time for Oktoberfest, which was everything I ever dreamed it would be. If you love beer and bratwurst, Munich is the city for you.
Oh and the Christkindlmarkts were amazing too! Throughout the month of December, you can go to any of these many markets around the city (and around the rest of Germany) to drink Gluhwein (mmm), eat and smell Heiße Maronen, and purchase little Christmas gifts for your family and friends back home.
There are plenty of opportunities to travel while living in Munich. Train tickets to cities on the other side of Germany can be found for as cheap as €20. Plane tickets to other countries are typically €100-€200. The Austrian Alps are only an hour-drive away, and if you love to ski or snowboard, you can potentially go every weekend as long as you find someone with a car. Actually, I think there are even bus tours that can take you down to the Alps for a day for only €40 (lift tickets included).
COUNTRY INFORMATION - MONEY
What are your monthly expenses?
Rent - €520/month
Food - €200/month
Transportation - €100/month
Phone - €10/month
Social Activities - €150/month
Travel - €200/month

How would you describe your standard of living?

Good

In your opinion, how much does someone need to earn in order to live comfortably?
€1400/month
ADVICE FOR PROSPECTIVE ENGLISH TEACHERS
What advice would you give someone planning or considering teaching abroad? Would you recommend teaching in your country?
Yes! I would recommend teaching in Germany, especially in Munich. I found my schools within my first few weeks of moving abroad. You just need to line up as many interviews as possible, potentially before you leave your home country, and as long as you're willing to do a bit of freelance work, you should have no trouble finding a job (or several jobs)!
It's an extremely rewarding experience. I'm only teaching adults so I don't really have any experience teaching kids, but at least with my students I've found that everyone is very enthusiastic and motivated to learn the English language. As English becomes increasingly universal, it's very important for business professionals to learn and utilize these skills, and Germans particularly seem to recognize this fact.
Want to learn more about teaching English in Germany?
Founded in 2010, International TEFL Academy is a world leader in TEFL certification for teaching English abroad & teaching English online. ITA offers accredited TEFL certification courses online & in 20+ locations worldwide and has received multiple awards & widespread recognition as one of the best TEFL schools in the world. ITA provides all students and graduates with lifetime job search guidance. ITA has certified more than 40,000 English teachers and our graduates are currently teaching in 80 countries worldwide.
Want to Learn More About Teaching English Abroad & Online?
Request a free brochure or call 773-634-9900 to speak with an expert advisor about all aspects of TEFL certification and teaching English abroad or online, including the hiring process, salaries, visas, TEFL class options, job placement assistance and more.