Teaching English in Hamburg, Germany: Alumni Q&A with Molly McKnight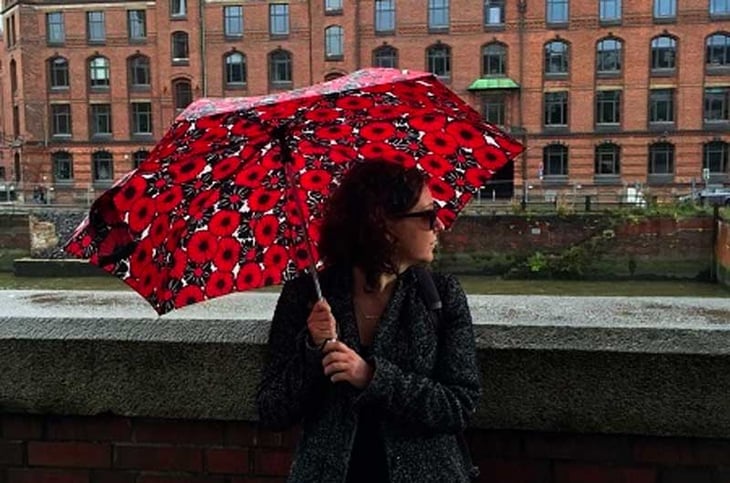 What is your citizenship?
United States
What city and state are you from?
Scottsdale, Arizona
How old are you?
31
What is your education level and background?
Bachelor's degree

Have you traveled abroad in the past?
Some international travel with friends, family, business, etc.
If you have traveled abroad in the past, where have you been?
Costa Rica, France, and Amsterdam.
What sparked your interest in going to teach English abroad?
My degree is in music education, and I worked as a freelance music teacher for six years before I decided I wanted more stability. I left teaching to work for a non-profit company. Two years later, I missed teaching and longed to get back into the classroom. At the same time, I was turning 30 and asking myself... what do I really want?!? The answer: to teach and to see the world. I had excelled in English in High School and have remained a self proclaimed book nerd ever since. Teaching English abroad was a natural choice for me and fit everything that I wanted for the next phase in my life.
What were some of your concerns before teaching abroad?
I was going out on a limb and doing something I never thought was possible. I had thought about teaching English abroad previously, but it always seemed like something that other people did, not something that I could do. I wasn't sure if I would find a job, if I would make enough to survive, or how I would function in a place where I didn't speak the primary language.
What did your friends and family think about you moving and teaching abroad?
The one thing I heard over and over again was, "Wow! That's so brave!" and my standard response was, "Is it brave or is it stupid?" (insert laughter here) I can tell you right now, it's not brave or stupid...it's transformative. Teaching abroad will show you what you're made of and open your eyes to a broader perspective about life. If you are even mildly considering doing it, do it. My mom said, "If you don't do this now, you'll end up regretting it for the rest of your life." and I can honestly say I would have! Of course there were people who were worried about me too, but it was all out of love. Don't let fear or the fear of others hold you back. Go experience the world!
Why did you decide to get TEFL certified and choose International TEFL Academy?
I knew I wanted to get TEFL certified because that would give my desire to teach English legitimacy for my prospective employers. I chose International TEFL Academy because they were the most positive and encouraging from the get-go. The staff at International TEFL Academy supports your choices and gives you the best possible information. I couldn't have asked for a better experience.
Which TEFL certification course did you take?
Online TEFL Course
How did you like the course?
The course was challenging and thorough. If I submitted a question to my instructor, she responded quickly and was very helpful. I chose the online course so that I could maintain my full time job, and although it can be taxing at times, it is possible. The tasks are geared towards preparing you for what you will actually face in the classroom and in your possible new country.
I took my course during the summer months, so finding classrooms for the practicum (live practice teaching) was difficult, but I reached out to a lot of adult learning facilities and was able to find enough classroom time to meet the required hours. Another benefit of doing my practicum with adults is that this is the population I ended up teaching English in Germany!
How has your TEFL training helped you in your current teaching position?
My TEFL training helps me when I structure my lesson plans. I'm a perfectionist and my TEFL training gave me a framework for creating well-rounded lessons that address the needs of many different types of students.

Which city and country did you decide to teach English in and why?
I chose to teach English in Germany in the city of Hamburg. My objective as an English teacher was to work full time. Many countries in Europe require that you are a full time student and will then allow you to work part time. The two exceptions to this rule (at the time of my moving and applying for work) were Germany and the Czech Republic. I have always been drawn to Germany, so it was an easy choice for me.
How long have you been in this country and how long do you plan to stay?
I have been in this country for 11 months but am planning to return to the U.S. next month!
During which months does your school typically hire?
All year.
Did you secure this position in advance of arriving?
No.
How did you interview for this position?
In-person interview.
What kind of Visa did you enter on?
Tourist visa.
Please explain the visa process that you went through.
My visa process was kind of an ordeal. I was fortunate enough to have guidance in this process, but the processing time was three months. Please note: this is not the standard processing time for visas in Germany; it can vary greatly from person to person for no apparent reason (You are not legally allowed to work before your visa is processed, so come to Germany with some savings to tide you over!). It's very important to have all of the documents they are looking for (including proof that you are enrolled in a very specific form of healthcare!) and I often had to fill out forms in German using Google Translate. My visa ended up being for freelance teaching and translating, and that is the only kind of work I am permitted to do in Germany.
What are the qualifications that your school requires for teachers?
- Bachelor's degree
- TEFL Certification
- Native speaker
What is the best way to apply?
Email.
Tell us about your English teaching job!
I teach at a business English school, so I work with adults. I teach private students, visit companies, and teach intensive courses (where students are taking classes all day.) As a freelance teacher, my hours per week can vary based on the need of the school. However, once you start taking on classes in companies, everything gets a bit more stable because those classes are yours. My school does the best it can to provide as much work for its teachers as possible. A typical work week for me now is between 14-16 classes, which translates to 21-24 hours per week. It doesn't sound like a lot, but that's a pretty full class load!
It's not possible for me to save money, but my rent is also quite high. I think this is pretty typical for teachers working in Europe. I'm able to travel a bit, but I also work a lot to be able to do it. As a freelance teacher, I submit my availability for work each week. If I want to take a week off to travel or visit home, that's my prerogative and the school will find a substitute for my classes. However, consistency is important for the students, so I always consider that when planning any possible trips or time off. Also, if I don't work, I don't get paid! I started out in my search really wanting to teach children, but have found working with adults to be rewarding and challenging in a very different way. Keep an open mind, and you will find a school that works for you, just like I did!
How did you find somewhere to live and what is it like? Do you have roommates?
Everyone in Germany looks for apartments using this website: https://www.wg-gesucht.de/. Finding an apartment in Germany wasn't easy for me. I also had an unfortunate experience that resulted in me losing my deposit on an apartment. Lesson learned: get absolutely everything in writing and signed! I have a roommate now who is quite lovely. She speaks English well and we live right near the biggest park in Hamburg :)

On a scale of 1 - 10 please rate your experience with this school.
10.
Please explain the cultural aspects, public transportation, nightlife, social activities, food, expat community, dating scene, travel opportunities, etc...
- Hamburg is fabulous. It offers something for everyone, no matter what your preferences are.
- The public transportation is always on time, and on the weekend, it runs 24/7 to accommodate the late night partiers. Germans work hard and play hard! The trains and buses aren't difficult to navigate, especially if you have Google Maps. The fare differs based on your location, which takes some getting used to, but it's not that big of a deal at the end of the day.
- The nightlife goes off in Hamburg, and you can always find something to do no matter what your preferences are. If you prefer to relax and share a beer with a friend, the Sternshanze has got you covered. If you want to be among throngs of bachelor/bachelorette parties and dance all night long, the Reeperbahn is the place. If you want to watch a movie, there's an English theatre near the main train station!
- The expat community is quite large in Hamburg and I didn't have any trouble making friends here. I have also made friends outside of the expat community just by being in Hamburg. German people are lovely. If you want to connect for an English comedy night or a pub trivia, there are many Facebook pages to keep you connected to what's going on in Hamburg.
- When the weather is warm here, every person in Hamburg is outside. I didn't think to look at the weather conditions in Hamburg before I moved here and was surprised by 9 months of cold, dark winter. People here love to grill and drink with friends in the park, row their canoes in the canals, and enjoy afternoon cake and coffee.
- I can't speak to the dating scene here because I came to Europe with my boyfriend, but it seems equivalent to what is happening in the U.S.
- For travel within Europe, I highly recommend FlixBus. It's by far the cheapest option and the buses are very nice. If you prefer to fly, there are plenty of budget airlines that can get you where you need to go. I traveled quite a bit since I've been here!
- Understand that if you don't speak the language, you will struggle. A majority of people here speak at least some English, but you are living in another country. I've taken German classes here and encourage you to always make an effort! Germans are very patient and caring with those who attempt German, even if it's terrible. Don't let your lack of knowledge upon arrival discourage you, learn to laugh it off and know that it's a skill that you can learn :)
What are your monthly expenses?
My rent is 450 euros (~$550 USD), which is fairly high for Hamburg but includes everything. It's possible to eat cheaply in here, especially if you go grocery shopping or really really like döner kababs/falafals. Drink prices are comparable to the U.S. or possibly cheaper if you drink a very basic beer. I think my cheapest expense here is my cell phone, which I pay month to month for 15 euros (~$18 USD). As I mentioned previously, public transportation costs can vary depending on your destination. This probably goes without saying, but if you want to travel, book as far in advance as possible and stay in an AirBnB!
How would you describe your standard of living?
I'll be perfectly honest and say that I do not spend money in an extravagant way. I only buy things when they are absolutely necessary, but I still find my bank account laughing at me at the end of every month. Teaching English abroad makes you rich in experiences, not in cash.
In your opinion, how much does someone need to earn in order to live comfortably?
I think if you made over 2,000 euros (~$2,440 USD) on a consistent basis every month, you could be comfortable here.

What advice would you give someone planning or considering teaching abroad? Would you recommend teaching in your country?
I've had an amazing experience this year and don't regret it for a second. Keep in mind that teaching and living in another country will expand you as a person, but sometimes you will be bored. Or tired. Or lazy. Or lonely. Living in another country is still living, and comes with a lot of ups and downs.
But do it. Seriously. Do it.


With a degree in music education, Molly worked as a freelance music teacher for six years before deciding she wanted more stability. She left teaching to work for a non-profit company, but two years later, she missed teaching and longed to be back in the classroom. At the same time, Molly was turning 30 and asked herself what she really wanted in life - to teach and see the world. Teaching English abroad was a natural choice for her and the next phase of her life. After obtaining her TEFL certification from ITA, she moved to Hamburg, Germany to teach Business English to adults.
Want to Learn More About Teaching English Abroad & Online?
Request a free brochure or call 773-634-9900 to speak with an expert advisor about all aspects of TEFL certification and teaching English abroad or online, including the hiring process, salaries, visas, TEFL class options, job placement assistance and more.