Berlin, Germany English Teaching Q&A with Megan Cape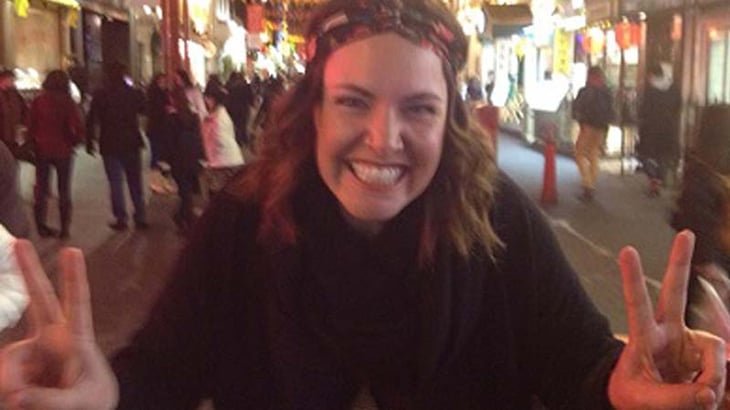 TELL US ABOUT YOURSELF!
United States
What city and state are you from?
San Diego, Ca
How old are you?
26
What is your education level and background?
Bachelor's Degree
Have you traveled abroad in the past?
Some international travel with friends, family, business, etc.
If you have traveled abroad in the past, where have you been?
London, Amsterdam, Berlin, Munich, Prague, Venice, Rome, Paris, Nice, Barcelona, Ibiza
What sparked your interest in going to teach English abroad?
I had been wanting to move abroad for a long time because I feel like it's an important thing that everyone should experience in their lifetime. I spoke to many people who had taught abroad and I had never heard any negative things about it. I figured this would be a good way for me to live and travel abroad.
What were some of your concerns before teaching abroad?
My biggest fear was that it wouldn't be as easy finding a job as my ITA advisor said it would be.
What did your friends and family think about you moving and teaching abroad?
My friends were really excited for me since they knew this is always something I've wanted to do. My parents were a little more apprehensive because they wouldn't be able to see me as often, but they eventually got comfortable with the idea.
TEFL CLASS INFORMATION
Why did you decide to get TEFL certified and choose International TEFL Academy?
I knew it would be much easier for me to get an English teaching job if I was TEFL certified. I chose International TEFL Academy because of how helpful they were when I was researching schools. They also let me know the amount of help and resources they offer when actually looking for a job.
Which TEFL certification course did you take?
How did you like the course?
I really liked my online TEFL course. I was able to work on it around my work and social schedule, which was great. The instructor was also very quick to answer any of my questions.
How has your TEFL training helped you in your current teaching position?
The TEFL course helped immensely with lesson planning. The teaching position I accepted requires me to plan all of my classes.
TEACHING ABROAD IN BERLIN, GERMANY
Which city and country did you decide to teach English in and why?
I chose Berlin, Germany because when I traveled around Europe 3 years ago I absolutely fell in love with the city. There is so much life here; to the music, arts, people, parks, history, parties, and more!
How long have you been in this country and how long do you plan to stay?
I have been here for about 4 months but only have been teaching for about a month and a half. I plan to stay for a couple of years, but who knows, Berlin tends to suck people in!
How did you secure your English teaching job?
I emailed many schools that were listed on the International TEFL Academy's massive list of English schools and eventually got a response. Their current teacher quit a day before class so they had me come in immediately.
What school, company, or program are you working for?
The Language Farm and Intermedia Sprachenschule
How did you get your work visa? If you didn't get a work visa, please elaborate on working under the table without a work visa.
For my first position with the private school, they let me begin work without a work visa because they were in a bind since their current teacher had just quit. After I received the letter of recommendation from both the school and the Language Farm, I was able to apply for my visa. I work on a 1 year freelance visa. I have heard it is difficult to get a visa in Germany, but I had no problems. As long as you have all of the necessary paperwork and a translator, you will be fine! Although, I think Berlin is much different than the rest of Germany.
Tell us about your English teaching job!
My first job was at a private school for adults. I used to teach 2 classes a week and then do a corporate English class every other week, but my new job for The Language Farm doesn't afford me enough time to do that so now I am only teaching the corporate English classes.
My newest job is at a kids camp called the Language Farm! It's an overnight camp for kids out in the Berlin countryside. They transport all of the counselors out there on Sunday and then we come back Friday afternoon.
I work about every other week so I have a week on, week off. The camp is all about teaching English through play so there is no classroom setting, which is much more my style. Thus far I really enjoy it, although it is very exhausting! I don't make a ton of money, but I'm able to live abroad so that is all that matters.
How did you find somewhere to live and what is it like? Do you have roommates?
When I first arrived I used CouchSurfing.com for my temporary accommodation. I was then able to find a temporary room in a flat for 1 month. I am now in a permanent room in a 3 bedroom flat, which I found on WG-gesucht.de/en/. I live with an American girl and a German guy; they are both great!
COUNTRY INFORMATION - FUN!
Please explain cultural aspects, public transportation, nightlife, social activities, food, expat community, dating scene, travel opportunities, etc...
Berlin has it all!! Museums, TONS of history, parks, great public transportation that runs at all hours of the night -- although can be a little pricey at 2.60€/ride. Clubs that stay open ALL weekend long, pubs, cheap beer, and Döners (which I'm addicted to).
There is a website for expats called Toytown Germany that I look at occasionally. It can be very helpful for various things, from visa help to where to get your haircut by an English speaking hairdresser!
Berlin is pretty central in Europe and so it's fairly easy to travel around. I haven't been able to do much traveling yet due to my financial circumstances and trying to get settled, but I will definitely start soon!
I can definitely say Berlin is one of the best cities (if not the best) that I have been to thus far. There is so much to do and people move here from all over the world! I have made so many friends from various backgrounds and cultures, all with one thing in common...a great love for Berlin!
COUNTRY INFORMATION - MONEY!
What are your monthly expenses?
Rent: 250€/month. This is probably on the lower side (my room is tiny), but it is in a trendy neighborhood! Rent varies from 250-400€
Food: 100-200€/month
Social Activities: 100-200€/month This is probably the most expensive thing in Berlin. Cover charges range from 8-20€. Although the beers are cheap, the entry fees are what get you. If you're not going out to the clubs every weekend then you'll be spending a lot less than this.
Transportation: A monthly train pass is around 80€ but I try not to ride too much. Berlin is a very bike friendly city so I ride my bike as much as possible!
Communication: 15€/month for my smartphone.
Travel: I haven't done much traveling yet, but I assume around 100-200€/month.
How would you describe your standard of living?
For the past few weeks I have been living pretty frugal since I spent all of my savings, but now that I have my new job at The Language Farm I will be living a lot more comfortable.
In your opinion, how much does someone need to earn in order to live comfortably?
Probably around 750-1000€/month.
ADVICE FOR PROSPECTIVE TEACHERS IN GERMANY
What advice would you give someone planning or considering teaching abroad? Would you recommend teaching in your country?
Don't get discouraged when applying for a job and your visa. It is definitely a process, but in the end all of your hard work will pay off. I can't speak for the rest of Germany, but Berlin is awesome and their bureaucracy system is a lot more lenient than the rest of Germany (from what I have heard). There are a lot of native English speakers here doing the same thing, but it is definitely possible to find a job as long as you are persistent! I couldn't be happier with my choice in Berlin.
To learn more about Megan's adventures teaching English in Germany, check out:
The Language Farm and Teaching English in Germany - Megan Cape
Home is Where the Heart Is - Teaching English in Berlin, Germany
Founded in 2010, International TEFL Academy is a world leader in TEFL certification for teaching English abroad & teaching English online. ITA offers accredited TEFL certification courses online & in 20+ locations worldwide and has received multiple awards & widespread recognition as one of the best TEFL schools in the world. ITA provides all students and graduates with lifetime job search guidance. ITA has certified more than 40,000 English teachers and our graduates are currently teaching in 80 countries worldwide.
Want to Learn More About Teaching English Abroad & Online?
Request a free brochure or call 773-634-9900 to speak with an expert advisor about all aspects of TEFL certification and teaching English abroad or online, including the hiring process, salaries, visas, TEFL class options, job placement assistance and more.