The Language Farm and Teaching English in Germany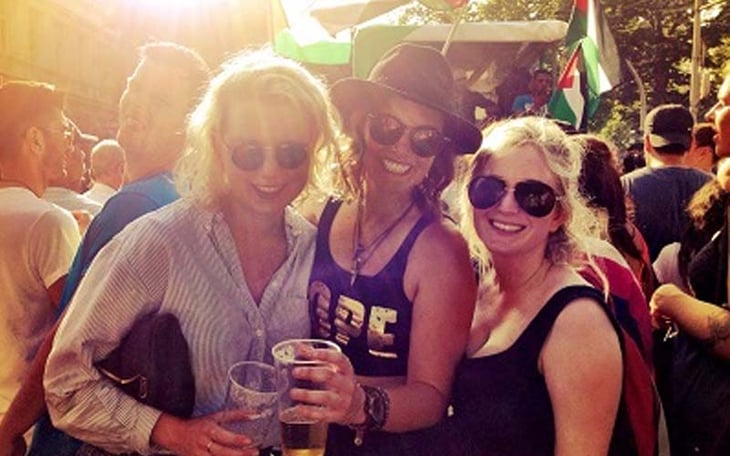 My name is Megan Cape, I am a 26 year old female with the dream of traveling the world. After graduating 3 1/2 years ago with a bachelors degree in Communication, and still no idea what I wanted to do with my life, I decided to set out on an adventure of teaching and living abroad.
Once I arrived in Berlin, Germany, and got over the shock that I was actually living my dream, I began looking for an English teaching job. After a couple of months of searching, I stumbled across an ad on Craigslist for camp counselor positions at an organization called the Language Farm. While reading the ad, I could not believe how much I felt this job description was written for me. It was searching for native English speakers who enjoy sports, outdoor activities, art, cooking, and much more. I applied for the position immediately, got an email for an interview a couple weeks later, and was hired on the spot and I couldn't be more ecstatic.
I have now been working at the language farm for about 6 weeks and I absolutely love it! Prior to moving abroad, and earning my TEFL certificate from the online International TEFL Academy course, I tried to imagine myself teaching in a classroom setting. This was very difficult to picture since I enjoy being active and being outside rather than sitting in a classroom and lecturing. I have also realized that people (and kids) learn much quicker, with longer lasting results, when learning through doing. I believe this is because most people are kinesthetic learners. It's amazing to see the improvements of the children from when they arrive at the language farm and when they leave 5 days later. Not only have they learned many new English words, but they are also much more confident speaking English, and they have learned many new life skills, and may have done some things they have never done before.
At the Language Farm we teach the children about our own culture through sports, art projects, and cooking. The camp is set up so that each day represents a different culture. So there is a USA day, an England day, Ireland day, Australia day, and so on depending on where the counselors are from during that week. On your day you cook a meal that represents your own culture with your 'small language group'.
Since I am from California, I cook things such as burritos, grilled cheese sandwiches and tomato soup, etc. Many of the kids may not even know what a burrito is, so I get to teach them how to make my favorite food! We also teach them a new sport on our day, which for the US counselors, is baseball, America's pastime. We also give them a 45 minute presentation about our country's culture, history, geography, and our own personal background.
Since we are teaching them everything in English, they learn much quicker since they are doing what they are learning. It's amazing to see their improvements throughout the week as well as their increase in confidence level. I believe that more classrooms should teach this way. The results are absolutely astonishing! At the end of each week the kids do a skit in what we call "small language groups". They do their skit to represent the culture of where their assigned culture is from. This is where I have noticed the most improvements with the children. They have enough confidence to get in front of all of their peers, teachers, and camp counselors, and act out a short story in a language that is not native to them. It really is amazing to watch and the plays always turn out so wonderful!
Not only are we teaching them about our cultures and countries while teaching the children English, but we are also making everlasting impressions on the kids through connections. I had a conversation with another American counselor about how he found out about the Language Farm. He told me that his German girlfriend had been to the Language Farm 7 different times while growing up. She kept returning because of the impact that the counselors had on her. These children most likely have never met someone from an English speaking country, and to think what we can teach them through food, games, activities, and art is truly amazing. These things stick in one's memory so much more than learning grammar and vocabulary, while sitting in a classroom.
I have also learned so much from the people who work at the Language Farm. Everyone is so passionate about what they do and have so much to offer the children. Even though the pay isn't that great, everyone gives 100% all the time. They are also very talented people, from artists to musicians to athletes, everyone has something unique to offer to the program and to teach the kids. I couldn't be happier to be apart of such an amazing organization, while living in such an amazing city.
Megan Cape is a 26 year old with the dream of traveling the world. After graduating 3 1/2 years ago with a bachelor's degree in Communication, and still no idea what she wanted to do with her life, she decided to set out on an adventure of teaching and living abroad.
Want to Learn More About Teaching English Abroad & Online?
Request a free brochure or call 773-634-9900 to speak with an expert advisor about all aspects of TEFL certification and teaching English abroad or online, including the hiring process, salaries, visas, TEFL class options, job placement assistance and more.