Teaching English in Brasilito, Costa Rica - Alumni Q&A with Courtney Hall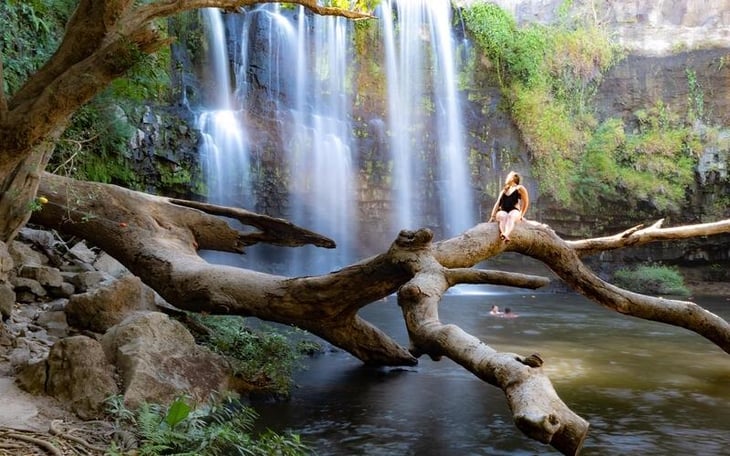 What is your citizenship?
United States
What city and state are you from?
Parker, CO, USA
How old are you?
28
What is your education level and background?
Master's Degree.
Have you traveled abroad in the past?
I studied abroad.
If you have traveled abroad in the past, where have you been?
Mexico, Australia, Fiji, Czech Republic, Poland, Saudi Arabia, United Arab Emirates, Bahrain, Spain, England, Ireland, Cuba, Canary Islands, Gibraltar, Turks & Caicos, Dominican Republic, Greece, Japan, China, Costa Rica, and Nicaragua.
If you studied abroad in the past, where did you study?
Sydney, Australia.
What sparked your interest in going to teach English abroad?
I had been living a fast paced life in Washington DC, trying to keep up with my career in health care research, but over time I started to feel unfulfilled. I crave the excitement of going to new places and experiencing new cultures, and living abroad was always something that I felt called to do. I decided I couldn't ignore that feeling any longer, so I researched job opportunities abroad. I never pictured myself being a teacher until that moment, but I felt that teaching English was a great opportunity to positively impact others and exchange life experiences with new cultures.
What were some of your concerns before teaching abroad?
Traveling with a dog & cat, internet accessibility, and financial security.
What did your friends and family think about you moving and teaching abroad?
My parents were absolutely supportive. My parents live in the Middle East so in a way, they inspired me to embrace living abroad fearlessly. If they could do it at their age, I could definitely do it.
TEFL CLASS INFORMATION
Why did you decide to get TEFL certified and choose International TEFL Academy?
I felt it was important to have a basic foundation in teaching English in order to best serve my future students.
Which TEFL certification course did you take?
Online TEFL Certification.
How did you like the course?
Overall, I thought the course provided a good general overview of the English language and developing level appropriate lesson plans. The most useful tools I gained from this course are the different methodologies for teaching and lesson planning. Experience making lesson plans to meet different levels and age groups was the most valuable as I now feel like I can easily adapt my teaching to new contexts and plan lessons without feeling lost.
How has your TEFL training helped you in your current teaching position?
In my current position, I am developing the curriculum for intermediate adults in Costa Rica. Once I figured out a general course outline, the TEFL course prepared me to make lesson plans that are fun and engaging for my students, while providing valuable content. I now feel I can identify learning objectives for my students and create lesson plans with ease.
How long have you been in Costa Rica and how long do you plan to stay?
I have been living in Brasilito, Costa Rica for three months and I plan to stay here for at least a year.
Why did you decide to teach English in this location?
I knew I wanted to live somewhere where I could practice my Spanish, bring my pets with me, proximity to the beach, and most importantly, feel that I am making a positive impact in the community.
What school, company, or program are you working for?
Abriendo Mentes - it is a non-profit education and community development organization.
During which months does your school typically hire?
Year-round.
Did you secure this position in advance of arriving?
Yes.

How did you interview for this position?
I had a Skype/Phone interview.
What kind of Visa did you enter on?
Tourist Visa.

Please explain the visa process that you went through.
Upon arrival, I was awarded a 90 day tourist visa.
What are the qualifications that your school requires for teachers?
Native English Speaker and experience teaching and/or working with children.
What is the best way to apply?
Apply online - you can apply for open positions on their website.
Tell us about your English teaching job!
The adult English program is somewhat new, so it is entirely volunteer led. There are also paid positions for youth English teachers; however, those positions require that you are also fluent in Spanish. I teach 3 classes a week for 1.5 hours and develop the curriculum and lesson plans. This ends up being approximately 12 hours a week. The opportunities to be involved at AM are plenty, so you can devote as much time as you like to the organization and gain new skills in areas such as fundraising, event planning, communications, and evaluation as well.
Each session can vary in length, but we like to keep classes between 8-12 weeks long. Because it is a volunteer position, it is also much more flexible than a paid position. If I know my travel plans ahead of time, class sessions can be scheduled around that.
COUNTRY INFORMATION
Please explain the cultural aspects, public transportation, nightlife, social activities, food, expat community, dating scene, travel opportunities, etc...
Food: In my opinion, it is a misconception that Costa Rican food is bland (I've seen this in many expat groups). Yes, most meals come with rice and beans, but the Casados (a traditional Costa Rican meal) are always so flavorful! And the Patacones are the best comfort food! For an extra kick, try the Chilera Tica or Encurtido on your dishes. Keep in mind that many things you may be used to eating might not be available here or if they are, could be expensive. If you are open to adapting your diet to the local culture, you can eat pretty affordably. I also have a mango tree in my yard so the first 3 months here, all I had to do was open my front door to eat fresh mangoes in the morning.
Public transportation: In my area, public transportation isn't as cheap as people make Costa Rica sound. A one way trip can cost you anywhere from 90 cents to $1.25. (In DC it was $2, in comparison). There are also taxis and shared rides called 'colectivos' here. Those will run you about double, sometimes more. If you don't know the rates, just remember all prices are negotiable so don't accept the first price a taxi driver offers.
Expat community: There are a several expat communities in my area. In some ways, this is a nice aspect of living here. If ever I'm feeling like I need a familiar food, there are a variety of restaurants where I can find it, but it comes at a price. There is also a fair amount of English speakers here, so for someone like me who is not fluent in Spanish (yet), it is nice to know that I can navigate this area without feeling lost. This also means you have an opportunity to make friends from all over the world! Having the expat communities have made my transition much smoother, especially because of the many expat groups on facebook. There is a wealth of information online and people willing to jump in and share their experiences with other expats!
Nightlife: Brasilito and Potrero are very popular tourist destinations, especially for Costa Ricans. Although tourism brings in a lot of people, the towns are still pretty quiet after dark. There are restaurants with some dancing or live music, but those mostly cater to the expat communities and not locals, so we don't go to those places very often, because they are expensive to eat/drink at.
Learning Spanish: Because of our affiliation with a non profit in this area, I have been able to connect with community members pretty easily. This was very important to me coming here and being able to communicate with others in Spanish is a big goal of mine. An English student generously offered to teach me and three others Spanish in her spare time.
What are your monthly expenses?
This is for a couple living in a Tico-style house:
Rent (includes water, internet, electricity): $350
Food: $300/month
Transportation: $100/month
Phone: $10/month
Travel: $100/month
Pet food & supplies: $50/month
Gym membership: $40/month
Yoga by the beach: $5/class
How would you describe your standard of living?
The standard of living is different when compared to what I'm used to in the United States, but I knew that prior to moving here and that's what I was seeking. Depending on your budget, the standard of living could be very different from person to person here. For example, there is very nice housing available in the expat communities, but tends to be much more expensive than living in a traditional Tico style house.
A Tico-style home, like the one I currently live in in Brasilito, will likely not have air conditioning and no one has hot water (but you don't need it when it's so hot here- instead, you learn to look forward to a cold shower). There are also frequent power outages (sometimes planned) and occasional water shut offs (always planned) in this area.
In terms of safety, this community feels very safe, especially because we know many of our neighbors, however we still have to be mindful about leaving things out in plain view (i.e.: leaving items in the car or on the patio, for example) because petty theft is very common all across Costa Rica. Many roads are not paved and the general infrastructure is lacking in Brasilito (e.g. no sidewalks or drainage). All of these things are things that teach you the importance of being able to adapt your lifestyle and adjust your expectations.
Despite the differences here, I feel like my standard of living is very high because of all the other things I am gaining by being here.
In your opinion, how much does someone need to earn in order to live comfortably?
This depends a lot on what your expectations are in terms of housing, the community you want to live in, the time of year you move (prices vary depending on whether its the high tourist season or low season) and whether you want to buy a car or take public transport. In Brasilito, your monthly budget to live in a Tico-style home with air conditioning, including utilities, a roommate, and taking public transportation: $800/month.
ADVICE FOR PROSPECTIVE ENGLISH TEACHERS
What advice would you give someone planning or considering teaching abroad? Would you recommend teaching in your country?
If you are not an experienced traveler, or even if you are, I would tell someone thinking of going abroad to: Go into it with a clean slate, without any expectations, and don't get into the habit of comparing your new home with where you came from.
Be ready to embrace a new and exciting way of living, finding joy in new and unfamiliar things. Approach challenges or set backs as problems that can be solved and find the curiosity and tenacity within you to solve them. Try new things, learn the language, and learn from the perspectives of locals.
Feeling stressed out in her high-paced job in healthcare research, Courtney saw teaching English abroad as a viable way to escape the grind and find new adventures overseas. She earned her TEFL certification online and headed to Brasilito, Costa Rica, where she teaches English to adults and works on curriculum development for Abriendo Mentes, a non-profit that provides educational services on the community level.
Want to Learn More About Teaching English Abroad & Online?
Request a free brochure or call 773-634-9900 to speak with an expert advisor about all aspects of TEFL certification and teaching English abroad or online, including the hiring process, salaries, visas, TEFL class options, job placement assistance and more.